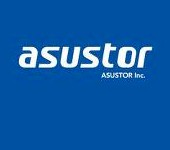 ASUS has entered the Network Storage market with four dual-core Atom-based boxes.
Actually, it's ASUStek subsidiary, ASUSTOR that last week announced its AS 6 Series NASes. The two, four, six and eight bay models are all powered by dual-core 2.13 GHz Intel D2700 Atom CPUs with 1 GB of DDR3 RAM (expandable to 3 GB total).
All models accept 2.5" and 3.5" SATA hard or solid state drives up to 4 TB into hot-swappable bays. Drives can be configured in individual, JBOD and multiple RAID 0 and 1 volumes on the two-bay AS-602T and additionally as RAID 5, 6 or 10 volumes on the AS-604T, AS-606T and AS-608T, four, six and eight-bay models. Both online RAID level migration and capacity expansion are supported across the line.
ASUSTOR AS 6 Series NASes
Other hardware features common to all versions are dual Gigabit Ethernet, HDMI and dual eSATA ports. Also included are two USB 3.0 and four USB 2.0 ports.
The ASUSTOR Data Master (ADM) Linux-based OS provides a common feature set across the AS 6 line including CIFS/SMB, AFP and NFS network filesystems, up to 256 iSCSI targets, ISO file mounts and optional AES 256 folder encryption. Backup features include attached backup to FAT32, NTFS, EXT3, EXT4, HFS+ formatted drives and network backup via rsync and Apple Time Machine.
The base feature set is expandable via optional apps, which include media server, content management, database and web hosting capabilities. There is even a Boxee app for media playback.
The AS-602T, AS-604T, AS-606T and AS-608T are all available now at MSRPs of $500, $700, $900 and $1050, respectively.