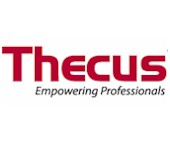 Thecus had released version 5.0 of its NAS operating system.
ThecusOS 5.0 includes the ability to handle up to 2.5 petabytes (PB) of storage. This is achieved using a combination of 4 TB drives, multiple Thecus 16 bay D16000 DAS (not yet released) linked to its N16000 16 bay NAS via SAS and linking multiple chained clusters via a 10 GbE switch (diagram).
ThecusOS 5.0 also supports real-time "High Availability" replication via 10 GbE and McAfee antivirus protection.
Thecus' 2.5 PB storage plan
Check the Thecus Download Center for OS 5.0 releases. Make sure you check that the firmware File Name is ThecusOS 5.0 because Thecus has not changed the firmware version to v5.
You can live demo ThecusOS 5.0 here.