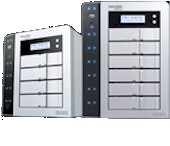 Promise announced new four and six bay dual-core Atom based NASes.
The NSx700 series includes the six bay NS6700 and four bay NS4700. Both models have hardware platforms with Intel Atom D525 Dual-Core 1.8 GHz cpus, 1 GB of RAM (expandable to 2 GB), dual Gigabit Ethernet and five USB 2.0 ports.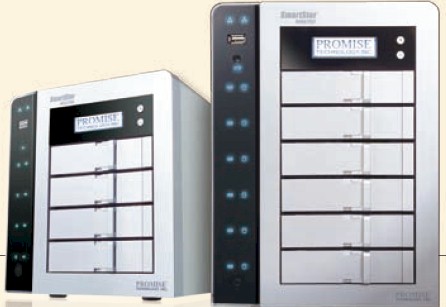 Both support RAID 0, 1, 5, 6, 10 volumes with additional RAID 30 and 50 support on the NS6700. Other features include iSCSI target and initiator, online RAID level migration and capacity expansion, VMware iSCSI certification and IPv6 support.
NAS backup options include Amazon S3 and rsync while client backup support is included for Apple Time Machine and bundled Acronis backup for Windows clients.
Both models are backed by a two year limited warranty. Pricing and availability were not announced.