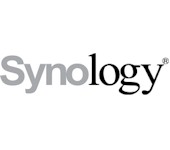 Synology has updated its top-of-line NASes and added another expandable product.
The DS3612xs and RS3412RPxs are twelve-bay desktop and rackmount models taking over Synology's top-of-line "large scale business" class positions from the DS3611xs and RS3411xs they are replacing.
The pair use a new hardware platform with a passive-cooled 3.1 GHz Intel dual-core CPU (most likely an i3-2100) and 2 GB of DDR3 RAM.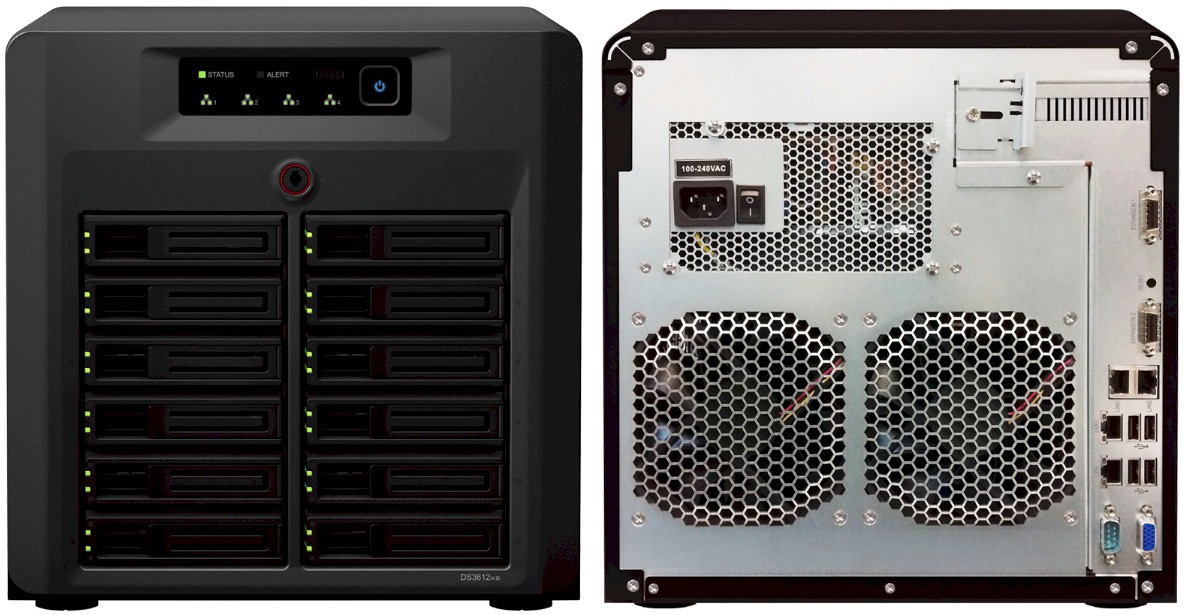 Synology DS3612xs NAS
Other hardware features include support for PCIe (x8 Gen2) 10 GbE cards from Emulex and Intel, four Gigabit Ethernet ports supporting failover and aggregation, four USB 2.0 ports and two Infiniband expansion ports. Adding two twelve-bay DX1211's can bring total storage to 108 TB of unformatted capacity using 3 TB drives.
The RS3412xs squeezes only ten bays into a 2U rackmount configuration, so expands only to 102 TB of total capacity by adding two RX1211 expansion cabinets. Redundant power supply versions of both the base and expansion cabinets are available as the RS3412RPxs and RX1211RP.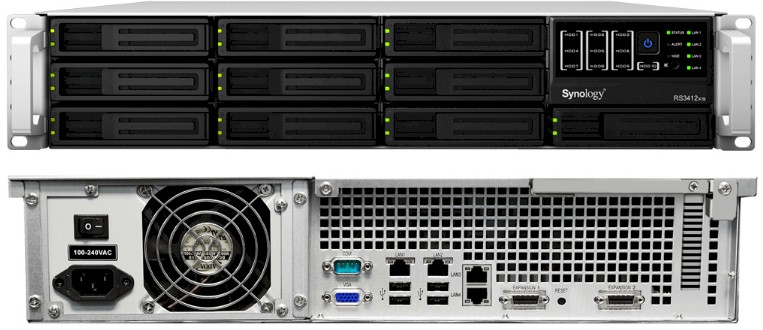 Synology RS3412xs NAS
For those with more limited budgets and storage needs, Synology also launched the DS1812+. Following in the footsteps of the five-bay DS1511+, the new model has eight bays and supports one ten-bay eSATA-connected DX510 expansion cabinet for a possible total raw capacity of 54 TB using 3 TB drives.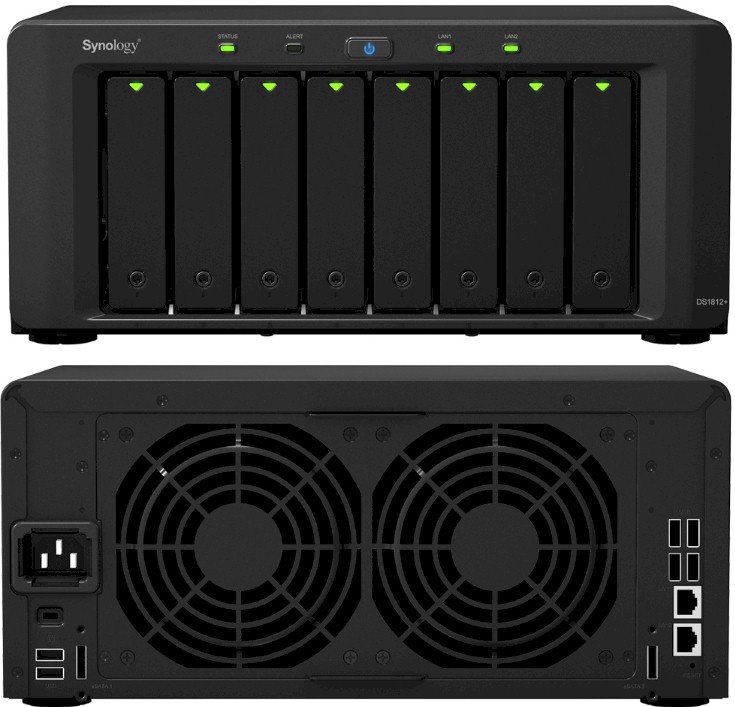 Synology DS1812+ NAS
The DS1812+ is based on a 2.13 GHz Intel "Cedar Trail" Atom D2700 CPU with 1 GB of DDR3 RAM that is expandable to 3 GB. Other hardware features include two Gigabit Ethernet ports supporting failover and aggregation, two USB 3.0, four USB 2.0 and two eSATA ports.
All models run Synology's Linux-based DiskStation Manager OS enhanced with "various business features" including ADS integration for domains up to 100,000 users and groups, ACL support, multiple volumes and iSCSI LUNs, up to 64 iSCSI targets and VMWare, Citrix, Microsoft Hyper-V compliance.
All models start shipping immedately and carry a three-year limited warranty. Pricing is:
– DS1812+: $999.99
– RS3412xs: $3999.99
– RS3412RPxs: $4999.99
– DS3612xs: $3499.99