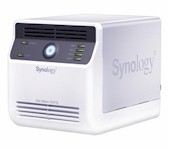 Synology today introduced a lower-cost RAID 5 NAS aimed at home and small business buyers.
The DS410j features new cable-free connection for four 3.5" SATA drives (up to 2 TB each). It's powered by a 800 MHz CPU (perhaps the Marvell 88F6192 Kirkwood) and has 128 MB of RAM.
It runs Synology's DSM 2.2 OS, which provides a rich feature set including automated backup, media streaming, photo sharing, LAMP webserving and IP camera recording.
The DS410j is available now in diskless, 2 TB and 4 TB models. The diskless model is street priced at around $400.