Synology today officially announced its DS710+ "scalable" NAS.
Hardware specs have changed a bit from our previous report. It's powered by an Intel 1.67 GHz D410 Atom CPU with 1 GB of RAM and has a single Gigabit Ethernet LAN, three USB 2.0, one eSATA and one VGA ports. Either 2.5" or 3.5" SATA drives can be used.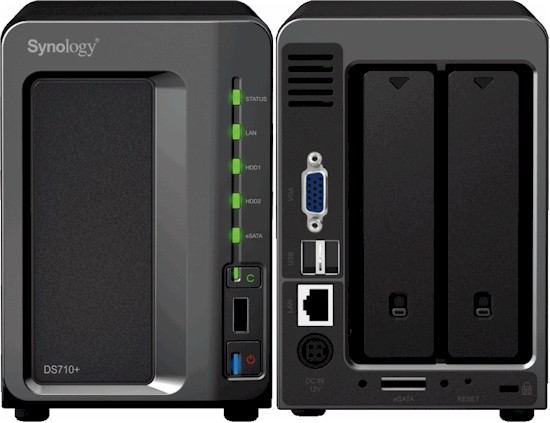 The 710+ can be expanded with the five-bay DX510 expansion chassis, same as the DS1010+.
Synology's claimed performance has also bumped up a bit to "113+ MB/sec Reading, 102+ MB/sec Writing", but with no details on the test configuration. The NAS supports Basic (individual drives), JBOD and RAID 0/1 volumes and runs Synology's DSM 2.2 OS.
Synology said the 710+ will ship by the end of this month, but didn't reveal pricing. However, Amazon lists it
available for pre-order at $568 diskless and $860 with two 1 TB drives.