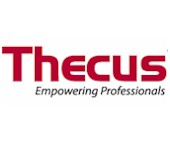 Thecus has announced two and four bay NASes using Intel's "Berryville" Atom media processor
The two-bay N2520 and four-bay N4520 both use Intel's 1.2 GHz CE5315 "Berryville" Atom media processor. The N2520 pairs it with 1 GB of DDR3 RAM, while the N4520 gets 2 GB.
Both NASes get one Gigabit Ethernet port (Wake-On-LAN supported) and two USB 2.0 and one USB 3.0 ports for printer and storage sharing / backup. Both are designed to support Thecus' recent focus on NAS-as-Media Player with HDMI and SPDIF ports, too.

Thecus N2520 and N4520
At around $260 MSRP, the N2520 will be the least expensive Thecus NAS with HDMI.
Of course, both NASes support the wide array of features in Thecus' OS including McAfee anti-virus protection, cloud backup to DropBox, Amazon S3 and Elephant drive, iOS and Android apps and more.
No availability was given for either product and no pricing was provided for the N4520.