Introduction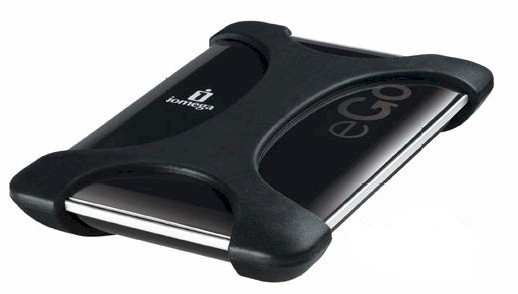 At a Glance
Product
Iomega eGo Portable Hard Drive, SuperSpeed USB 3.0 Reviewed (35327)
Summary
Small but capacious portable USB 3.0 drive
Pros
• Around 3X faster than USB 2.0
Cons
• 700 MB is permanently devoted to CD-ROM partition
• Indicator inconveniently located
USB 3.0 drives are starting to move into the mainstream as the faster host adapters make their way into notebooks, netbooks and desktops. So Iomega's August announcement that it was switching all its USB drives to USB 3.0 interfaces and keeping prices the same is really just the leading edge of what's sure to be a trend.
Iomega asked if we'd like to take one of their newly-minted "SuperSpeed USB 3.0" eGo Portable drives for a, um, spin. So here's a quick look.
The eGo has been around for a bit and includes five USB 2.0 lines (Figure 1) in addition to the SuperSpeed USB 3.0. It will be interesting to see if all the flavors make the transition to USB 3.0.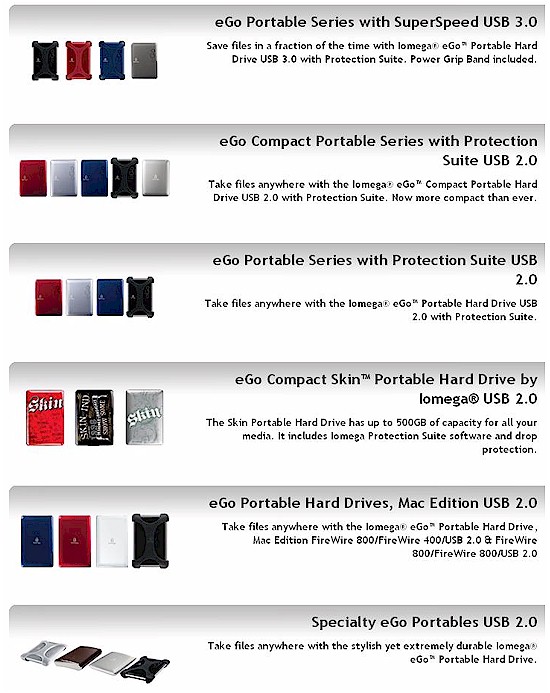 Figure 1: Iomega eGo product lines
There are three new SuperSpeed USB 3.0 eGos: Ruby Red, Midnight Blue and the BlackBelt version sent for review. All three colors come in 500 GB and 1 TB (tested) capacities and have three year warranties, if you register the product.
Iomega's site also shows a "Charcoal" version that doesn't have the color-coordinated "Power Grip Band" and 256-bit hardware encryption that comes with the Red, Blue and Black versions. The Charcoal version comes only in 500 GB. Iomega told me that this version was their first 2.5" USB 3.0 drive, released back in June. They are not discontinuing it at this point. But at the same price as the newer models and fewer features, they might as well.
Figure 2 shows the business end of the drive, where both the USB 3.0 connector and drive power / activity light sit. The light's placement is a poor choice and makes it pretty useless.

Figure 2: Iomega eGo USB 3.0 back
The Black, Blue and Red models have Iomega's Drop Guard Xtreme that is supposed to protect the drive from seven foot drops. The Charcoal version has only plain ol' Drop Guard that offers only 51" (make sure you measure before you drop) drop protection.
I don't care much for the undeleteable CD-ROM partions I've found on some flash drives. So I didn't care much either for the one on the eGo that held only a copy of the Iomega Encryption Utility installer. Since you have to go online to download the Trend Micro Internet Security, Roxio Retrospect Express Backup software, Iomega QuikProtect, and MozyHome Online Backup installers anyway, why not free up the space and put the Encryption Utility there, too?
Iomega includes a USB 3.0 cable with the drive that mates to the special USB 3.0 connector on the drive and has a plug that will connect to either USB 3.0 or USB 2.0 hosts. Of course, you only get USB 3.0 speed with a USB 3.0 host adapter.
Performance
For performance testing, I used the new version 3 NAS testbed, which has a NEC-based USB 3.0 host adapter built into its ASUS P7H57D-V EVO motherboard. I upgraded the driver to the nusb3drv 1.0.19.0 version downloaded from ASUS' support site.
As I have with other attached drives, I ran HD Tune's read and write benchmarks to get a profile of performance across the drive platter. I was also going to run the File Benchmark tests, but found they wouldn't run due to the dedicated CD-ROM partition. I also had to upgrade to HD Tune Pro 4.6, since the 3.5 version I had wouldn't even recognize the entire 1 TB drive space.
Figure 3 shows the results of the HD Tune Write Benchmark, indicating an average read speed of 70.6 MB/s, with a peak speed of 94.7 MB/s. Speed appears to decay pretty linearly across the drive platter.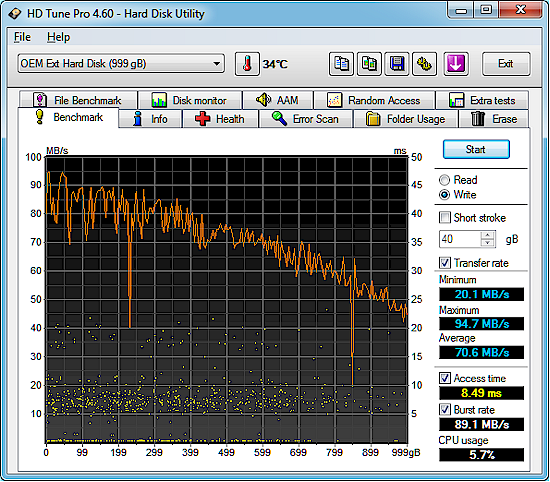 Figure 3: Iomega eGo USB 3.0 HD Tune Pro Benchmark – write
For reference, I ran the same test on a WD MyBook USB 3.0 drive, which uses a 3.5" SATA drive. Figure 4 shows it had a higher 103 MB/s peak write speed. Even though speed doesn't look like it has much of a downward slope, the higher variation yielded an average write speed of only 82.5 MB/s.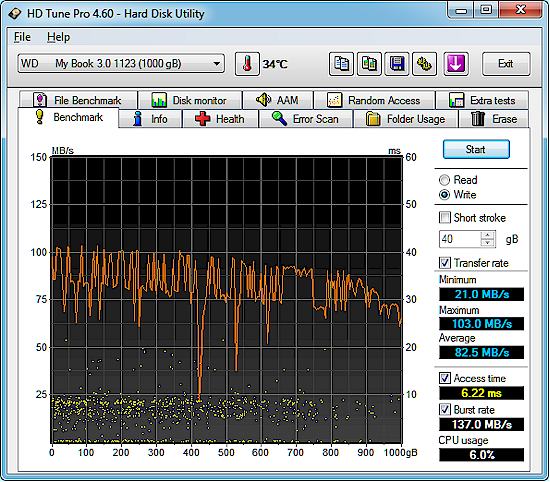 Figure 4: WD MyBook 3.0 HD Tune Pro Benchmark – write
HD Tune Benchmark read results for the Iomega and WD drives are shown in Figure 5 and 6, respectively.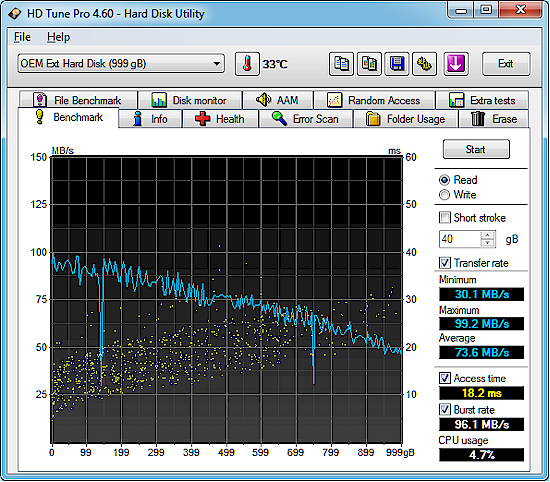 Figure 5: Iomega eGo USB 3.0 HD Tune Pro Benchmark – read
The WD clearly beats the Iomega on read, both on peak and average speed with 135.4 MB/s , 109 MB/s for the WD vs. 99.2 MB/s, 73.6 MB/s for the Iomega. Still, the 70+ MB/s write and read speeds for the eGo are almost 3X what you can get from the fastest USB 2.0 drive, given that bus' slower speed.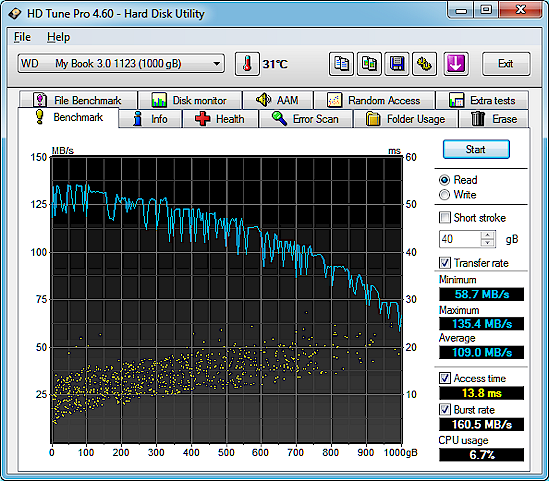 Figure 6: WD MyBook 3.0 HD Tune Pro Benchmark – read
Performance – Intel NASPT
For an application level look at performance, I turned to Intel's NAS Performance Toolkit, which is now the main tool I use for NAS testing. It's perfectly applicable to attached drive testing, too, and I ran the File Copy and Directory Copy to / from and HD Playback and Record tests. See this page if you want more info on what the tests do.
Figure 7 shows the NASPT results, which basically confirm what we saw using HD Tune Pro, i.e. that the 3.5" drive based WD MyBook 3.0 is faster than the 2.5" drive based eGo.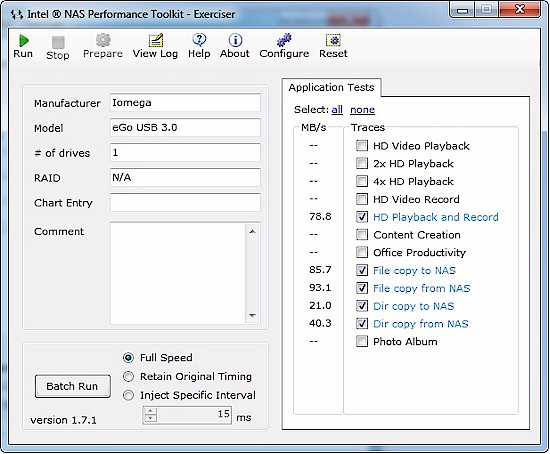 Figure 7: Iomega eGo USB 3.0 Intel NASPT
The actual throughput numbers are different, of course, because the test methods are different. The NASPT File Copy results are closer to HD Tune Pro's Benchmark average numbers because both use sequential transfers.
The NASPT Directory Copy tests use multiple folders and a mix of file sizes, so show lower speed due to much more drive head seeking.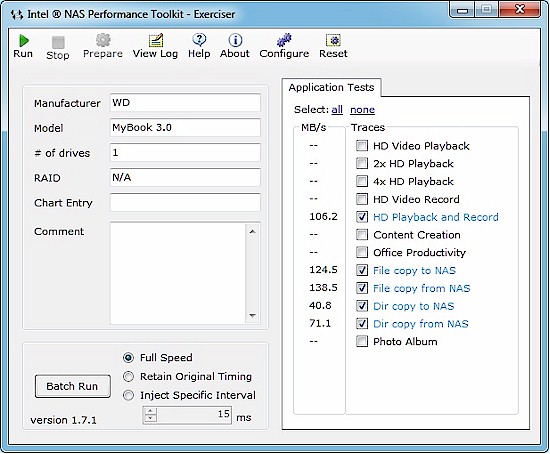 Figure 8: WD MyBook 3.0 Intel NASPT
Closing Thoughts
As noted earlier, it makes sense for other manufacturers to follow Iomega's lead and move all their USB drives from USB 2.0 to USB 3.0. Any manufacturing cost increase should be more than offset by the inventory reduction cost savings.
But the supply of USB 3.0 drives is still relatively small. The only comparables I could find in 1 TB 2.5" USB 3.0 drives were WD's My Passport Essential SE 1TB Black Portable Hard Drive (WDBACX0010BBK-NESN) and Toshiba's Canvio 1 TB 3.0 Plus Portable External Hard Drive (E05A100PBU3XS).
Lowest pricing for the WD and Iomegas was around $130, while the Toshiba showed a lowest pre-order price closer to $140. Note that if you're willing to go for the older, 500 GB "Charcoal" eGo, Amazon was showing it for around $85
. You'll also pay around this if you opt for the newer 500 GB eGos.
A quick check of USB 2.0 eGo pricing showed most around the same $80 price point for 500 GB. But if you can find a 1 TB USB 2.0 eGo, you might pay around $145 unless you're willing to buy from one of the lesser-known online shops.
At any rate, if you're looking for a USB 3.0 drive in a small, rugged package, Iomega's eGo USB 3.0 is worth a look.