Cisco was kind enough to provide SmallNetBuilder with one of the first of their new Linksys by Cisco Media Hub NASes. So we have returned the favor by posting this short mini-review as it is announced at CES 2009.
The Linksys Media Hub is a media-focused NAS with a slick user web interface designed for use by general consumers that comes in three models. It can be used with Cisco's new Wireless Home Audio line, or as a general media and backup server.
The NMH405 (500 GB) and NMH410 (1 TB) models both include a front panel LCD display and 6-in-1 card reader as shown in Figure 1. The NMH305 does not have the LCD or card reader and sells for $50 less than the 405. All versions come with one drive—you add the second to either expand capacity (JBOD) or increase security (RAID 1).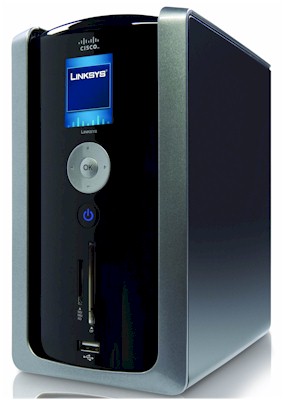 Figure 1: Linksys by Cisco Media Hub
The Media Hubs all are based on Marvell's 88F5182 "Orion" NAS SoC instead of the RDC R3210-G used in the Linksys NAS200. There is 128 MB of RAM and two flash memories: 64 MB and 512 KB.
The gigabit Ethernet LAN port is supported by a Marvell 88E1118 but without jumbo frame support. Other devices include an Alco Micro AU6254 USB 2.0 Hub controller and Realtek RTS5151 all-in-one card reader / controller.
Fan and drive noise is very low and power draw is only 13 W, but there are no power save features. The 405 came with a single Western Digital WD5000AVVS 500 GB "Green" drive. The 410 comes with a single 1 TB drive. Internal drives use the Reiser filesystem.
The slick user interface (Figure 2) runs in any web browser that supports Flash 9 or later and ran fine in both Firefox 3 and Internet Explorer 6. Indicies with thumbnails are automatically created as files are added to the Media Hub. Files and folders can be added via normal drag-and-drop or via upload using the interface's File Browser feature (multiple files, but no folders).
Figure 2: Media Hub Web interface
Cisco also provides a Media Importer application (Windows only) that is supposed to scan local and networked shares for media file types and automatically copy them to the Media Hub. But my attempts at using it were unsuccessful, as it kept telling me that it had already run an import although it hadn't.
CIFS/SMB is the only network file system supported, although files can be moved around via HTTP and an FTP server that is disabled by default. There is no USB print server available, UPS automatic shutdown isn't supported via USB and there is no built-in download client.
But there are UPnP AV / DLNA media and iTunes servers as well as a browser-based photo slideshow feature. In fact, there are also browser-based players for music and video files. The music player worked fine, but I was unable to get a video to play using either FireFox 3 or Internet Explorer 6.
Formats supported include:
Audio: M4A, M4B, MP4, 3GP, WAV, OGG, FLAC, AAC, MP2, AC3, MPA, MP1, AIF, ASF
Photo: PNG, TIF, TIFF, BMP, GIF
Video: MP1, MPG, SPTS, MP4, AVI, VOB, DivX, 3GP, VDR, MPE, DVR-MS, Xvid, M1V, M4V, MOV, MPV
Playlists: M3U, M3U8, PLS, WPL
The two USB 2.0 ports and CF/MD/MS/SD/XD/MMC card reader can be used to quickly copy files to the Media Hub. You can also use the USB ports to expand storage if you don't mind anything plugged in being mounted as a public read/write share. In fact, all shares are completely public with full read/write privileges. There is also no way to add additional users or create user groups.
Speaking of copying files, the Media Hub can also be used for client backup via the bundled NTI Shadow application, if you're a Windows client. Files and folders can be selectively backed up, but "bare metal" backup for disaster recovery isn't provided.
Cisco has included a very easy-to-use remote access feature that doesn't involve futzing with router settings or setting up a dynamic DNS account. All you do is create a unique name for your Media Hub and then hit https://ciscomediahub.com/ (note the secure access). After login, you get the same GUI and features as you have with local access.
Performance is similar to other "Orion" based NASes. With the 405 configured in its default single drive mode, writes with a gigabit LAN connection averaged 17.2 MB/s for file sizes between 32 MB and 4 GB. Reads under the same conditions did a bit better, averaging 16.7 MB/s. Figure 3 shows throughput vs. file size performance with a gigabit LAN connection.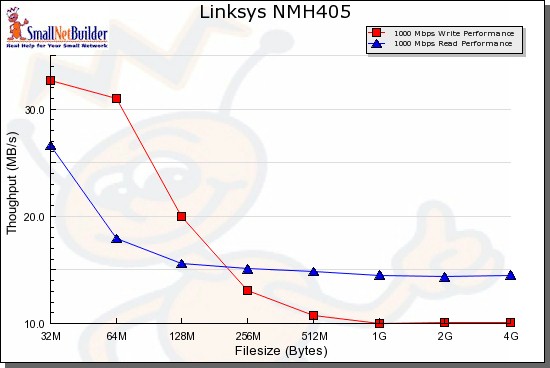 Figure 3: Media Hub Write and Read throughput vs. file size – 1000 Mbps LAN
A complete review will be coming in a few weeks. But in the meantime you can compare the Media Hub with other products using our NAS Charts.

See the slideshow for a feature tour and internal photos