Introduction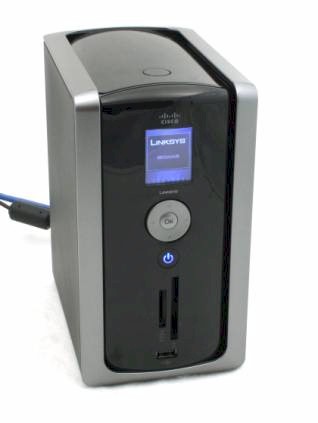 At a Glance
Product
Linksys by Cisco Media Hub with LCD (NMH405)
Summary
Two-drive SATA NAS with slick user interface focused on media serving.
Pros
• Gigabit Ethernet
• Low Power and quiet
• Browser-based photo, music and video players
• Easy remote access
Cons
• Single user only; can't add users or groups
• No file import or backup for Macs
• Browser-based media players can be finicky; don't support all media types
Cisco has been a key vendor in enterprise environments for many years. And now, Cisco wants to be an integral part of not only your home network, but your home entertainment experience, as well. If there were any doubt at that, Cisco erased that with a number of new introductions at this year's CES. The new media products are all being marketed under the "Linksys by Cisco" brand. Even the old Linksys web site now reflects the new branding. (www.linksysbycisco.com).
One essential component of a home entertainment network is centralized storage. Cisco introduced three new models of a network storage appliance named Linksys by Cisco Media Hub. The $299.99 entry model NMH305 includes a single 500GB drive and a second drive bay that can be used to expand storage (JBOD mode) or to configure a second drive for RAID 1 fault tolerance. The NMH305 also has 2 USB 2.0 ports for importing data from a flash drive.
The $349.99 mid-range NHM405 model, my review unit, adds a 1.8" 176 X 220 pixel LCD screen and memory card reader that accepts Compact Flash and SD memory cards and memory sticks. The top of the line NMH410, priced at $429.99, is identical to the NMH405, but comes with a single 1.0 TB drive.
Product Tour
The NMH measures a compact 7.80″ x 4.37″ x 6.61″ (198 x 111 x 168 mm). On the front panel (except for the 305) there's the LCD display that lets you manage many of the device's functions, a four-way navigation "ring" that surrounds an "OK" key and a power button. Memory card slots and a USB 2.0 port round out the front panel. There is no disk activity indicator.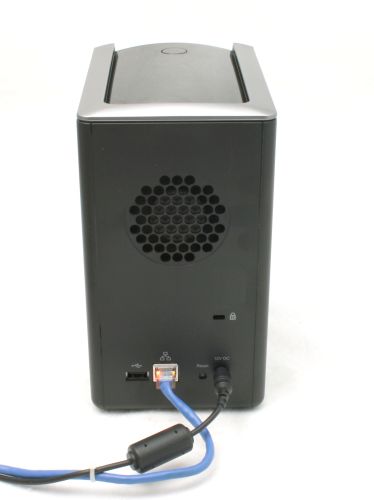 Figure 1: Media Hub rear view
Figure 1 shows the rear panel consisting of a Gigabit Ethernet port (with link and activity indicators), power port, second USB port, reset switch and a security hole for a cable lock. I should note here that the USB ports don't support USB print serving, nor can they be used in conjunction with a UPS to provide an orderly shutdown in the event of a power outage. Power comes from an external auto voltage sensing "brick" power supply rated at 12 VDC @ 5 Amps.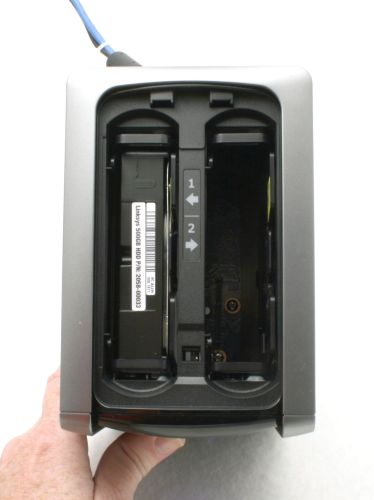 Figure 2: Top View with panel removed
Figure 2 shows that access to the drive bay is through the top of the Media Hub. You merely push the button on the top and remove the plastic lid, with no tools required. Drives mount on plastic trays, that snap into place—as easy as dropping bread into a toaster.
The NMH405 comes supplied with a single 500GB Western Digital "Green" drive (WD5000AVVS), and the device draws only 13 W. There is no provision to spin down the drives, however.
On The Inside
Figure 3: Circuit Board component side
Figure 3 shows the component side of the circuit board. You can see that the Media Hub is based on Marvell's 88F5182 "Orion" NAS SoC along with 128 MB of RAM and two flash memories: 64 MB and 512 KB. The gigabit Ethernet LAN port is supported by the ubiquitous Marvell 88E1118 found in many NAS products. However, the Media Hub does not support jumbo frames. Other devices include an Alco Micro AU6254 USB 2.0 Hub controller and Realtek RTS5151 all-in-one card reader / controller.
Figure 4: Circuit Board circuit side
Figure 4 shows that the SATA drive connectors are mounted directly on the circuit side of the board.
Setting Up
Setup is accomplished using a CD-based wizard. Although you can access the Media Hub's content and shares with a Mac, the supplied setup software, as well as the import utility and third party backup software are for Windows Vista and XP only.
The wizard walks you through connecting the power and networking cables and then boots the Media Hub. After discovering the NMH on the network, the wizard prompts you to enter a "friendly" name and set an administrative password. That completes hardware setup.
Next, you install the client software. It consists of an Import Tool that discovers and copies media files to the Media Hub, as well as a customized version of NTI's Shadow backup software.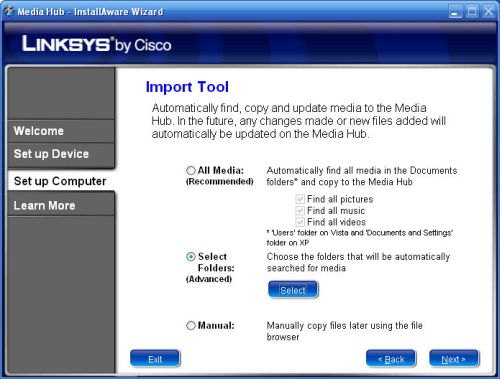 Figure 5: Media Hub Import Tool
Figure 5 shows the options available for the Import Tool. The tool will search for all media files (photos, videos, and music), or you can select which folders to search. If you add additional media content, the Import Tool will automatically copy those files to the Media Hub.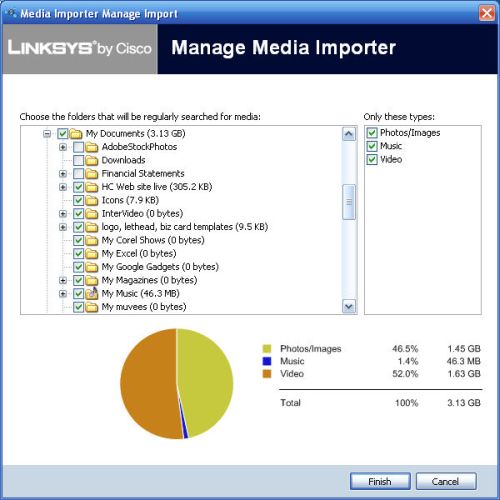 Figure 6: Advanced Import Tool Options
Figure 6 shows the directories I selected using the advanced option on the Import Tool. The tool identified 3.13 GB of data to transfer. You can install the Import Tool, as well as NTI Shadow on multiple computers. Files copied to the Media hub reside on a share named "media" in a subdirectory named "import". There are separate subdirectories based on the computer name for each system that copies files to the Media Hub. The Media Hub crawls all of the \import directories, as well as the default \photos, \videos and \music folders to aggregate all media files.
Backup Options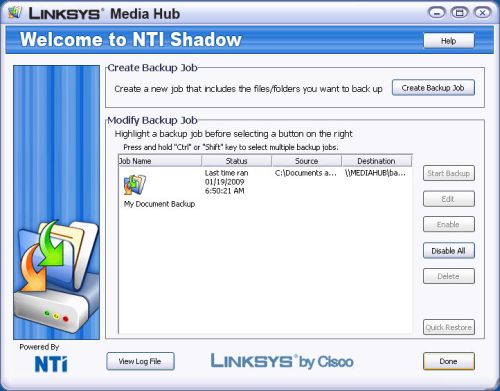 Figure 7: NTI Shadow Default Backup Job
Often, the backup software included with NAS products isn't very good. However, that's not the case with NTI Shadow. Figure 7 shows the default job that's automatically created when you install NTI Shadow. The job backs up your documents every hour. You can also create additional backup jobs to back up whatever files you want on a schedule that you can set.
I do have one word of caution, however. The default document and spreadsheet files backed up by the default job are .doc and .xls. If you are using the current version of Office (2007) and the corresponding defaults of .docx and .xlsx, you'll need to modify the default job to include those extensions. The default job won't back those files up.
NTI Shadow is nicely integrated with the Media Hub. The Media Hub has a default share named \backup and backed up files are placed in subdirectories named for each computer that's running the software. Unfortunately, NTI Shadow does not perform image backups that can be used for "bare metal" system recovery – it would be great if it did.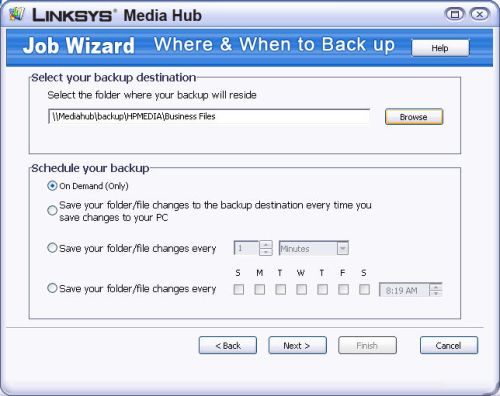 Figure 8: NTI Shadow Job Wizard
The Job Wizard, shown in Figure 8, lets you schedule your backup jobs as frequently as every time a file changes. Other options (not shown above) include saving multiple versions as well as designating a job as "on demand". On demand jobs can be launched remotely from the front panel controls of the Media Hub or from the browser-based configuration backup page.
Hands On

See the slideshow for more admin interface shots and internal photos
If you were to look at the Media Hub just as a traditional NAS , you'd quickly conclude that it's a very basic device, with only a few configurable options. However, this is by design, according to Cisco, since the primary audience for the device is general consumers, not networking-savvy geeks.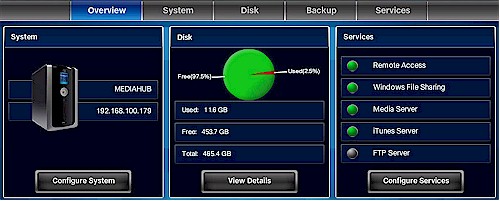 Figure 9: Media Hub Configuration
You can't, for example, set up users or groups or even create new shares. There is no file security either—all files are viewable by anyone who points a web browser at the NMH's IP address. By default, all services are enabled except Remote Access and the FTP server.
Remote Access setup is extremely simple – you merely give the Media Hub a remote access name and you're done. (If your name as already been registered, you'll be prompted to enter a new one.) To access your Media Hub remotely, you merely point your web browser at www.CiscoMediaHub.com, type in your remote access name along with the Media Hub's administrative password, and you're connected. The user interface looks just like it does when you're connected locally. The only difference is that you don't have remote access to the device configuration menus. Note that since the web GUI is heavily Flash-based, you won't have a satisfying experience if you try to remotely access the NMH using an iPhone or iPod Touch.
Since you remotely access the NMH via a subdomain of CiscoMediaHub.com, dynamic DNS is at play to keep the domain name pointed to your router's WAN IP address. But you don't have to mess with opening any ports or even registering with a dynamic DNS provider—that all happens automagically behind the scenes.
I was curious to see whether Cisco was providing the dynamic DNS itself so did a "whois" lookup on CiscoMediaHub.com. The registration information showed that the domain was pointed at TZO.com's nameservers, so it looks like Cisco has partnered with TZO to handle dynamic DNS duties.
Note that your browser may throw a security warning due to the self-issued certificate for secure HTTPS remote access. You'll need to accept the certificate in order to get connected.
Initially, I had some problems with the Media Hub and went looking for the option to update firmware. As I scrolled through the options on the LCD screen, I discovered a "Firmware" menu entry. When I pressed the OK button, the current version of firmware (2.17.8) was displayed and then, using the active Internet connection, the NMH "phoned home" to check for a later version. The NMH found a later version, 2.17.13 and offered to download and install it. I accepted, and a few minutes later the Media Hub rebooted with the updated firmware.
You don't need the LCD screen to get new firmware, however, which is good since the NMH305 doesn't have one. All Media Hubs automatically check for new firmware weekly and will pop up a notification when they find it. You can then either download it from the front panel, or use a button that appears in the Firmware Update section on the System Configuration page. Note that you won't find firmware updates posted on the Media Hub download page because Cisco says that the features described above remove the need for manual download and installation.
Since the automatic process doesn't display a revision history file, I don't know what bugs were fixed in the update. But after reboot, the Media Hub discovered .M4V video (iPod) files that it previously hadn't found.
Playing Media
The home page of the Media Hub shown in Figure 10 is an attractive user interface. There are large icons for Music, Photos, Videos and the File Browser. As you mouse over each of the icons, they magnify slightly – much like icons in the Mac OS dock. Under each of the three media icons, there are four automatically-selected "recent" thumbnails.
Figure 10: Linksys by Cisco Media Hub Home Page
Under the File Browser icon, there's a summary of your disk usage as well as icons you can click on to get information for either attached Flash drives or inserted memory sticks. I'll run through each of the three media players.
Music
When you click on the Music icon, you land on a page of album thumbnails as shown in Figure 11. Across the top of the interface, you have options for viewing by Album, Artist, Recent or by Song title. Highlighted letters in the alphabet indicate matches, and if you click on a letter, you are taken directly to the corresponding entry. At the bottom left corner of the screen, there are icons that toggle between thumbnail and list view.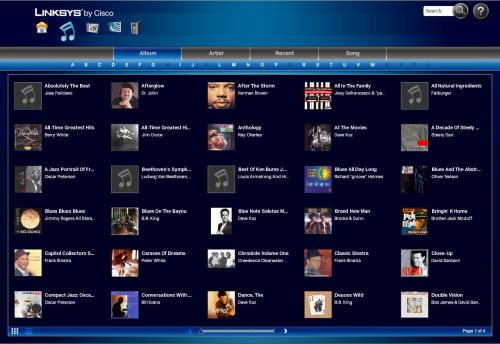 Figure 11: Music Thumbnail View
When you click on an icon, you are taken to a page that displays the songs for the corresponding album. From this page, shown in Figure 12, you can add the album or individual songs to a playlist, play an individual song, or play the song in an external application. You can have only one playlist and it can't be saved. But the playlist can be played by networked media players. Product specs also indicate that M3U, M3U8, PLS and WPL playlists are supported. But the instruction manual doesn't tell you how to access these playlist types.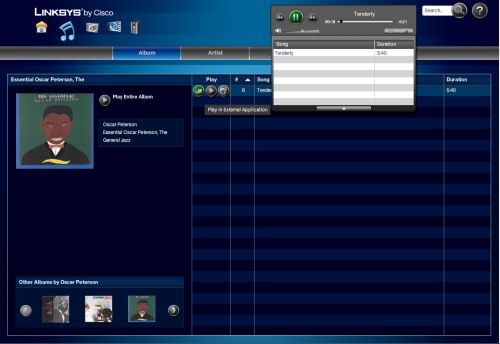 Figure 12: Individual Album showing the playlist
The default file formats are .MP3 and .WMA and other file formats are supported by external players. However, I received an error message when I tried to play .M4A files. My default media player, iTunes didn't launch, nor did it play when I tried to play it with the external application.
Bottom line: The music player works well with.MP3 and WMA files, and has limited built-in playlist support. But playing other file types will depend on their having browser plug-ins.
Photos
Similar to music, clicking on the Photos icon lands you on a page of thumbnails similar to what's shown in Figure 13 (below). You can view your images by Album, Date, Name, or Recent. If you choose Date, you can refine your search by year and month. Like the Music menu, the Photo menu has an alphabet bar that helps you better refine your search. There are also icons to toggle between the list and icon views.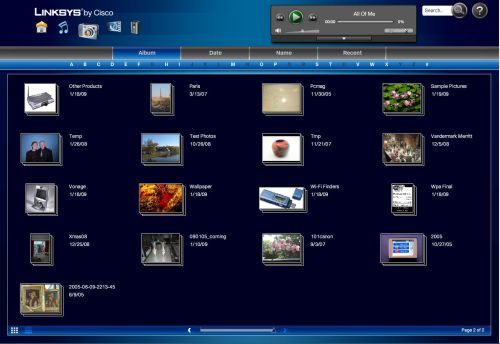 Figure 13: Photo Thumbnails
When you click on an album, the contents are displayed. Clicking on an image automatically starts a slideshow as shown in Figure 14. While you can set the time delay between images, you can't control the transition effect between images. You also can't create slide shows from images in multiple albums or save slide shows. Note that images need to be in the correct orientation before the Media Hub imports them since the slide show viewer doesn't have the ability to rotate images.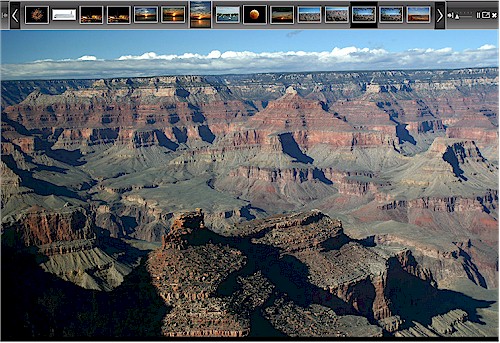 Figure 14: Media Hub Slide Show
Video
Clicking on the video icon opens up a screen with thumbnails of the available videos as shown in Figure 15. As with the Photos and Music menus, there are icons for changing between the icon view and a list view. In the icon view your choices are limited to "Name" or "Recent".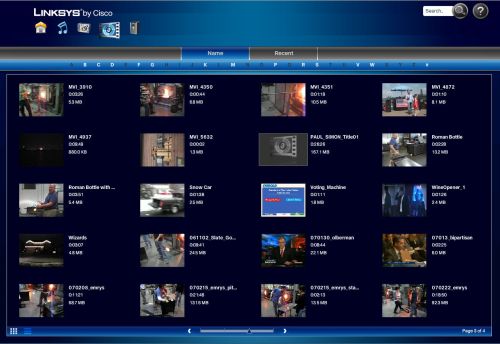 Figure 15: Media Hub Video Thumbnails
You can, however, sort your videos in the list view by any of the column headings shown in Figure 16. Note that the date on the video files is actually the date they were imported to the Media Hub, not the date on the file. The file dates of the video files are correct if you check with Explorer.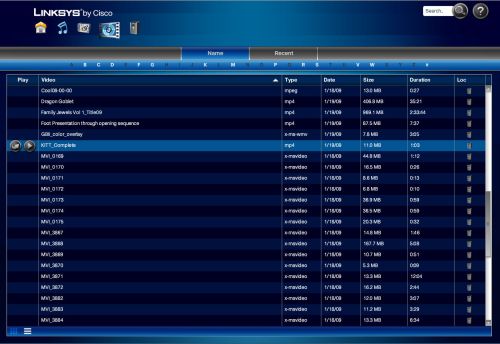 Figure 16: Media Hub Video List View
My experience with video playback varied widely based on the computer and browser I used to test. When clicking on a file for playback, I experienced a delay from a few seconds to as much as several minutes depending on the computer used and the file format. For example, I was unable to play either .WMV files or.AVI files from my digital camera using Firefox V3.05 on my Mac. Even though I had installed the recommended Flip4Mac plug-in for WMV, I was still unable to play the video.
The videos play in a small window inside your browser – a new window or tab doesn't open. The video size is fixed, and you can't enlarge it or view it full-screen. Table 1 shows the results of my video tests using various browsers and platforms.

Table 1: Video Test Results with different browsers and platforms
File Browsing
When you click on the File Browser icon, you are prompted for the administrative password. Once the file browser loads, you'll see an Explorer-like interface as shown in Figure 17 below. You can copy, move, rename, delete, upload, download, create new folders and delete folders using the icons across the top of the screen. This is especially handy during remote access.
Figure 17: Media Hub File Browser
Figure 17 also illustrates how the Media Hub organizes files from imports and backups. The two default shares, "Media" and "Backup" each have subdirectories with the names of corresponding computers. The folder with a date on it under \media\import contains media files imported from an SD memory card.
The NMH405 and NMH410 feature slots for reading media cards as well as USB flash drives. When you insert a memory card, the LCD screen alerts you that it has detected a card, asks you if you want to import media and then provides the status of the import. Figure 18 combines three photos of the front panel that shows this process.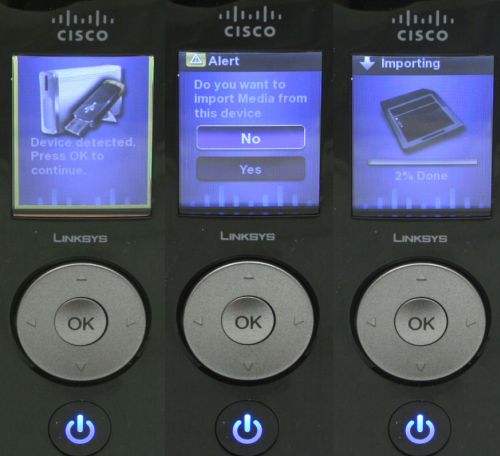 Figure 18: Memory Card Media Import
RAID Fail Test
As shipped, the NMH405 only has a single drive, but it will support RAID 1 (mirroring) as well as storage expansion (JBOD) modes with a second drive added. So I decided to test RAID 1 expansion and failure. Though the documentation is a bit sparse, the manual and user interface says that the second drive must be the same size or larger than the original in order to configure the Media Hub for RAID 1. It also warns that you should back up all of your data to another device, since creating a RAID 1 configuration will essentially wipe the data from the original drive as well as the second drive.
I first shut down the device and installed a 1 TB Seagate drive into the open slot. After rebooting, I logged into the Configuration page and selected the Increase Protection option under the Disk tab. After selecting the option, the device became unavailable for a period of time, and then rebooted.
After the reboot, the Media Hub came back online, and the Import tool installed on two of my test computers immediately started to upload content to the Media Hub, since all of the data on the Media Hub had been wiped. It took some period of time to re-copy the data and for the RAID to synchronize. During the synchronization process, a progress bar is available in the user interface, and the device is available for user access.
Once the drive had synchronized, the disk page of the configuration menu showed the RAID as "OK" as shown in Figure 19.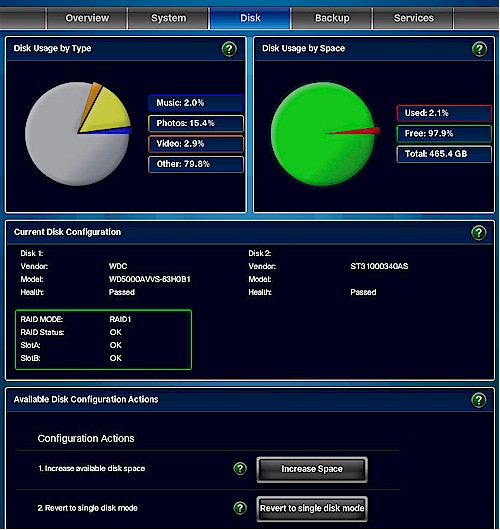 Figure 19: Media Hub reconfigured for RAID 1
I did note, however, that the automatic backup job created when I installed NTI Shadow failed, because the target directory (\\mediahub\backup\HPMEDIA) no longer existed. The default share of \\mediahub\backup was re-created, but not the directory corresponding to my computer name. Once I manually re-created the directory, the backup ran normally.
Next, I decided to test the fault tolerance of the device. I powered down the Media Hub and pulled drive 2 to simulate a failure. When I rebooted, the device came back up with all of the original data, but was just running on drive 1.
I was disappointed that neither the front panel LCD, nor the home page of the user interface indicated that the device was operating with a degraded RAID status. I had expected the LCD to show an alert, but even the status choices on the LCD didn't show a degraded RAID. However, the disk configuration page, shown below in Figure 20, did show the "missing" drive and the RAID status as degraded.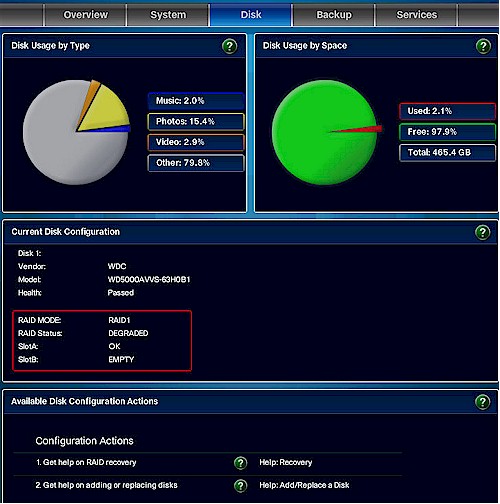 Figure 20: Degraded RAID 1
I wrote some additional files to the Media Hub and then powered down so that I could re-install the drive that I had previously pulled. I re-installed the disk and rebooted the device. The Disk configuration page recognized the drive and the option to "Rebuild" appeared as shown in Figure 21.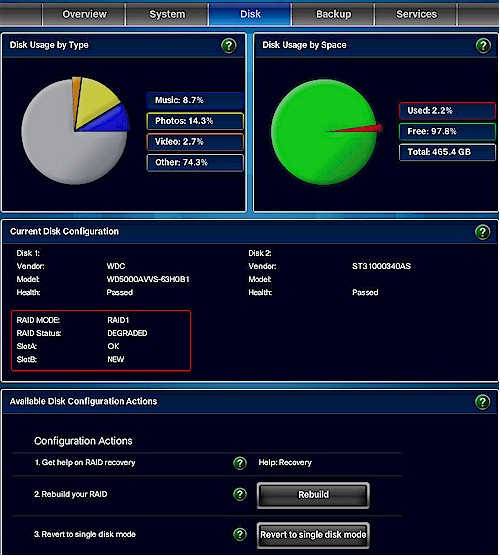 Figure 21: RAID degraded, but second drive recognized with option to rebuild
After clicking on Rebuild and acknowledging the notice shown in Figure 22, the RAID started to rebuild.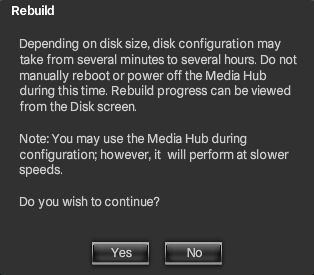 Figure 22: RAID rebuild notice
During the rebuilding process, shown in Figure 23, the Media Hub remained online and available. I copied files to the Media Hub during the rebuild process which, based on the elapsed time and the percentage complete, looked like would take about 2 hours.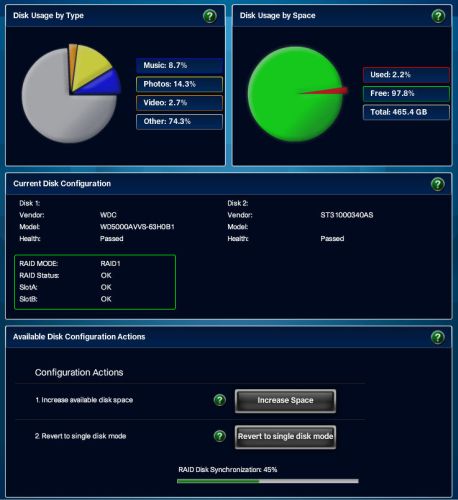 Figure 23:Media Hub during RAID synchronization
The RAID rebuilding process was relatively smooth and similar to what we have found on other RAID 1 products. I would have liked to see a more visible notification, however, of degraded status on either the front panel LCD or even the NMH's home page. It would also be nice if the NMH supported RAID migration and expansion, so that you wouldn't have to scramble to find a place to temporarily park your data when adding a second drive.
Performance
Buyers of the NMH405 are likely purchasing the device for its media aggregation capabilities, not raw speed. Still, that doesn't mean that performance can be ignored. IOzone was used to test the performance of the Linksys Media Hub (the full testing setup and methodology are described on this page).
The test unit had the factory installed 2.17.8 firmware. It was tested with 100 Mbps and 1000 Mbps LAN connections. Tests were not run for jumbo frames since the device doesn't support them. Tests for each configuration were run for both a single drive and RAID 1.
Figure 24: Linksys Media Hub 1000 Mbps file performance
Figure 24 shows that performance for read operations was virtually identical for a single drive or for a RAID 1 configuration, settling in at around 15 MB/s once cache effects drop out at the higher file sizes. RAID 1 tended to show higher cached performance at the smaller file sizes than the single drive mode.
For a competitive comparison, I selected the QNAP TS-209 Pro, Linksys NSS4000 as well as Buffalo's new LinkStation Live. I wanted to include Linksys' other dual-drive offering, the NAS200. But since it doesn't support gigabit Ethernet and I wanted to compare performance with a Gigabit LAN connection, I had to use the rack-mount NSS4000 instead.
Note also that only the results for the LinkStation Live are directly comparable to the Media Hub, since it was run using the new benchmark system that tends to produce higher results.
Figure 25 shows that three of the four products had around 15 MB/s read performance for most of the large file sizes. In contrast, the NSS4000 dropped to around 5 MB/s once cache effects stopped.
Figure 25: 1000 Mbps Competitive Read Performance
Figure 26 shows the corresponding competitive 1000 Mbps write performance chart for the same four products. The new testbed is likely producing the relatively high cached performance at the lower file sizes. But once cache effects fall away at 512 MB file sizes and larger, the QNAP TS-209 Pro is the clear winner, with around 15 MB/s write speed vs. the NMH405's 10 MB/s.
Figure 26: 1000 Mbps Competitive Write Performance
Final Thoughts
Cisco has taken a bold step with the introduction of the Media Hub products. Instead of a traditional NAS device with security and logging features that would appeal to networking-savvy SOHO and small-business users, Cisco has instead targeted the product at the general consumer who is looking for a way to get his or her digital life in order.
To that end, the product is right on target, with both an import utility that automatically brings in media content and the bundled NTI Shadow backup software that provides general file backup protection.
You can also use the Media Hub as a NAS, however. Windows Explorer has no problems mapping a drive to the Media Hub and the Mac OS Finder works with it as well. You just have to be willing to have your media and backup files publically accessible to everyone on your home network.
A couple of features that worked especially well are worth recapping. First, remote access was incredibly easy to set up—really a no-brainer—and worked well. Second, importing files from either memory cards or flash drives worked exactly as expected. I had no problem mounting the devices, and, unlike some other NASes, the Media Hub didn't require reformatting removable media before using it. Best of all, you can map drives to the removable media.
But the Media Hub isn't a home run. Although it's understandable that Cisco focused first on Windows users with its setup, backup and file import features, it has unfortunately overlooked the community of Mac users who could be potential Media Hub customers.
HP appears to have done a better job of Mac OS support with its revamped MediaSmart server line, which includes Windows and Mac OS backup and even the ability to act as Apple Time Machine storage. And iPhone / iPod Touch access like that provided by newer Buffalo NASes would have been a nice touch, too. Cisco says more Mac OS support is in the pipeline, but there is no specific timeline.
The Media Hub's browser-based access to image, music and video files via browser plug-ins, is a mixed story, too. The concept of web-browser access to media files is appealing to those who have grown accustomed to accessing content this way and makes for easy remote access.
But the devil is in the implementation and I found that depending on the browser used, its configuration, the installed plug-ins / ActiveX controls and your system default media player(s), the experience of enjoying your music and video files via a web browser will vary greatly.
The bottom line is that the browser must have the correct codecs installed in order to play video and audio files. If it doesn't, you'll get (after a wait ranging from seconds to, in some cases, minutes) a message similar to the one shown in Figure 27.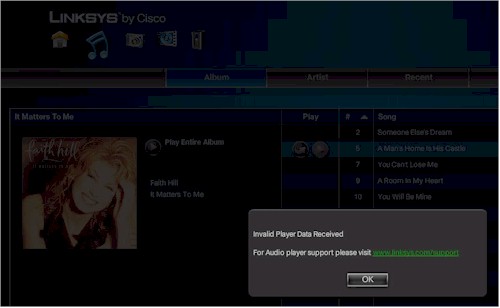 Figure 27: File play error message
But the link to the Linksys support site doesn't take you to a page about codecs, but instead to the Support site home page. I hope Cisco fixes this soon, since it doesn't make for a very satisfying user experience.
Of course, the Media Hub supports streaming to UPnP AV / DLNA media players as well as supporting iTunes, and this may be all that some consumers want. And others, like myself, will use tried-and-true applications for accessing content such as iTunes for music and Photoshop Elements for photo viewing and slide shows.
At $349.99, the NMH405 is a much better value than the $299.99 entry-level NMH305. The convenience of downloading media files from your camera's memory cards as well as the LCD display make the extra $50 almost a no-brainer. Note, however, that you may have problems finding any of the models other than on the ShopLinksys.com company store and Amazon.com, at least initially, since Cisco appears to be rolling the product out slowly.
It's nice to see Linksys finally have a competitive NAS so that its poky, under-powered NAS200 can quietly fade away. The Media Hub's features, slick user interface and Linksys / Cisco brand aura will make it an appealing buy to Mom and Pop NAS buyers. It would have been nice, however, if Cisco had bumped performance up by another 10 MB/s or so that experienced NAS-buyers might give it more than a passing glance.

See the slideshow for more admin interface shots and internal photos