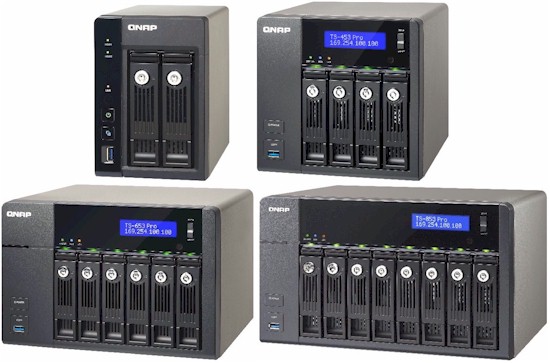 At a Glance
Product
QNAP TS-x53 Pro Turbo NAS Series [Website]
Summary
Intel quad-core Celeron-powered NASes
Pros
• USB 3.0 ports
• Cloud backup to Amazon S3, ElephantDrive, Symform
Cons
• Lacks 10GbE option
• No eSATA
Introduction
Last month, we reviewed QNAP's x51 line of dual-core Bay Trail D Celeron NASes aimed at well-heeled Home and SOHO buyers. This time, we're looking at the x53 Pro family intended for small-biz customers.
The TS-x53 Pro series comes in two, four, six and eight bay models. All share a common hardware platform with two versions. The two-bay TS-253 Pro uses a board with two Gigabit Ethernet and three USB 3.0 ports. The rest of the models use a different main board with four Gigabit Ethernet, three USB 2.0 and two USB 2.0 ports.
None of the x53 Pros have eSATA ports, as is evident in the view of the rear panels below. All four models have a single HDMI port and integrated IR MCE Remote compatible sensor. In keeping with many of QNAP's other "Pro" offerings, all models have lockable drive trays and all except the two-bay have LCD status panels.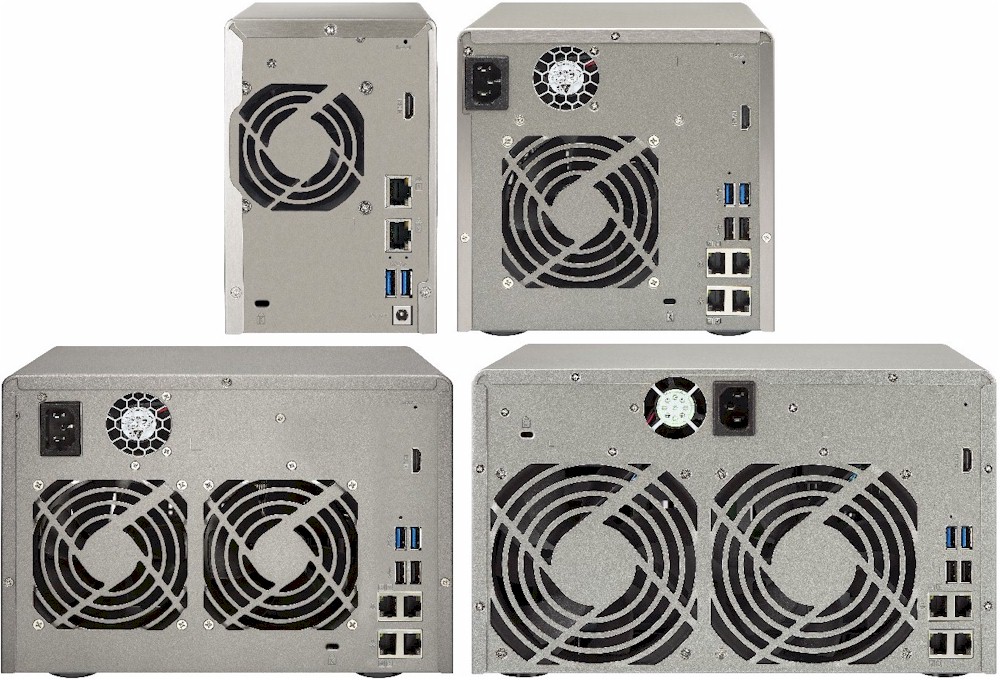 QNAP TS-x53 Pro series – rear panels
Key hardware features are compiled in the table below. Note there are two versions of each model; one with 2 GB of RAM and the other with 8 GB. If you don't like QNAP's RAM pricing, you can upgrade the RAM yourself.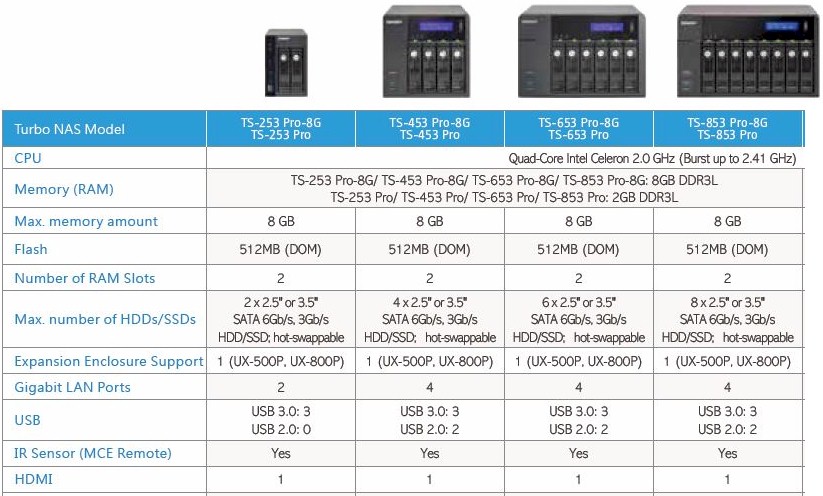 QNAP TS-x53 Pro series feature table
All four versions can be expanded using either a USB 3.0-connected five bay UX-500P or eight bay UX-800P.
Inside
I tried disassembling the TS-653 Pro sample to take the photos and identify components. I got all the way to getting the board free, but couldn't get it untethered from its front panel connection to take clean photos. The board is different than the one I found in the TS-451. But, then again, the TS-x51 series uses a different board for its six and eight bay versions than for its two and four bay.
I guess QNAP didn't make it easy to get the board free is because both SoDIMM RAM slots are easy to get to once you remove the cover.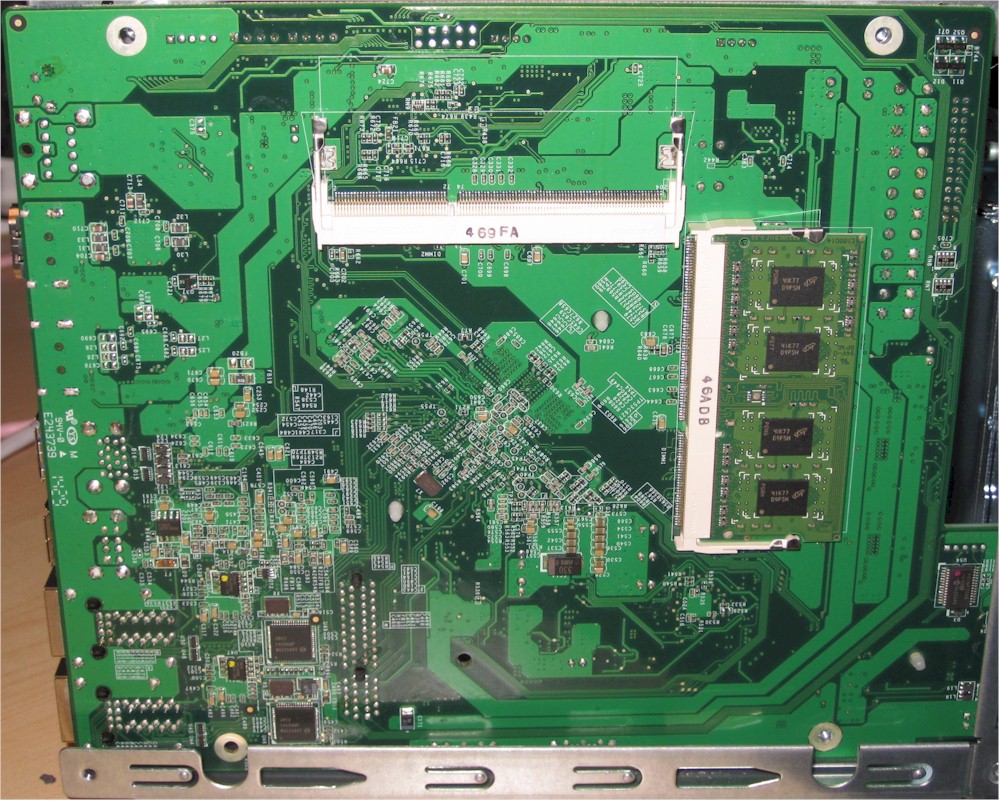 QNAP TS-653 Pro board outside view with SoDIMM RAM slots
Here's a pretty crappy shot of the other side of the board. You can see the heatsinked CPU, Fintek F71869AD at the top center and PLX PEX8603 PCIe switches toward the right. Two of the Intel WGI210TA single-port Gigabit Ethernet controllers are on this side of the board and two can be seen on the left side of the board in the photo above.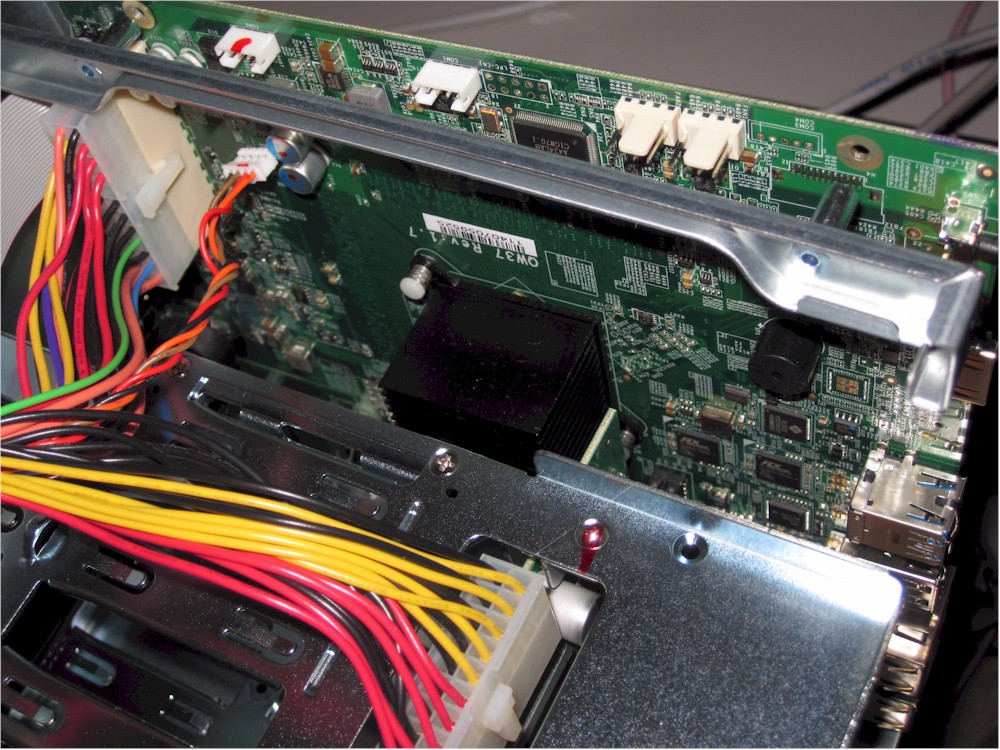 QNAP TS-653 Pro board inside partial view
Table 1 summarizes key components and compares with the TS-651 / TS-851.
| | TS-653 Pro | TS-651 / TS-851 |
| --- | --- | --- |
| CPU | Intel Celeron J1900 quad-core processor @ 2.0 GHz (Bay Trail D) | Intel Celeron J1800 dual-core processor @ 2.41 GHz (Bay Trail D) |
| RAM | 2 GB DDR3 SoDIMM (expandable to 8 GB) | 1 GB DDR3 SoDIMM (expandable to 8 GB) |
| Flash | 512 MB DOM | 512 MB DOM |
| Ethernet | Intel WGI210TA (x4) | Intel WGI210TA (x4) |
| USB 3.0 | Gensys Logic GL3522 USB 3.0 quad port hub | Asmedia 1074 USB 3.0 quad port hub |
| SATA | Marvell 88SE9215 SATA 6 Gb/s Host controller 4 port (x2 on backplane) | Marvell 88SE9215 quad-port 6 Gb/s PCIe – SATA host controllers (x2) |
| PCIe | PLX PEX8603 3-lane, 3-Port PCI Express Gen 2 (5.0 GT/s) Switch (x2) | N/A |
| HDMI | Asmedia ASM1442 level shifter | Asmedia ASM1442 level shifter |
Table 1: Key component summary and comparison
We equipped the TS-653 Pro review sample with four WD Re 3 TB (WD3000FYYZ) drives for testing. Power consumption measured 57 W with the 4 drives spun up and 20 W with them spun down. With only two drives inserted for the TS-253 Pro tests, power consumption dropped to 36 W with the drives spun up and 18 W with them spun down. Fan and drive noise could be classified as medium low, i.e. quietly audible in a quiet home office with four drives loaded and low with only two drives.
Features
The x53 Pros support QNAP's entire QTS 4.1.1 feature set. See the TS-251 / 451 review and Craig's QTS 4.1 review.
Performance – Summaries
4.1.1 Build 20141003 firmware was loaded on the TS-653 Pro sample (2 GB RAM version) for our standard NAS test process. Since all four models use the same processor, RAM and Ethernet components, all testing was done on the TS-653 Pro sample.
Results from tests using four drives configured in single RAID 0, 5 and 10 volumes were entered into the NAS charts for the TS-453 Pro, TS-653 Pro and TS-853 Pro listings. The TS-253 Pro tests used two drives in single RAID 0 and 1 volumes.
The 6 hr 45 min to completely build and resync 4 x 3 TB RAID 5 volume was significantly improved from the 17h 20m we measured with the TS-451. Unlike Thecus and Synology, QNAP does not offer the option to skip a bad block test, which can speed volume resync times significantly.
For reference, here is the Benchmark Summary for the four-bay and greater models…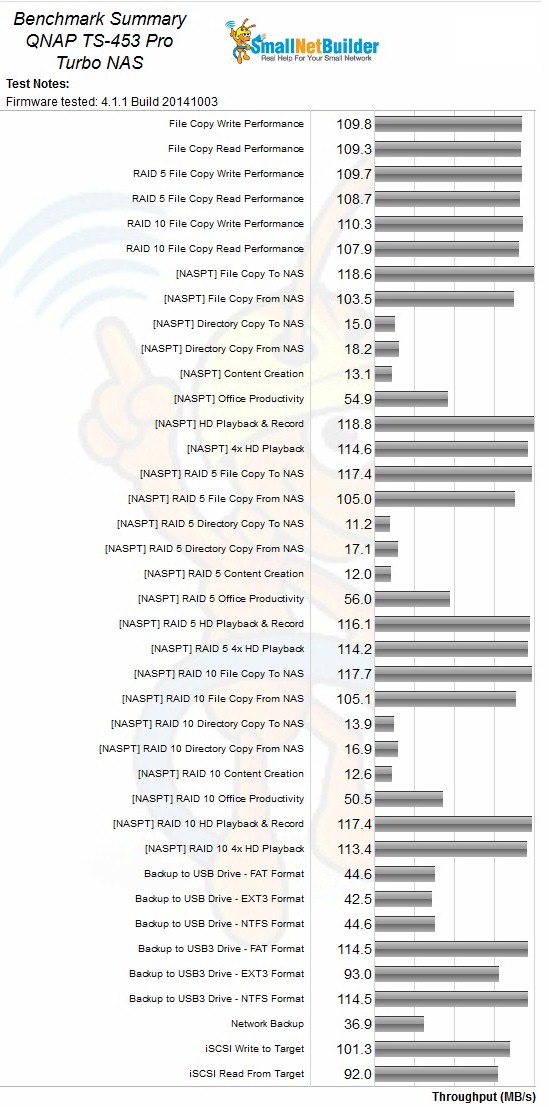 QNAP TS-453/653/853 Pro Benchmark Summary
… and one for the two-bay TS-253 Pro.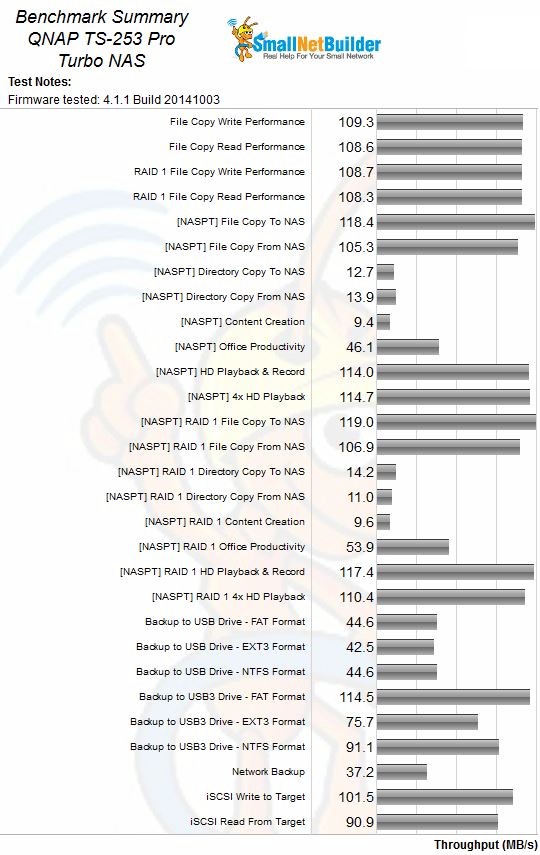 QNAP TS-253 Pro Benchmark Summary
These summaries don't mean much by themselves. So we'll dig down and compare to other products next.

Performance – Comparative
Whether you use Windows File Copy or NASPT File Copy benchmarks, the results show that all the x53 Pro models pretty much max out the capability of a single Gigabit Ethernet connection for RAID 5 writes. But so do their less-expensive dual-core Celeron x51 series equivalents, like the TS-451. On the other hand, RAID 5 read shows a more significant 10 MB/s gap between the TS-451 and TS-453 Pro.

NASPT RAID 5 File Copy comparison
Comparing two-drive RAID 1 performance tells a similar story, except with closer read results.

NASPT RAID 1 File Copy comparison
Using the NAS Ranker with no filtering shows the x53 Pro pack trailing Thecus' i3-based N8850 Top Tower, Pentium G620-based N6850 Top Tower and Xeon-based N10850. The QNAP TS-653 Pro and TS-853 Pro look to be priced about $200 less than their Thecus compeition, however.
Comparing the six bay TS-653 Pro and Thecus N6850 shows a mix of pluses and minuses. The Thecus has about twice the performance for directory file copy writes and reads. But it comes in about the same for the mixed read/write benchmarks and is significantly slower for USB 3.0 attached backup.
QNAP TS-653 Pro, Thecus N6850 Performance Summary Comparison
If you're trying to decide whether it's worth it to pay more for the TS-453Pro vs. the TS-451, the Performance Summary Comparison below says it's a difficult call. The 453 Pro does better than the 451 on some directory copy tests, but with smaller margin than the previous Thecus comparison. Everything else is pretty close.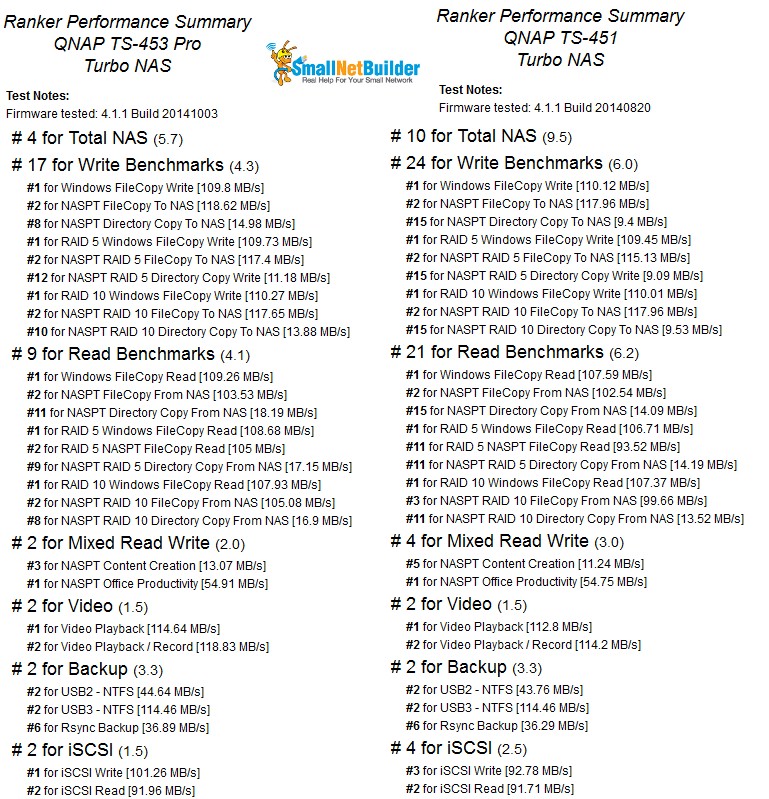 QNAP TS-453 Pro, TS-451 Performance Summary Comparison
Conclusion
I know I say this a lot. But QNAP is known for having a lot of NASes to choose from, making buying decisions more difficult than they perhaps should be. I'll reprise Craig's price comparison table from his TS-251/451 review to boil it down. Keep in mind that all the x51 models come with 1 GB of RAM, while their x53 Pro equivalents come with 2 GB. Both families can be expanded to a maximum of 8 GB.
| | TS-x51 | TS-x53 Pro | x53 Pro premium |
| --- | --- | --- | --- |
| Two bay | $353 | $500 | 42% |
| Four bay | $500 | $651 | 30% |
| Six bay | $799 | $901 | 13% |
| Eight bay | $899 | $1113 | 24% |
Table 2: The x53 Pro premium
(all prices from Amazon on 11/05/14)
The six bay TS-653 Pro seems to be the pricing sweet spot, if you're ok with spending about $1000 for a naked NAS. But $500 for a two-bay NAS is a pretty hard sell in my book, no matter how powerful it is.
As noted earlier, to get your money's worth from a TS-x53, you're going to need to use aggregated ports with multiple clients and / or load it up with RAM and run multiple VMs. But if you're just looking to get the most of a single Gigabit Ethernet connection for large file transfers and want to buy QNAP, save yourself some dough and get a TS-X51 instead.