Introduction
Updated 9/21/2010: EXT3 backup
Updated 9/19/2010: More info on Ultra 4 vs. NVX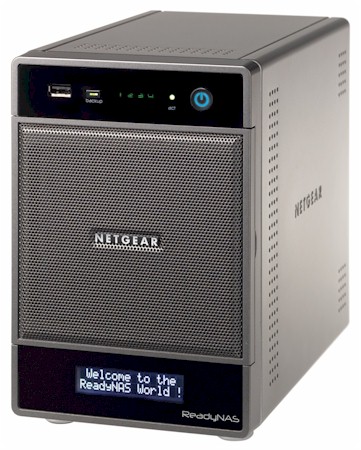 At a Glance
Product
Netgear ReadyNAS Ultra 4 (RNDU4000)
Summary
Single-core Atom (D410) version of NETGEAR's popular four-drive NAS
Pros
• Dual gigabit Ethernet
• Many backup options
• Many media serving options
• Root shell access
Cons
• Dated, frame-based GUI
• Dual Ethernet doesn't support aggregation, failover
• No eSATA ports
• Some featured media services don't come installed
NETGEAR has made a few runs at protecting its premium-priced ReadyNAS line from the dreaded price (and profit) erosion that comes with participation in the consumer networking market. First was the SC101T Storage Central Turbo, an attempt to perpetuate NETGEAR's first entry into the "NAS" market, the SC101.
They did a bit better with their second attempt, the Stora, which runs on Axentra's HipServ OS, which has also been adopted by Seagate in its GoFlex Home. While both were significantly less expensive than their ReadyNASes, they lagged far behind in features and customer appeal.
So NETGEAR finally gave in and fielded the ReadyNAS Duo, which brought the expansive ReadyNAS feature set to under $200 crowd. But being based on the old Infrant processor and supporting only two drives, it didn't scratch the itch of folks who hungered for better performance and more storage at a consumer-friendly price.
Which brings us to the ReadyNAS Ultra 4 and Ultra 6 (and, supposedly next month, the Ultra 2). Announced in July with fanfare as the "death of local media storage", the Ultras are positioned for "power users yearning to set their digital entertainment content free".
But if you were hoping for aggressively lower pricing for an Intel-based ReadyNAS, that "feature" wasn't included. At around $600, the diskless D410 single-core Atom based Ultra 4 (RNDU4000) is currently selling for only about 50 bucks less than either a diskless ReadyNAS NVX (RNDX4000) or NVX Pioneer Edition (RNDX400E).
As noted above, the Ultra comes in two flavors, each of which has diskless and diskful SKUs. The Ultra 4 is based on Intel's single-core D410 Atom and supports up to four 3.5" SATA drives (2 TB max.), while the Ultra 6 uses a dual-core D510 Atom and can hold up to six drives. Both come with 1 GB of DDR2 RAM in an easily upgradeable SoDIMM.
The Ultra 4 comes diskless (RNDU4000) or with two Seagate ST32000542AS Barracuda LP 2 TB drives (RNDU4220). The Ultra 6's versions are diskless (RNDU6000) and with three Barracuda LP 2 TB drives (RNDU6320). I'll note that NETGEAR sent an RNDU4000 for testing, but stuffed it with four Seagate Constellation ES 1 TB (ST31000524NS) drives.
You could easily mistake the Ultra 4 for an NVX, since their metal cabinets are identical. But the keen-eyed would note that NVX's all-black case and "ReadyNAS NVX" logo on the front panel vs. the Ultra 4's dark grey sheet metal and no "Ultra" next to the ReadyNAS front panel mark.
Figure 1 calls out the front panel indicators and controls, which are a copy of those found on the NVX, so I reused the image.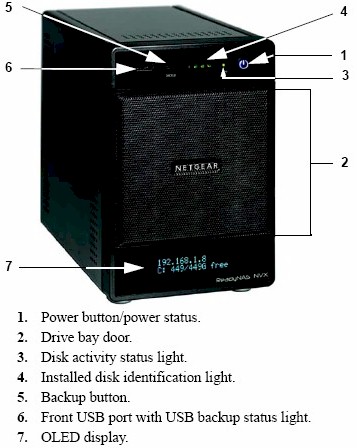 Figure 1: ReadyNAS Ultra 4 / NVX front panel
Figure 2 shows the NVX' / Ultra 4's rear panel, with a single variable-speed case fan. Noise level is on par with the NVX, which is not whisper quiet. It was louder than my desktop PC, but didn't get louder under load during testing.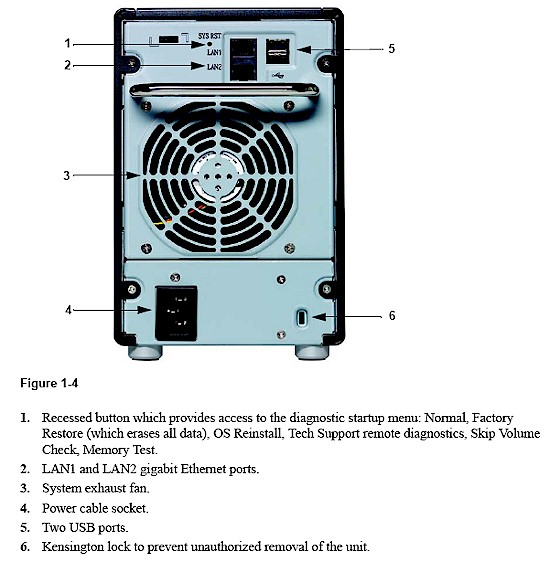 Figure 2: Ultra 4 / NVX rear panel
Updated 9/19/2010
The other two of three total USB 2.0 ports support additional storage, USB printers and USB-enabled UPSes (such as APC). Two 10/100/1000 Ethernet LAN ports support jumbo frames (auto-adjustable up to 9K) and can be configured in a variety of teaming / failover options explained here. But the only thing you can do with the two ports is assign static routes; there are no teaming or failover options available.
I was hoping to find that NETGEAR had finally included an eSATA port to increase backup speed. But, like every other ReadyNAS, the Ultra 4 and 6 ship without eSATA ports. I asked NETGEAR for the reason and received this response:
"We're getting decent speed out of USB, and we only get occasional requests for eSATA. For small businesses who want to back up, we've always recommended having a more comprehensive and automated off-site backup with another level of redundancy, either using another ReadyNAS or ReadyNAS Vault. USB 3 is the direction that we'll be adopting going forward."
I'm all for USB 3.0 in the future, too. But this response is getting way too old, considering that its competition has had eSATA ports in even its single-drive NASes for a few years now. I've clocked > 90 MB/s backups to an NTFS-formatted eSATA RAID 0 volume on QNAP / Cisco D510-based NASes.
Another thing that hasn't changed is the ReadyNAS admin interface. It gets the job done, but has always annoyed me with its very dated use of frames that cause a lot of unnecessary scrolling. This is way overdue for a redesign, given that QNAP, Synology and even Thecus have moved to nicer AJAX-based GUIs.
Internal Details
The Ultra 4's innards are very similar to the NVX's, so you can peep the pictures over in its review. You still have to remove the two side covers to drop the rear panel to replace the fan. And accessing the upgradeable 1 GB DDR2 667 SoDIMM requires removing the top cover. Board access also still requires almost complete dissassembly, so I again just took a few partial shots of the board.
Figure 3 shows the area that extends beyond the backplane, where you can see two Marvell 88E8057 Yukon Ultra II Gigabit Ethernet controllers. I couldn't see much else other than a Silicon Motion SM321 flash controller and SST25VF016B flash.
Figure 3: Partial Ultra 4 board view
Figure 4 shows the view peering up through the empty drive cage, where I could see an Intel 82801IB (ICH9) I/O Controller not tucked under the D410's heatsink beside it.
Figure 4: Another partial Ultra 4 board view
Power consumption measured 42 W with the four Seagate ST31000524NS Constellation ES 1 TB drives spun up and 22 W when they spun down after a programmable idle period. As noted earlier, fan noise was very similar to the NVX'—medium— and was the loudest thing in my quiet office.
Feature Summary
The RAIDiator OS supports basically the same feature set across NETGEAR's Intel-based ReadyNAS line (Ultra, Pro, NVX, 2100, 3100, 3200, 4200). But NETGEAR has removed some features in its less expensive "Pioneer" versions of the NVX and Pro in order to protect the higher margins of the full-featured versions.
Figure 5 presents a feature-by-feature comparison of the NVX Pioneer and Ultra 4. For the NVX, just convert the Optionals to checkmarks.
Figure 5: ReadyNAS Ultra 4 , NVX Pioneer Feature comparison
Oddly, however, street pricing at this point for the diskless NVX and NVX Pioneer are about equal. As noted earlier, either NVX can be had for only about $50 more than the diskless Ultra 4. The NVX pricing equality could be because NETGEAR appears to have given up on its Pioneer "upgrade" plan. When I asked my NETGEAR contact what the Optional meant in the comparison charts above, he said, "we've chosen to make these add-ons available to the NVX and Pro customers customers, but they'll need to manually install them".
Doug Reid did a good job of detailing many of RAIDiator's features in his ReadyNAS Duo review. The Pro review fleshes out the backup features and also explains the X-RAID2 storage system that the Ultra 4 comes set to use by default instead of standard RAID. There is also a Pro slideshow of many of the key admin screens.
If you don't want to wade through the features and are looking at a ReadyNAS for the first time, the key bullets are:
Most flexible backup – Until recently the ReadyNASes stood alone in their ability to back up virtually anything to anything, including internal volumes, attached drives, networked shares, rsync servers and the "cloud" (Internet). Iomega finally broke ranks last year and added CIFS share backup support to its ix2-200 and ix4-200d. But NETGEAR still leads the pack in backup flexibility.
Lots of media services – I own few Logitech Squeezeboxes and relied on the Squeezecenter server running on an NV (then NV+) until they got too slow and were replaced by a QNAP TS109. But through the magic of optional add-ons, ReadyNASes support a wide array of media services including TiVo archiving and playback, Orb and Skifta for remote media access and iTunes and streaming to PS2, Xbox 360, Sonos music systems and more.
Good support – The ReadyNAS Forums are quite active and there is a robust add-on developer community. And for those who need business-grade support, enhanced warranty and service plans are available for many models.
Of course, good stuff doesn't come cheap and neither do ReadyNASes. But QNAP and Synology may have overtaken NETGEAR as the purveyors of expensive "prosumer" NASes. The closest QNAP match to the Ultra 4 is the TS-439 Pro II, which sells for almost $200 more (!) than the Ultra 4.
Updated 9/19/2010: More info on Ultra 4 vs. NVX
Forum regular and ReadyNAS fan claykin kindly provided these corrections and comments. Thanks!

1) NVX Business is more than just an NVX Pioneer with only the optional items listed. The NVX is a Business class NAS which includes additional features such as AD Integration, Secure RSYNC, Snapshots, SNMP, NIC team/failover, VLAN, 5 year warranty, enterprise disks on most populated systems (except NVX with 500GB disks).

2) Ultra line does not support NIC teaming/failover.

3) Also note that iSCSI is now available for free on Pioneer edition products so they are more on par with Ultra line.

4) Orb and Skifta are also available for ALL x86 products including Pioneer.

5) 64 bit support also allows for individual files up to 16TB, iSCSI volumes up to 16TB and for timemachine volumes up to 4TB. Readynas NVX is limited to max 2TB for files, iSCSI and timemachine volumes.
Performance
The Ultra 4 was tested with our new NAS test suite running latest 4.2.13 firmware. As noted earlier, four Seagate Constellation ES 1 TB (ST31000524NS) drives were installed by NETGEAR. Tests were run with all four drives configured in RAID 0 for the default charts and X-RAID2 for the RAID 5 charts. All tests were run with 1000 Mbps LAN connections.
The Windows File Copy test RAID 5 write ranking for four-drive NASes is shown in Figure 6. The Ultra 4 measured 64.5 MB/s for write vs. 51.6 MB/s for the NVX, and 67.4 MB/s for the QNAP TS-439 Pro II.
Because the NAS benchmark system changed, the results for the Ultra 4 and TS-439 Pro II and NVX aren't totally apples-to-apples. The only thing I can do is note that all of the products in the chart, ranking above the Ultra 4, are D510 Atom based, except for the Sans Digital EN104L+, which uses an Atom 330. The NVX uses a 1.06 GHz Intel Tolapai SOC.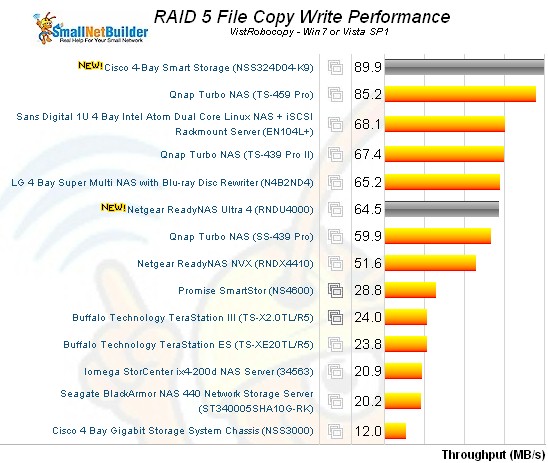 Figure 6: RAID 5 Windows File Copy write ranking – four drive NASes
Figure 7 shows the RAID 5 File Copy read results. This time the NVX tops the charts with 98.6 MB/s, followed by the Ultra 4 with 94.9 MB/s and trailed by the QNAP at 90.3 MB/s.
Figure 7: RAID 5 Windows File Copy read ranking – four drive NASes
Moving along to the new Directory Copy To and From NAS tests from the Intel NAS Performance Toolkit (NASPT), there is only one other four-drive NAS to compare, the D510 based Cisco NSS324, which is a QNAP TS-459 Pro in disguise. This test copies 236 MB consisting of 2,833 files in 44 folders to and from the NAS under test and causes a lot more head seeking than the highly sequential Windows File Copy test.
On the "To" test, the Ultra 4 lagged slightly behind the NSS324 at 13.5 MB/s vs. 14.7 MB/s. But for the "From" test, the Ultra 4 bested the NSS324 with 18 MB/s vs. 14.8 MB/s.
The NASPT Content Creation test is also a good NAS stress test. It simulates a user creating a web advertisement from various content sources including video and 3D modeling software. It consists of 95% writes with mix of 1k, 4k & little reads. There is also a wide range of writes up to 64 kB, mostly sequential.
Again, there is only data for the Ultra 4 and NSS324, with the latter turning in results almost 2X faster than the Ultra 4 at 10.3 MB/s vs. 6.3 MB/s.
Backup and iSCSI
I was able to run backup tests for a USB-attached Iomega UltraMax Pro Desktop Hard Drive configured in RAID 0 and formatted in FAT and NTFS. The Ultra 4's built-in USB drive formatter supports only FAT32 and EXT3 formatting, so I had to use a Windows system to do the NTFS formatting.
The Ultra 4 backed up at 24.8 MB/s for FAT, which is about the limit of the USB 2.0 connection. But it delivered only 16.5 MB/s with an NTFS formatted drive. Looks like the Ultra 4 could benefit from using the Paragon NTFS drivers that both QNAP and Cisco NASes now use.
Updated 9/21/2010
My attempts to back up to an EXT3 formatted drive were thwarted, however, by what appears to be a bug. I formatted the drive multiple times using the built-in formatter and made multiple attempts, even trying an unreleased firmware version supplied by NETGEAR. But each time, the Iomega drive sounded like the head was constantly seeking and I had to give up after 15 minutes had passed with only a few of the 1 GB VOB files copied.
NETGEAR was finally able to track down the source of the EXT3 backup problem. By default NETGEAR has EXT3 sync on every write vs. only after the file completion with FAT and NTFS. After enabling the fast USB writes option in the System->Performance tab and rebooting (there was no reboot prompt), EXT3 backup ran properly at 23 MB/s.
I also ran a network backup benchmark, using Delta Copy running on the NAS Testbed system as an rsync target. Again, I have only the NSS324 to compare, which with 39.9 MB/s, basically tied the Ultra 4's 39.2 MB/s.
Finally, I created a 10 GB iSCSI target on the xRAID2 volume and copied the 4.35 GB folder back and forth. iSCSI write ranking is shown in Figure 8, with the Ultra 4 at 64.5 MB/s doing much better than the NVX at 29.3 MB/s and a bit worse than the TS-439 Pro II at 71.4 MB/s.
Figure 8: iSCSI write ranking – four drive NASes
iSCSI read ranking isn't shown, but the same relative rankings held, with TS-439 Pro II at 71 MB/s, Ultra 4 at 64.4 MB/s and NVX at 53.9 MB/s.
Do some more performance exploring with the NAS Charts.
Closing Thoughts
Updated 9/19/2010
I've pretty much covered the comparison points as I've gone along. But if you've skipped here just looking for the bottom line, here it is.
In a nutshell, if you're trying to decide between an Ultra 4 and NVX, choose the Ultra 4 unless you can get a really good deal on the NVX (the naked Ultra 4 is at least $50 cheaper) and can live without its business level features like NIC teaming / failover and AD support. And although I don't have the apples-to-apples data to support it, NETGEAR says its testing shows the Ultra 4 has a 10 to 15% edge on the NVX. But more importantly, the Ultra 4 (via the D410 Atom) has 64 bit support, which will allow for future volume support beyond 16 TB.