At a glance
Product
QNAP Turbo NAS (TS-269 Pro) [Website]
Summary
BYOD two-bay Intel D2700 Atom RAID SATA NAS with many serving options.
Pros
• Cloud backup to Amazon S3 & ElephantDrive
• Lots of features for the price
Cons
• Expensive
Typical Price: $426 Buy From Amazon
Introduction
The last two-bay QNAP NAS we reviewed was the TS-212, based on Marvell's 1.2 GHz Kirkwood CPU. Today we're going to be taking a look at the TS-269 Pro which is based on an Intel dual-core 2.13 GHz Atom processor. The new CPU greatly boosts performance over the TS-212 we last tested. The TS-269 Pro joins the ranks of the Synology 1512+ and Thecus N4800 in D2700 Atom NAS offerings we've tested.
The rear panel holds a nice selection of ports and connectors and good things seem to come in pairs. Two USB 3.0 ports, two USB 2.0 ports and two Gigabit LAN ports. You get only a single eSATA connection, however. You may also notice the HDMI port up top that isn't labeled. According to QNAP specs, that is a VGA interface reserved for maintenance.

Inside
Under the hood of the TS-269 Pro you will find a 2.13 GHz Intel Atom Dual-Core D2700 CPU, 1GB of DDR3 RAM that is expandable to 3 GB via one open SoDIMM slot on the bottom side of the board. There is also 512 MB of flash, two Intel WG82574L Gigabit Ethernet Controllers and an Etron Tech EJ188G USB 3.0 Host Controller. The last item is a departure from the NEC USB 3.0 controller usually found.
A photo of the TS-269 Pro's board is shown below.
QNAP TS-269 Pro board
Power consumption measured 52 W with the two QNAP-supplied Seagate ST1000DM005 1TB drives spun up and 33 W with them down. The high standby numbers were due in large part to the beefy processor. Fan and drive noise could be classified as Medium-Low, with most of the noise coming from the drives.
Features
Firmware at test time was 3.7.3 Build 20120801. This version includes the MyCloudNAS feature and ElephantDrive cloud backup option. We covered MyCloudNAS in the TS-112 review. For a run-through of V3's other features, see the review or the online demo.
Performance
We tested with 3.7.3 Build 20120801 using our standard NAS test process. Apples to apples comparisons for the TS-269 Pro were a little hard to come by, since other Atom D2700 powered NASes, such as the Synology DS1512+ and Thecus N4800 , have additional drives and no RAID1 performance numbers. The closest two-bay competitor to the TS-269 Pro is the NETGEAR ReadyNAS Pro 2 (RNDP2210), which sports a dual-core Intel Atom D525 CPU.
The Benchmark summary below shows Windows File copy write in RAID 1 configuration measured 84 MB/s, with file copy read almost 15 MB/s higher at 97 MB/s.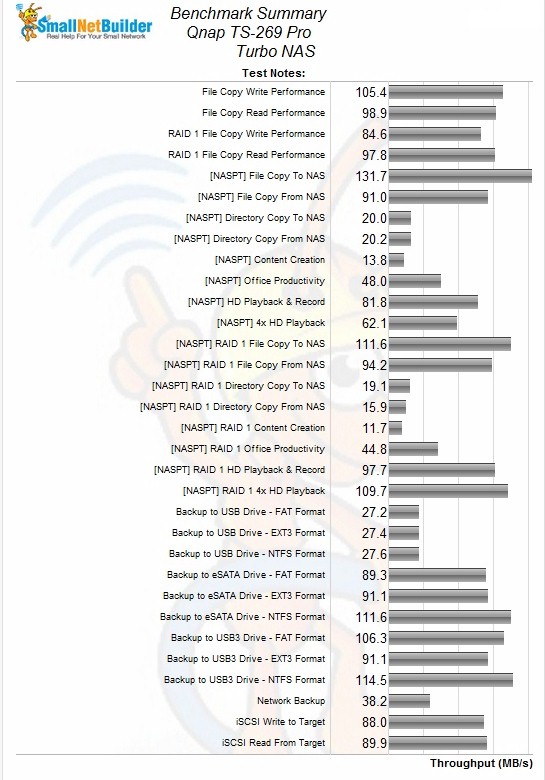 How does this compare? I first filtered the RAID 1 File Copy Write and Read charts to show only Atom D2700 NASes and one two-bay Atom D525 NAS. All of the D2700 variants use more drives than the TS-269 Pro and had no RAID1 performance numbers. So RAID1 numbers could only be compared with the NETGEAR ReadyNAS Pro 2 (RNDP2210).

File Copy Write Comparison – Atom two-bay products
RAID 1 File copy performance is slightly better than the Netgear ReadyNAS.

File Copy Read Comparison – Atom two-bay products
NASPT RAID 1 File Copy write benchmarks were less evenly matched at 111 MB/s for write and 94 MB/s for read. The tougher NASPT RAID 1 Directory Copy tests ran 16 MB/s from the NAS and 19 MB/s to it. The performance was significantly better than the Netgear ReadyNAS Pro 2 (RNDP2210), which wrote at 11 MB/s and read at 15 MB/s.
For attached backup tests, the Iomega UltraMax Pro has been retired in favor of a higher performance solution. We have switched to a Startech USB 3.0 eSATA to SATA Hard Drive Docking Station (SATDOCKU3SEF) containing a WD Velociraptor WD3000HLFS 300 GB drive. Best attached backup speed of 114 MB/s was with NTFS and worst was 91 MB/s with EXT3! Both results are extremely impressive!
Rsync network backup was less impressive, measuring 38 MB/s to the NAS testbed running Delta Copy. The ReadyNAS measured 44 MB/s here, while the Thecus and Synology 38 MB/s and 37 MB/s respectively.
Rsync backup Comparison
iSCSI write and read to a 10 GB RAID 1 volume produced 88 MB/s and 89 MB/s. The write numbers were middle of the pack with the Synology recording 97 MB/s, the Thecus 91MB/s above and the NETGEAR at 76 MB/s below. Read was top of the charts however with the closest being Synology (85 MB/s), followed by Thecus (79 MB/s) and the NETGEAR coming in at 54 MB/s.
Conclusion
Atom-powered NASes certainly perform, but they are pricey! The TS-269 Pro delivers performance you'd expect from its CPU, but prices in just under $600, without drives. By comparison, you can spend about the same money for the NETGEAR ReadyNAS Pro 2 (RNDP2210) and two 1 TB drives are included. Or if you'd rather have more storage, increase your budget by $50 more and you can get the RAID 5 capable, four-bay Thecus N4800.
I didn't include it in the performance comparisons since it's only a single core Atom D425 NAS. But two-bay Synology DS712+ is also worth noting on the bottom line. Diskless for just under $500, it had similar performance to the TS-269 Pro and has the added bonus of expanding far beyond two drives via an optional expansion cabinet.
Buy Turbo NAS from Amazon