The ix2-200 is basically a two-drive version of Iomega's ix4-200d, available in 1, 2 and 4 TB (tested) versions. The user-replaceable 3.5" SATA drives can be configured only in JBOD and RAID 1. RAID 0 and separate volumes for each drive aren't available.
The ix2-200 runs the same Linux-based EMC Lifeline OS and, except for the volume modes, has all the same features, including the ability to perform immediate or scheduled backups to and from attached drives, rsync servers and SMB/CIFS network shares.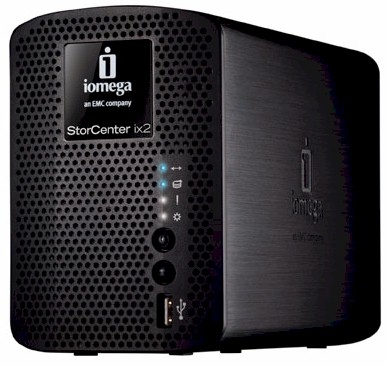 Hardware-wise, the ix2-200 is very similar to its bigger sibling, but with a slightly slower CPU and half the memory. It's covered by a soft thermal pad in the photo below, but there's a Marvell "Kirkwood" 88F6281 processor running at 1.0 GHz instead of 1.2.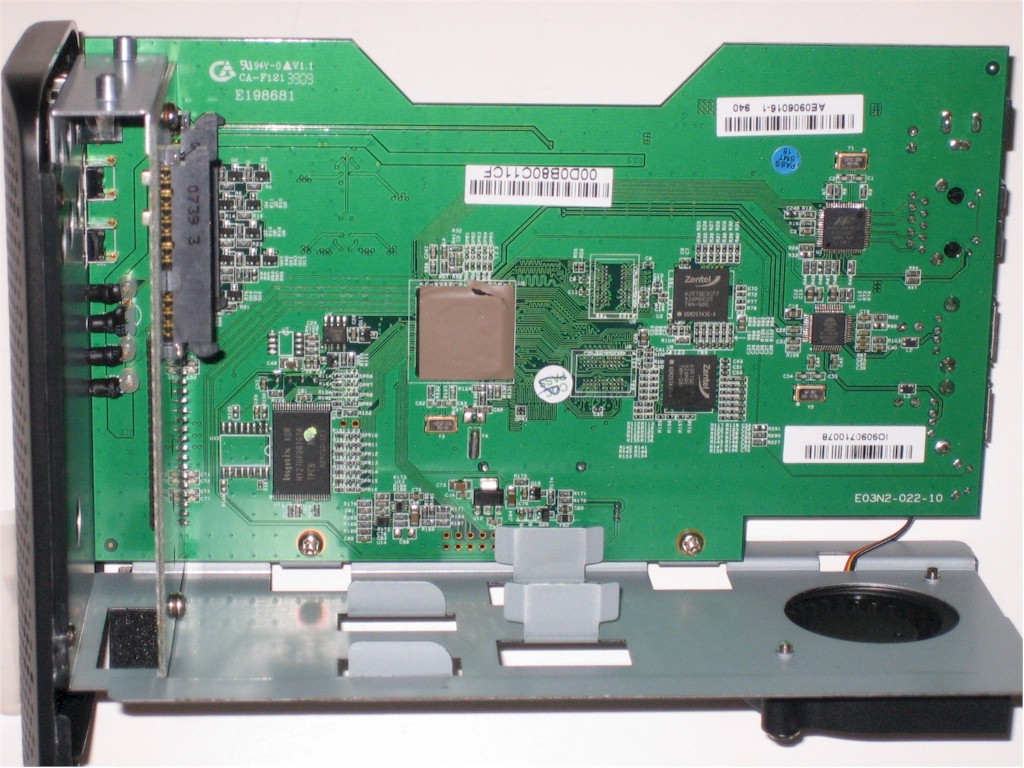 Other components include 256 MB of Zentel RAM, 128 MB of Hynix flash and the often seen Marvell 88E81116R Gigabit Ethernet interface. Three USB 2.0 ports are provided by an ALCOR AU6256 4 port USB 2.0 hub. There's not much to see on the board bottom, except a button battery. There are no eSATA ports and drives are formatted in XFS.
The ix2-200 runs very quietly, in part, due to the use of the miniature blower instead of a small fan. Power consumption measured 18 W with the two Seagate ST32000542AS Barracuda LP 2 TB 3.5" drives in the 4 TB model sent for review spun up. When the programmable drive spindown kicked in (5, 15, 30, 45, 1hr, 6 hr), power dropped to 6 W. There is no programmable shutdown / startup feature, however.
CIFS/SMB, AFP and NFS network file systems are supported, and files can also be accessed via FTP and HTTP. Multiple iSCSI volumes can also be created from the primary volume.
Media features include iTunes and UPnP AV / DLNA (Twonkymedia) servers and there is a download service for BitTorrent files only. You can also view a photo slideshow (uses Cooliris), auto file copy from PTP-enabled digital cameras and record and view from up to five Axis network cameras.
Immediate and scheduled backup can be done to and from CIFS/SMB network shares in addition to rsync targets and attached USB drives. You can also use the ix2 to copy directly between two networked shares instead of to or from its own storage.
Fastest backup of our ~ 4 GB standard filecopy test folder measured 14.9 MB/s using a FAT formatted USB drive. NAS-to-NAS backup of the test folder via rsync to a QNAP TS-239 Pro measured 10.63 MB/s.
RAID 1 write performance with a Gigabit LAN connection averaged 40.8 MB/s for file sizes between 32 MB and 4 GB, with cached behavior not included in the average calculation. Read performance was slightly higher, measuring 44.7 MB/s with the same conditions.
File copy performance using a Vista SP1 client under the same conditions (RAID 1, Gigabit LAN) came in significantly lower for write at 22.4 MB/s, but about the same for read at 41.0 MB/s.
File copy to a 10 GB portion of a RAID 1 volume configured as an iSCSI target measured 29.9 MB/s for write and 26.3 MB/s for read.
Given the similarity to the ix4-200d, a full review isn't planned. See the ix4-200d review for a complete feature rundown. And further explore and compare performance (including backup and iSCSI performance) using the NAS Charts.