At a glance
Product
Seagate Central (STCG2000100) [Website]
Summary
Single drive "family" NAS focused on simple file storage, sharing, backup and media playing. Comes in 2, 3 and 4 TB capacities.
Pros
• Price is nice with drive included
• Performance is inline with other lower priced NASes
• Includes easy remote access, DLNA and iTunes servers
Cons
• Seagate Dashboard is a porky 629MB install
• Android and iOS apps are still not consistent
• No automatic backup of the Central's files
Typical Price: $160 Buy From Amazon
Introduction
In February, we took a look at the Seagate Wireless Plus. Despite some quirks in the firmware and on the Android and iOS apps, I liked the little device.
Seagate recently sent its Central for review. The Central is aimed squarely at folks who don't know, or even want to know, what a "NAS" is. All they know is that they want to get their media files that are scattered on various household devices into one place where they can be played both while home and away.
In many ways, the Central is like the Wireless Plus. It uses the same Android and iOS apps for access and media sharing. It has many of the same backend features such as DLNA media sharing, AirPlay for Apple devices and broadcast to Samsung Smart TVs.
In other ways, however, it's very different. It's Ethernet vs. wireless and its feature set is rather slim compared to the Wireless Plus. And it's not portable, either.
Inside
The heart of the Seagate Central is a 700 MHz Cavium Econa CNS3420-700BG ARM SoC with 256 MB of RAM. You can see the Econa CPU on the left side of the image below.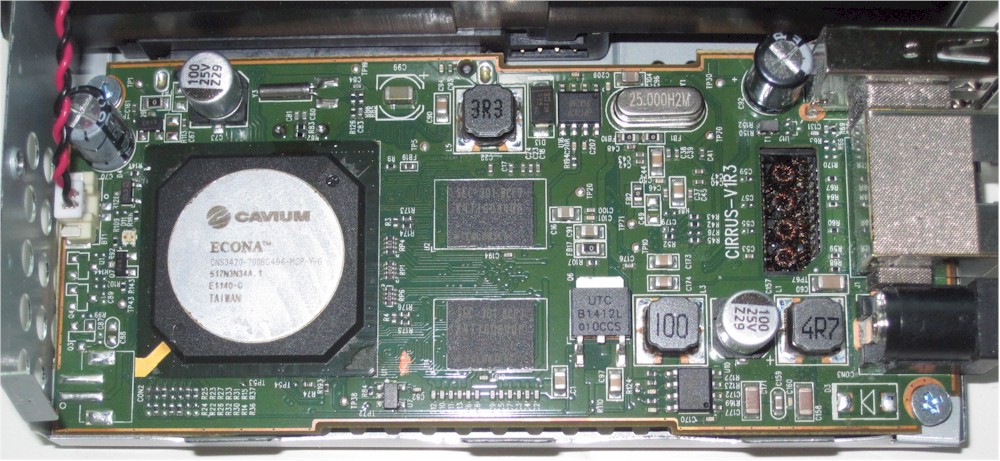 Seagate Central board detail
The hard drive included with the 2 TB version of the Seagate Central is a Seagate Pipeline (ST2000VM003) which you can see in the image below. (The Central also comes in 3 and 4 TB capacities.) You can see that the drive makes up most of the Central's footprint.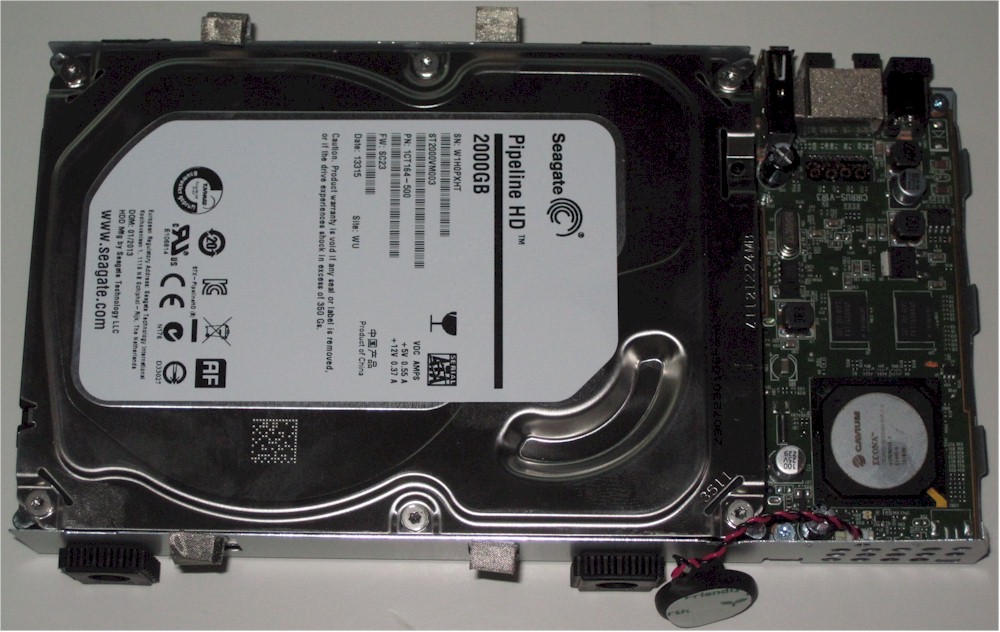 Seagate Central inside the enclosure
The Seagate Central doesn't have a lot for callouts. The front of the unit is a clean, smooth surface, while the rear houses a power connection, a Gigabit Ethernet jack and a USB 2.0 port which you can see in the image below. A reset button is on the bottom of the unit and a subtle power / status indicator can be seen through the Central's mesh cover in the top front right corner.

Seagate Central back side
The Central's UserGuide says the USB 2.0 port on the rear "provides a convenient way to transfer files from your Seagate Central to a portable drive". Upon plugging in a USB drive, it simply shows up as a folder in Windows Explorer. From there, you can drag and drop files and folders in either direction.
Setup
Setting up the Seagate Central is a relatively easy process. Unbox it and the very large power adapter that comes with it, plug in the included Ethernet cable and give it power. The LED on top turns solid green in about 2-3 minutes and you are ready for the next step.
The Quick Start Guide has you go to a general page that doesn't actually connect you to your Seagate Central, but rather gives you tips and tricks on how to get going.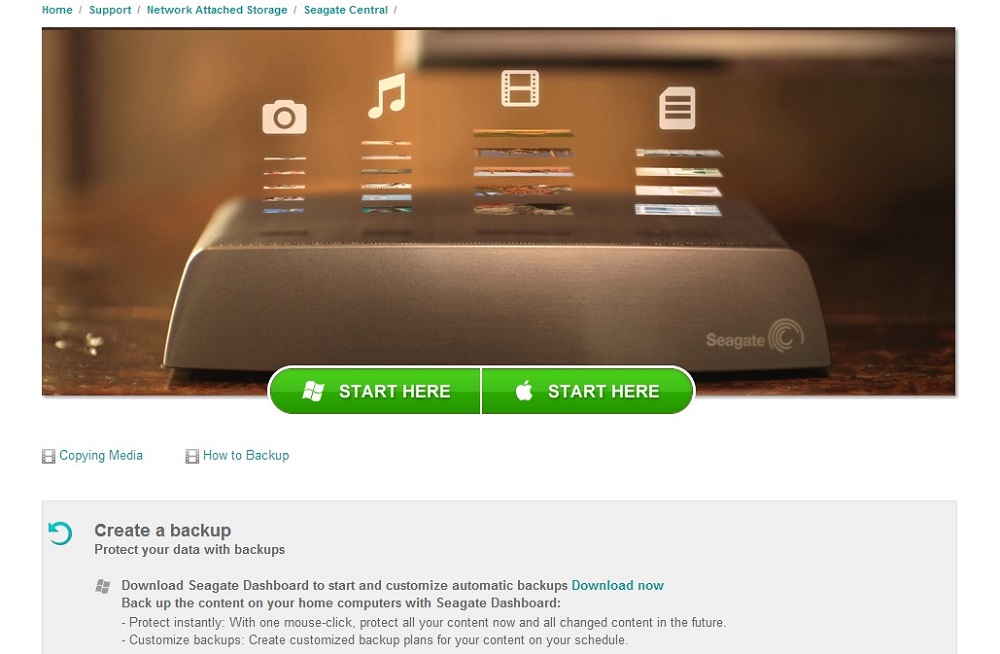 Seagate Central Setup Page
In a way, the general page that wasn't connecting to my Central was sort of confusing because once I clicked the Start Here button, the next page told me an important firmware update was available and showed steps on how to run the update. In reality, my Seagate Central had the latest firmware installed. The default page did no harm, but the large orange "Important firmware update available" gave me pause and sent me on a wild goose chase.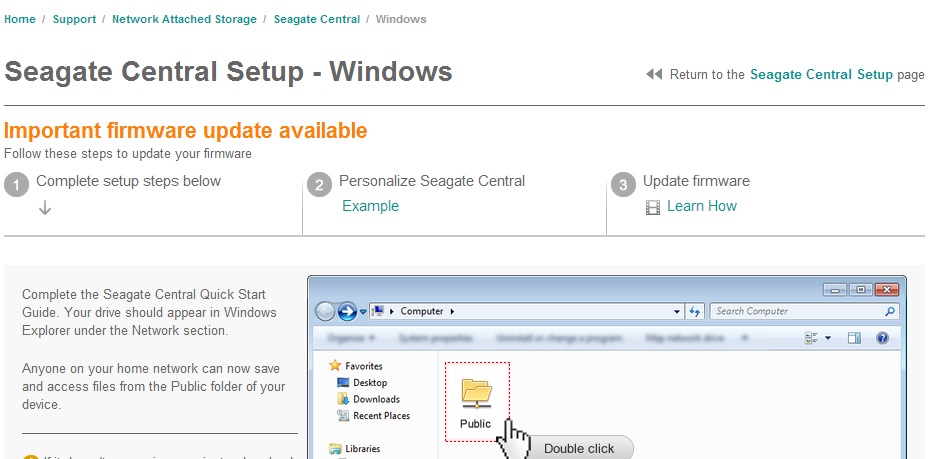 Seagate Central Generic Firmware Warning
The next steps mention that within one minute the Central should appear in the Network section of Windows Explorer. It didn't do that for me, so I followed the next steps of installing the Seagate Central Discovery tool, which worked great.
Features
Once the Central is set up, you have several different options on how to get data over to it. The first is to simply use it as you would any other NAS or file server, i.e. ppen Windows Explorer, drag and drop files. This worked well. While there is no Windows account authentication, there are users configurable on the Central itself. The Central has public folders open to everyone and private folders that are set up per user.
The second way to get files over to the Central is with the Seagate Dashboard, which is a free download. I went to get the Seagate Dashboard and was surprised to see the download was 629 MB! Hopefully, you've got a fast internet connection if you want to download the Seagate Dashboard.
On my PC, the Seagate Dashboard also wanted to install four prerequisites shown below, which also gave me pause.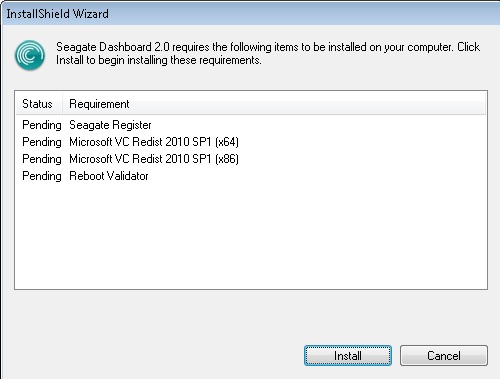 Seagate Dashboard Prerequisites
Once in the Dashboard, you have three options, Protect (set up a Backup Plan), Share to social media, and Save (backup from social media), which you see below. The Social Media option is an addition from when I tested the Seagate Wireless Plus. I tested it via the Central's web admin GUI and downloaded all of my Facebook pictures, which was a nice feature. For some reason, when attempting to do it through the Dashboard it said my account was unavailable.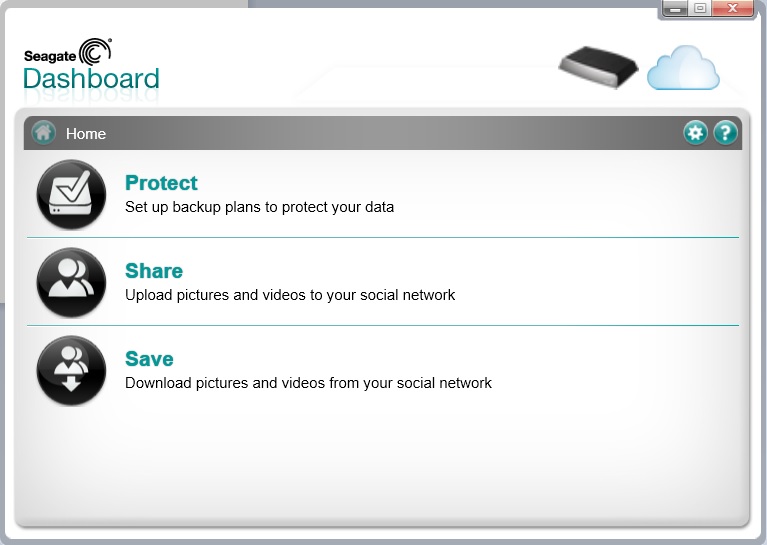 Seagate Dashboard Entry Page
I was more interested in backing up my media and data though, so I went to the Protect option, which is shown in the image below. In there you have two initial options, Protect Now and New Backup Plan. Protect Now backs up all of your non-system data files in realtime continuously.
I was a little concerned about how the resources this would take, so I watched Average disk queue length and CPU on my Windows system while the Seagate Dashboard protected continuously. The disk queue showed almost no change and neither did the CPU. Memory consumption of the Dashboard was around 100 MB. For protecting in realtime, it was not very intrusive.
Seagate Dashboard Protect Options
If you don't want realtime protection, which I probably wouldn't want over a network, you have several other options to choose from. Snapshot, which takes an instantaneous copy of options you select, monthly, daily and weekly, which are pretty self-explanatory. You can see these explanations in the image below.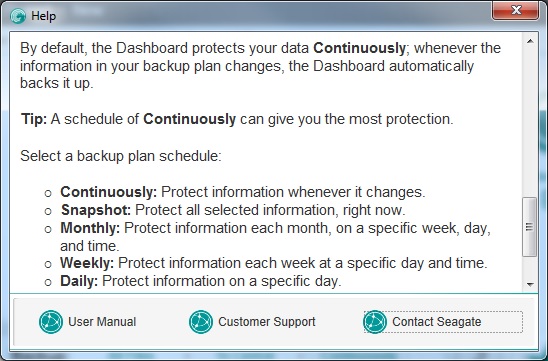 Seagate Dashboard Protect Interval Specifics
The Seagate Dashboard has a couple of good options, such as the Continuous sync if you want something like that, and the social media aspects. If you don't need those options and want a freeware option that is more powerful in other ways and much more space-friendly, I'd suggest checking out Karen's Replicator instead.
The last way to get media over to the Seagate Central is with the Seagate Media App. When I looked at the Seagate Wireless Plus I had a few frustrations with the Seagate Media App. The biggest frustration was the inconsistencies between the Android and iOS apps and the browser interface. I fired up the app again thinking it would be different, but I was disappointed.
I first went to my iPad. The Seagate Central marketing literature speaks of moving content back and forth from the Central to the iPad. I knew there had to be a way, but I couldn't figure it out. It took reading FAQs on Seagate's site again to figure out how. It should never be that complicated.
Before you dismiss me as a big dummy, let me show you what I'm talking about. First I'll show you the iOS screen. Before reading anything, see if you can figure out how to upload media.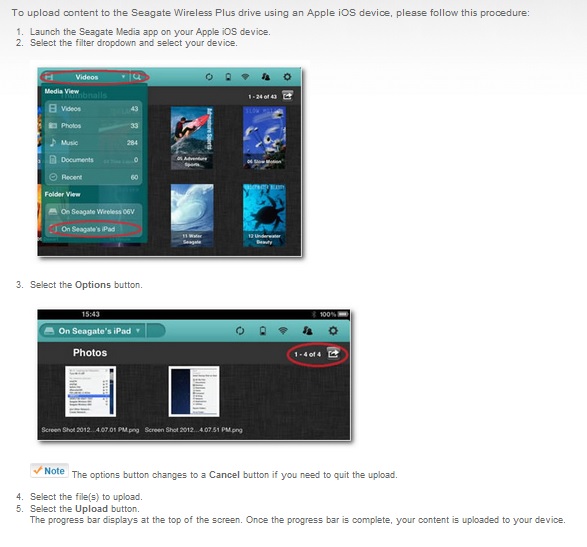 Seagate Media App iOS Screen
You probably saw the red circle, you select the media and then push the button that looks like a square with an arrow pointing right. When I first saw that icon I thought it meant "forward".
Features – more
Now on to the Android screen. Armed with my iOS knowledge I should be able to figure out Android right? Maybe. Here's the screen.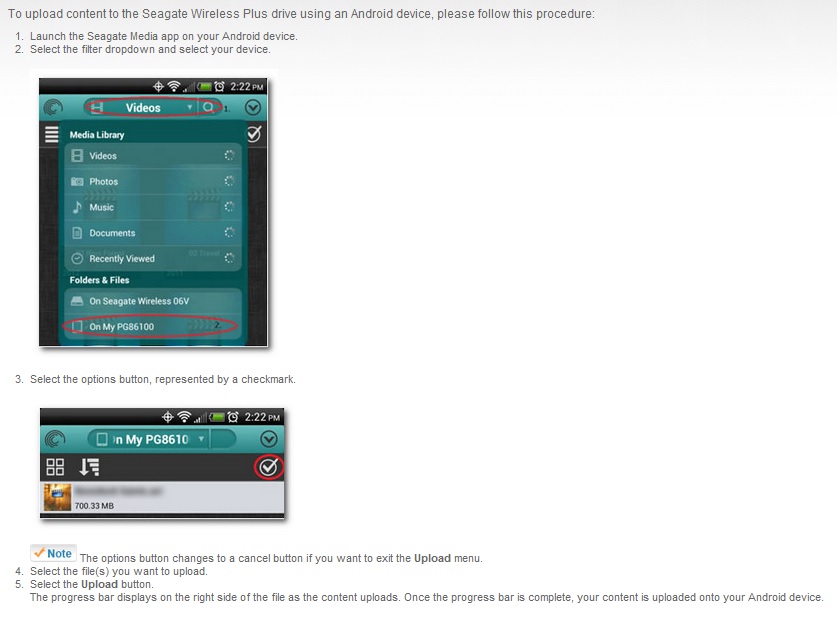 Seagate Media App Android Screen
On Android, you click a circle with a check in it to upload. I guess they are in the same general area on the screen, but that's it. No upload wording, no consistent icons. I don't like it. I wouldn't have found the upload function if it weren't for the FAQs.
But that's the Seagate Media App, designed to be used with the Seagate Central, it's not the Central. For what it is, the Seagate Central works well. The features are sparse, but it's a "family NAS" aimed at being economical and easy to operate. On that feature list we have Remote Access, which lets you access the NAS files from anywhere using a web browser, without router configuration. You can see that in the image below.
There is also Seagate Media, which is basically the same thing, but with the Seagate Media app I mentioned above. Then there's also a DLNA server and an iTunes server. The Central also works with AirPlay. A nice set of features for the price.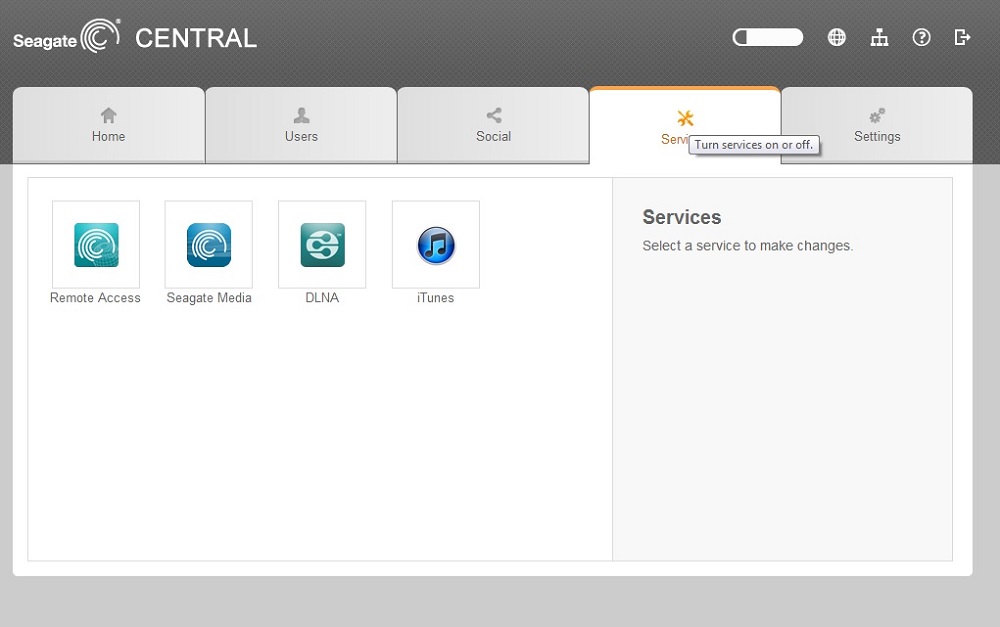 Seagate Central Services Screen showing features
What you don't get are the plethora of features you see on many other NASes and you also don't get much of an administration screen to see what's going. You can't see drive or enclosure temperature. It's also sort of confusing on how to get drive usage status. For example, in the next image you can see the drive information that is provided.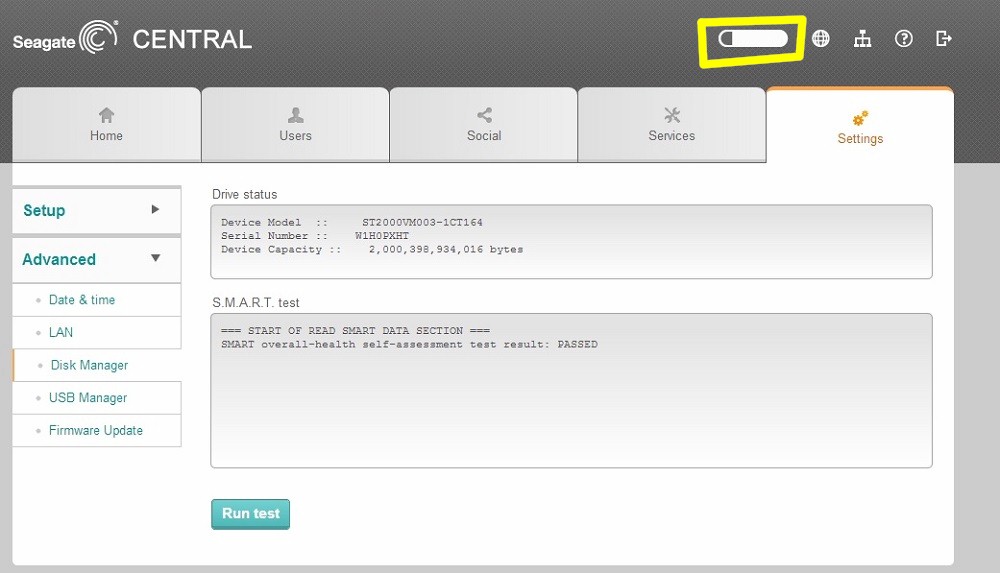 Seagate Central Disk Information Screen
It took me awhile to realize that the pill shaped box next to the globe on the upper right was not a search box, but instead a bar graph of disk usage. The average home user may not even check disk usage status anyway.
Performance
The Seagate Central is not a screamer when it comes to performance, but then again, it's not designed to be. The benchmark summary below shows the key indicators of the Seagate Central performance. It was tested with firmware version 2013.0321.0162 using our standard NAS test process.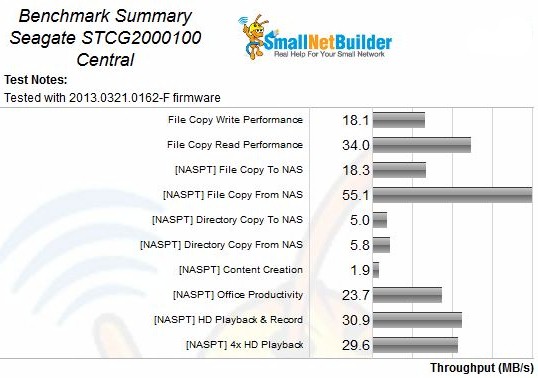 Seagate Central Benchmark Summary
Write and read speeds are not evenly matched, with reads running about 2X write. The Windows File Copy benchmark produced 18 MB/s write and 34 MB/s read, while the Intel NASPT Filecopy benches came back with 18 MB/s write and 55 MB/s read.
For a competitive look, I used the NAS Finder to generate a custom comparison of a few single-drive diskful NASes we have in the Charts database.
I simply compared it to the other 1-bay NASes we have in the Finder, namely the WD My Book Live, Iomega Home Media Network Hard Drive, Cloud Edition and Buffalo CloudStor Solo.

Seagate Central File Copy Comparisons
The Central clearly trends toward the bottom of the comparison. The interesting thing about this group of NASes is that they all use different processors. The Seagate uses a 700 MHz Cavium Econa CNS3420, the Buffalo, a 600 MHz Marvell Kirkwood 88F6281, the Iomega a 600 MHz dual-core Oxford 7820 and the WD a 1 GHz Applied Micro APM82181.
Closing Thoughts
The Seagate Central is a good little device for simple centralized file storage, sharing and media serving. Current prices on Amazon get you the 2TB Central for $159 and free shipping. Upgrading to 3TB costs you just $10. Going to 4 TB costs $209, with free shipping. For the home user who isn't a power user, that is a very reasonable price. The features are sparse, but what is there works well. The Remote Access features with no router configuration are a big win.
The Seagate Media App still frustrates me, mostly from the lack of consistent interface, but it's workable as is. The Seagate Dashboard is a very big download that either needs to lose some weight or come with the Central, I'd vote for the former.
If you want more features, you're better served with something like a QNAP TS112. But, it also has a bigger price tag. You'll pay about the same price for a diskless TS112 as you do for 2 TB Seagate Central. If you want to stay below $150 for 2 TB of storage, you might look at the WD My Book Live, currently about $135. Note, however, that the WD has no USB port. It can, however, back up entire snapshots of its contents on a scheduled basis to any network share.
For the home user who just wants to stream media, back up their devices and maybe access some files remotely every now and then, the Seagate Central is worth a look.
Buy Central from Amazon