At a glance
Product
NETGEAR ReadyNAS Pro 2 (RNDP2210) [Website]
Summary
Atom D525 powered dual-drive, dual Ethernet NAS with USB 3.0 port and ultra-flexible backup options.
Pros
• USB 3.0 port

• Dual Gigabit Ethernet ports
• Extensive backup options including cloud
Cons
• Uncommon Cloud backup options

• Slow NTFS backup

• Fast USB 3.0 backup only to FAT32 format
• Dated and annoying web admin GUI
Typical Price: $770 Buy From Amazon
The ReadyNAS Pro 2 may look like the old ReadyNAS Duo, but it's a completly different beast. The Pro 2 is gussied up with a speedy new hardware platform based on a dual-core Intel 1.8 GHz D525 Atom with 1 GB of RAM. The old Duo, which is still sold, uses Infrant's IT3107 CPU and has only 256 MB of RAM.
This new hardware platform finally breaks NETGEAR's insistence that USB 2 and network backup options are good enough and includes one front-mounted USB 3.0 port. That USB 3.0 port must be mighty expensive, though, since the two USB ports on the rear are still only USB 2.0.
The new Pro 2 also sports dual Gigabit Ethernet ports that support failover and aggregation and can also be used to connect to two different networks. The old Duo has only one Gigabit port.
You can't really see that much from the photos below. But by peering between the metalwork, I could spy the heatsinked Atom D525, Intel CG82NM10 NM10 Express chipset, NEC D720200F USB 3.0 controller, Samsung K9F1G08U0C 1 GB flash and two Marvell 88E8057 Yukon Ultra II Gigabit Ethernet controllers.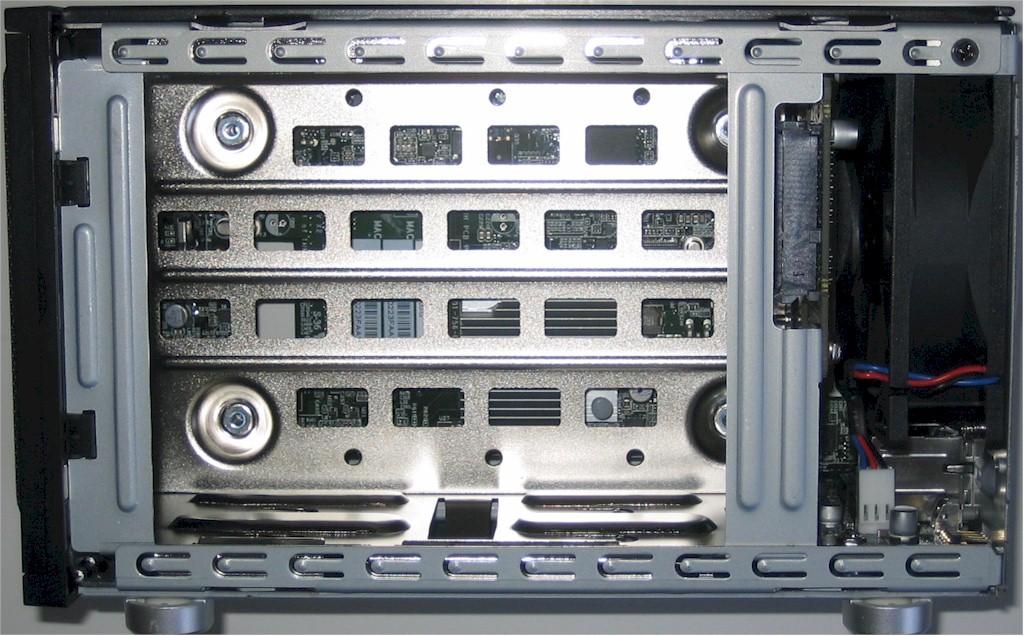 The 1 GB of memory comes on an SoDIMM, which you can replace / upgrade without voiding warranty, but at your own risk. The other device visible on this side is an SM321QF, which I think is more flash.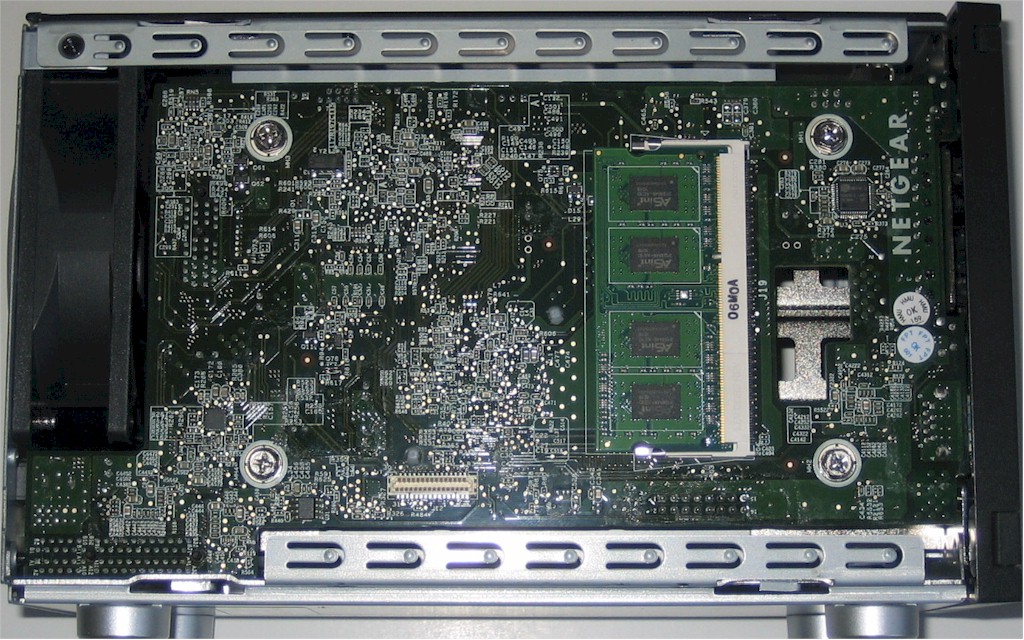 NETGEAR is positioning the Pro 2 as a business-class product and has equipped it with enterprise-class Seagate Constellation ES drives. My test sample came with two 1 TB (ST31000524NS) drives loaded, which resulted in a 32 W power draw with the drives spun up and 17 W with them spun down.
NETGEAR's battle with fan noise on the ReadyNASes seems to finally be over—I could hear only drive noise when the drives were running and no fan noise whatsoever, even while running performance tests. Those enterprise-class drives, however, are pretty noisy and you will hear them in a quiet home office setting.
The Pro 2 ran RAIDiator 4.2.16 firmware. Among the more notable changes, this version adds support for 3 TB drives, RAID volume expansion when using "Flex-RAID" (that's ReadyNAS-ese for standard RAID), IPv6 support (CIFS and FTP only) and a new Add-ons menu.
This last feature finally allows you to see installed add-ons and browse and install other add-ons directly in the ReadyNAS admin interface. This feature looks like a work in progress, since the only two add-ons shown in the Available menu are Egnyte Office Local Cloud and ReadyNAS Replicate.
I hope to soon get around to doing an article summarizing RAIDiator's extensive feature set, similar to the ones I did for QNAP and Synology. But, like any other review, they get out of date quickly, as new features are added in new software versions. In the meantime, here's the spec page from the Pro 2's datasheet.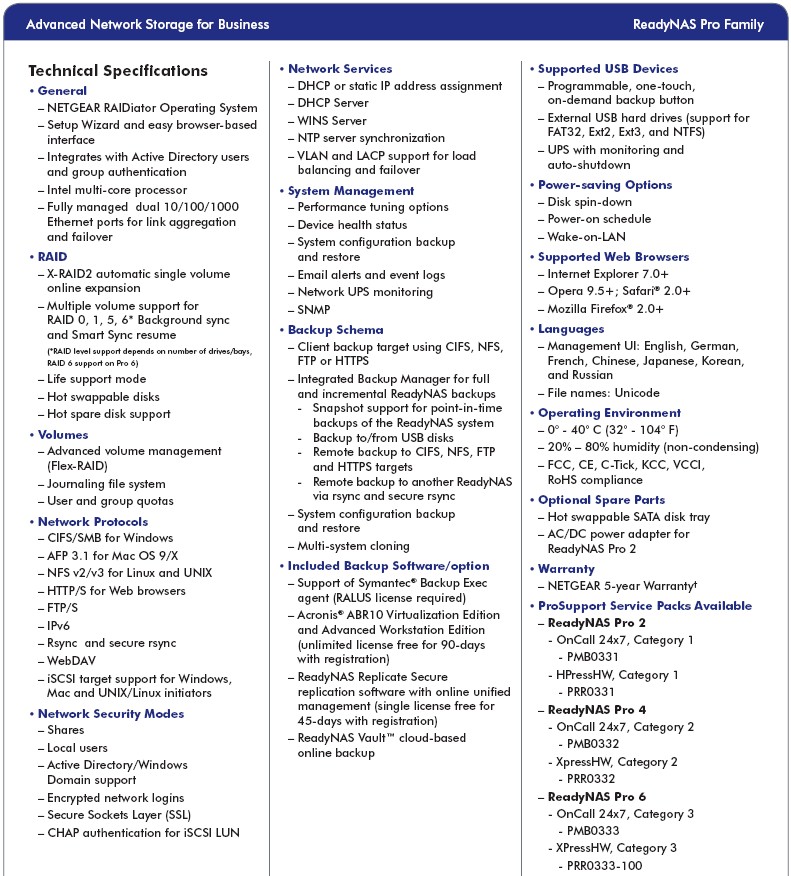 Performance
As noted above, I tested with RAIDiator 4.2.16 firmware using our standard NAS test process. To do this, however, I had to reset the unit to factory defaults and use the RAIDar utility to switch into "Flex-RAID" mode instead of the factory-shipped X-RAID, so that I could run RAID 0 and RAID 1 mode tests. Otherwise, you wouldn't be able to find the Pro 2 in the NAS Charts, as has been the problem with past ReadyNAS reviews.
The Benchmark summary below shows Windows File copy write with a RAID 0 array measured 90MB/s, dropping to 80 MB/s for RAID 1. File copy read for RAID 0 was typically higher at 103 MB/s, and again lower for RAID 1 at 85 MB/s.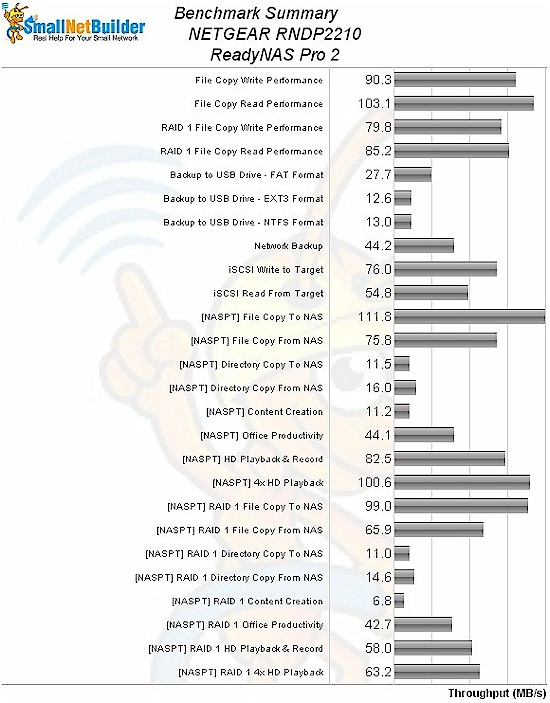 NASPT File Copy write benchmarks were higher for both RAID 0 and 1 at 103 MB/s and 99 MB/s, respectively. NASPT File Copy reads came in significantly lower at 76 MB/s and 66 MB/s for RAID 0 and 1, respectively.
The tougher NASPT Directory Copy tests yielded only 11 MB/s for RAID 0 or 1 write and around 15 MB/s for read.
I expected unimpressive backup speeds to an attached USB 2.0 RAID 0 array and got 'em, i.e. around 14 MB/s for NTFS and EXT3 formatted volumes. Only when I used a FAT-formatted volume, did I hit the USB 2.0 backup speed limit of around 28 MB/s. Why does only QNAP see the value in having fast backup to NTFS and pay Paragon for its faster driver?
What you don't see in the Benchmark Summary are the results of my backup tests using a WD MyBook 3.0 USB 3.0 drive, which testing using Vista SP1 file copy showed capable of 82 MB/s write and 117 MB/s read. But, once again, using NTFS format yielded only 14 MB/s and FAT was fastest at 67 MB/s (EXT3 was a disappointing 23 MB/s). Although 67 MB/s is a hell of a lot better than previous USB 2.0-only ReadyNAS backup options, it pales in comparison with 80+ MB/s speeds that QNAP eSATA backup provide.
Rsync network backup to the NAS testbed running Delta Copy was a respectable and chart-topping 44 MB/s.
iSCSI write and read to a 10 GB volume created on a RAID 1 array produced 76 MB/s and 55 MB/s, respectively, which put it in line with other recent-generation NASes.
For competitive comparison, check the RAID 1 File Copy Write and Read charts below. Don't bother looking for the old Duo, however. Because it was tested with the now-retired iozone test method, it no longer shows up in the NAS Charts.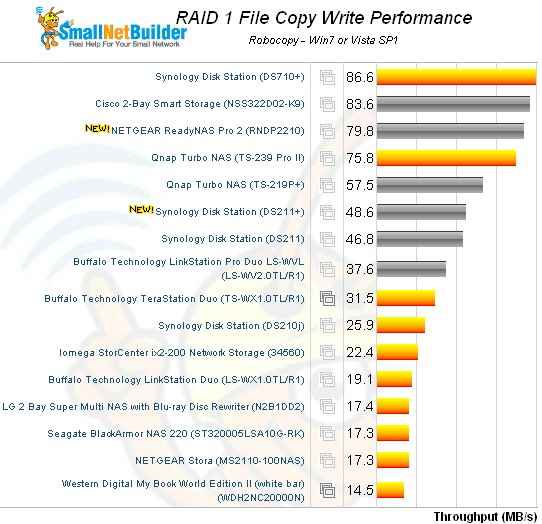 RAID 1 File Copy Write Comparison
The only comparison with a D525 Atom is the QNAP TS-459+. But since that's a four-drive NAS, it's not a fair one. All the other dual-core Atoms use a D510, with the Cisco NSS322 being the only two-bay model in the charts and the closest comparison. The charts above and below show the two products pretty evenly matched for RAID 1 file copy performance.
RAID 1 File Copy read Comparison
Conclusion
Between the two, the Pro 2 is a much better buy at around $650 vs. almost $900, which includes two 1 TB drives in each. You can knock down the price of the Cisco by buying the QNAP equivalent, the TS-259 Pro (or the newer Pro+ model). But at $600 for the TS-259 Pro+ without drives, you still will have a hard time beating the Pro2's price.
There won't be a full review of the Pro 2. But I hope to soon get a review up of the current RAIDiator OS. If you're interested in the ReadyNAS cloud backup features, you can check out the ReadyNAS Replicate and Egnyte Cloud File Server reviews over on SmallCloudBuilder. And, of course, you can use the new NAS Finder and NAS Charts to compare the Pro 2 with other products.
Buy ReadyNAS Pro 2 from Amazon