At a glance
Product
QNAP Turbo NAS (TS-112) [Website]
Summary
BYOD single drive SATA NAS with Gigabit Ethernet and many serving options based on 1.2 GHz GHz Marvell Kirkwood processor.
Pros
• Lots of features for relatively little money
• Quiet
Cons
• Nothing significant
Typical Price: $1000 Buy From Amazon
The TS-112 is the next-to-cheapest QNAP NAS you can buy. It is one step above the look-alike TS-110 and costs from $20 to $40 more. All you are buying with that extra dough is performance, because you get all the same features.
Both the 110 and 112 come in a white plastic case that slides apart for easy drive installation after removing two screws. The front panel has been restyled from previous single-drive QNAP products and made, I think, a bit less attractive.
Port complement is the same as the TS-110: three USB 2.0; a single 10/100/1000 Ethernet port supporting up to 9K jumbo frames; and a single eSATA port.

Inside
The photo below shows the 3.5" Samsung Spinpoint F1 1 TB (HE103UJ) drive QNAP installed for the review. Like the TS-110, the 112's mounting plate doesn't accept 2.5" SATA drives.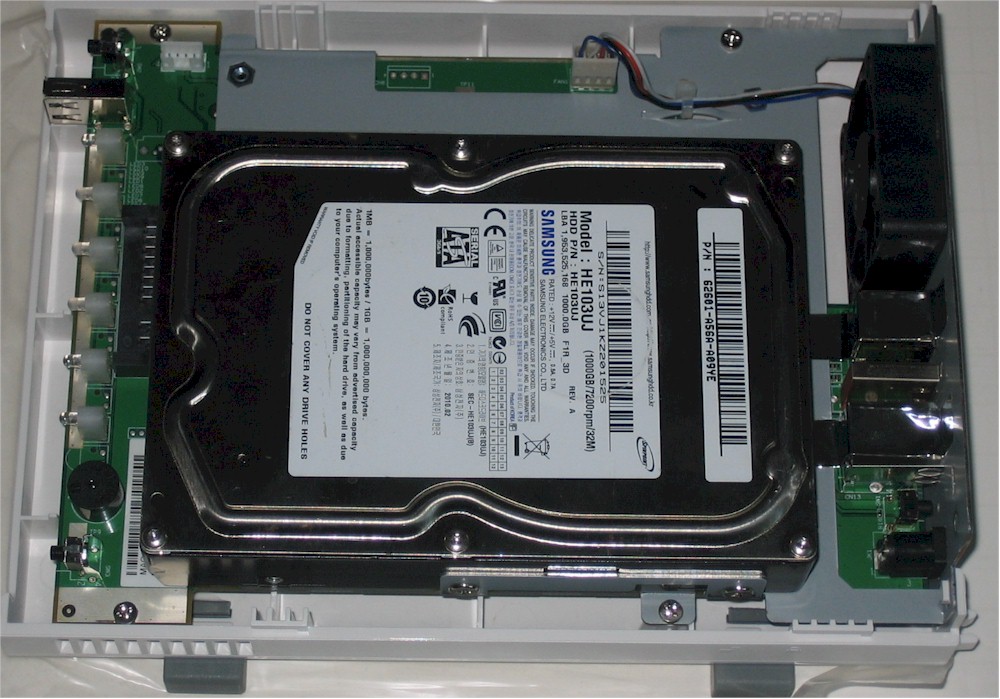 Removing the board and flipping it over reveals a circuit-side view that is identical to the photo I snapped for the TS-110. The 1.2 GHz Marvell Kirkwood (88F628210C120) is under the heatsink, with the 256 MB of DDRII RAM and 16 MB of flash in plain view. The other two parts of note are a Microchip PIC16F690 Flash-Based 8-Bit CMOS MCU and Genesys GL850G 4 port USB 2.0 Hub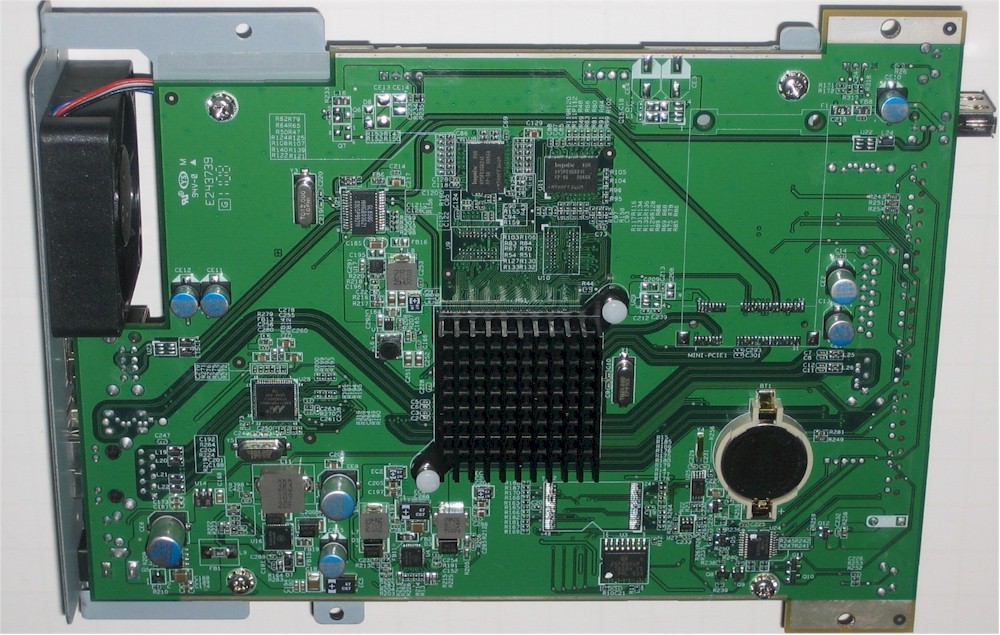 Power consumption measured 13 W with the drive spun up and 6 W with it down. Like the TS-110, the 112 is whisper quiet.
Features
The TS-112 came with V3 firmware installed (3.4.2 Build 0331T, to be exact). This version sports a new feature, MyCloudNAS. Don't get too excited, though. MyCloudNAS is basically a hosted dynamic DNS service that can provide a XXX.mycloudnas.com address for you to access your QNAP NAS from the Internet.
MyCloudNAS requires ports to be opened in your router firewall to work. The built-in wizard will open them for you, if your router supports UPnP NAT traversal. If your router doesn't support UPnP, you can still use the MyCloudNAS service, but you'll need to open the ports manually for the services that you want to access from the cloud.
The gallery below will step you through the setup wizard screens. One thing you should know is that QNAP has a "use it or lose it" rule for MyCloudNAS. The note below is taken from the User manual MyCloudNAS description.
A registered MyCloudNAS name will expire in 120 days if your NAS have not been online within the period. Once the name is expired, it will be released for new registration by other users.
MyCloudNAS Wizard 1
MyCloudNAS Wizard 2
MyCloudNAS Wizard 3
MyCloudNAS Wizard 4
MyCloudNAS Wizard 5
MyCloudNAS Wizard 6
MyCloudNAS Wizard 7
MyCloudNAS Wizard 8
MyCloudNAS Wizard 9
MyCloudNAS Wizard 10
Performance
I tested with 3.4.2 Build 0331T using our standard NAS test process.
The Benchmark summary below shows Windows File copy write measured 46 MB/s, with file copy read significantly higher at 79 MB/s.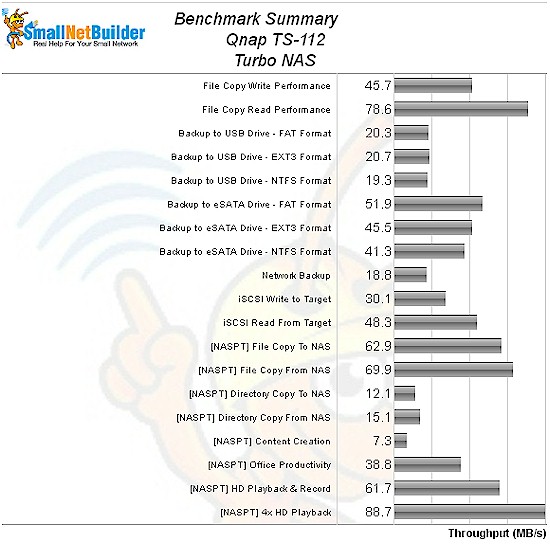 NASPT File Copy write benchmarks were all higher and more evenly matched at 63 MB/s for write and 70 MB/s for read. As with all other tested NASes, the tougher NASPT Directory Copy tests didn't break out of the mid teens.
I was able to run all my backup tests because the TS-112 supports both USB 2.0 and eSATA drives and has a built-in formatter that includes EXT3. Best attached backup performance of 52 MB/s was with FAT32 and eSATA and was worst at 19 MB/s with NTFS and USB. But EXT and FAT USB backup speeds were essentially the same at 21 and 20 MB/s.
Rsync network backup measured 19 MB/s to the NAS testbed running Delta Copy.
iSCSI write and read to a 10 GB volume produced 30 MB/s and 48 MB/s, respectively, which are not too bad for a l'il ol' single-drive NAS.
The File Copy Write and Read charts below are filtered to show only single-bay NASes. Of the top four, the TS-112 is the only one running a 1.2 GHz Marvell Kirkwood (88F6281). The Buffalo LinkStation Pro LS-VL and QNAP TS-119P+ both are based on 1.6 GHz Kirkwoods (88F6282), while the WD MyBook Live uses a 1 GHz Applied Micro APM82181.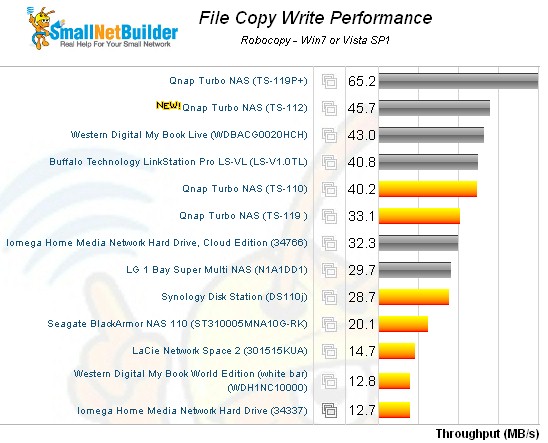 File Copy Write Comparison – one bay products
For filecopy write, three of the four are pretty evenly matched, with the significantly more expensive QNAP TS-119P+ being the outlier. For file copy read, the 119P+ is again the highest performer. But the Buffalo drops below the pack by almost 10 MB/s.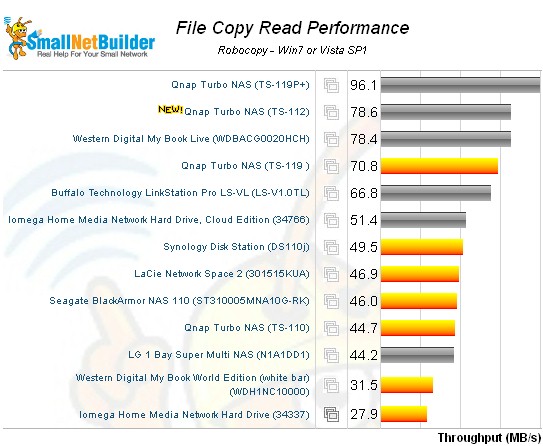 File Copy Read Comparison – one bay products
Conclusion
The Price vs. Performance plot for single-bay NASes shows the tight cluster of the TS-110, TS-112, Buffalo LS-VL and WD MyBook Live. But you should remember that both the Buffalo and WD are diskful, coming with 1 and 2 TB, respectively.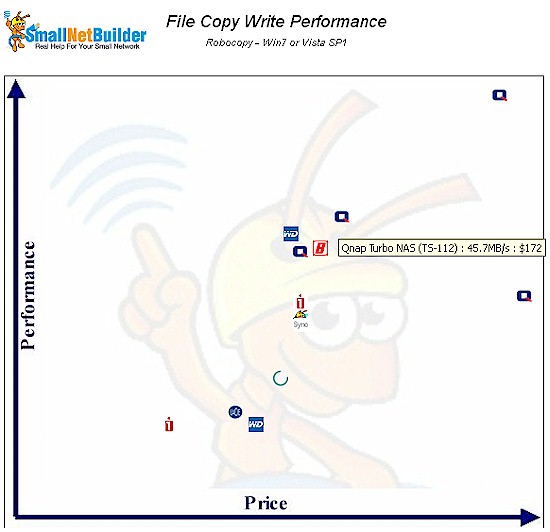 Price vs. Performance – one bay products
Neither the Buffalo nor WD can match the QNAPs for features. But if you are looking for basic network storage with decent speed and simple media serving, both are a better value than the QNAPs. If you're trying to decide between the TS-110 and 112, I think I'd spend the extra $25 or so to get the extra read performance from the TS-112.
There won't be a full review of the TS-112. Use the new NAS Finder and NAS Charts to compare it with other products.
Buy Turbo NAS from Amazon