The QNAP TS-119P+ has been added to the NAS Charts.
The TS-119P+ is QNAP's entry into the single-drive 1.6 GHz Marvell Kirkwood (88F6282) NAS arena already occupied by Buffalo's LinkStation Pro LS-VL [reviewed] and Synology's DS111 [DS211 reviewed].
The 119P+ is a full-featured, but expensive single-bay NAS with hot-swappable bay that can take a 2.5" or 3.5" SATA drive and has one Gigabit Ethernet, three USB 2.0 and one eSATA ports. QNAP has spiffed up the physical design a bit with a more polished look and easily removable, but not lockable, drive tray.
The case was easy to get open, but the board wasn't easy to extract for a photo. But I could see most of the board anyway with the drive removed. Joining the Marvell CPU are 512 MB of soldered-on RAM and 16 MB of flash. Other components include Marvell 88E1310 10/100/1000 Ethernet Phy, Genesys GL850G 4 port USB 2.0 hub and Microchip PIC16F690 Flash-Based 8-Bit microcontroller. As is usual for QNAP, there's an onboard buzzer and hackers will be pleased that there is a four-pin header on the circuit board marked Serial.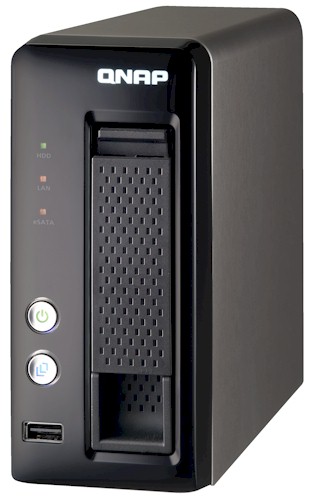 QNAP TS-119P+
The 119P+'s noise is very low and virtually unnoticeable over my desktop machine's low fan and drive noise in my quiet home office.
Power consumption measured 11 W with the single 1 TB SAMSUNG Spinpoint F3 HE103SJ 3.5" SATA drive QNAP loaded into the review sample spinning and a nice low 6 W with the drive spun down after a programmable idle period.
Tests were run with 3.3.8 Build 1217T updated firmware using our new test process. The Benchmark summary below gathers all the test results into one place for easy reference.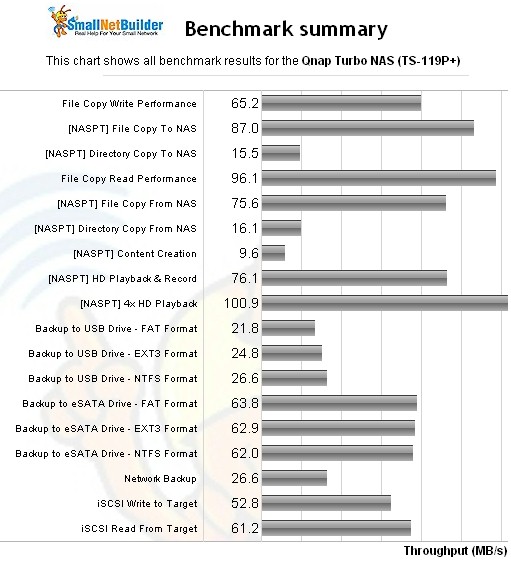 QNAP TS-119P+ Benchmark Summary
Windows File copy write measured 65 MB/s and read came in at 96 MB/s. NASPT File Copy benchmarks typically yielded different results with higher write speed (87 MB/s) but lower read (76 MB/s). The tougher NASPT Directory Copy tests yielded only 16 MB/s for write and read.
As I've found with some other products, the 119P+ wasn't able to complete all NASPT tests. So you won't find Office Productivity results in the Benchmark summary above. Failure to complete all tests can be due to write cacheing, oplocks or simultaneous connection limits baked into the NAS OS and usually occur in one of the NASPT tests that reads and writes multiple folders of small to medium sized files. I tried running tests in a different sequence, but just got a different test to fail.
I saw this same problem with the recently tested QNAP TS-459 Pro +, but not the QNAP-sourced Cisco NSS 300-series NASes. So it appears that something has changed in QNAP's OS.
Backup speed to an attached USB drive peaked at 27 MB/s for an NTFS-formatted volume, but came in a bit lower at 25 and 22 MB/s for EXT3 and FAT volumes, respectively. Still, these speeds are about the best you can get using USB 2.0 drives. Switching to an eSATA connection to our standard Iomega UltraMax Pro configured in RAID 0 yielded speedier results of 64, 63 and 62 MB/s for FAT, EXT3 and NTFS formats, respectively. Rsync network backup to the NAS testbed running Delta Copy produced 27 MB/s, similar to attached USB drive speeds.
iSCSI write and read to a 10 GB volume produced 53 MB/s and 61 MB/s, respectively.
For competitive comparison, check the File Copy Write and Read charts below, filtered for single-drive NASes. The 119P+ sets new Chart highs, significantly beating both the 1.6 GHz Kirkwood-powered Buffalo LinkStation Pro LS-VL and WD My Book Live, which uses a 1 GHz Applied Micro APM82181 Embedded Power Processor.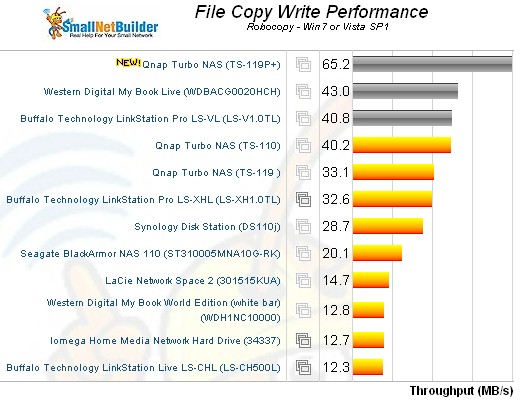 File Copy Write Comparison – single bay NASes
But both the Buffalo and WD products completed all NASPT tests. So it appears that QNAP has made some optimizations to boost large file copy speed, at the expense of handling copies of lots of small files.
File Copy Read Comparison – single bay NASes
As noted earlier, the 119P+ isn't cheap at around $270 without any storage included. Both the Buffalo and WD NASes compared earlier are about $100 cheaper and include at least 1 TB of storage.
I still owe a QNAP Feature review, like the Synology one I recently posted. In the meantime, you can use QNAP's online demo to check out their features. Please use the NAS Charts to further explore and compare the TS-119P+' performance.