The 239 Pro is basically a two-drive version of QNAP's TS-439 Pro. Two 2.5" or 3.5" SATA hot-swappable drives (the drive trays have mounting holes for both) in capacities up to 2 TB are configurable in separate, JBOD, RAID 0 and RAID 1 volumes and RAID expansion and migration are supported. Internal volumes can be formatted in EXT3 or EXT4.
The 239 Pro runs QNAP's new AJAX-based interface, which made administration a more pleasant task.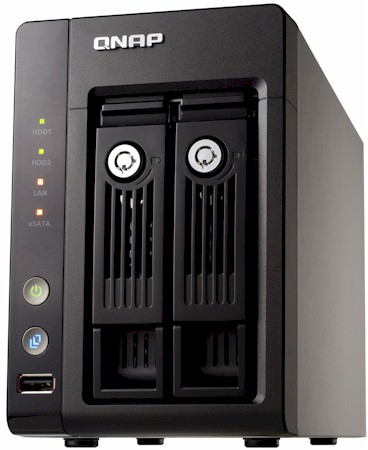 Hardware-wise, the 239 Pro has more in common with the four-drive QNAP TS-439 Pro, than the 219P. The latter is based on a Marvell Kirkwood 88F6281 @ 1.2 GHz processor and 512 MB of soldered-on-board DDRII RAM.
The 239 Pro uses an Intel Atom N270 @ 1.6GHz and has a 1 GB SODIMM of DDR2 667 RAM. The OS resides in a 128 MB IDE DOM (Disk on Memory). Other details visible in the photo below are two Intel 82574L Gigabit Ethernet Controllers and an ITE IT8718F "Super I/O". The 10/100/1000 Ethernet ports support up to 9K jumbo frames and can be configured in separate, failover and aggregation modes.
The generous use of heatsinks prevents identification of other key components, but given the Intel architecture, two of them are North and South bridges.
Rear panel connectors include two 10/100/1000 Ethernet ports, two eSATA connectors and three USB 2.0 ports for drive expansion and attached backup. The USB ports also support UPS shutdown sync and printer sharing. There is also a 15 pin video connector, for console display. Root access via direct-attached console, SSH and Telnet is supported.
Power consumption measured 32 W with two Samsung HD103UJ 1 TB 3.5" drives provided by QNAP and 20 W with the drives spun down via the programmable idle time (between 5 and 60 minutes of inactivity). Shutdown, startup and restart can also be scheduled daily, weekly on the weekend or on specific days.
Fan and drive noise are medium low, meaning the NAS is noticeable in a quiet room. The main noise sources are the drives themselves (including drive clicks and thunks) and some occasional cabinet rattle.
CIFS/SMB, AFP and NFS network file systems are supported, and files can also be accessed via FTP and secure (SSL/TLS) FTP. HTTPS is supported for admin access. Up to eight iSCSI targets can be configured and the NAS also can act as an iSCSI initiator.
Media features include iTunes and UPnP AV / DLNA (Twonkymedia) servers and there is a download service for HTTP, FTP and BitTorrent files. The full set of QNAP features are supported including photo web serving, surveillance camera recording and LAMP webserving.
Immediate and scheduled backup can be done to an attached USB or eSATA drive or via rsync to networked rsync targets. External drives can be formatted for read and write in FAT32, NTFS, EXT3 and EXT4.
Fastest backup of our ~ 4 GB standard filecopy test folder measured 58.74 MB/s using a EXT3 formatted eSATA drive. NAS-to-NAS backup of the test folder via rsync to a Synology DS109+ measured 27.39 MB/s.
RAID 1 write performance with a Gigabit LAN connection averaged 55.2 MB/s for file sizes between 32 MB and 4 GB, with cached behavior not included in the average calculation. Read performance was slightly higher, measuring 58.7 MB/s with the same conditions, establishing a new Chart high for two-bay NASes.
File copy performance using a Vista SP1 client under the same conditions (RAID 1, Gigabit LAN) also established new chart highs for dual-drive NASes at 56.2 MB/s for write and 52.0 MB/s for read.
File copy to a 10 GB portion of a RAID 1 volume configured as an iSCSI target measured 65.6 MB/s for write and 67.4 MB/s for read.
QNAP NAS features have been well-explored in other QNAP reviews, so a full review isn't planned. Don't forget to compare performance (including backup) using the NAS Charts.