The Synology DS211+ has been added to the NAS Charts.
The Synology DS211+ is a DS211 dressed up in a new black plastic enclosure with an SD card reader, more RAM and an eSATA port.
The new case is more in the style family of the DS710+ than the old white-cased Synologies. And its pop-off front cover provides easy access to the two drives, making them hot-swappable.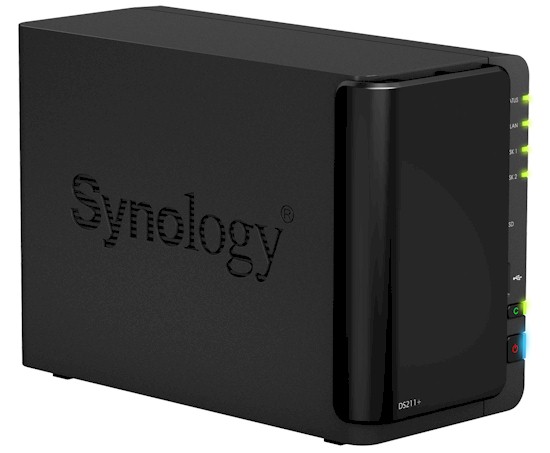 The DS211+ hardware platform is essentially the same as the DS211's. A 1.6 GHz Marvell Kirkwood SoC (88F6282A0C160) is at its heart, with RAM bumped up to 512 MB from 256 MB and 1 MB of flash.
Unfortunately, the new case design isn't easy to open and I didn't risk cracking the plastic. So I just have to guess that the single 10/100/1000 Ethernet port that supports jumbo frames up to 9KB comes courtesy of a Marvell 88E1116R Gigabit Ethernet Controller.
I did manage to spy a ceramic heatsink covering the Kirkwood through the large Synology logo on the case side. The logo cleverly contains ventilation slots that you can see in the product side shot below.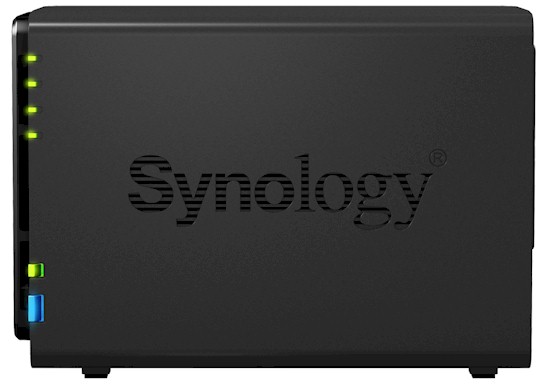 Power consumption with two Seagate Barracuda 7200.12 1 TB (ST31000528AS) drives that Synology loaded into the review unit measured 22 W, which dropped to 10 W when the drives spin down using the programmable hard drive sleep time setting. Noise level was very low with no fan or drive noise audible in my quiet home office. Fan noise did not increase under load during our performance tests.
Folks have asked me to start noting IPv6 support in products. So I'm noting that the DS211+ (and all Synology products running DSM 3.1 and higher) support IPv6 via auto, DHCP and manual input as well as IPv6 over IPv4 tunneling.
I tested with DSM 3.1-1594 firmware using our standard NAS test process. Windows File copy write with a RAID 0 array measured 51MB/s, dropping slightly to 49 MB/s for RAID 1. File copy read for RAID 0 was typically higher at 86 MB/s, rising slightly to 89 MB/s for RAID 1.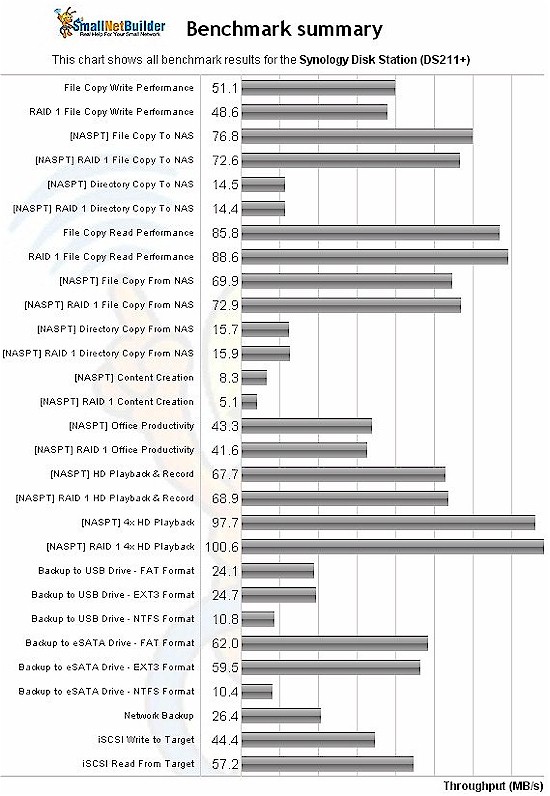 Synology DS211+ Benchmark Summary
NASPT File Copy benchmarks yielded 77 MB/s write for RAID 0, and a lower 73 MB/s for RAID 1. NASPT File Copy reads came in at 70 and 73 MB/s for RAID 0 and 1, respectively.
The tougher NASPT Directory Copy tests yielded only 14 MB/s for RAID 0 or 1 write and 16 MB/s for read.
Backup speed to an attached USB drive measured around 24 MB/s for both FAT and EXT3-formatted volumes, but dropped to 11 MB/s for NTFS format. Backup to our eSATA connected drive yielded 62, 60 and 11 MB/s for FAT, EXT3 and NTFS formats, respectively. Rsync network backup to the NAS testbed running Delta Copy was clocked at 26 MB/s.
iSCSI write and read to a 10 GB volume created on a RAID 1 array produced 44 MB/s and 57 MB/s, respectively.
For competitive comparison, check the RAID 1 File Copy Write and Read charts below, filtered for two-drive NASes. The 211+ and DS211 run neck and neck, as would be expected from their similar designs.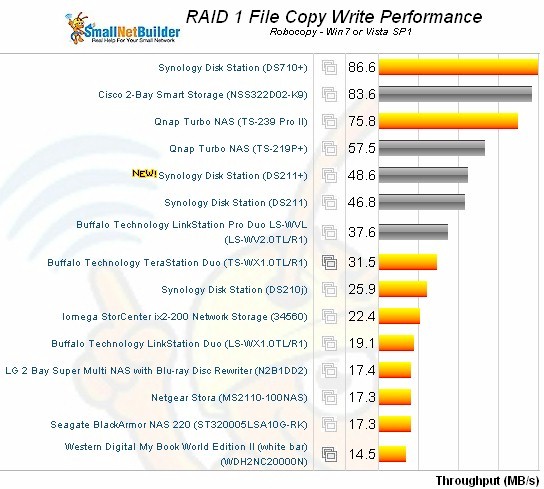 RAID 1 File Copy Write Comparison
But note that the QNAP TS-219P+ does a bit better for both benchmarks and has much better NTFS file copy performance (59 MB/s vs. 10 MB/s).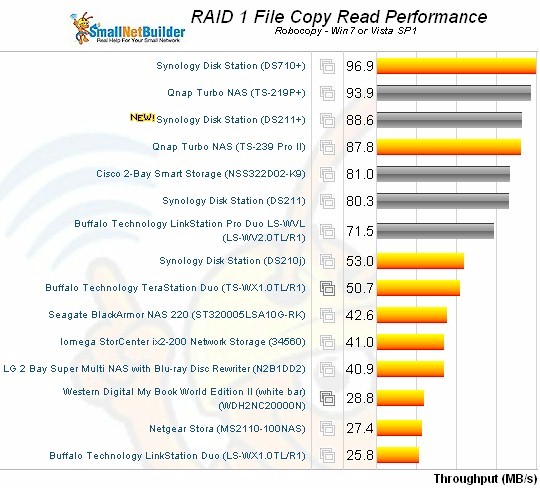 RAID 1 File Copy read Comparison
If you can do without the SD card reader, you can save at least $50 by going with the QNAP.
Synology uses the same extensive feature set across its products, which we've reviewed here. You can also use Synology's online simulator to experience the admin interface for yourself. Please use the NAS Charts to further explore and compare the DS211+'s performance.