At a glance
Product
QNAP Turbo NAS (TS-421) [Website]
Summary
BYOD four-bay Marvell-powered SATA NAS with dual Gigabit LAN, USB 3.0 and eSATA ports.
Pros
• Cloud backup to Amazon S3, ElephantDrive, Symform
• The usual extensive QNAP Feature Set
Cons
• Relatively expensive
• Found a few bugs
Typical Price: $743 Buy From Amazon
Introduction
The TS-421 is the new top-end of QNAP's four-bay Home & SOHO line. It's very similar to the TS-420 that was introduced with seven other models in April.
All four members of the TS-x21 series use 2.0 GHz single-core Marvell CPUs with 1 GB of DDR3 RAM, while the TS-x20 series models have 1.6 GHz single-core Marvell CPUs with 512 MB of DDR3 RAM. Both series have 16 MB of flash. Both lines include four-bay rackmount servers (TS-420U, TS-421U).
From the front side, the TS-421 looks very similiar to other recent QNAP NASes. Its primary distinction is the LCD status panel that's missing from the new TS-420 and older TS-412. The 421's key hardware features are called out in the diagram below.

QNAP TS-421 Front and rear panel callouts
While the 421 has neither VGA nor HDMI port for an attached display, it has two each of Gigabit Ethernet, USB 2.0, USB 3.0 and eSATA ports.
Inside
As usual, QNAP has not made it easy to remove the main board. But I was able to get a good enough look at the key components by partial disassembly. The layout is similar to the TS-412's, but it's not the same board. (See TechSpot's review for a clear look at the TS-412's board.)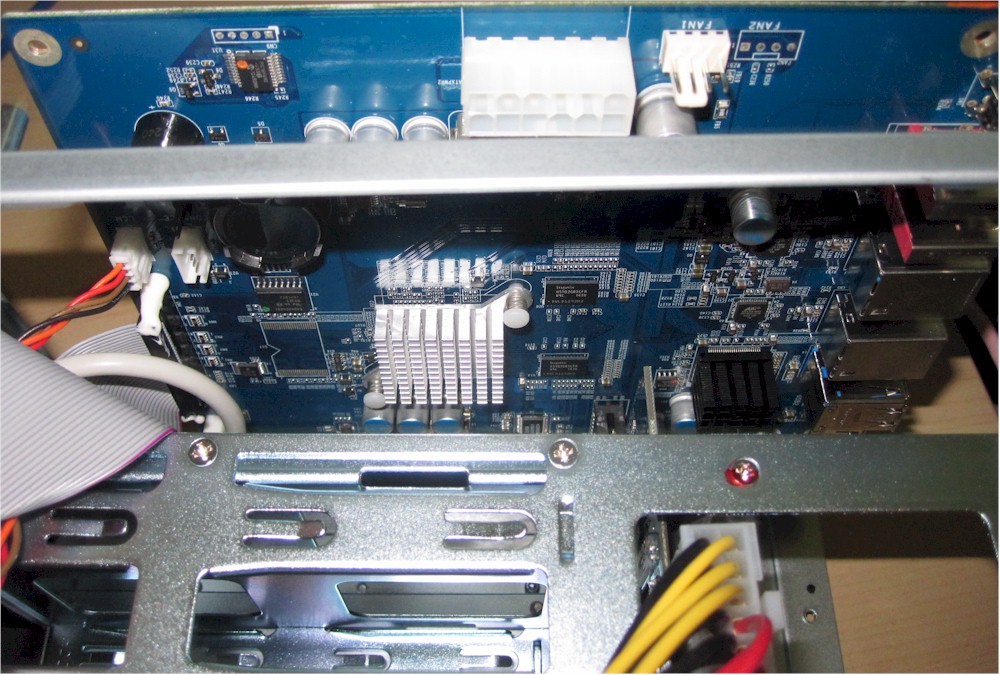 Partial view of QNAP TS-421 / TS-420 board
The 421's Marvell 88F6282 has a heatsink due to its higher 2.0 GHz clock rate, while the 412's 88F6281 clocked at 1.2 GHz does not. I've summarized all the 421's key component information in the table below, along with the 420 and 412.
| | TS-421 | TS-420 | TS-412 |
| --- | --- | --- | --- |
| CPU | Marvell 88F6282 Kirkwood SoC @ 2 GHz | Marvell 88F6282 Kirkwood SoC @ 1.6 GHz | Marvell 88F6281 Kirkwood SoC @ 1.2 GHz |
| RAM | 1 GB DDR3 | 512 MB DDR3 | 256 MB DDR2 |
| Flash | 16 MB | 16 MB | 16 MB |
| Ethernet | Marvell Alaska 88E1318 (x2) | Marvell Alaska 88E1318 (x2) | Marvell Alaska 88E1116R (x2) |
| USB 3.0 | Etron Tech EJ168A | Etron Tech EJ168A | N/A |
| SATA | Marvell 88SX7042 | Marvell 88SX7042 | Marvell 88SX7042 |
Table 1: Key component summary and comparison
The NAS was equipped for testing with our standard four Western Digital Red 3TB drives (WD30EFRX). Power consumption measured 27 W with the 4 drives spun up and 13 W with them spun down. Fan and drive noise could be classified as low, i.e. barely audible in my quiet home office.
Features
Firmware at test time was 4.0.1. This makes the TS-421 the first QNAP product we've seen with the new QTS 4.0 operating system. The change is significant enough that, as we have done with Buffalo's and NETGEAR's recent NAS OS revamps, Craig has done a separate detailed review.
In the meantime, the screenshot below provides a peek at QTS 4.0's design. QNAP has taken a "virtual desktop" approach very similar to Synology's DSM 3 and refined in DSM 4. So if you've been having a hard time deciding between QNAP and Synology, QTS 4.0 is going to make your job even harder.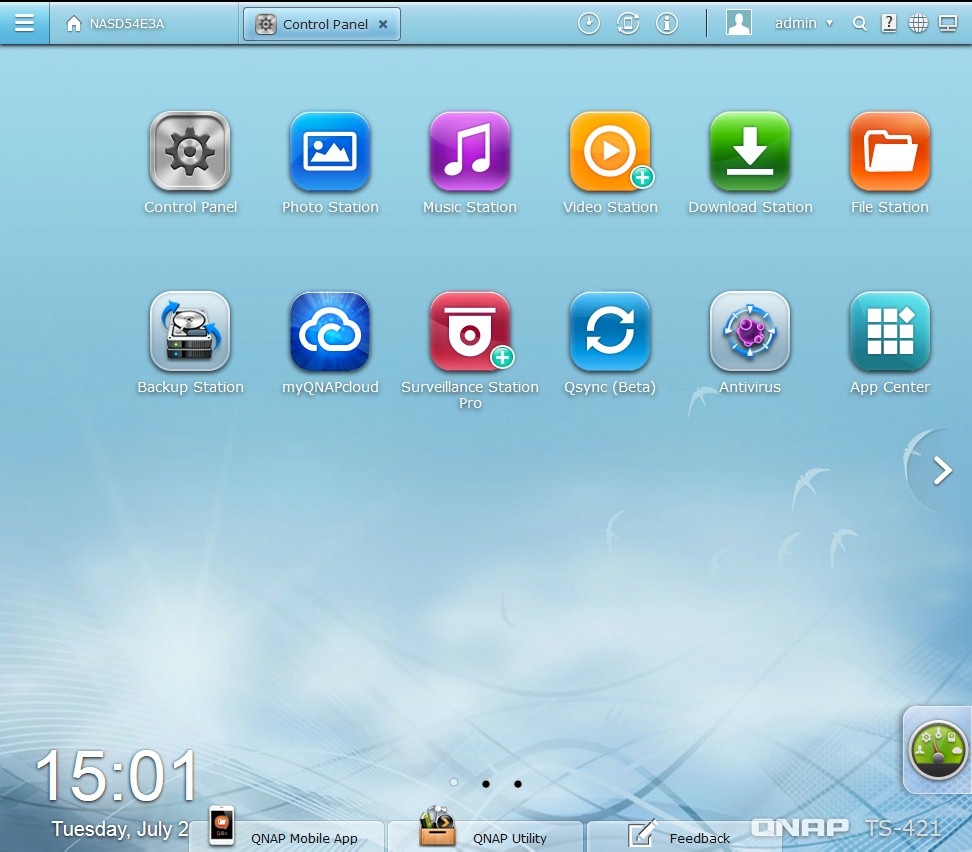 QNAP QTS 4.0 desktop
QNAP's style is more tablet-friendly than Synology's with big icons sitting on the desktop to take you to key functions. QNAP has some tweaking to do, however, since I found myself constantly resizing windows to make them fit on 1280×1024 screens. If dealing with multiple windows isn't your thing, you can use the little display icon at the extreme upper right to switch to tabbed mode.
While testing, I found a few differences from previous QNAP tests. I wasn't able to browse to the 421's SMB/CIFS shares using Win 7's network browser. But the shares came up with no problem when I entered the UNC path (\\ipaddress) in the Run box. I also ran into trouble when trying to test rsync backup performance. The 421's backup wizard let me connect to my standard DeltaCopy rsync target just fine. But it would not display the target volumes so that I could select one and would not let me enter a volume name manually.
A remote session with a QNAP product specialist managed to get the 421's hostname to show up in the network browser of some of my Win 7 systems, by changing the Workgroup name and setting the NAS as local master browser. But I'm not sure this is a reliable fix, since one of my computers still doesn't show the NAS in its network browser.
The specialist also entered the rsync target configuration by editing the rsync.conf file directly via SSH, so that I was able to run the test. He thought the problem was that DeltaCopy was taking too long to respond to the 421's query for target volumes—a problem he had seen in other instances. But I had not encountered this problem in previous QNAP tests, so I'm considering it a QTS 4.0 bug.
I have been calling out manufacturers who still rely on CD-based installation processes. QNAP has responded with QTS 4.0's Quick Setup process. All you need is a working internet connection and to point your browser to start.qnap.com. Once there, a wizard takes you through the whole process, which I documented in the gallery below.
This is how you install drives
Plug in and power up
Choose your OS to continue
Note that you need to install a Windows application to continue
Starting the Qfinder Windows application
Starting the Setup Wizard
Next wizard step
Network configuration
Update the firmware
Confirm info
Setup running
QTS 4.0 Quick setup
To further check out QTS 4.0, see the online demo.
Performance
The TS-421 was tested with 4.0.1 firmware using our standard NAS test process. Tests were run with four-drive RAID 0, 5 and 10 volumes. Times to completely build and resync 4 x 3 TB RAID 5 and 10 volumes were quite long at 17h 20m and 22h 30m, respectively. Unlike Thecus and Synology, QNAP does not offer the option to skip a bad block test, which can speed volume resync times significantly.
Note that in normal operation, volumes are ready for use after formatting is complete, which takes only a few minutes. But I need to wait until resync is completely done so that I can test performance without the throughput reduction caused by resync.
The Benchmark Summary below shows Windows File Copy write performance about the same (~44 MB/s) for RAID 0 and 10, but dropping to 36 MB/s for the more CPU-intensive RAID 5. File Copy read takes a different tack, with a slight upward trend from RAID 0 through RAID 10 (66, 72 and 73 MB/s).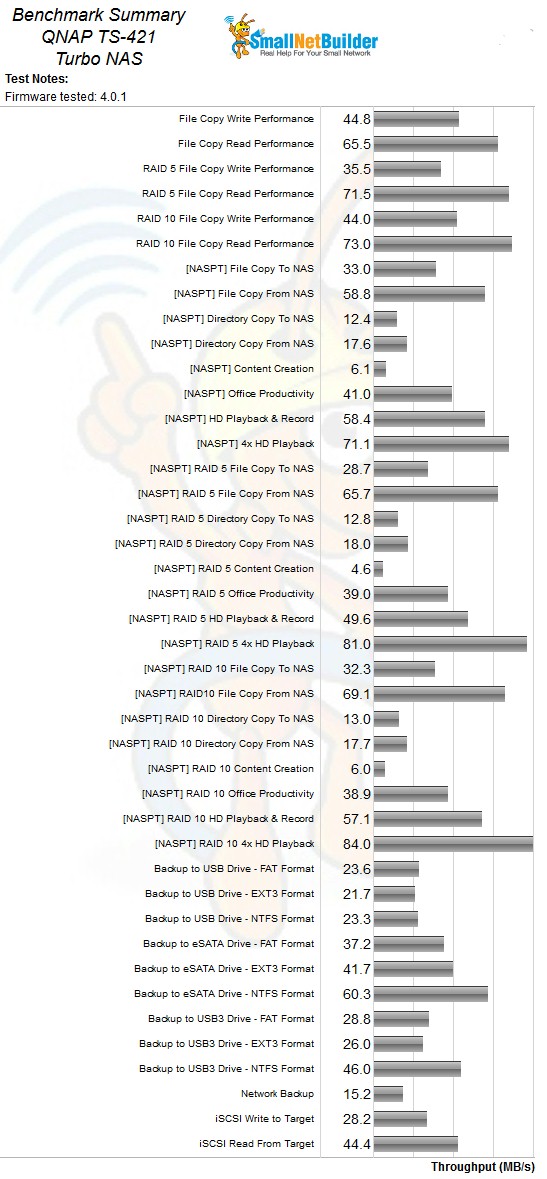 QNAP TS-421 Benchmark Summary
NASPT File copy results are lower than their Windows File Copy counterparts across the board for both write and read.
iSCSI target write performance to target created on a RAID 5 volume at 28 MB/s was low compared to other four-bay NASes powered by single-core Marvell CPUs. Best in class is the NETGEAR ReadyNAS 104 at 41 MB/s. iSCSI read was better at 44 MB/s, but trailed the best in class Synology DS413j at 52 MB/s.
Best attached backup performance of 60 MB/s was obtained with eSATA / NTFS. USB 3.0 / NTFS backup measured only 46 MB/s.
For a competitive look, I ran filtered RAID 5 File Copy charts selecting three other single-core Marvell powered four-bay NASes for comparison, i.e. the NETGEAR ReadyNAS RN104, QNAP TS-412 and Synology DS413j.
All the compared products use single-core Marvell SoCs, but not the same model and clock rate. Even though the TS-421 has the highest clock rate (2.0 GHz), the comparisons show it's not the top performer. That honor consistently goes to Synology's DS413j, which uses a the same model SoC (88F6282) but clocked at 1.6 GHz.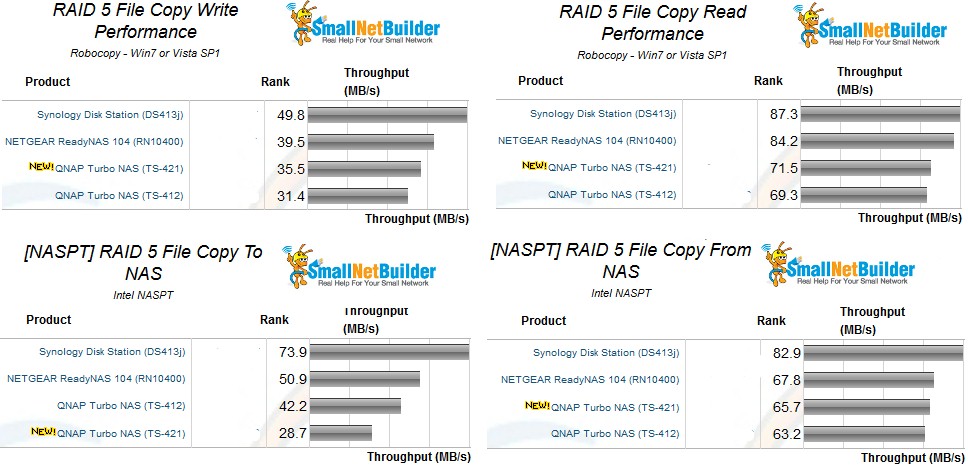 RAID 5 File Copy Performance comparison
Conclusion
If you're looking for high performance, you shouldn't be looking at a SoC powered RAID 5 NAS, especially one that costs around $500. To get large filecopy performance up near saturating a Gigabit connection, you need at least a dual-core Atom. If you want a four-bay QNAP, you might look at the D2700 Atom-powered TS-469L, which will right now cost you only $50 – $60 more.
If you want your RAID 5 at the lowest cost and don't mind trading off performance, you might opt for the older TS-412 ($350) if you want to stay with QNAP. Or consider NETGEAR's brand-new RN104 ($308) or Synology's older DS413j ($380) as long as you are ok with not being able to hot-swap drives. Of course there's also QNAP's TS-420 ($424), which we'll be testing shortly, but should be in the ballpark with these other options.
Use the new NAS Finder and NAS Charts to compare the TS-421 with other products. And be sure to read the QTS 4.0 review.
Buy Turbo NAS from Amazon