The Synology DS710+ has been added to the NAS Charts.
The DS710+ is a two-bay RAID 0 / 1 NAS. It's a smaller version of Synology's DS1010+ [reviewed], running an Intel D410 Atom instead of the 1010+' D510. Like the 1010+, capacity can be added via a five bay eSATA-connected DX510 expansion cabinet.
The disk trays have a simple slide lock to prevent accidental removal and accept both 2.5" and 3.5" hot-swappable SATA drives. Drives can be configured in single disk, JBOD, RAID 0 and 1 volumes. Online RAID level migration and capacity expansion are supported, as are multiple volumes. But that latter won't be of much use without adding the DX510.
The 710+'s enclosure uses rear-facing drives, so the fan sits at the front behind a blank front panel. Indicators and ports shown in Figure 1 include one Gigabit Ethernet, three USB 2.0 and one eSATA ports. A single VGA port for console monitor attachment is also on the rear panel.
Figure 1: Synology DS710+ front and rear panels
As noted above, the DS710+ uses a 1.67 GHz D410 Intel Atom and 1 GB of RAM. The inside view in Figure 2 shows the D410 and companion device, which I believe is an Intel NM10. There are both a USB-connected 128 MB flash module (photo, top left) and smaller flash (photo, middle right) device covered by a label that I didn't remove.
Figure 2: Synology DS710+ board
Other devices include an ITE IT871820F "Super I/O", which handles fan speed control, hardware monitoring and legacy ports and Silicon Image SiI3132 SATALink PCI Express to 2-Port Serial ATA II Host Controller that supports the single eSATA port. The single Gigabit Ethernet port is provided by an Intel WG82567LM Gigabit Ethernet Phy.
The SODIMM socket holding 1 GB of DDRII RAM, is on the back of the board. Figure 3 shows that the RAM is covered by a foil shield, so it's obviously not intended to be upgraded.
Figure 3: Synology DS710+ backside
The 710+ is very quiet with virtually no fan noise. I did hear drive head chatter when the Samsung Spinpoint F1 1 TB (HD103UJ) drives that Synology shipped with the unit for test were active, however Power consumption measured 32 W with the drives spinning and 19 W with the drives spun down after a programmable idle period.
Like all Synology NASes, the DS710+ supports Synology's the entire DSM 2.3 OS feature set. Backup options include USB, rsync targets and Amazon S3 and there are plenty of media serving options including iPhone/Mobile access, Photo web server and UPnP / DLNA support.
Tests were run with DSM 2.3-1161 firmware using our standard test process. Write performance using iozone with a Gigabit LAN connection showed very high write caching speeds. Write cache effects lasted right up through the 1 GB RAM size, settling down to 100 – 110 Mbps for both RAID 0 and 1 from 2 GB through 4 GB file sizes. Read speeds had a slight falloff for both RAID 0 and 1 from the mid-to-high 80 MB/s down to high 70 MB/s.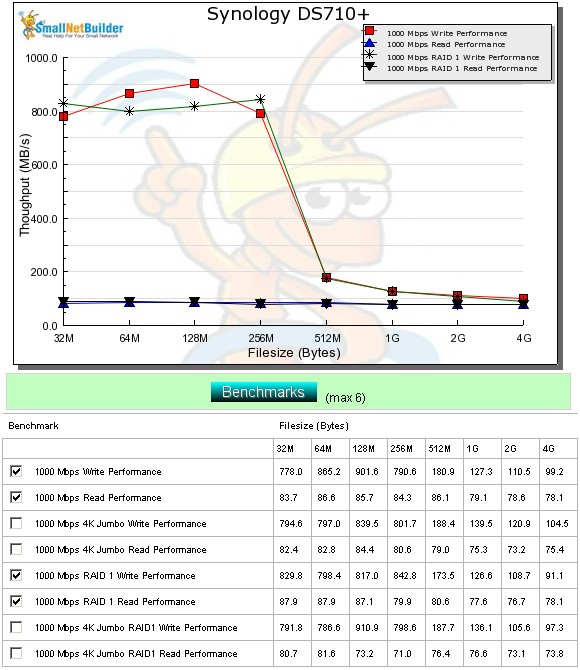 Figure 4: DS710+ throughput vs. file size
Average RAID 1 write performance using a Gigabit Ethernet connection measured 100 MB/s for file sizes between 32 MB and 4 GB, with cached behavior not included in the average calculation. Note, however, that as per the observations above regarding extended write cache effects, this average is based on only two data points.
Average read performance is somewhat lower, measuring 82 MB/s. Both results rank the DS710+ at the very top of the average write and read charts for two-bay RAID 1 NASes.
RAID 1 file copy performance using our Vista SP1-based test also ranked the DS710+ at the top of both write and read charts for two-bay products. Write speed measured 87 Mbps, as shown in Figure 5 below, with read doing even better at 97 MB/s! This also places the 710+ at the top of both of these charts.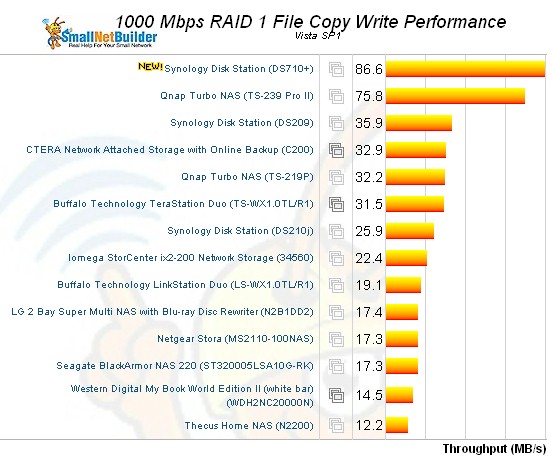 Figure 5: DS710+ RAID 1 file copy performance – write
I tested backup to an Iomega UltraMax Pro drive configured in RAID 0 connected via both USB 2.0 and eSATA. USB-connected backup went about as fast as the bus will support at 23 – 24 MB/s with the RAID 0 array formatted FAT, EXT3 and NTFS. With an eSATA connection, however, I measured 65.7, 67.6 and 29.8 MB/s for FAT, EXT3 and NTFS, respectively. NTFS backup performance still remains a Synology weakness vs. QNAP.
I also tested network backup to a QNAP TS-239 Pro II rsync target and measured 36.3 MB/s, slightly better than the 32.6 MB/s measured for the DS1010+ and among the best performance I've seen among all NASes tested. Finally, write and read speed to a 10 GB iSCSI target measured 55.6 MB/s and 84.8 MB/s, which are, again, impressive results.
In all, the DS710+ is an impressive NAS with a feature set and performance that will drive many prospective buyers crazy trying to decide between it and QNAP's TS-239 Pro II, its most direct competition. Since both products are both currently at around $500, the DS710+'s potential for expansion via the DX510 may be the deciding factor.
Synology's feature set has been already covered in other reviews, so there won't be a full review. I will be revisiting both the 710+ and 1010+, however, when I look at their performance with a DX510 Expansion Unit attached. In the meantime, use the NAS Charts to further explore the DS710+'s performance and compare it to other products.