At a glance
Product
Synology Disk Station (DS713+) [Website]
Summary
Expandable two bay, high-performance BYOD SATA NAS with many features based on a dual-core Intel Atom D2700 processor.
Pros
• Great performance
• Expandable to 7 bays total with one DX513 cabinet
• 20 HD camera surveillance capacity
Cons
• Pricey for a two-bay NAS
• Expansion option is expensive
Typical Price: $615 Buy From Amazon
Introduction
Synology recently updated its two-bay expandable small-biz NAS to create the DS713+. Besides transitioning from white to black, the DS713+ adds some new features, gets a faster processor, USB 3.0 ports and is optimized for simultaneous surveillance of up to 20 HD cameras.
The DS713+ front and rear panel callout diagram below shows the two aggregatable Gigabit LAN ports, one USB 2.0 port, two USB 3.0 ports and one eSATA port. The front-mounted USB port is 2.0, while the two USB 3.0 ports are on the rear.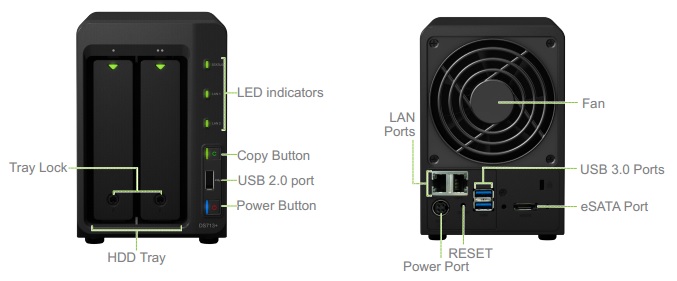 Synology DiskStation DS713+ callouts
Note that there are neither VGA nor HDMI ports for output to display. If you want to log into the Linux console, you'll need to enable SSH or Telnet and access the console that way. There also is no alpha-numeric status display to easily check the NAS' IP address. But if the NAS is on a network with an internet connection, typing find.synology.com will get you connected.
Inside
The Synology main board is rather easy to remove. You can see it here, removed from the enclosure. Under the heatsinks you can find the Atom D2700 processor and its Southbridge companion chipset. Even though the RAM comes on a 1 GB SoDIMM, you can see that Synology doesn't want you messing with it…or at least the bar code sticker on it.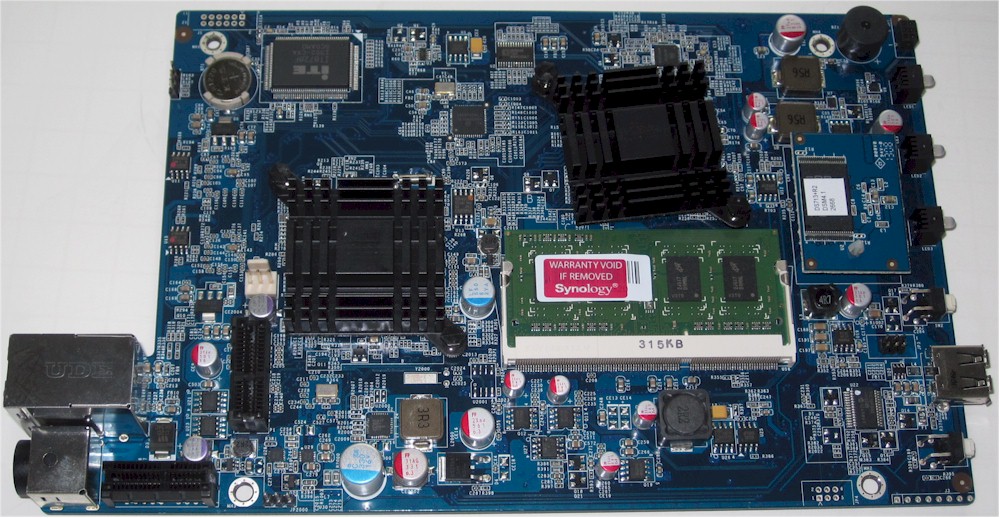 Synology DiskStation DS713+ board
The two connections on the bottom left are where the SATA backplane and rear USB connections tie in. You can see the Etron Tech EJ168A USB 3.0 chipset in the image of the daughter boards below. All the SATA controllers appear to be on the main board vs. mounted on the backplane like QNAP does.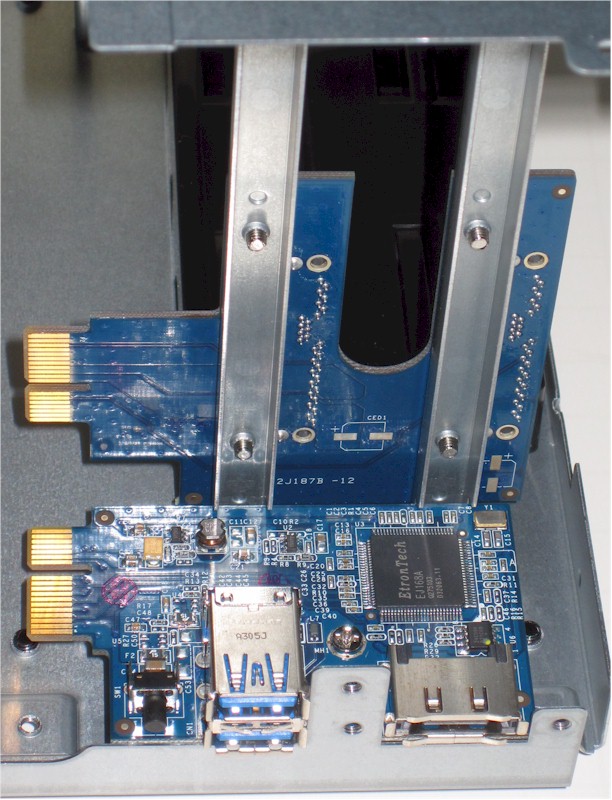 Synology DiskStation DS713+ daughter boards
The key components for the DS713+ and, for comparison, the DS1813+ reveiwed a month ago and DS1512+ reviewed last June are summarized in the table below.
| | DS713+ | DS1813+ | DS1512+ |
| --- | --- | --- | --- |
| CPU | Intel Atom D2700 @ 2.13 GHz | Intel Atom D2700 @ 2.13 GHz | Intel Atom D2700 @ 2.13 GHz |
| RAM | 1 GB DDR3 | 2 GB DDR3 | 1 GB DDR3 |
| Flash | 128 MB DOM | 128 MB DOM | 1 GB DOM |
| Ethernet | Intel WG82574L (x2) | Intel WGI210AT (x4) | Intel WG82574L (x2) |
| USB 3.0 | Etron Tech EJ168A | Etron Tech EJ168A | NEC D720200AF |
| SATA | Silicon Image Sil3531 | Silicon Image SiL3132 (x2) | Silicon Image SiL3132 |
| PCI | N/A | PLX PEX8603 3-lane, 3-Port PCI Express Gen 2 (5.0 GT/s) Switch | N/A |
Table 1: Key component summary and comparison
We used two WD RE4 2 TB (WD2003FYYS) drives that came with the sample for testing. Power consumption measured 36 W with the two drives spun up. With the drives spundown power consumption measured 17 W. Noise of the NAS is classified as low and would be fine for a home office.
Features
If features are important to you in a NAS, Synology has a lot. Their interface has stayed very consistent in appearance since DSM 3, but features keep getting packed in. It isn't the prettiest of all its competitors any more, but functionally it is sound.
Synology's Package Center has over 50 installable packages by recent count and includes LDAP, DNS, RADIUS and media servers, as well as content management packages and many web-based apps, to name a few.
DSM 4.2 mainly focused on improving cloud services and adding a High Availability NAS clustering option. Synology opened beta for DSM 4.3 in July (screenshot below), which adds tweaks to its Cloud, Photo and Video "Stations", supports TRIM for SSDs, adds SSD caching and more.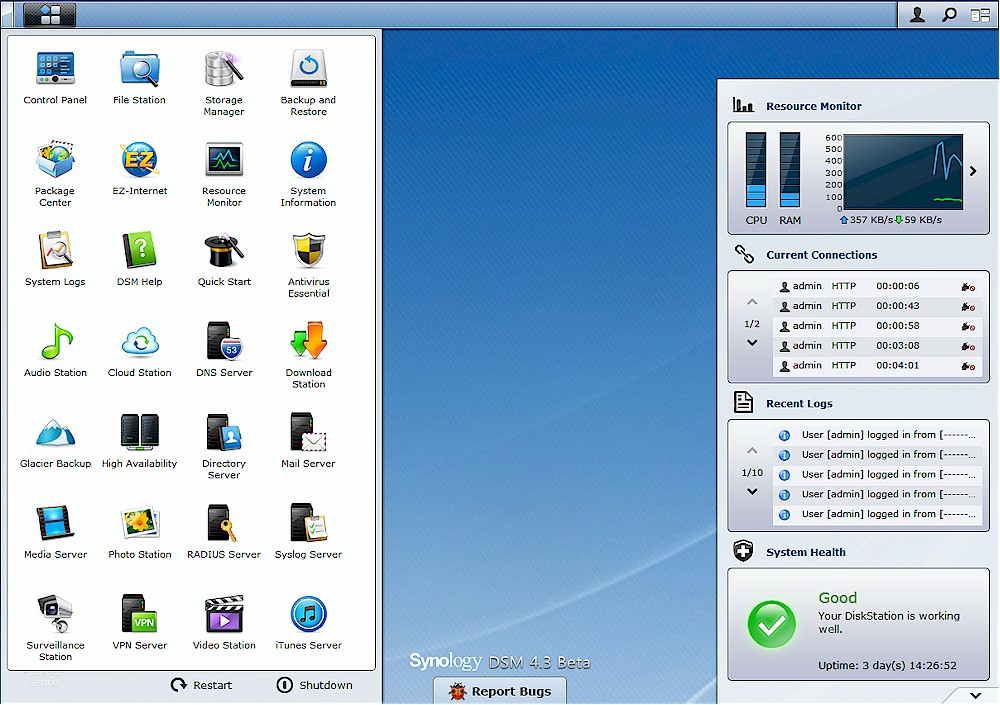 Synology DSM UI
That's not to say Synology has the corner of the market as far as user interface and features go. QNAP and ASUSTOR also have very nice user interfaces and are packed full of features. Even the NASes that haven't joined the user interface arms race virtually all do standard file sharing, backup and media streaming. So choosing a NAS based on features may be harder than one thinks.
Luckily you're not flying blind. To see if their UI may be right for you, Synology provides an online demo that allows you to take its OS for a spin. Your research can also include the DSM 4.2 section of Synology's website and even the DS713+ data sheet.
Performance
The DS713+ was tested with DSM 4.2.3211 firmware, using our NAS test process with RAID 0 and 1 volumes.
Windows File Copy tests show well-matched read and write throughput across both tested volume formats. Highest write throughput measured was 106.5 MB/s for RAID 1 and highest read was 104 MB/s for RAID 0.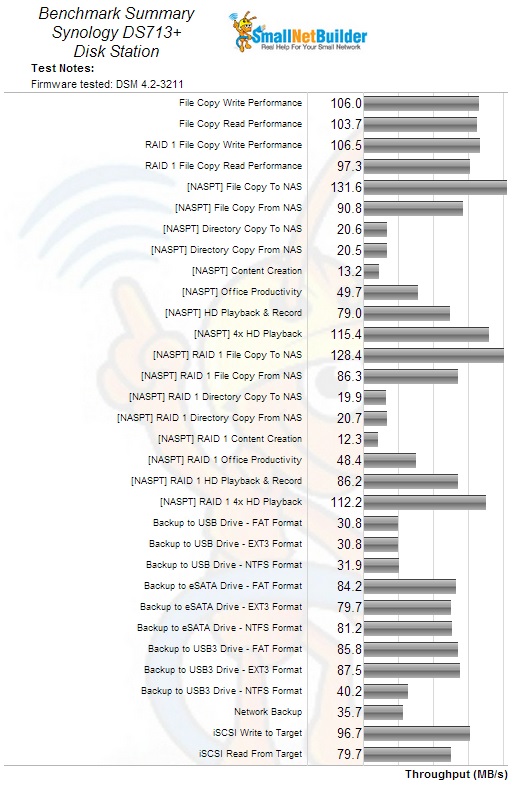 Synology DiskStation DS713+ benchmark summary
Intel NASPT File Copy results measured just north of 20 MB/s higher for write and about 15 MB/s lower for read. Highest NASPT write throughput of 132 MB/s was in RAID 0; highest read was 91 MB/s, in RAID 0 as well. Keep in mind the maximum theoretical throughput with a single Gigabit Ethernet connection is 125 MB/s. So with results higher than that we are dealing with some write cache effect taking place. The DS713+ has two Gigabit NICs that can be aggregated and really needs multiple clients via an aggregated switch connection to push it to its limits.
iSCSI performance was 97 MB/s for write, which puts it at #7 in our NAS Ranker for Atom-2 class (Dual Core Intel Atom) NASes. Read throughput of 80 MB/s comes in at #10.
Attached backup tests were run with our standard Startech USB 3.0 eSATA to SATA Hard Drive Docking Station (SATDOCKU3SEF) containing a WD Velociraptor WD3000HLFS 300 GB drive. Best backup throughput of 88 MB/s was obtained using USB3 and an EXT3-formatted drive. There was an single exception to the 713+' excellent backup performance; backup to an NTFS formatted drive using USB 3.0 measured only 40 MB/s.
Network backup to a DeltaCopy target on our NAS Testbed system measured 36 MB/s. For comparison, best network backup measured to date is still 44 MB/s with a NETGEAR ReadyNAS Pro 2.
The best way to get a competitive view of the 713+' performance is with the NAS Ranker. Selecting the Atom-2 class shows the DS713+ with a #3 rank behind the Synology DS1813+ and Synology DS1513+ tied for #1 and ASUSTOR AS-604T in the #2 position. But the 713+ holds the #1 rank for two-bay RAID 1 dual-core Atom NASes. This means Synology holds 4 of the top 5 positions among dual-core Atom NASes tested.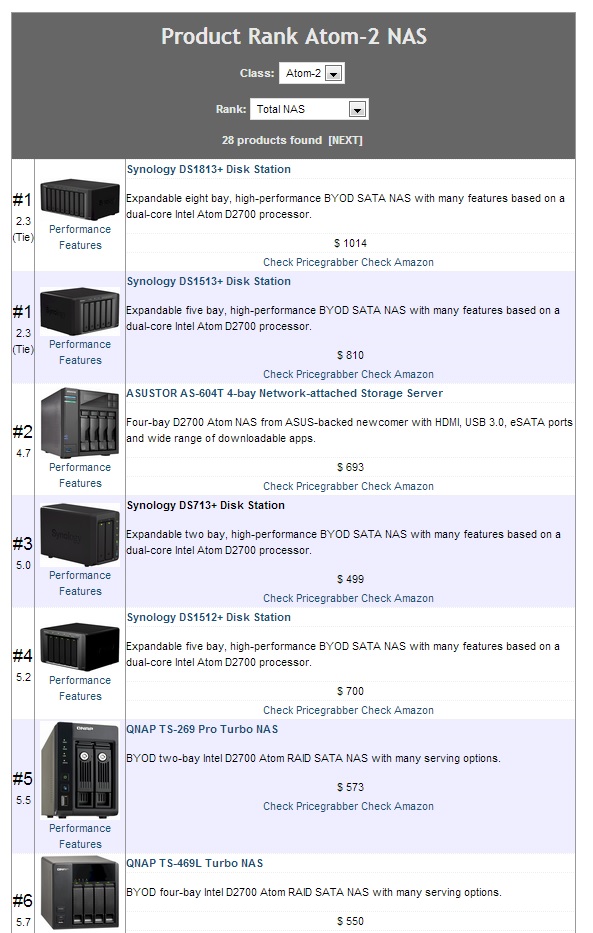 Dual core Atom class NAS Ranker Comparison
Digging a little deeper in to the results, we can see that the DS713+ didn't necessarily have the top performance for every item in each category. Its weakest results were in the NASPT Simultaneous Video playback / record, USB 3.0 / NTFS backup and iSCSI Read benchmarks.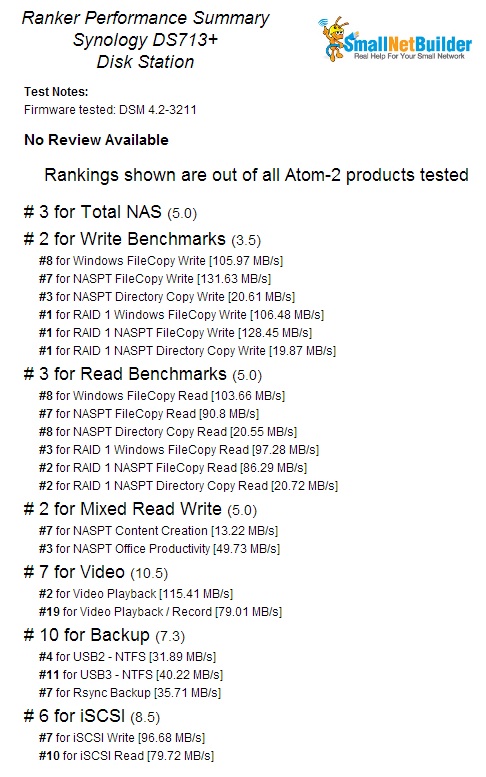 Synology DiskStation DS713+ NAS Ranker Performance Summary
Closing Thoughts
As noted earlier, to really take advantage of a NAS this powerful, you should use it with aggregated Gigabit NICs and multiple clients to keep it plenty busy. But if you aren't set up for aggregated links, you can rest assured that moving large files to and from the 713+ is going to make full use of a single Gigabit link.
All this joy comes at a high price for a two-bay RAID 1 NAS—around $500 as I write this—and drives are extra. But anyone considering spending this much for a RAID 1 NAS is really paying for the opportunity to grow it into a higher capacity RAID 5/10 box later by adding a not-cheap-either DX513 expansion cabinet.
You have to give Synology credit for the chutzpah to charge the same for some bent sheet metal, power supply brick and a few SATA channel expander chips stuck onto a drive backplane, that it charges for a fully-functioning NAS complete with dual-core Intel CPU. But Synology has never had a problem asking top price for its products and doesn't look like it is going to start now.
But if you are looking for an expandable business NAS with loads of features, the DS713+ is a solid performer and one of your few options out there.
Buy Disk Station from Amazon