At a glance
Product
Thecus Top Tower (N8850) [Website]
Summary
Intel i3-based eight-bay high-performance BYOD NAS with USB 3.0, HDMI & audio I/O ports.
Pros
• Multiple volume support
• Four USB 3.0 ports
• Optional 10 GbE
• HDMI & VGA ports
• Audio I/O ports
Cons
• Very basic IPv6 support
Typical Price: $0 Buy From Amazon
Introduction
Having reviewed Thecus' top-of-line Top Tower N10850 back in March, I initially was reluctant to review the eight-bay member of its "Top Tower" family. But since each member of the family uses a different Intel CPU (Table 1), I figured we might as well get all the different price / performance points into the NAS Charts.
| | |
| --- | --- |
| N10850 | Intel Xeon E3-1225 @ 3.1GHz |
| N8850 | Intel Core i3 2120 @ 3.3GHz |
| N6850 | Intel Pentium G620 @ 2.6 GHz |
Table 1: Thecus Top Tower Family CPUs
You can think of the N8850 as a slightly shorter, version of the N10850 with a slightly-less powerful CPU. Shorter, because it can accept eight 2.5" or 3.5" SATA hard or solid-state drives vs. the N10850's ten. The slightly-less power CPU is an Intel Core i3 2120 @ 3.3GHz vs. the N10850's quad-core Intel Xeon E3-1225 @ 3.1GHz.
Other than that, virtually all of the commentary in the N10850 review applies to the N8850. So I'm going to skip all of that here.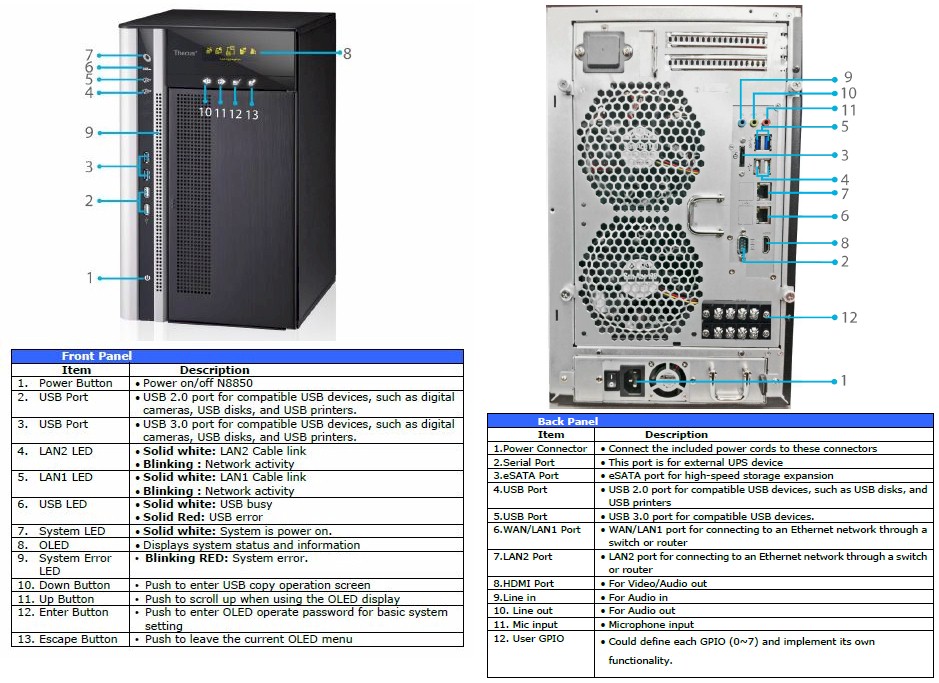 N8850 Front panel callouts
Inside
The inside story of the N8850 is very short. It is the same beastie as the N10850 with a shorter drive cage assembly holding two fewer drives. Everything else is the same…really. The shot below is reused from the N10850 review.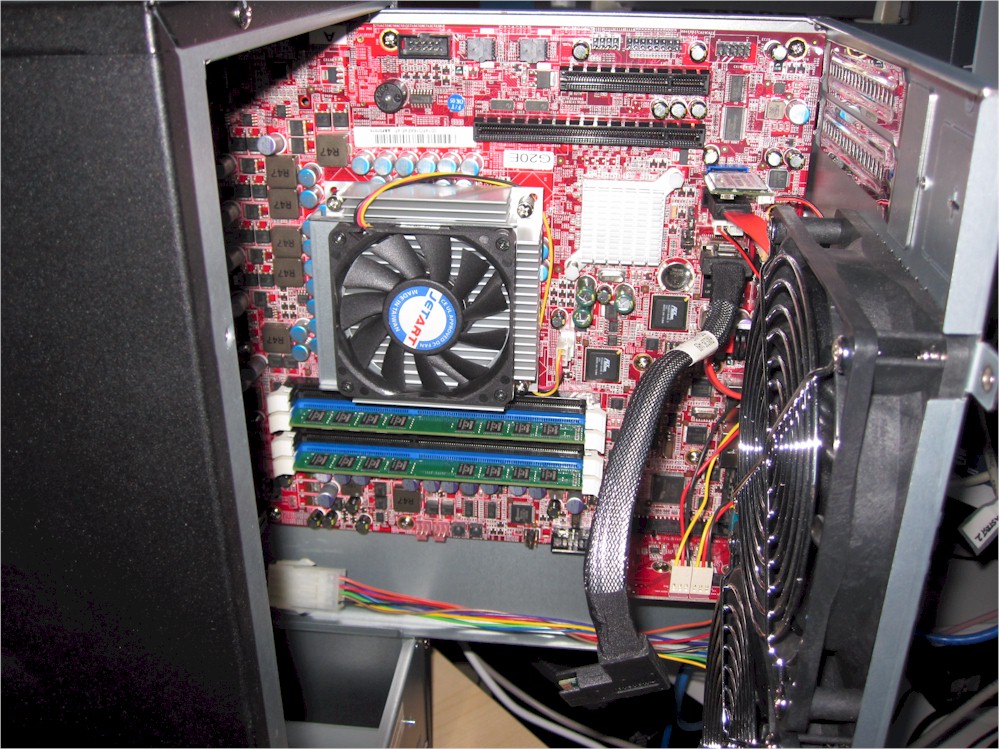 Thecus N10850 board sliding out of chassis
I'm not the brightest guy. So it took me only three reviews to realize that the same mainboard is used in all the Top Towers. (All three processors use the LGA1155 socket.)
Table 2 summarizes the key components used. The only difference is the number of Silicon Image SiI3132 SATA controllers. These are on the drive backplane and each one handles two drives. There seems to be one less than the number of bays. So I guess the processor companion device handles two drives.
Component
N6850 / N8850 / N10850
CPU
Intel Core i3 2120 @ 3.3GHz
RAM
4 GB DDR3 DIMM (expandable to 16 GB total w/ 4 GB DIMMs)
Flash
1 GB DOM
Ethernet
Intel WG82574L (x2)
Companion
Intel Q67, B65 or H61 [guess]
USB 3.0
NEC D720200AF1 (x2)
PCIe
PLX Tech PEX 8604 4 Lane, 4 Port PCI Express Gen 2 (x2)
Audio
Realtek ALC262 2+2 HD Audio Codec
SATA
Silicon Image SiI3132 SATALink PCI Express to 2-Port Serial ATA II Host Controller (multiple on drive backplane)
I/O
– Winbond W33795G hardware monitor
– Fintek F71889 Super Hardware monitor & I/O
Video
Pericom PI3VDP411LSZBE Digital Video Level shifter
Table 2: Key component summary and comparison
I used four 3 TB WD RE (WD3000FYYZ) drives, provided by WD, for testing. Power consumption measured 95W with the four RE drives spun up. This time I was able to get the drives to go into power save mode, which reduced power to a relatively low 45W.
I once again heard the continuous clackety-clack that Thecus says is due to parity checking that I heard on the N10850. Also like the N10850, noise is rated as high, mostly due to fans. The N8850 isn't as noisy as a rackmount NAS with its smaller, screaming fans. But it's not something you would want to keep in your office, either.
Features
Thecus hasn't yet done a major overhaul of its OS as Buffalo, NETGEAR and QNAP have recently done. A look at the N4800 review will provide a good feature overview and you can use the online demo to get a feel for the user interface. The N7510 review describes the newer Data Guard, Data Burn, Local Display and Transcoding Service modules. Here's a shot of the Home page that you get when you first log in.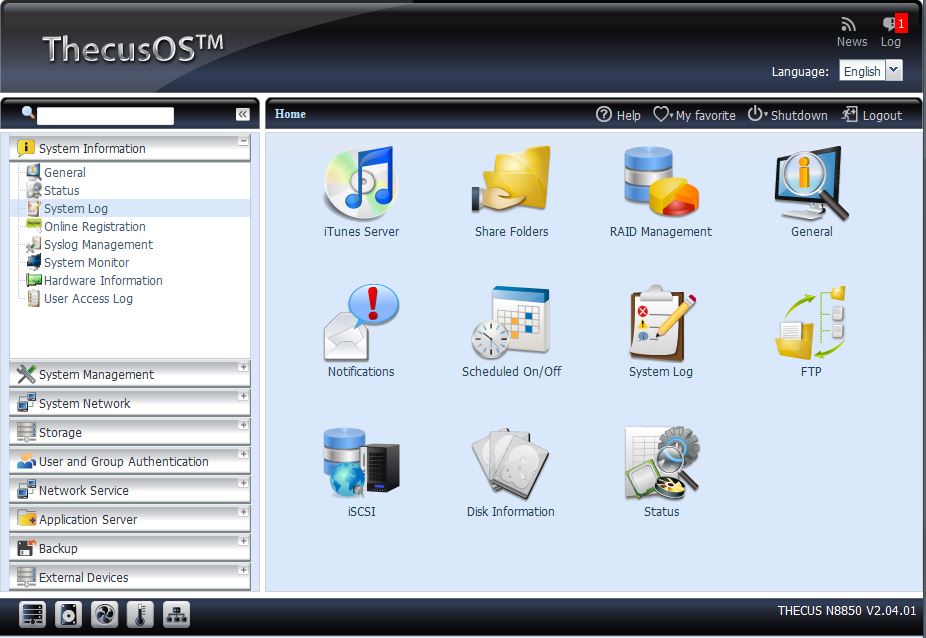 ThecusOS 5.0 home page
For quick reference, here is a summary of the main Thecus OS features:
General Features
Network file sharing via SMB/CIFS, NFS, AFP
Hot-swappable JBOD, RAID 0, 1, 5, 6, 10 with hot spare for RAID 1, 5, 6 and 10
Optional AES256 volume encryption
SMB/CIFS, HTTP/HTTPS, NFS v4, AFP file access
Online RAID expansion and RAID level migration
FTP/SFTP with upload / download bandwidth control
HTTP / HTTPs admin access
Bonjour / UPNP support
Joins NT Domain / Active Directories for account information
Dual Gigabit Ethernet ports supporting Load balance, Failover, 802.3ad, Balance-XOR, Balance-TLB, Balance-ALB modes
IPv6 support (very basic)
iSCSI target and initiator support
iSCSI Thin Provisioning, MPIO, MCS, Clustering and Persistent Group Reservation supported
ISO mounts
User quotas
Email alerts
Logging
USB print serving
Scheduled power down/up
Programmable idle disk spindown
Apache webserver (via installable module)
Backup
Scheduled Backup to USB and eSATA drives (via installable module)
Schedulable To/from rsync backup with optional encryption and compression (via installable module)
Apple Time Machine support
Client Backup: Acronis True Image (Windows); Thecus Backup Utility (Windows/Mac OS X)
ACL backup/restore
Schedulable DOM backup
Media
BitTorrent / HTTP / FTP download service w/ scheduling
iTunes server
UPnP AV / DLNA media server (via installable module – Twonkykmedia)
Picazza photo album (via installable module)
Video surveillance support (via installable module)
Mobile
Remote monitoring and admin app (Thecus Dashboard – iOS and Android)
File and media access app (ThecusShare – iOS and Android)
Performance
The N8850 was tested with 2.04.01 firmware, using our NAS test process with RAID 0, 5 and 10 volumes. As is our standard practice, four drives were configured in each volume type.
Windows File Copy tests show well-matched read and write throughput across all tested volume formats. Highest write throughput measured was 106 MB/s for RAID 5 and highest read was 105 MB/s for RAID 0.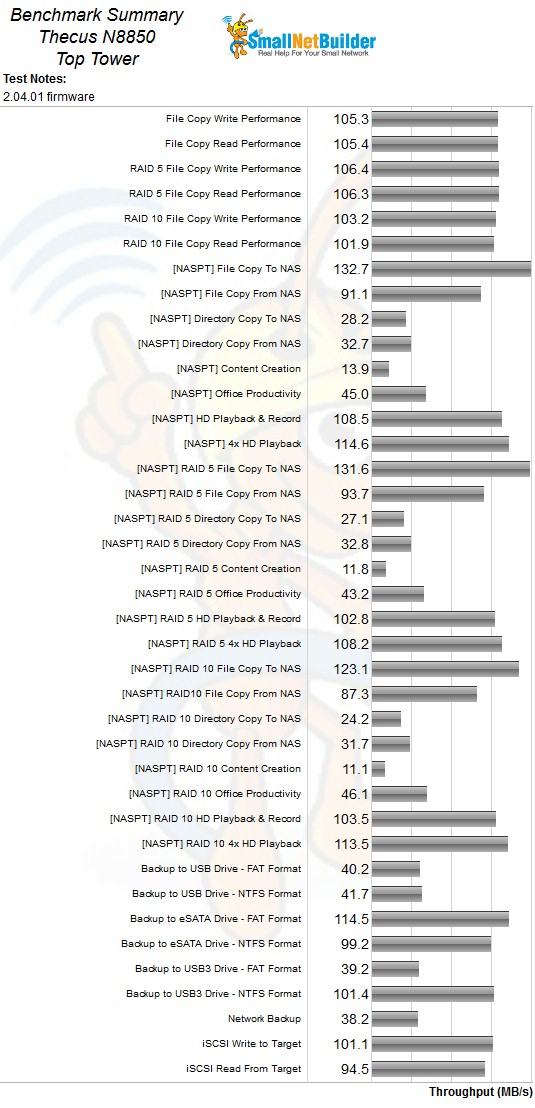 Thecus N8850 benchmark summary
Intel NASPT File Copy results measured about 20 MB/s higher for write and about 10 MB/s lower for read. Highest NASPT write throughput of 133 MB/s was in RAID 0; highest read was 94 MB/s, in RAID 5.
Keep in mind the maximum theoretical throughput with a Gigabit Ethernet connection is 125 MB/s. So results higher than that have some write cache effect baked in. The file copy test results are so similar to the N10850 and even N6850's that they tell me we are looking at something limiting the performance. Some of this could be our testbed, but I suspect some is the single Gigabit Ethernet connection being used for the test. Unfortunately, the current testbed doesn't have 10 GbE test capability.
iSCSI performance of 101 MB/s for write rank the N8850 in the #2 position behind QNAP's TS-1079 Pro at 106 MB/s for uP-2 class NASes (based on dual-core general-purpose processors). Read throughput of 95 MB/s comes in also at #2, but behind iXsystems' FreeNAS Mini Plus at 97 MB/s. In real-world use, however, you probably wouldn't be able to tell the difference between any products in this class.
Attached backup tests were run with our standard Startech USB 3.0 eSATA to SATA Hard Drive Docking Station (SATDOCKU3SEF) containing a WD Velociraptor WD3000HLFS 300 GB drive. Best backup throughput of 115 MB/s was obtained using eSATA and a FAT-formatted drive and put the N8850 at the top of that chart for uP-2 class NASes.
Since Thecus doesn't have a drive formatter, I could not test backup for an EXT3 formatted drive. As we saw with the N10850, USB 2.0 results of ~40 MB/s were ususually high, but valid nonetheless.
Network backup to a DeltaCopy target on our NAS Testbed system measured 38 MB/s. For comparison, best network backup measured to date is still 44 MB/s with a NETGEAR ReadyNAS Pro 2.
The best way to get a competitive view of the N8850's performance is with the NAS Ranker. Selecting the uP-2 class shows the NAS in a three-way tie for #2 rank with QNAP's TS-1079 Pro and iXsystems' FreeNAS Mini Plus behind (surprise!) the Thecus N6850.
I pulled detailed Ranker Performance Summaries for the N6850 and N8850 and put them side-by-side in the graphic below. If you compare the numbers, you see that the ranking is very close and due only to minor differences in performance here and there.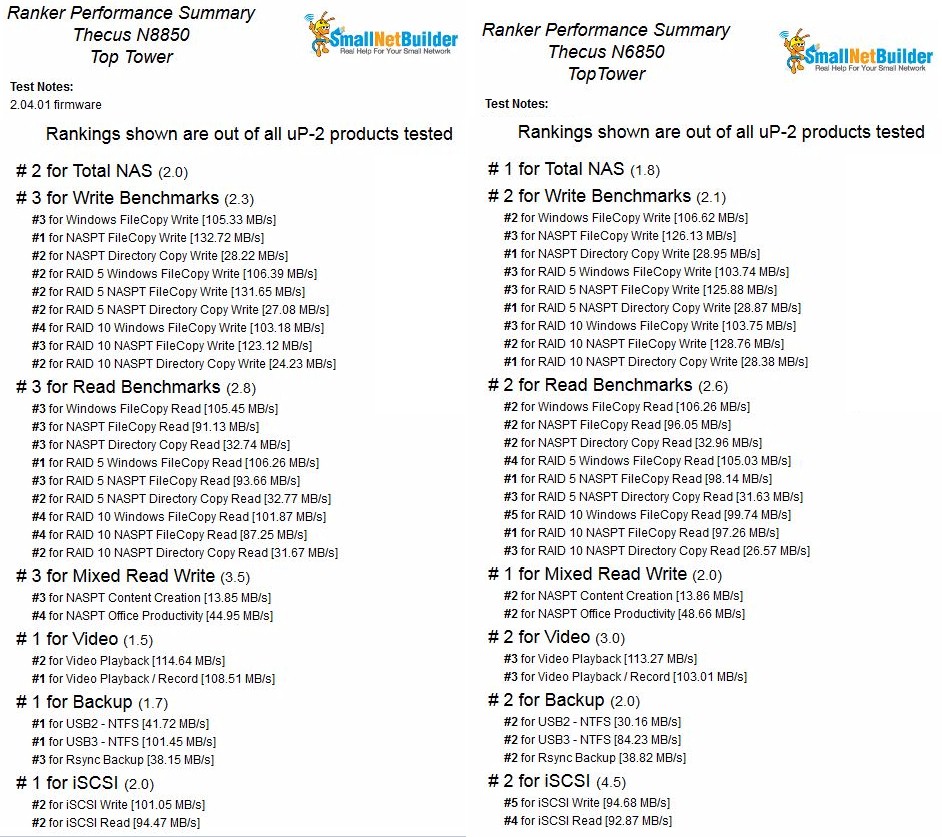 Thecus N6850 & N8850 NAS Ranker Performance Summaries Compared
Closing Thoughts
As noted in the N10850 review, our test process really can't push NASes as powerful as the N8850 to their true limits. To really take advantage of a NAS this powerful, you would need to use it with at least aggregated Gigabit NICs, or preferably one of the recommended 10 GbE adapters. And you would probably want to run multi-user benchmarks against it too.
Suffice it to say that if you're looking at powerful Intel-powered NASes that support optional 10 GbE connections, you should consider any of the Thecus Top Tower line.
Buy Top Tower from Amazon