At a glance
Product
QNAP Turbo NAS (TS-212) [Website]
Summary
BYOD two-bay Marvell 1.2 GHz Kirkwood RAID SATA NAS with many serving options.
Pros
• Cloud backup to Amazon S3 & ElephantDrive
• Lots of features for the price
Cons
• No eSATA or USB 3.0 ports
Typical Price: $401 Buy From Amazon
I've been working my way through a big box of NASes that QNAP sent me. This time, it's the TS-212, two-bay sibling of the single-bay TS-112 and four-bay TS-412 (yep, I'll be reviewing that one, too).
Styling is so similar to the 112 that you might mistake one for the other, except for the 212's wider girth and additional HDD status light on its front panel. The rear panel holds a disappointing discovery, however—no eSATA port, as shown in the photo below. You do get three USB 2.0 ports and a single 10/100/1000 Ethernet port supporting up to 9K jumbo frames.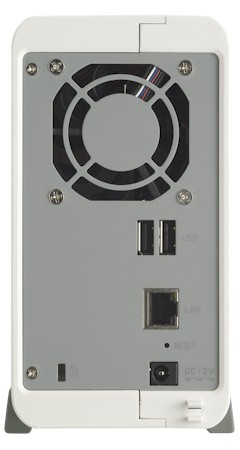 Inside
The photo below shows the two 3.5" Samsung Spinpoint F1 1 TB (HE103UJ) drives QNAP installed for the review. The 212's mounting plate accepts only 3.5" SATA drives.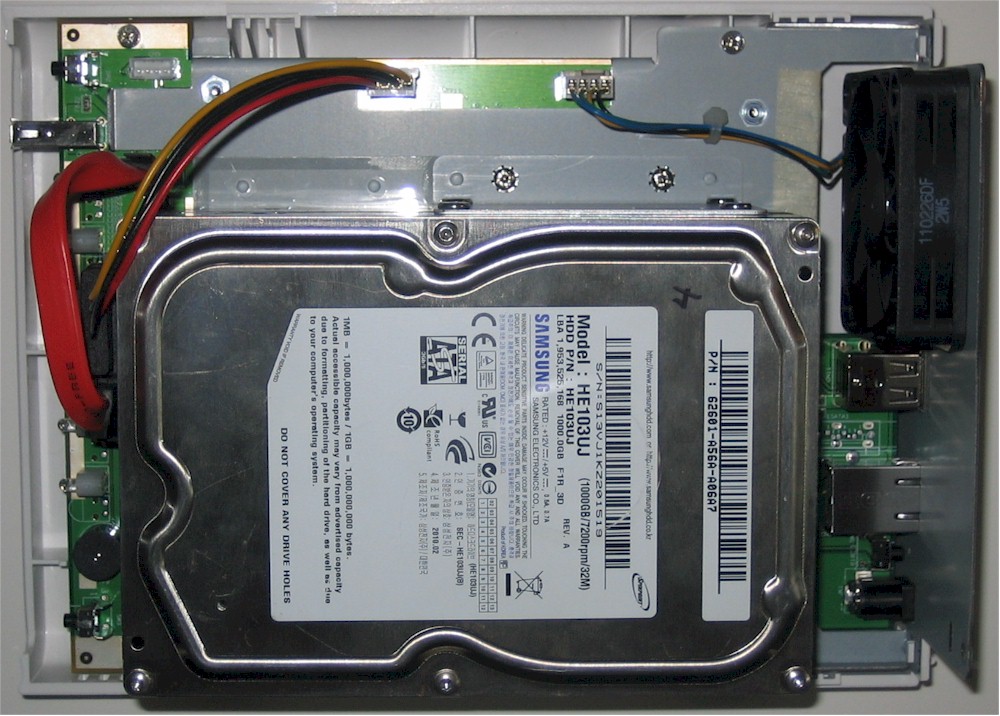 I didn't disassemble the 212 further, since it was obvious that an alternate loading of the TS-112's board is used for the 212. A simple add of an internal SATA socket at the front and a delete of the external eSATA port at the rear, different drive mounting bracket and cable for the second drive and Bob's your uncle.
To save you a click over to the TS-112 review, the parts rundown is: 1.2 GHz Marvell Kirkwood (88F628210C120) heatsinked SoC, 256 MB DDRII RAM, 16 MB of flash, Microchip PIC16F690 Flash-Based 8-Bit CMOS MCU and Genesys GL850G 4 port USB 2.0 Hub. I've even thrown in a shot of the TS-112's board below.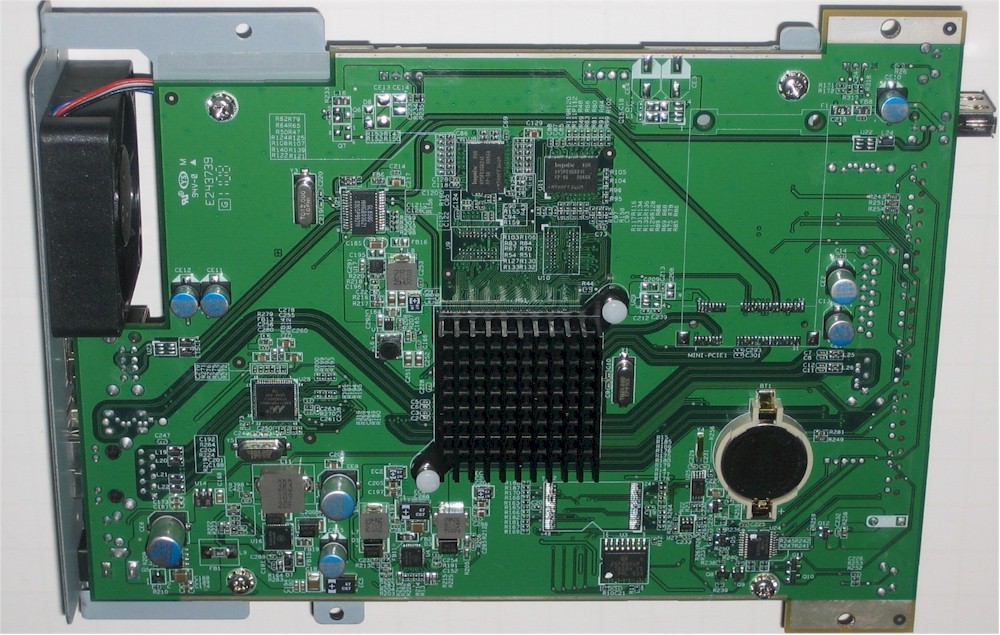 Power consumption measured 21 W with the drives spun up and 8 W with them down. Like the TS-112, the 212 was whisper quiet, with the fan staying quiet even during testing.
Features
I upgraded to 3.4.3 Build 0520T firmware before testing. This version includes the newish MyCloudNAS feature and ElephantDrive cloud backup option. I've covered MyCloudNAS in the TS-112 review. For a run-through of V3's other features, see the review or the online demo.
Performance
I tested with 3.4.3 Build 0520T using our standard NAS test process. I don't have a handy way in the NAS Charts to generate a side-by-side comparison of all benchmarks. But if you filter the charts for QNAP and step through the relevant tests, you'll see that the two products perform very similarly, as you might expect.
The Benchmark summary below shows Windows File copy write measured 45 MB/s, with file copy read significantly higher at 75 MB/s.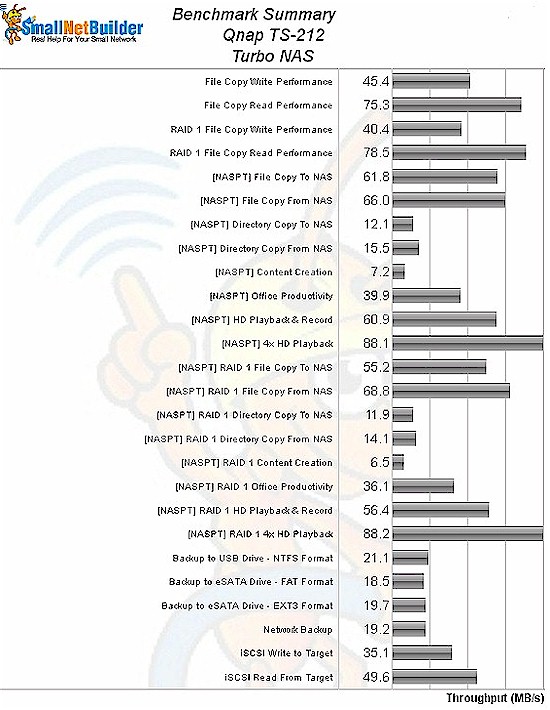 NASPT File Copy write benchmarks were higher and more evenly matched at 62 MB/s for write and 66 MB/s for read. As with all other tested NASes, the tougher NASPT Directory Copy tests didn't break out of the mid teens.
I could only run attached backup tests to a USB 2.0 drive, and used the built-in formatter that includes EXT3. Best attached backup speed of 21 MB/s was with NTFS and worst was 19 MB/s with FAT!
Rsync network backup measured 19 MB/s to the NAS testbed running Delta Copy.
iSCSI write and read to a 10 GB volume produced 35 MB/s and 50 MB/s, respectively, not bad for a $250 NAS.
The File Copy Write and Read charts below are filtered to show only dual-bay NASes. Most of the current Kirkwood-based NASes, like the Synology DS211+, QNAP TS-219P+ and Buffalo LinkStation Pro Duo LS-WVL, use the newer and faster 88F6282 @ 1.6 GHz variant.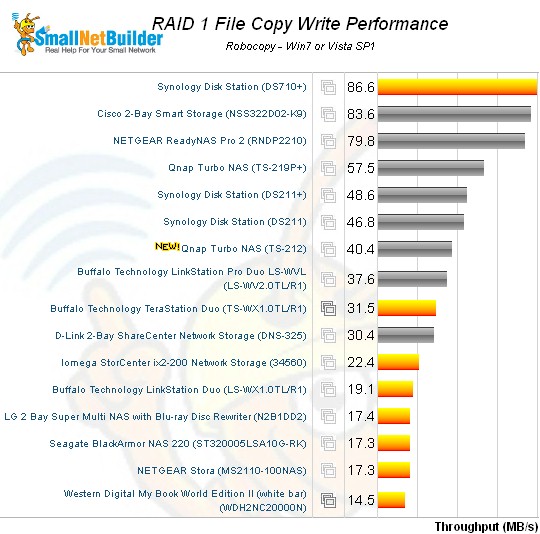 File Copy Write Comparison – two bay products
In fact, the D-Link DNS-325 is the only other Kirkwood in the chart using the same CPU. QNAP seems to squeeze much more performance out of it than D-Link, as the charts clearly show.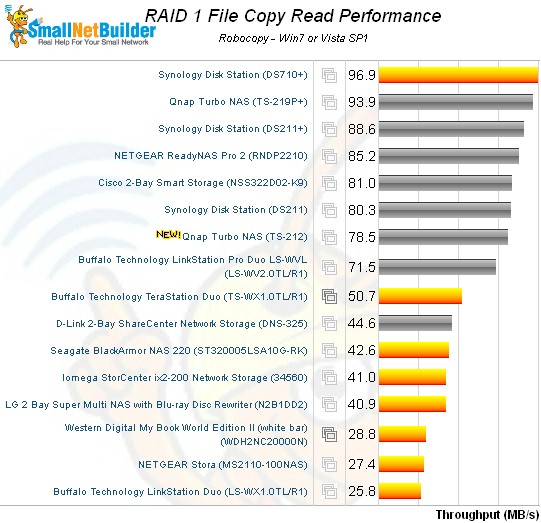 File Copy Read Comparison – two bay products
Conclusion
The Price vs. Performance plot for dual-bay NASes in a nice, cozy spot, slightly higher in performance and lower in price than the Buffalo LinkStation Pro Duo LS-WVL. But the Buffalo comes with 2 TB of storage included, making it a better value for the money.
Price vs. Performance – two bay products
The Buffalo doesn't come near the TS-112 in terms of flexibility, with many more built-in features and even more addable via QNAP's QPKG system. For $250 (without drives), the TS-212 is a good combination of performance and features.
There won't be a full review of the TS-212. Use the new NAS Finder and NAS Charts to compare it with other products.
Buy Turbo NAS from Amazon