At a glance
Product
QNAP Turbo NAS (TS-563-8G) [Website]
Summary
Five-bay quad-core AMD SoC SATA NAS with dual Gigabit LAN, USB 3.0 and optional 10GbE
Pros
• High 10GbE performance for reasonable $
• 5 USB 3.0 ports
• Cloud backup to Amazon S3, Elephant Drive, Symform
Cons
• No HDMI Port
• No eSATA port
• No LCD screen
• Relatively slow Rsync backup performance
Typical Price: $987 Buy From Amazon
Introduction
Scrolling through QNAP's extensive listing of NASes, you can find a product to meet just about any need. Our more recent QNAP reviews have included "SMB" class products, including the high-end TVS-471Turbo NAS and mid-class TVS-463 Golden Cloud Turbo NAS.
This review will focus on the TS-563-8G Turbo NAS. As QNAP's only 5-bay NAS and AMD-powered, it's a unique box. The TS-563-8G is the 8 GB SKU; it's also available with just 2 GB of RAM (TS-563-2G). Both models have a single PCI-E expansion port and five USB 3.0 ports, but lack a front panel LCD screen, HDMI port and locking disk trays.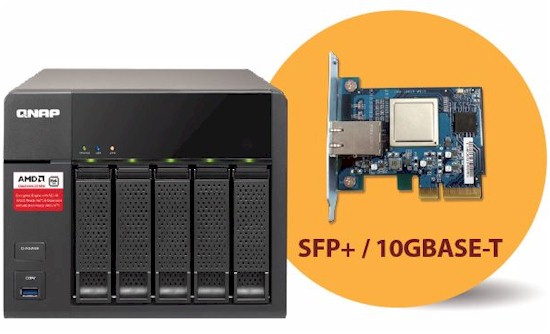 The chart below compares the TS-563 with two other NASes I'll be comparing it to.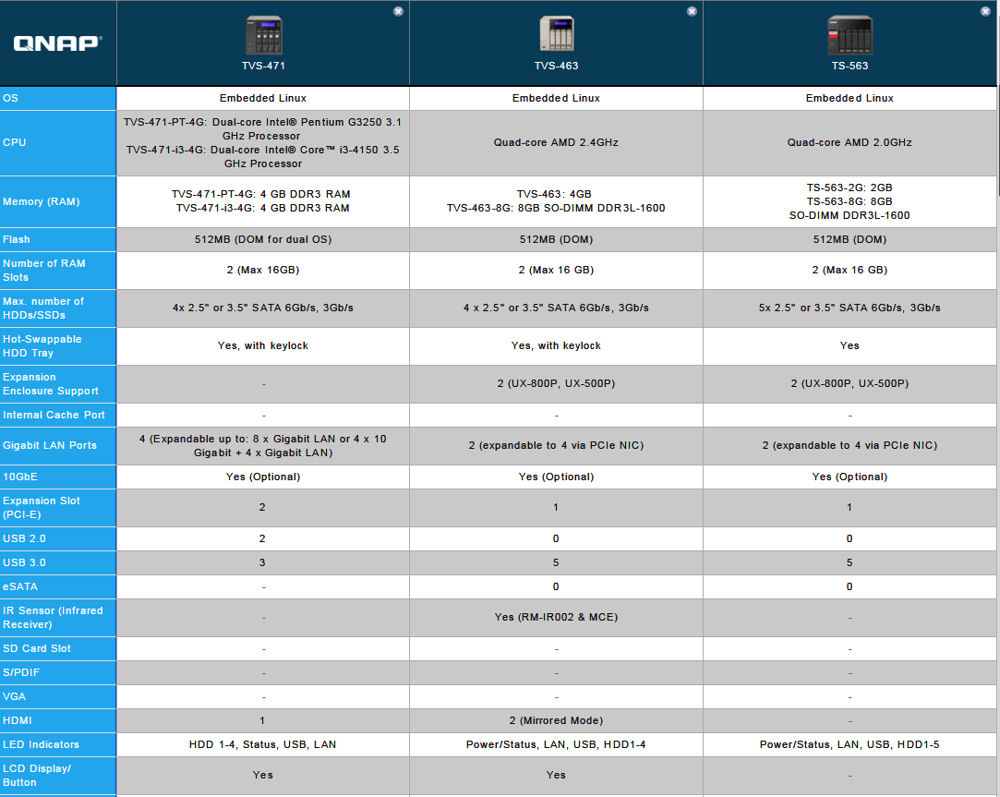 QNAP TS-563-8G comparison
All three of these NASes have at least one PCI-E slot and support optional 10 GbE NICs. So we've tested all three using both our standard Gigabit and optional 10GbE connections. Since the cost of the 10 GbE adapter adds significantly to the total cost of the NAS, we will be doing separate Gigabit and 10GbE competitive comparisons. I've chosen a slightly different mix of products to compare using our standard single client Gigabit tests: the ASUSTOR AS7004T and QNAP TVS-463 Golden Cloud Turbo NAS.
The callouts below show the front and rear panels of the TS-563-8G. There's a single USB 3.0 port on the front panel located just below the One Touch Copy button. The rear panel has two Gigabit Ethernet ports and four USB 3.0 ports.

QNAP TS-563-8G front and rear panel callouts
Inside
Like some other QNAP NASes, the TS-563 proved to be difficult to disassemble, so I don't have a PCB photo. The photo below shows an inside shot showing the optional 10 GbE NIC installed.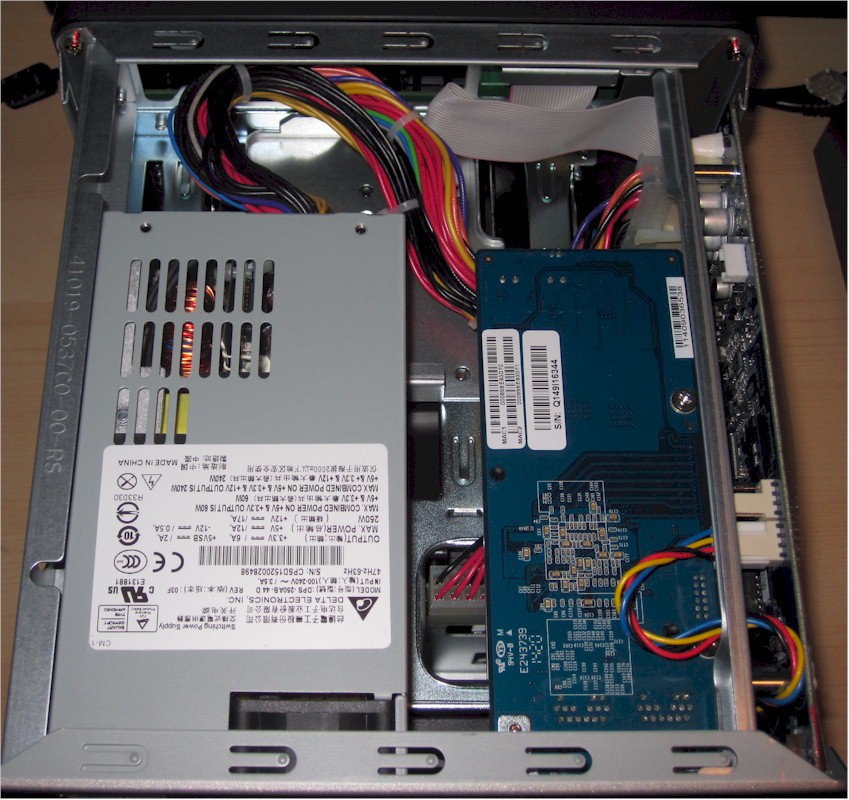 QNAP TS-563-8G interior showing installed 10 GbE NIC
The table below summarizes the key components for the four NASes we'll be using for our comparisons in the performance section of this review.
| | QNAP TS-563-8G | QNAP TVS-471-i3-4G | QNAP TVS-463 | ASUSTOR 7004T |
| --- | --- | --- | --- | --- |
| CPU | AMD x86 G-Series Quad-core 2.0 GHz processor (GX-420CA | Dual-core Intel Core™ i3-4150 3.5 GHz | AMD 2.4 GHz quad-core GX-424CC processor with Radeon Graphics | Intel Core i3-4150 @ 3.5 GHz dual core |
| RAM | 8 GB DDR3 SoDIMM (upgradeable to 16 GB total) | 4GB DDR3 (expandable to 16GB) | 8 GB DDR3 SoDIMM | 2GB DDR3 SoDIMM expandable to 16 GB) |
| Flash | 512 MB USB DoM | 512 MB DOM | 512 MB USB DoM | 512 MB DOM |
| Ethernet | Intel WG1210AT (x2) | Intel WGI210TA (x2) ?? | Intel WG1210AT (x2) | Broadcom BCM57781 (X2) |
| USB 3.0 | Asmedia 1074 4 port USB 3.0 controller | ?? | Asmedia 1074 4 port USB 3.0 controller | NEC D720200F USB 3.0 controller |
| SATA | Marvell 88SE9215 SATA 6Gb/s Host Controller (x3 on drive backplane) | ?? | Marvell 88SE9215 (x2 on backplane) | Under Heatsink – ASM1466 one lane (Dual-channel) 6 Gbps Serial ATA Repeater (x6) These buffer four internal SATA connectors and 2 eSATA |
Table 1: Key component summary and comparison Feature
Power consumption with four SmallNetBuilder-provided WD Red 3TB (WD30EFRX) drives was 51 W (active) and 40 W power save. RAID 5 and RAID 10 rebuild times were each 2 hours and 55 minutes. Fan and drive noise was rated as Medium Low (mostly drive noise). There was a fan spin up to high during the RAID 10 format due to high temperature on drive 3.
Features
Like all QNAP NASes, the TS-563-8G runs QNAP's QTS NAS OS. Recently, QNAP released an updated version, QTS 4.2. New features include a revamped user interface, updated multimedia features, optimized storage management and backup and data protection with 2-step verification. You can download a brochure detailing the features of QTS 4.2 here.
If you'd like to experience many of the new features of QTS 4.2, you can try out their live demo. A quick start tutorial shows you how to create and manage data snapshots, back up documents and files using Time Machine and third party backup software, use Qsync to synchronize files on multiple devices and add apps through the App Center. The screen hot below shows the landing page of QTS 4.2 with the Quick Start tutorial.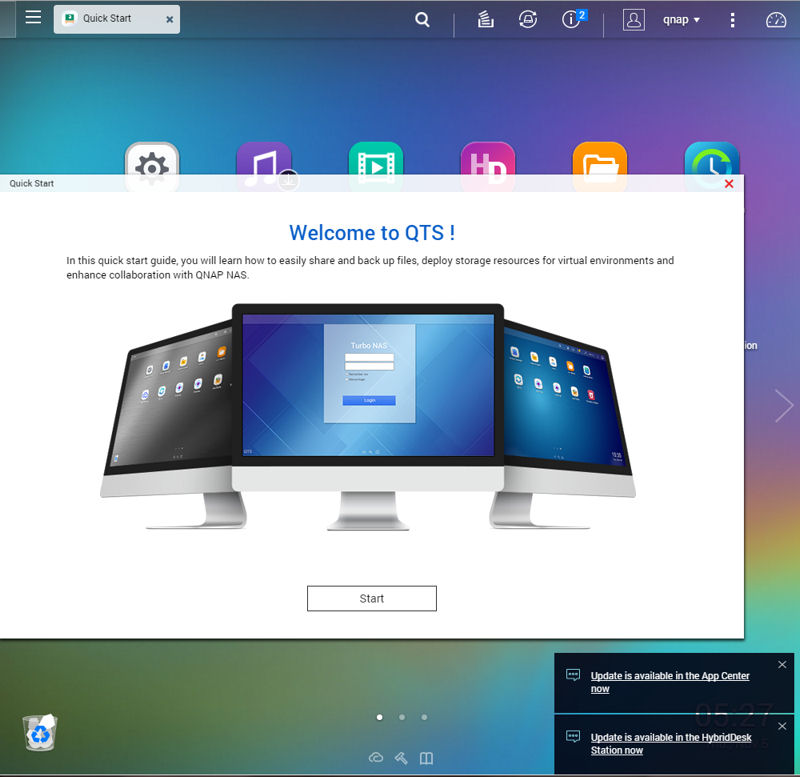 QNAP QTS 4.2 Quick Start tutorial
One nice features of QTS 4.2 is multiple window support. Tabs across the top of the screen help you quickly switch between windows.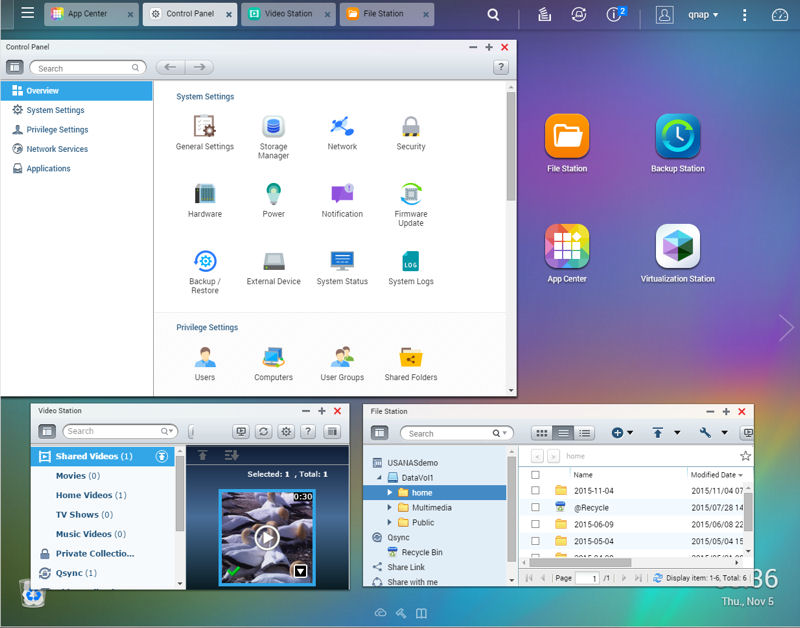 QNAP QTS 4.2 has multiple window support
The gallery below has some additional screenshots from QTS 4.2.
Create and manage snapshots
Back up your documents and files.
Use Qsync to synchronize files
Add apps through the QNAP App Center
Choose from Tab Mode, Window Mode or Frameless mode
Performance
Firmware version QTS 4.2.0 was loaded onto the TS-563-8G and performance tests run using the Revision 5 NAS test process. All tests were run using four Western Digital Red 3 TB (WD30EFRX) drives we supplied configured in four-drive RAID 0, 5 and 10 volumes.
I filtered the NAS Charts for the latest test method (black bars) and RAID5. As we've seen in many recent reviews, the TS-563 bumped against the bandwidth limits of the single Gigabit Ethernet connection, indicated by File Copy results around 110 MB/s. Specifically, RAID 0 File Copy Write was 109.7 MB/s and File Copy Read was 110.9 MB/s
For competitive comparison, I've created a composite image showing benchmark summaries for the QNAP TS-563-8G, QNAP TVS-463 and ASUSTOR AS7004T. Note: The Performance bars on the ASUSTOR 7004T are longer than the corresponding bars for the two QNAP NASes. This is because the QNAP NASes were also tested with 10 GbE, so the Gigabit results were scaled. The ASUSTOR NAS doesn't support 10 GbE. Though the scale of the two charts differ, the numerical results are accurate.
All three products turned in very similar results for most tests. That's not too surprising as all three products are ranked in the top four products for RAID5 NASes. For both QNAP NASes, there were no results reported for USB 2.0 backup or eSATA backup, as both lack those ports. The TS-563-8G performed very well on the USB 3.0 FAT backup, but trailed the other two NASes for USB3 backup for both EXT3 and NTFS backup. Both QNAP NASes trailed the ASUSTOR AS7004T for Network backup as well as iSCSI Write and Read performance.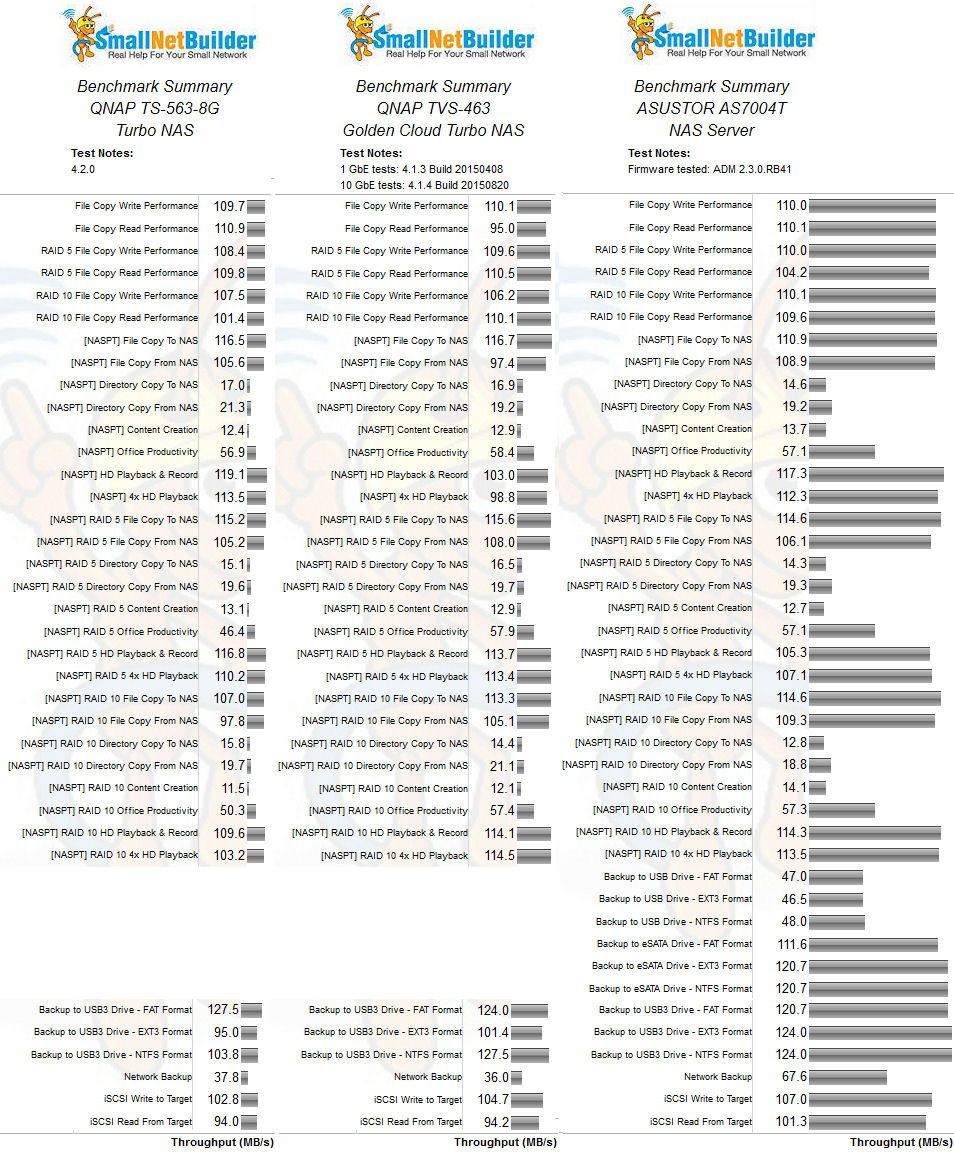 Benchmark Summary Comparison – Gigabit Ethernet
It's worth noting again the Performance Ranking takes into account only Gigabit Ethernet performance. For this review, I filtered for RAID5 class NASes and Revision 5 Test Method. The QNAP TS-563-8G is in a tie for the #4 ranking with the QNAP TS-453 and its six and eight bay siblings, the TS-653 and TS-853. The TVS-463 Golden Cloud edged out the TV-563-8G for the # 3 ranking. The more expensive TVS-471-i3-4G ranked #2, and the ASUSTOR AS7004T remains the #1 ranked RAID 5 NAS for performance.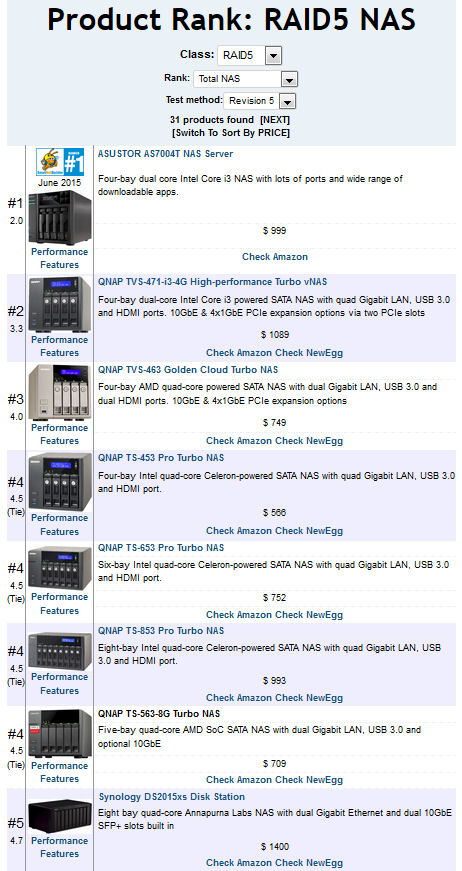 NAS Ranker filtered for RAID5 and Test Method Revision 5 showing Total NAS ranking
The composite chart below shows the ranker performance summaries for the QNAP TS-563-8G, QNAP TVS-463 and ASUSTOR AS7004T. The TS-563-8G had its best category ranking (#2) for Video where it tied with the top-ranked AS7004T. The relatively slow Rsync backup pulled down the total NAS scores for both QNAPs.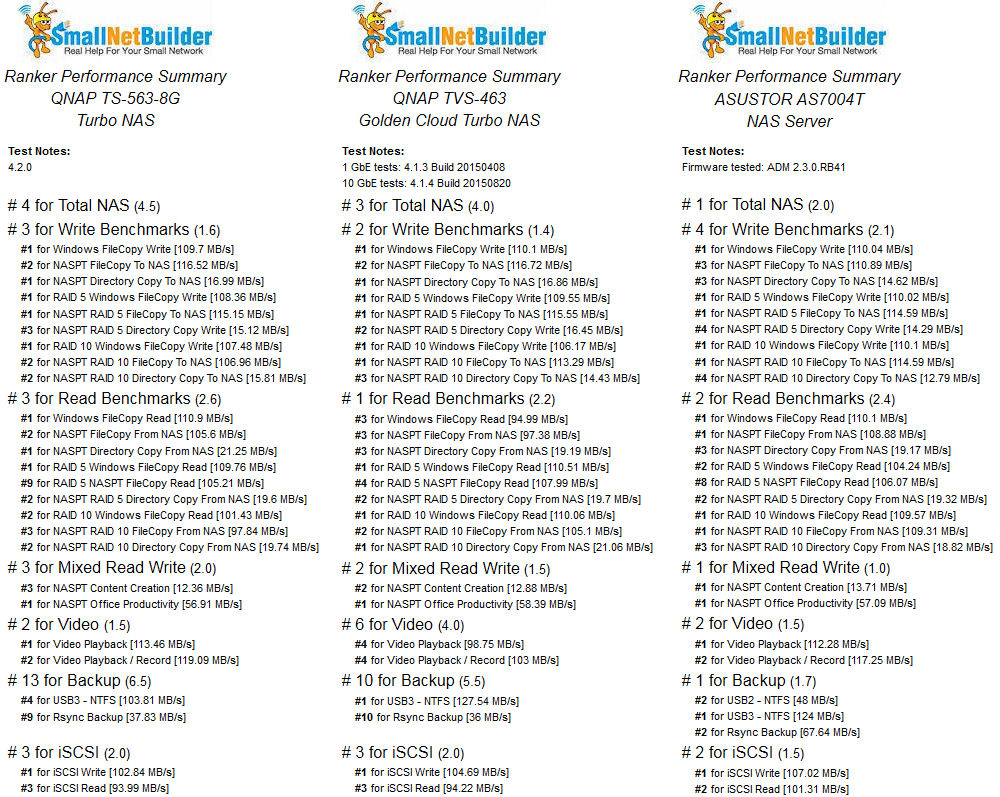 Ranker performance comparison – Gigabit Ethernet
Performance – 10 GbE
Since the TS-563's performance is clearly limited by the single Gigabit connection, we need to switch to 10GbE to see its real performance. I replaced the ASUSTOR AS7004T used in the comparison above with the QNAP TVS-471-i3-4G because the ASUSTOR NAS lacks a 10 GbE option.
Several results stand out in the 10 GbE tests. First, the TS-563-8G had exceptional read performance and handily beat the other two NASes in every read-intensive test except for the NASPT RAID 5 File Copy from NAS. The TVS-471-i3-4G, however outperformed the other two NASes for most write intensive tests including File Copy Write, NASPT File Copy to NAS, and NASPT Directory Copy to NAS for all RAID levels. The TS-563-8G had the best performance for iSCSI write and read operations.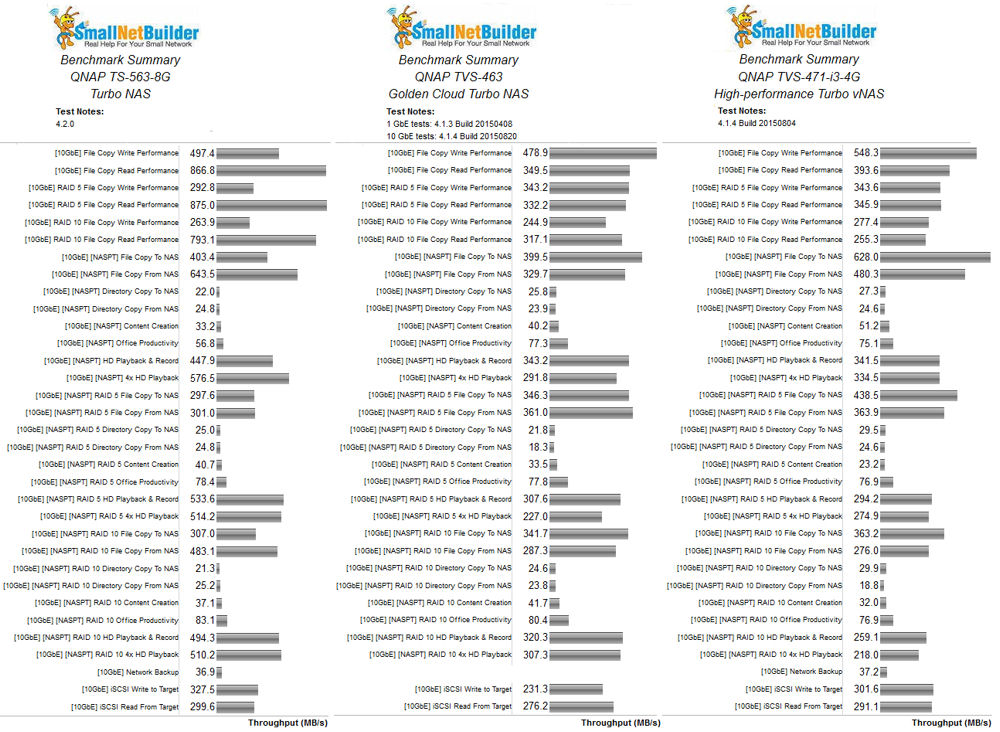 Benchmark Summary Comparison – 10GbE
10GbE benchmarks are not included in the NAS Ranker's calculations because not all products have 10GbE ports. So 've created a chart showing File Copy Write and Read results for RAID 0, 5, and 10, for all eight 10GbE NASes we've tested.
For File Copy Write, the QNAP TS-563-8G came in third for RAID 0 behind the chart-topping NETGEAR ReadyNAS 716 and the QNAP TVS-471-i3-4G. For RAID 5, it dropped to fourth behind its two siblings and the Synology DS2015xs. For RAID10, it was also in fourth place, but this time, behind the NETGEAR, Synology and the QNAP TVS-471-i3-4G.
For File Copy Read, the results were completely different. The TS-563-8G topped the charts for all three RAID levels. For RAID0 and RAID 10, NETGEAR ranked second and iXsystems FreeNAS Mini 2014 ranked third. For some reason, the very expensive NETGEAR ReadyNAS 716 seemed to have a problem with RAID 5 where it ranked at or close to the bottom of the charts for both tests.
10GbE File Copy Performance comparison
Closing Thoughts
The QNAP TS-563-8G is a fairly unique NAS. It is the only 5 Bay NAS in QNAP's product line and one of only two 5 Bay NASes in our NAS Charts. So direct comparisons are limited. The other 5 Bay NAS is the #16 ranked Thecus N5810 Pro, which I reviewed in June. Since the Thecus was more expensive and had a significantly lower NAS score, I excluded it from our performance comparisons.
In thinking about purchasing the TS-563-8G, you have to ask yourself how it will be used. If it'd going to be used as a traditional NAS–primarily for storage with a single or link aggregated Gigabit connection– at $709, the TS-563-8G competes directly with the $749 4 Bay TS-463 Golden Cloud, and, to a lesser extent, the $999 #1 ranked ASUSTOR AS7004T. Of these three, the TS-563 offers an additional bay, so you could have more storage than with a 4 Bay NAS, or a hot-spare disk for automatic drive failure recovery.
However, if you are considering a NAS as part of a home entertainment system, the TS-563-8G lacks an HDMI port. All of the other NASes used for performance comparison in this review have at least one HDMI port. In fact, the TVS-463 Golden Cloud has two HDMI ports.
For this class of NAS, you really need 10 GbE to access its full performance from a single client. 10 GbE definitely adds to the price of not only your storage solution, but also your network infrastructure. To upgrade the NAS, QNAP sells a Dual-port 10 Gigabit 10GBASE-T card for $429. A Single port 10 Gigabit 10 GBASE-T card sells for $220. At minimum, you'll need a single port Intel X540T1 or dual port Intel X540T2 copper 10GbE NIC for your PC, which will run $410 or $300, respectively. You don't need a switch; you can connect the NAS and PC directly and assign static IP addresses.
In the end, it comes down to performance and features that are important to you. The chart above shows that the TS-563-8G has the fastest 10 GbE File Copy Read performance that we've see for all RAID level. The other two 10 GbE QNAP NASes used in our 10 GbE performance comparisons had very similar read performance, but trailed the TS-563-8G significantly.
If considering File Copy Write performance, the TVS-471-i3-4G outperformed the TS-563-8G at all RAID levels, but has a $380 higher base price. When you take all these factors into account, the TS-563-8G looks like a good value for performance, capacity and upgradeability. If you can live without an HDMI port, TS-563-8G offers good bang for the buck in a 10GbE NAS.
Buy Turbo NAS from Amazon