At a glance
Product
ASUSTOR 4-bay Network-attached Storage Server (AS-604T) [Website]
Summary
Four-bay D2700 Atom NAS from ASUS-backed newcomer with HDMI, USB 3.0, eSATA ports and wide range of downloadable apps.
Pros
• High performance
• Very quiet for a 4 bay NAS
Cons
• Must reset to default to delete volume
• Limited remote access features
• Support via Forum only
Typical Price: $221 Buy From Amazon
Introduction
As crowded as a market is, it seems that somebody always thinks there is room for one more player. In this case, the marketplace is Network Storage and the somebody is ASUS (more accurately, ASUSTeK Computer Inc.).
Perhaps hoping to repeat the success of its RT-N66U "Dark Knight" [reviewed] and its other routers, the Taiwanese computer hardware and electronics powerhouse is hoping to take enough market share from more established competitors to carve out its own piece of an "exponentially growing market", to quote the ASUSTOR PR person who pitched the products to me for review.
ASUSTOR's initial AS 6 lineup has two, four, six and eight bay models, all powered by dual-core 2.13 GHz Intel D2700 Atom CPUs with 1 GB of DDR3 RAM (expandable to 3 GB total). We'll be looking at the four-bay AS-604T.
The 604T's built, fit and finish are reminiscent of a four-bay TS-series QNAP, with an all-metal chassis and cover and plastic front panel. Four hot-swappable 2.5 or 3.5" SATA hard or SS drives mount on unlockable trays that have light-pipes to bring activity and fault LEDs forward from their home on the drive bay backplane. The callout diagram below shows all the front panel indicators.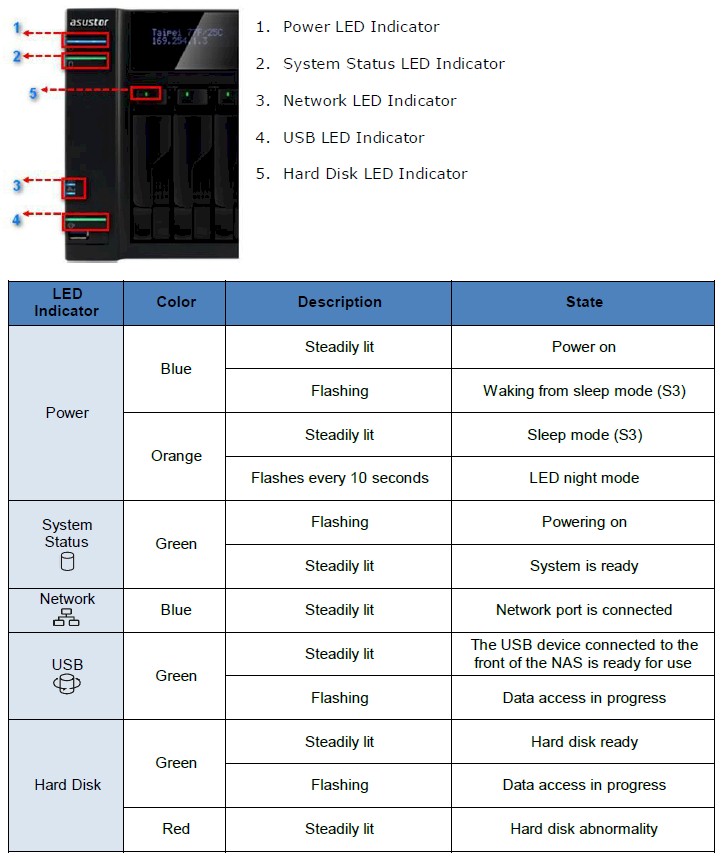 AS-604T Front panel callouts
Not called out is the USB 3.0 port or the four buttons to the right of the screen that are used to navigate through the displayed menus. I really wish the buttons were backlit, or at least had their function icons highlighted in a light color, so that you could better see what you were doing when using them.
The rear panel has a pretty good set of ports including the second USB 3.0, four USB 2.0, two eSATA, two Gigabit Ethernet and HDMI. Note the really large (about 4.5") fan that moves a lot of air while spinning very quietly.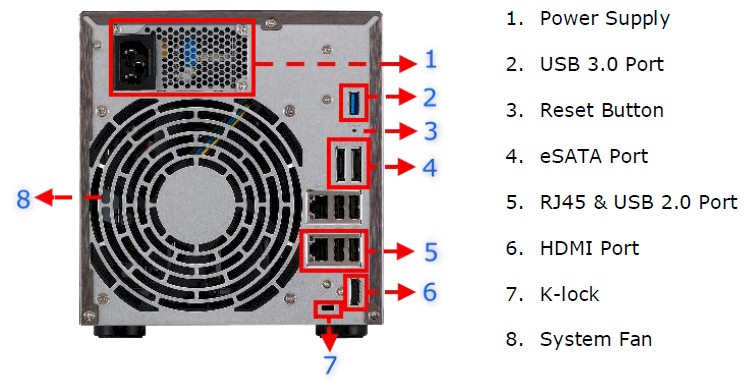 AS-604T Rear panel callouts
Like Thecus, ASUSTOR uses that HDMI port not only for console access, but for some of its apps that enable multimedia playback. More on this later.
Setup
After you install drives on the trays with supplied screws, first boot automatically flashes a message on the LCD screen asking to initialize. I replied "Yes" with four 3 TB drives loaded and got a four-drive RAID 5 volume when the initialization process finished about five hours later. I had to guesstimate this time, since the system log didn't contain an entry for the start of volume creation.
The LCD screen handily displayed the NAS IP address, but I wasn't able to reach the admin screen when I entered it in my web browser. After checking the Quick Setup Guide, I found that the admin server lives on port 8000, so be forewarned.
Speaking of the QSG, it and the User Manual come on a CD; there are no printed copies of either. CDs are quickly going the way of the floppy disk, so ASUSTOR should at least print out the Quick Start Guide. Especially because of its use of port 8000 for the admin interface.
ASUSTOR also provides Windows and MacOS utilities on CD that can be used to find a NAS and run through the setup wizard. These can also be downloaded, but again, it would be helpful to have hardcopy to tell you this.
Inside
ASUSTOR has done a pretty good job in designing the 604T for easy servicing. Removing the one-piece cover gets you quickly inside, where the RAM expansion SODIMM slot is on the back of the main board, protected by flap cut in the board's plastic insulator. (There's a shot of this in the gallery.)
To remove the fan, power supply or main board, you'll need to remove a half-dozen or so screws to lift off the rear panel. Once that is done (the fan connects via a single cable), you can get at everything else pretty easily. The main board and drive backplane are joined via a connector, so you don't have to undo the drive backplane to remove the main board.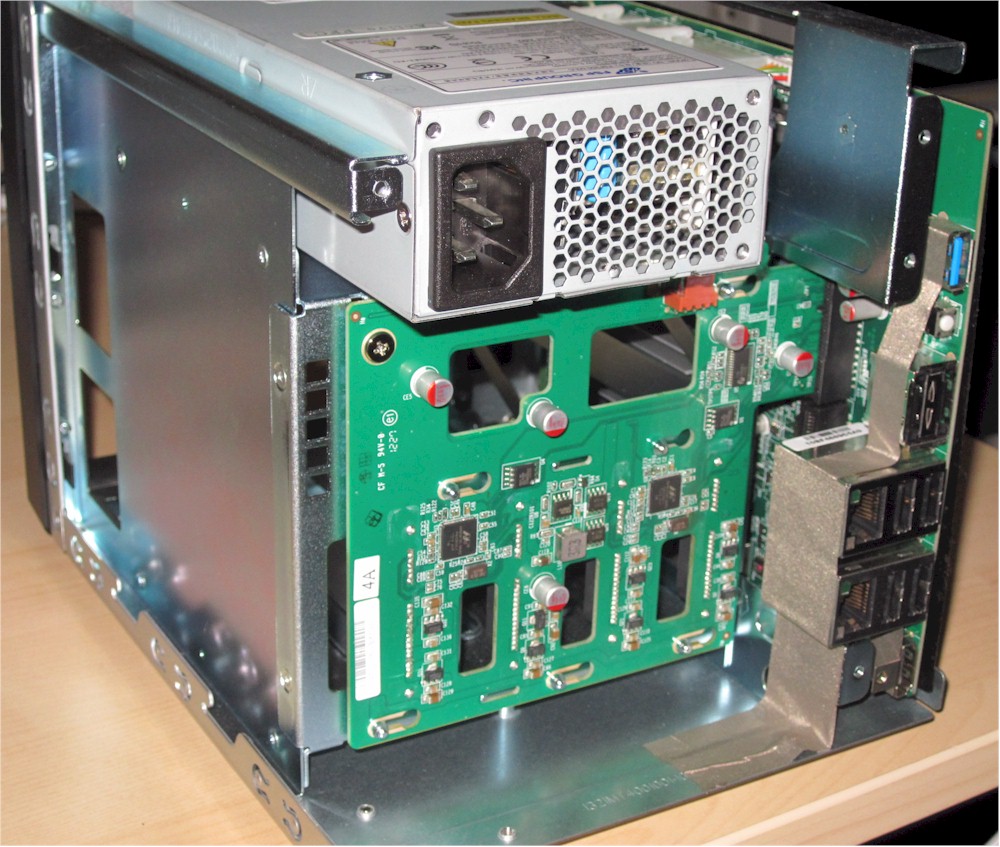 ASUSTOR AS-604T inside with rear panel removed
On the photo below of the AS-604T's main board, we can see a 1 GB DDR3 SoDIMM, as well as the heatsinks that cover the 2.13 GHz Intel Atom D2700 processor and companion device. You can also see the 512 MB USB flash DOM (Disk On Module) near the top left of the photo.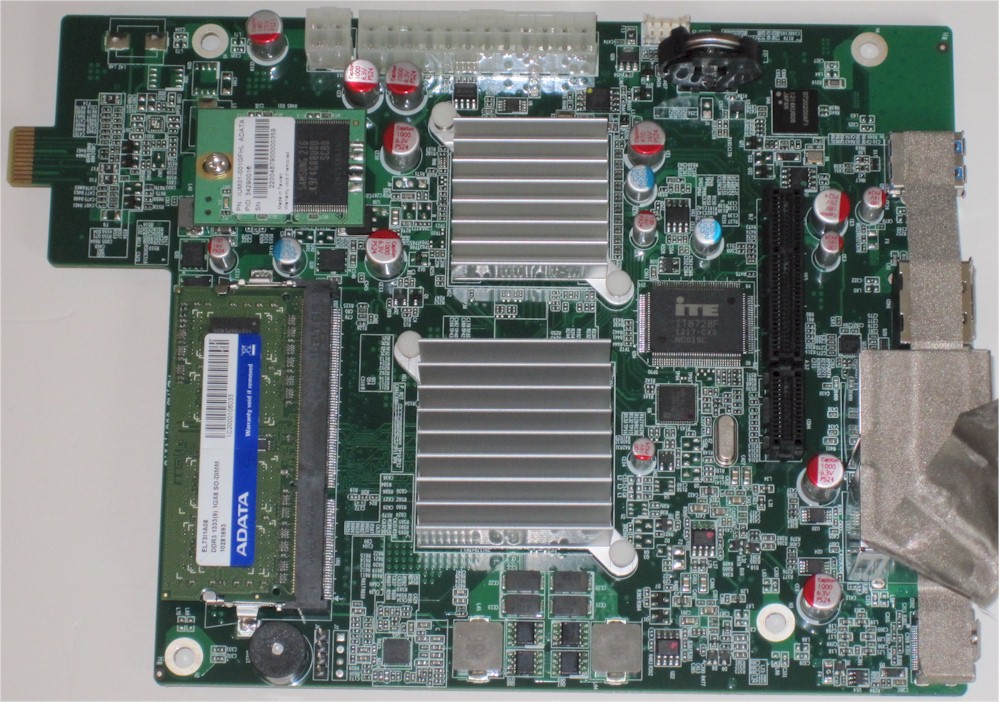 ASUSTOR AS-604T board without drive backplane
Table 1 summarizes the AS-604T's key components and includes comparison information for two other D2700-based NASes, Synology's DS412+ and Thecus' N4800. The designs are, for the most part, very similar.
| Component | AS-604T | Synology DS412+ | Thecus N4800 |
| --- | --- | --- | --- |
| CPU | Intel Atom D2700 @ 2.13 GHz | Intel Atom D2700 @ 2.13 GHz | Intel Atom D2700 @ 2.13 GHz |
| RAM | 1 GB DDR3 DIMM (expandable to 3 GB) | 1 GB DDR3 DIMM (expandable to 3GB) | 2 GB DDR3 DIMM (expandable to 4 GB) |
| Flash | 512 MB DOM | 128 MB DOM | 1 GB DOM |
| Ethernet | Broadcom BCM57781 (x2) | Intel WG82574L (x2) | Intel WG82574L (x2) |
| Companion | Intel NM10 [guess] | Intel 82801JIR (ICH10R) | Intel 82801 (ICH10R) |
| USB 3.0 | NEC D720200AF | NEC D720200AF1 (x2) | NEC D720200AF |
| SATA | Marvell 88SE9125 SATA 6Gb/s and PATA Host Controller (x2) | Silicon Image SiI3531 (for eSATA port) | N/A |
| I/O | ITE8728F Super I/O | ITE8728F Super I/O | N/A |
| Video | Chrontel CH7318 HDMI level shifter | N/A | N/A |
Table 1: Key component summary and comparison
I had arranged with ASUSTOR to use four 3 TB WD Red drives (WD30EFRX) loaned by WD to test the 604T, since that is what ASUSTOR would have provided anyway. Power consumption measured 40 W with the four drives spun up and 26 W with them down via the programmable idle drive power save feature. Fan and drive noise could be classified as low, since I could only notice the faint whirr of the NAS main fan if I really listened carefully in my quiet home office.
Features
The AS-604T came with 1.0.4.RBU2 firmware and I didn't find a newer version when I checked. Since ASUSTOR is new to the market, it's going to get its own full feature review later. But in the meantime, I'll report some first impressions.
ASUSTOR says its research found that 80% of NAS functions are the same among all brands, but only 20% of those functions are used by most users. So it has adopted an "app-based" design, where the core "20%" functions are loaded by default and the rest of the functions come in optional apps. By moving the less-commonly-used functions out of the core firmware, ASUSTOR's asserts that system resources are freed up and performance improved for the majority of users.
Whether called "apps", "add-ins", "QPKGs", "modules" or "packages", installable modules aren't unique to ASUSTOR. In fact, they are pretty much standard in mid-to-high end NASes these days. So the test will be whether there is measurable performance improvement gained from not cluttering up memory and sucking up CPU cycles with all those seldom-used features.
If the 604T's hardware reminded me of QNAP, its user interface brings to mind Synology's "desktop" approach. However, a key difference is that the window that each app icon opens can't be resized in ASUSTOR's ADM (ASUSTOR Data Master) 1.0 OS.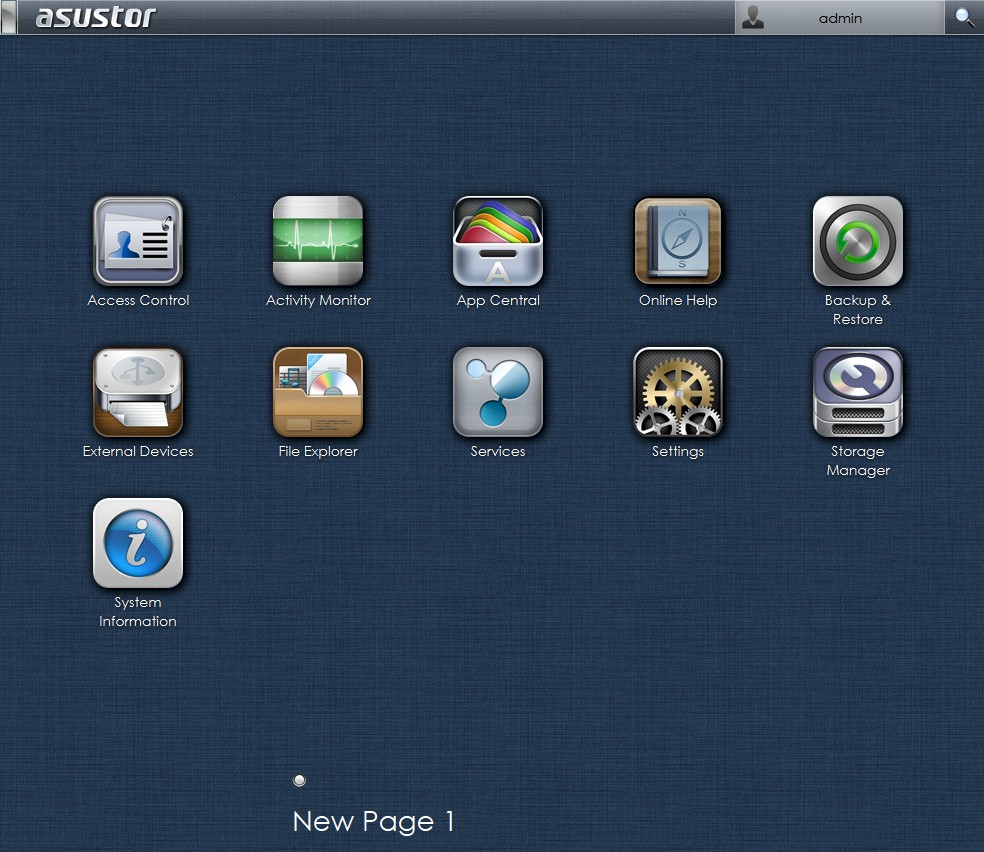 ASUSTOR AS-604T home screen
For quick reference, here is a summary of the main ASUSTOR OS features:
General Features
Network file sharing via SMB/CIFS, NFS, AFP, WebDAV
Hot-swappable JBOD, RAID 0, 1, 5, 6, 10 with hot spare
Optional AES256 volume encryption
Online RAID expansion and RAID level migration
FTP/SFTP with upload / download bandwidth control and connection limits
Web server
MySQL server
Bonjour / UPNP support
Joins NT Domain / Active Directories for account information
Share access control by user, group and app
Dual Gigabit Ethernet ports supporting round-robin, active-backup, XOR, Broadcast, 802.3ad, adaptive transmit load balance and adaptive load balance modes
Wi-Fi connection via optional USB adapter
IPv6 support (very basic)
iSCSI target support
iSCSI Thin Provisioning, MPIO, MCS, Persistent Reservations supported
ISO mounts
User quotas
Email alerts
Logging
USB print serving (up to 3 printers)
Programmable idle disk spindown
Backup
Schedulable backup to/from USB and eSATA drives
Schedulable to/from rsync backup with optional encryption and compression
Schedulable to/from FTP backup
Schedulable backup to Amazon S3
Apple Time Machine backup
Client Backup: ASUSTOR Backup Plan utility (Windows XP, Vista, 7, 8, Server 2003/ 2008/ 2012)
Scheduled backup of system settings
Administration
HTTP / HTTPs admin access
Activity plots for CPU, Memory, Network
Disk usage pie chart
Sortable process list
Online help
Logged in user display
Features – more
ASUSTOR is leaning heavily on its "app-based" architecture for differentiation. So what sort of apps can you get? The all app list displays 87 as the total count, but I tallied only 85. The first screen of the listing is shown below along with the Category sidebar that can be used to quickly find apps of interest. The other seven screens of the current list are shown in the gallery.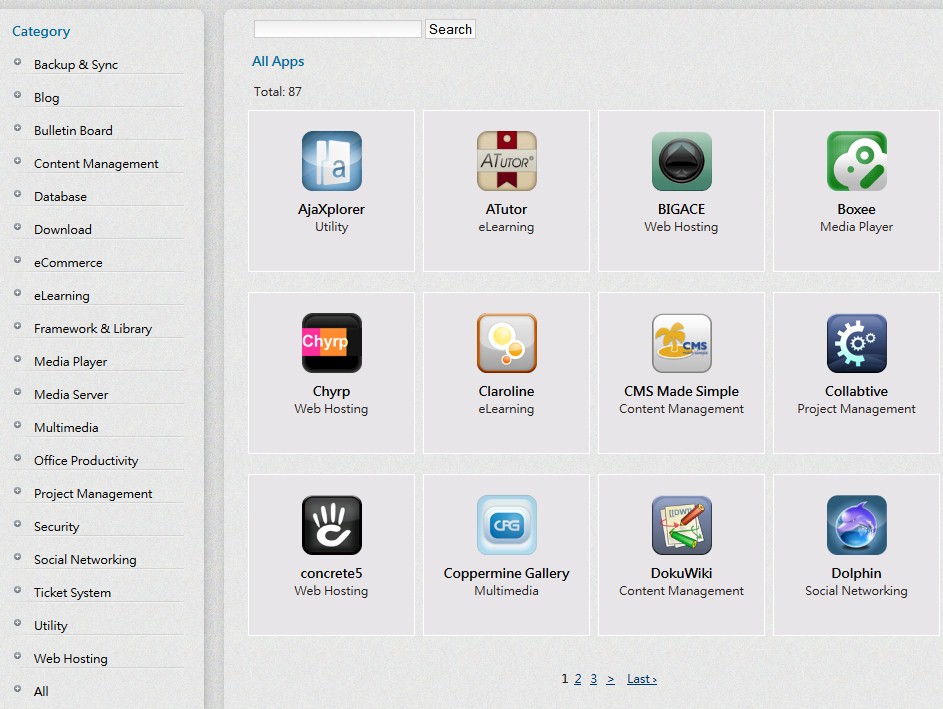 ASUSTOR apps
You'll find some of the apps such as Drupal and Joomla CMSes, WordPress and phpMyAdmin also on competing NASes. But I was unfamiliar with many of the apps that I found such as Sharetronix for social networking and Claroline for "eLearning".
A few apps are unique including Boxee, Dropbox and RALUS. But some popular apps are missing, too, such as Logitech's media server to support Squeezebox players and MLDonkey and Transmission for Torrent downloading.
I was surprised to find no easy way to remotely and securely access content on the NAS. There are no iOS or Android apps to support remote file access and media playback and nothing to make it easy to securely access the NAS web interface. ASUSTOR has lots of catch-up work here to equal what you can get on even a much less expensive WD My Book Live.
Despite ASUSTOR's alleged focus on stripping out non-essential functions to optional apps, I was surprised to find web, MySQL and WebDAV servers built into the core OS. Also in the default OS load are Download Center, iTunes Server, Surveillance Center and UPnP Media Server apps. But at least the apps can be removed if you prefer.
I got a little thrown during testing when I couldn't find a way to delete the current RAID volume. ASUSTOR told me, however, that this is by design and that a reset to factory defaults is required to accomplish this. I have seen this approach only on NETGEAR ReadyNASes and I suppose it's not a deal-killer. Few people other than reviewers will frequently need to change volume types.
When I was trying to find a volume delete button, I happened to also notice that there were no RAID migration options presented for RAID 0 and 5 volumes. ASUSTOR again explained that this was by design and sent back the following summary of supported RAID level migration paths.
Single -> RAID1 -> RAID5-> RAID6
RAID1 -> RAID10 -> RAID10 ( add 2xN HDDs)
RAID5 -> RAID6
No migration for JBOD and RAID 0 volumes.
I confess I haven't paid attention to this in other NASes, such as QNAP's, which have similar limitations. So this should not be a deal-killer, either.
The gallery below has shots of other key features with commentary and some additional hardware photos, too. There is also an online demo so you can get a better feel for ASUSTOR's OS.
An SODIMM slot is accessible after you remove the cover.
Bottom view of the main board with a clearer view of the SODIMM socket
First page of the setup wizard
You are forced to enter a password here
Date and Time are set here
Network setup. Default is DHCP
Volume configuration
Initialization in progress
Optional registration
All done
These pre-loaded apps can be deleted if you prefer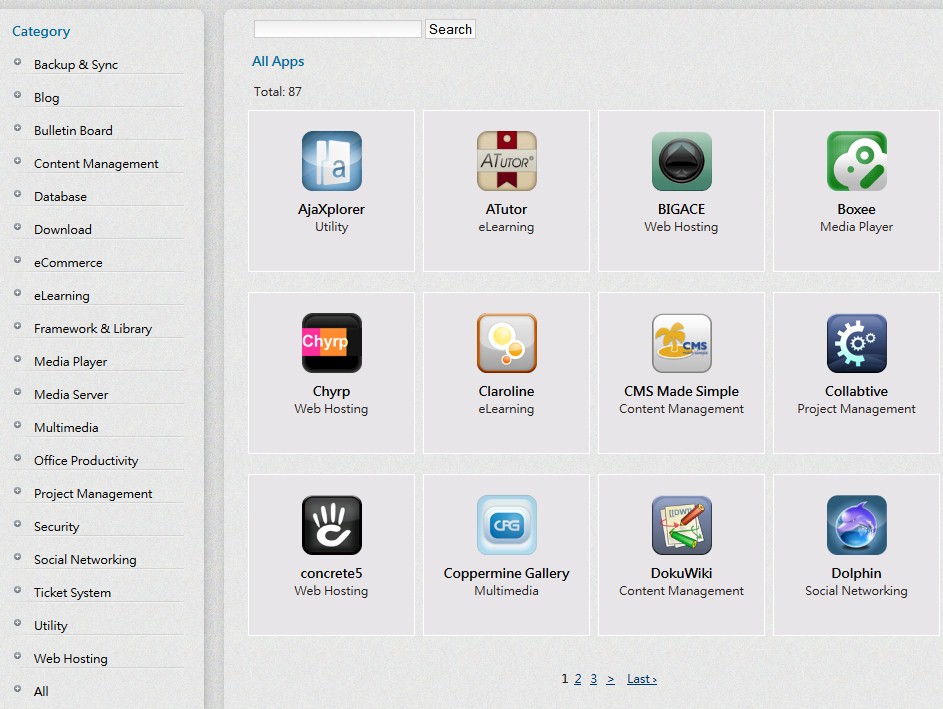 First page of full app listing. Boxee is interesting in this group
Dropbox and Gallery 3 will probably be popular installs
Joomla, Magneto and Mono are notable on this page
Perl and Node.js may be interesting to developers
Lots of php apps here. Note also Plex
Ooh! Ruby and Python!
WordPress and UPnP Media Server (a default app) will be popular in this group
And one more makes 85 total
Performance
I tested the AS-604T with 1.0.4.RBU2 firmware, using our NAS test process with RAID 0, 5 and 10 volumes. As is our standard practice, four drives were configured in each volume type.
Windows File Copy tests show surprisingly similar read and write throughput for RAID 0 and 10 volumes at around 104 MB/s for all results. RAID 5 departs from this pattern with 97 MB/s write and 90 MB/s read.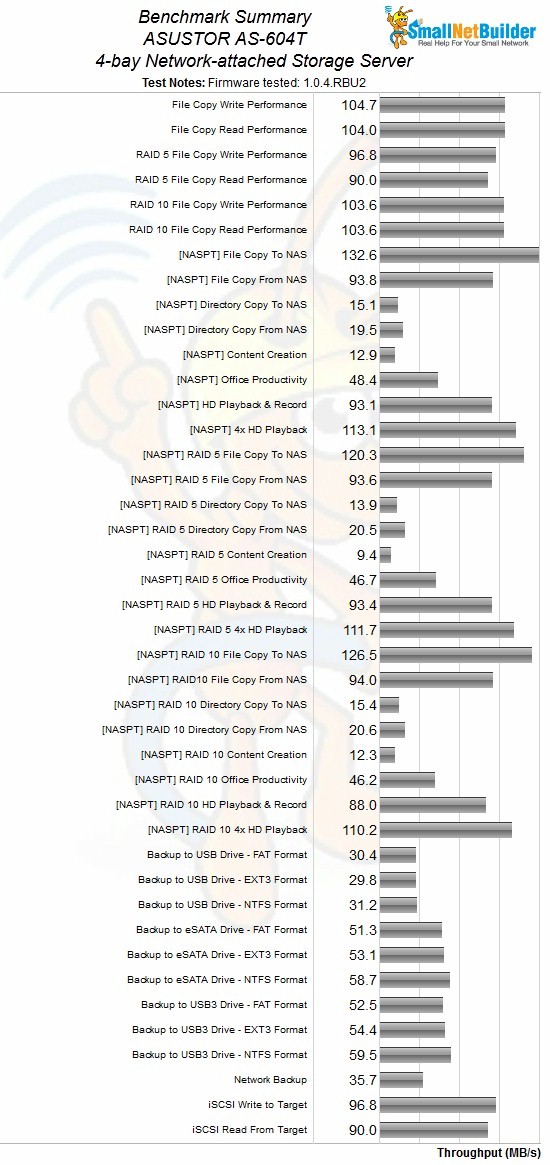 ASUSTOR AS-604T benchmark summary
As we have seen in other recent reviews, Intel NASPT File Copy results run about 20 MB/s higher for write. But, in a departure from past results, read throughput for RAID 0 and 10 volumes, runs about 10 MB/s lower. RAID 5 departs from this pattern with even higher write throughput (120 MB/s vs. 97 MB/s) and only slightly higher read (94 MB/s vs. 90 MB/s).
Keep in mind the maximum theoretical throughput with a Gigabit Ethernet connection is 125 MB/s. So results higher than that have some write cache effect baked in.
iSCSI performance of 97 MB/s for write and 90 MB/s read place the 604T near the very top of both charts.
Attached backup tests had to be hand-timed because ASUSTOR log timestamps show only hour and minute. Backup throughput was fairly consistent for the FAT32, EXT3 and NTFS drive formats tested within each connection type (USB 2.0, USB 3.0 and eSATA). Best case throughput of 59 MB/s was obtained with NTFS format with both eSATA and USB 3.0 connected drives.
Network backup to a DeltaCopy target on our NAS Testbed system measured around 36 MB/s, which is fairly typical of what we see.
Performance – Comparative
To put the 604T's performance in perspective, I created a set of custom performance charts using the NAS Finder to compare a group of D2700 Atom-based products with the AS-604T, i.e. Synology's DS412+, QNAP's TS-569 Pro and Thecus' N4800.
As I have found in other recent similar comparisons, there is not a wide performance difference among this group. Results are so close, that you would be hard-pressed to detect a performance difference in real-world use. Despite all the memory, system resources and CPU power that ASUSTOR claims that its "app-based" approach provides, it doesn't seem to result in higher performance.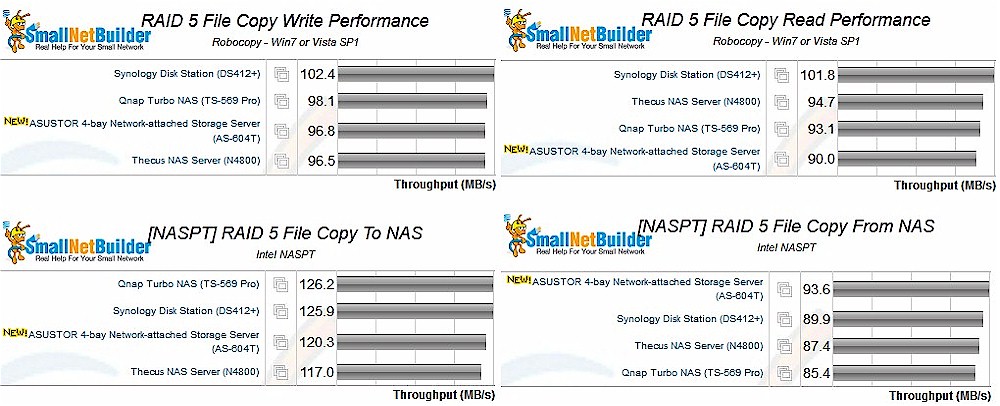 RAID 5 file copy performance comparison
Performance – Encryption
As in other recent reviews, I checked the 604T's performance hit for encryption. ASUSTOR supports folder-level encryption so it didn't take me long to create an encrypted folder on a RAID 5 volume for testing that auto-mounted for read/write upon reboot.
The results are summarized in the Excel table below and once again show the serious toll that encryption takes on performance.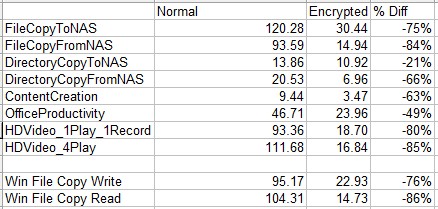 RAID 5 normal vs. encrypted performance
Use the NAS Charts to further explore and compare the AS-604T's performance
Closing Thoughts
I think ASUSTOR has a hard job ahead to establish itself as yet another premium NAS brand. The company doesn't appear to be using pricing as a differentiator, the feature set is similar to QNAP / Synology / Thecus and there is no US support at this point. So how is ASUSTOR going to win share in the US?
I put the question, pretty much stated as above, to ASUSTOR when they first asked for a review. They came back with the following key points:
There are not that many players in an "exponentially growing market"
The app-based approach lets users create a NAS with the features they want
Media player features (HDMI port and apps) are part of the design
Flexible push-pull backup for local network, attached drives and cloud
They intend to "catch up quickly no matter [what] in software and hardware"
While they did concede my point on current lack of U.S. support, they said they are working to get their world-wide support network in place.
ASUS has shown it has the ability to attract attention in the consumer networking market, at least for the SmallNetBuilder audience. Our reviews of the RT-N66U, RT-AC66U and RT-N56U have consistently been the most-read reviews each week since being published.
But the NAS market is very different than consumer routers. Selling prices are higher, as are margins. And everyone is hoping to steal business from Dell, HP, NetApp and others by replacing workgroup servers and even simple SANs with their higher-end machines that are looking more like the "big iron" they are aiming to replace with each generation.
Given that ASUSTOR's first products all use the most powerful Atom processor available in NASes today, I'd say they are going to be focusing on the premium market, too.
If you want to judge for yourself, the price to play is at least $500, which will get you a two-bay AS-602T. If you want to try RAID 5, you'll need to pony up about $200 more to take home a 604T.
You might want to let someone else do the early exploring, though. Unless you have money to burn or don't mind getting all your support from an online forum and shipping your NAS back to Taiwan if it goes belly-up.
Buy 4-bay Network-attached Storage Server from Amazon