At a glance
Product
Synology Disk Station (DS1512+) [Website]
Summary
Expandable five bay, high-performance BYOD SATA NAS with many features based on a dual-core Intel Atom D2700 processor.
Pros
• Expandable to fifteen bays total with two DX510 cabinets
Cons
• Expansion option isn't cheap
Typical Price: $1125 Buy From Amazon
Overview
Updated 7 June 2012: Added fan failover feature info
Synology must be having good success with its expandable-NAS concept, because they keep on introducing new ones. The model I'm looking at today is the five-bay-expandable-to-fifteen DS1512+.
Capacity-wise, the DS1512+ is the next step up from the two bay DS712+ I looked at last fall. But hardware-wise, you should think of it as a step down from the eight-bay DS1812+ announced earlier this year. Both the 1512+ and 1812+ run on dual-core 2.13 GHz Intel "Cedar Trail" Atom D2700 CPUs with 1 GB of DDR3 RAM, expandable to 3 GB, while the older DS712+ has a single-core D425 Atom.
The DS1512+ has a no-nonsense look with the same styling as the DS1511+ it replaces. The chassis and cover are metal, with a plastic front bezel. Drive trays and the internal slides that accept them are also plastic, to dampen drive vibration noise.
The hot-swappable design has the drives loading from the front with individually-lockable (via hex-key) trays that accept both 2.5 and 3.5" SATA drives. The callout view below provides the rundown on ports, indicators and switches.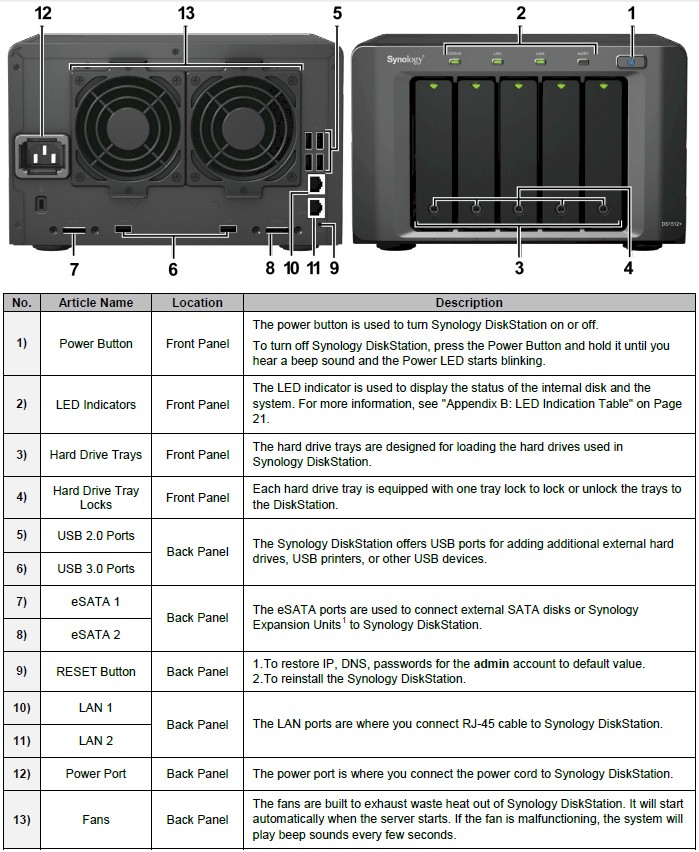 Figure 1: Synology DS1512+ Front and Rear Panels
Note that there is no VGA port to support an attached console, nor is there an LCD status panel. You'll have to get any information you want via the front panel LEDs or logging into the web-based admin. The two 10/100/1000 Ethernet ports on the rear do not have built-in link/status LEDs, either.
In addition to DX510 expansion cabinets, the two rear eSATA ports support one eSATA drive each. The new hardware platform now includes two USB 3.0 ports and four USB 2.0 ports. So you can attach USB printers and drives to your heart's content.
Inside
Synology made the DS1512+ easy to service. The two fans are mounted on plates so that they can be swapped out without having to open the cabinet. Once you get inside, the power supply and main board are easily removable. Expanding memory to a total of 3 GB is easy, too, via an empty SoDIMM socket that you don't have to remove the board to get at.
Updated 7 June 2012

Synology wrote to point out its new "fan failover" feature. If one fan fails, the other will speed up to compensate until the failed fan is replaced.
Speaking of the board, a shot of its top is below. A dual-core Intel D2700 Atom is under one of those heatsinks and an unnamed Southbridge / companion chip is under the other. I didn't remove the heatsinks and couldn't find any references to the companion part in the system boot messages. That's a 1 GB flash Disk-on-Memory (DOM) module at the upper right. There is another small flash device on the other side of the board, I'm guessing maybe 128 MB.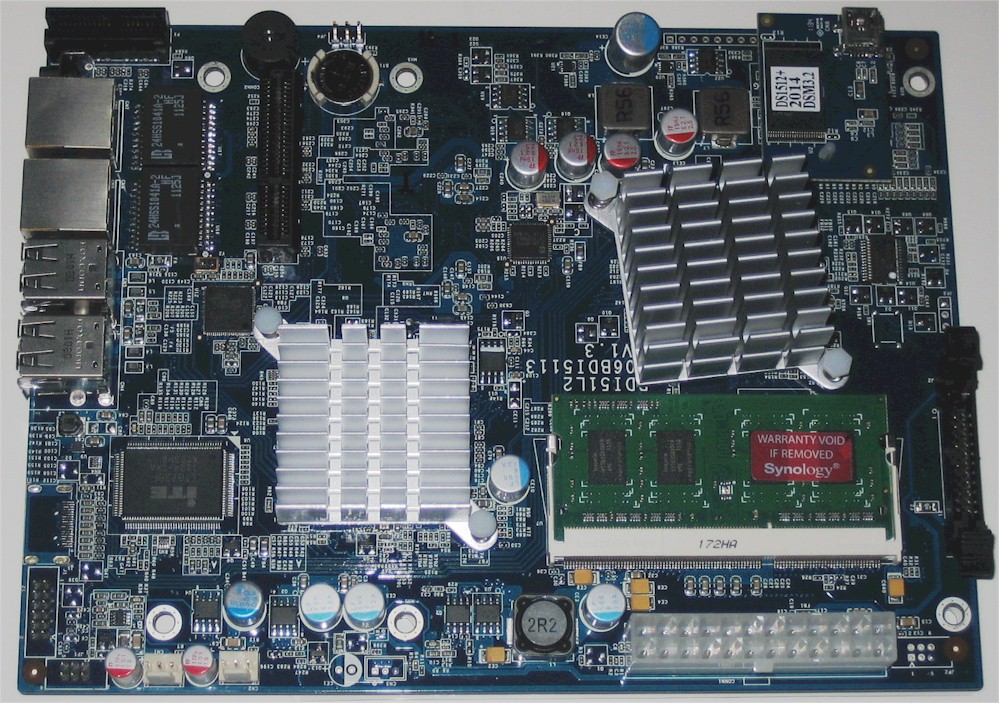 Figure 2: Synology DS1512+ DiskStation board
The two Gigabit Ethernet ports are supplied by a pair of Intel WG82574L controllers that can be set to aggregation, failover and separate LAN modes. A Silicon Image SiI3132 PCI Express to 2-Port Serial ATA II Host Controller services the two eSATA ports. The internal SATA ports come from the Intel Southbridge, as do USB 2.0 ports. Two USB 3.0 ports are provided via an NEC D720200AF USB 3.0 controller
Table 1 puts all of this info in one place, along with a few other parts I haven't mentioned.
| | |
| --- | --- |
| CPU | Intel Atom D2700 @ 2.13 GHz |
| Ethernet | Intel WG82574L (x2) |
| RAM | 1 GB DDR3 SoDIMM (expandable to 3 GB) |
| Flash | 1 GB DOM |
| Southbridge | ? |
| eSATA | Silicon Image SiI3132 |
| I/O | ITE IT8728F |
| uC | Microchip PIC16F883 |
Table 1: DS1512+ key components
Power consumption measured 71 W with five WD RE4 2 TB 7200 RPM (WD2003FYYS) drives that Synology supplied spun up and 34 W when the programmable drive spindown kicked in. Fan noise, in the default "Quiet" mode (the other two modes are "Cool" and "Low-Power") was audible along with some drive noise in my home office environment. So I rated the 1512+' noise as medium.
Features
The 1512+ supports all the features in Synology's DiskStation Manager (DSM) 4.0 OS. DSM is probably the most graphically ambitious of the OSes from QNAP and Thecus, using a multi-windowed interface illustrated in the screenshot below.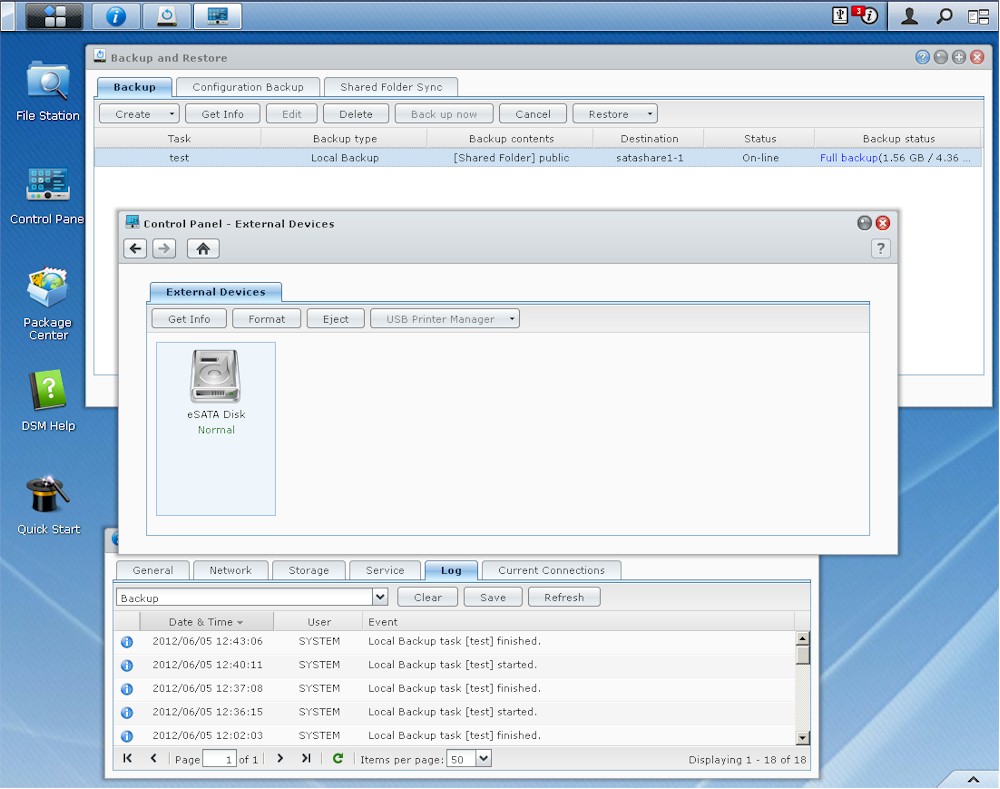 The DSM 4.0-2228 build I used for testing has a pretty extensive feature list, which is described in Synology's DSM Highlight pages. I'm going to attempt to summarize many of the key features below.
General Features
Individual drive, JBOD, RAID 0, 1, 5, 6, 10 with hot spare for RAID 5 volumes, EXT4 filesystem
Synology Hybrid RAID (SHR) (Allows mixing drive sizes)
Multi-volume support (512 maximum)
Hot-swappable drives
SMB/CIFS, HTTP/HTTPS, NFS, AFP, WebDAV file access
Online RAID expansion and RAID level migration
FTP/SFTP with upload / download bandwidth control and connection limit
HTTP / HTTPs admin access
Joins NT Domain / Active Directories for account information
Dual Gigabit Ethernet ports supporting Failover and 802.3ad link aggregation
IPv6 support (very basic)
iSCSI target support (32 max, 256 LUN max.)
User quotas
Email alerts
Logging
USB print serving w/ Google CloudPrint & Apple AirPrint support
Scheduled power down/up
Programmable idle disk spindown
Wake On LAN
Backup
Scheduled Backup to USB and eSATA drives
Schedulable To/from rsync backup with optional encryption and compression
Apple Time Machine support
Client Backup: Synology Data Replicator (Windows)
Media
BitTorrent/ HTTP / FTP / NZB / eMule download service w/ scheduling (via add-on)
iTunes server (via add-on)
UPnP AV / DLNA media server (via add-on)
Web photo serving with Facebook integration (via add-on)
Web audio player (via add-on)
Video surveillance support, up to 20 IP cameras, 1 camera license included (via add-on)
Mobile
iOS and Android apps for photo, audio, IP cam and file access
Web server with MySQL and PHP support
In addition to the features above, DSM supports a wide array of additional features via installable add-ons. The current list of add-ons is below. Just click the links for add-on descriptions.
Cloud Station – cloud-based file sync
Download Station – BT and other file download
Media server – Not Twonkymedia
Time Backup – Snapshot backup support
Mail Station – Mail server with webmail support
VPN server – Open VPN and PPTP servers
Directory Service – LDAP server
Audio Station – Web-based music server
DHCP server
HiDrive Backup – Backup to STRATO HiDrive cloud storage
Logitech Media Server – For Squeezebox players
Webalizer – Web log analysis
phpMyAdmin – Web-based MySQL database admin
HASP
WordPress
OpenERP
Plex Media Server
You can also check out the live demo. The product datasheet also provides a concise feature and spec summary.
Shot of the interior with cover removed. The power supply is on the left, mainboard on the right.
Another shot of the interior with the system flipped 180 degrees. Note the empty SoDIMM slot for expansion memory.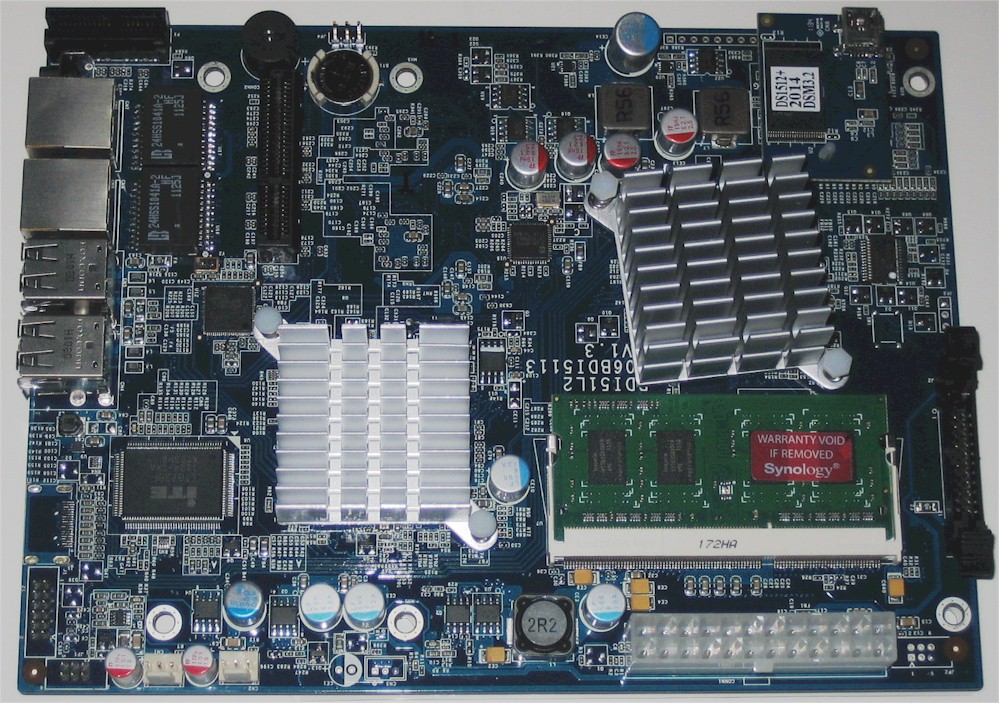 Top shot of the main board. The memory SoDIMM is not glued in place. But it is clear that Synology does not want you replacing it.
Bottom shot of the main board, showing the expansion RAM connector and smaller flash memory
The rear USB 3.0 and eSATA ports are on a small board that plugs into the main board. The small white plugs are where the two rear fans connect.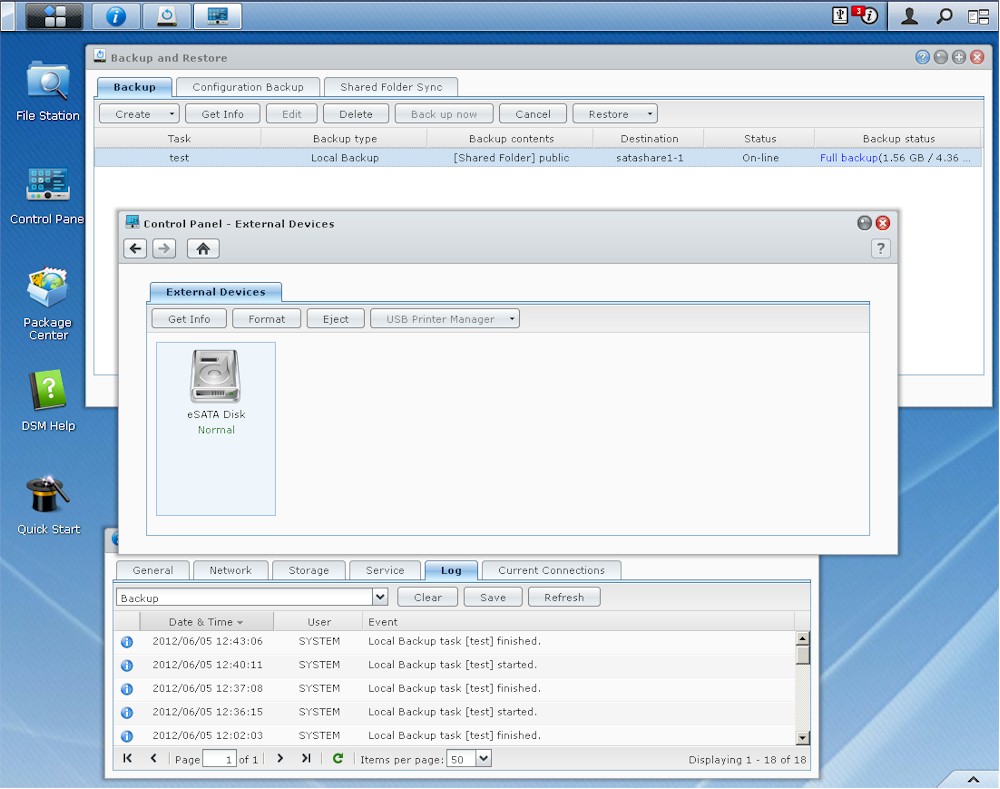 View of the multi-windowed admin GUI during backup performance testing.
Installable add-ons are found in the Package Center. The System Health panel on the right can be collapsed to free up desktop space.
Many system functions are accessed via the Control Panel.
The File Station provides drag-and-drop file copy between the NAS and the computer you are using to access admin.
The Main Menu contains links to items on the desktop and some key features like Storage Manager and Backup and Restore not found in Control Panel.
Performance
I tested the DS1512+ with DSM 4.0-2228 firmware, using our NAS test process with RAID 0, 5 and 10 volumes. As is our standard practice, I used only four drives configured into each volume type.
Windows File Copy tests were pretty consistent for RAID 0, 5 and 10, with the lowest result of 94 MB/s for RAID 0 write. Highest filecopy throughput was 106 MB/s from RAID 5 read.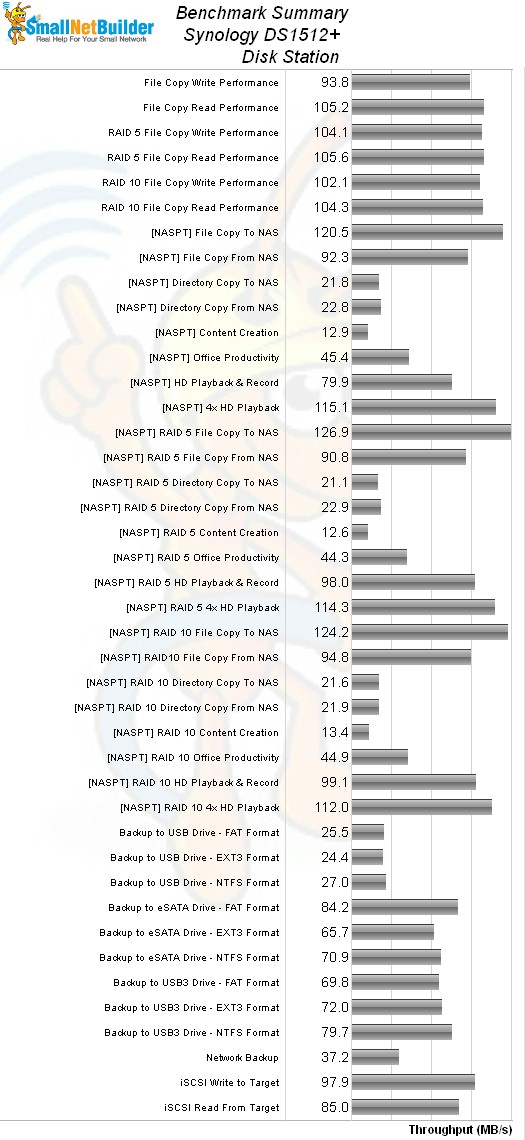 Synology DS1512+ DiskStation benchmark summary
Intel NASPT File Copy results were about 20 MB/s higher for writes across the RAID modes, but about 15 MB/s lower for reads. Highest NASPT write throughput was 127 MB/s for RAID 5 write and lowest read was 91 MB/s. Note that the highest possible throughput from a Gigabit connection is 125 MB/s, so there is probably some write cache effect baked into the results.
iSCSI performance of 98MB/s for write and 74 MB/s for read places the 1512+ among the top five of all RAID 5 capable NASes tested.
Since Synology NASes have built-in FAT, EXT3 and EXT4 formatting for external drives, I was able to run a full set of backup tests. USB 2.0 tests to our standard Iomega UltraMax Pro drive in RAID 0 produced mid-20 MB/s speeds that are about the limit of that connection's capacity. Fastest eSATA backup of 84 MB/s was obtained with the Iomega drive FAT-formatted. But USB 3.0 was close behind with a best case of 80 MB/s with a WD MyBook 3.0 drive formatted in NTFS. By comparison, Network backup to a DeltaCopy target on our NAS Testbed system was downright poky at only 37 MB/s.
To see how the DS1512+ fared against other RAID 5 capable NASes, I ran Windows RAID 5 Write and Read File Copy charts shown below, filtered to show only five-bay products. Since the only other Intel D2700-powered NAS, Thecus' N4800 is only a four-bay NAS, it doesn't show in these charts.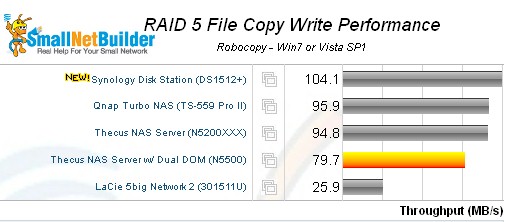 Synology DS1512+ DiskStation RAID 5 File Copy Write comparison
Running unfiltered versions of the same benchmarks ranked the DS1512+ and N4800 at number 2 and 7, respectively, for write and number 2 and 11 for read.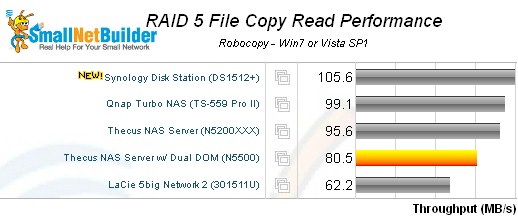 Synology DS1512+ DiskStation RAID 5 File Copy Read comparison
Clicking through the various benchmarks looking at all RAID 5 capable products consistently showed the 1512+ ranking in the top 5 of each benchmark.
Use the NAS Charts to further explore and compare the DS1512+'s performance
Closing Thoughts
Five-bay NASes aren't that common and are designed primarily for folks who like a hot-swap spare for four-drive RAID 5 volumes. Among the five products we've tested, the DS1512+ is priced right up with similar QNAP products like the TS-559 Pro II at around $800, but which aren't expandable.
If you don't need the hot-spare or expandability, you can save yourself $150 – $200 and opt for the four-bay D2700 Atom powered Thecus N4800 or D525 Atom based QNAP TS-459 Pro +.
Buy Disk Station from Amazon