Introduction
Updated 10/11/2009: DS209 has 256 MB RAM
Updated 10/7/2009: Incorporated feedback from Synology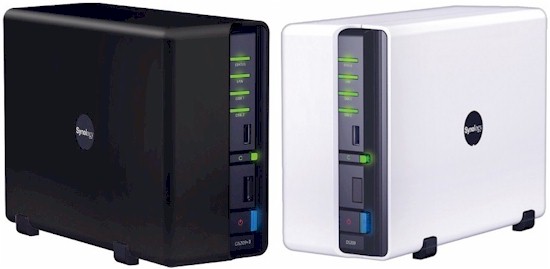 At a Glance
Product
Synology Disk Station (DS209) (DS209+II)
Summary
New, faster versions of Synology's two-bay multi-function BYOD NASes
Pros
• Many features including full LAMP webserving
• Fast attached backup to USB and eSATA drives
• High performance
• iSCSI support
Cons
• No eSATA on DS209
Synology's DS209, 209+II pair are refreshes of its popular two-bay SOHO / SMB NASes. Like all Synology's NASes, they share the same feature set (hardware allowing), which is among the industry's broadest. Both came loaded with Synology's AJAX-based DSM 2.2-0942 operating system, which includes an extensive list of improvements over the previous DSM 2.1.
The DS508 review covered many of DSM 2.1's features and the 2.2 release notes summarize its many improvements. So I'll be taking a closer look at only a few of the new features in this review. You can check out many of the rest via the live demo of DSM 2.2.
The 209 comes in Synology's older version white case, while the 209+II comes in a two-bay version of the black, slightly spiffier case used by the single-drive DS109+. Neither case supports hot-swapping of drives, however.
Figure 1 shows the front and rear panels of single-drive Synologies; the User Manual doesn't have a similar diagram for two-drive products. But the controls and ports are the same, with only one difference. The DS209 doesn't have an eSATA port, while the DS209+II does.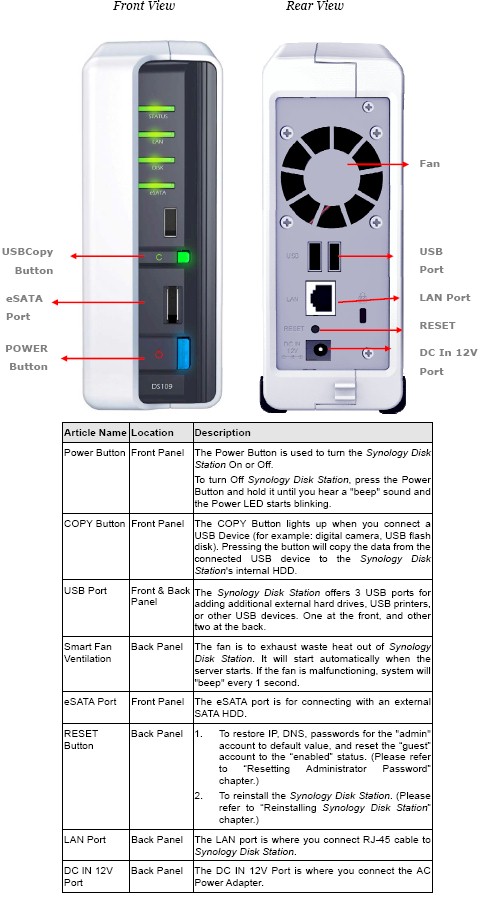 Figure 1: Front and Rear panels
Both 209s have variable speed fans, which I never heard spin up beyond a very quiet level. The two Samsung Spinpoint F1 750 GB drives (HD753LJ) that Synology provided in the review units brought the noise level up just a touch so that the NASes were slightly noticeable in my quiet home office. Power consumption for the 209+II measured 34 W active and 20 W with drives spun down, while the 209 measured 25 W active and 10 W with drives spun down.
Like all Synology's current-generation NASes both 209s have the ability to spin down the drives after idle times from 10 minutes to 5 hours and have a shutdown / startup schedule set for further power savings.
Internal Details
Updated 10/11/2009: DS209 has 256 MB RAM
Updated 10/7/2009: Corrected DS209 flash size
Figure 2 shows the DS209's main board, which is based on Marvell's 88F6281 "Kirkwood" clocked at 1.2 GHz supported by 256 MB 512 MB of soldered-on DDR2 RAM and 64 MB 4 MB of flash (the second Elpida E1116AESE is on the other side of the board). The venerable Marvell 88E81116R provides the single Gigabit Ethernet port, which supports jumbo frames in 1000 Byte increments to 9000. There's also a PIC16F627A 8 bit flash microcontroller to handle front panel and other control duties.
The complete list of supported drives includes 3.5" SATA, 2.5" SATA, 2.5" Solid State Drives (SSD).
Figure 2: DS209 board
Figure 3 is a shot of the DS209+II board, which has a significantly higher parts count due to its use of a Freescale MPC8533 @ 1.06 GHz—same as in the DS109+ and DS409+. The board is very similar, but not exactly the same as the DS109+' because of the difference in the way the drives connect to the board; the DS209+II via cables and the DS109+ directly via onboard connector.
Figure 3: DS209+II board
The CPU is hidden under the black heatsink plate and that's a 512 MB SoDIMM that will void your warranty if you choose to upgrade it. Other components include 4 MB of flash, two Silicon Image Sil3132 SATALink PCI Express to 2-Port Serial ATA II Host Controllers, NEC D702102GC USB 2.0 controller, Marvell 88E8001 Yukon Gigabit Ethernet controller, Microchip PIC16F627 CMOS FLASH-based 8-bit microcontroller and a Lattice 4032V CPLD under the sticker. I'm guessing the second Sil3132 is there to handle the front panel eSATA port.
The inside topside of both NASes look very similar. So I'm just showing the DS209+II in Figure 4.
Figure 4: DS209+II inside
Time Machine
Testing and analysis by Craig Ellison
DSM 2.2 adds support to enable Apple's Time Machine to use Synology NASes as Time Machine storage. During testing, however, I round that the feature only works properly if you've updated to the latest Mac OS 10.6 ("Snow Leopard"). Synology claims that with clients running Mac OS 10.5, Time Machine support will work only as long as the Mac doesn't sleep.
But with my Mac running 10.5.8, I also had the problem. Also note that the AFP protocol must be enabled on the Synology for Time Machine backup to work. I find this somewhat surprising, as NAS-based Time Machine support worked fine under Mac OS 10.5 on both the Buffalo LinkStation Quad and HP MediaSmart products.
There was fairly limited documentation on the Time Machine feature when I tested it. So I had to sift through Synology's forums, and speak with Synology tech support to get up and running. Here's how to set it up.
First, log into the Disk Station Manager and create a new share named timemachine (or a name of your choice) and selecte hide this shared folder in my network places as shown in Figure 5.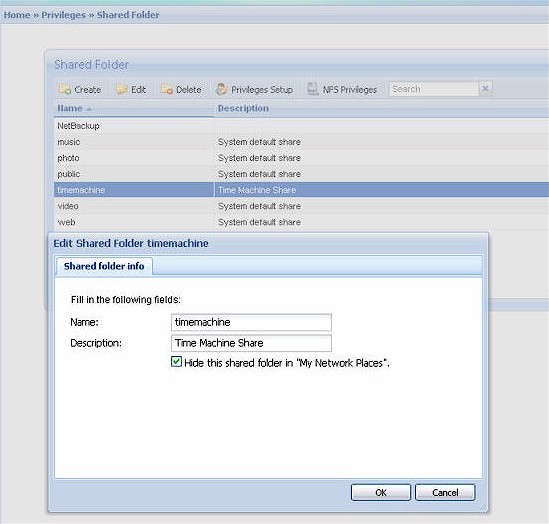 Figure 5: Create a share and mark it as hidden
Next you must enable AppleTalk under the File Sharing Win/OSX menu. In the drop down box, select the name of the share you created in the previous step as shown in Figure 6.
Figure 6: Enable AppleTalk and select the share
Optionally, you can create a timemachine user and assign rights to the timemachine folder you created. With a separate user for Time Machine backups, you can limit how much disk space is allocated for backups as shown in Figure 7.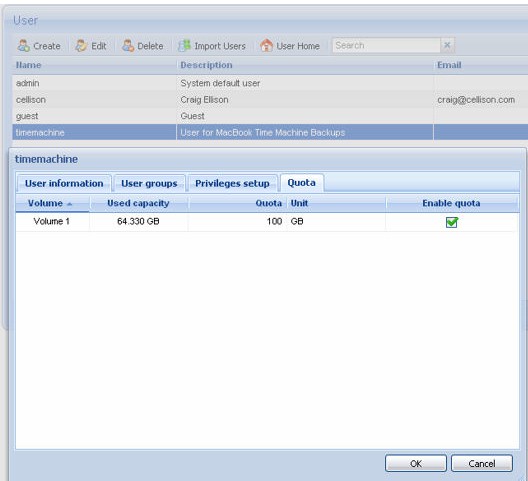 Figure 7: Time Machine user quota enabled
Next, on your Mac, open Time Machine under system preferences as shown in Figure 8.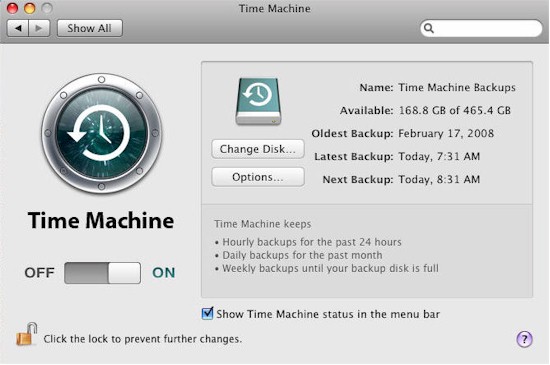 Figure 8: Time Machine preferences
Click on Change Disk and select the folder you created on your Synology NAS for your Time Machine backups as shown in Figure 9.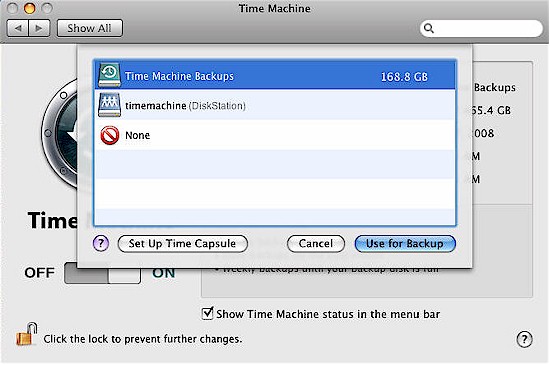 Figure 9: Select the Time Machine share on the Synology
Finally, your Mac will prompt you to log into the DiskStation. Here, I entered the login credentials for the timemachine user I created as shown in Figure 10.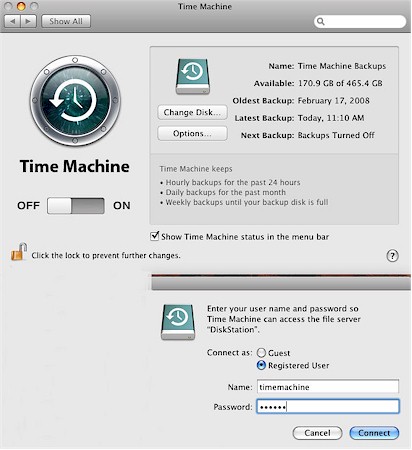 Figure 10: Log into the DiskStation using the credentials you created
When you change the disk to the DiskStation, Time Machine will start a backup in 2 minutes.
Other New Features
As noted earlier, DSM 2.2 brings many new features to all of Synology's NASes. One that iPhone / iTouch users may like are the free apps that work with Synology's Photo and Audio Station features (described in the DS508 review).
All you need to do is enable the Photo and / or Audio Station features in the NAS, then download the free apps from iTunes (links here).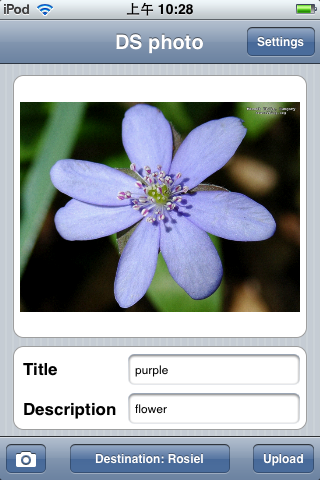 Figure 11: DS photo iPhone app
Unfortunately, I sent my iPod Touch away for battery replacement just before starting this review. So I couldn't check out the apps myself. But Synology provided this app screenshots shown in Figures 11 and 12.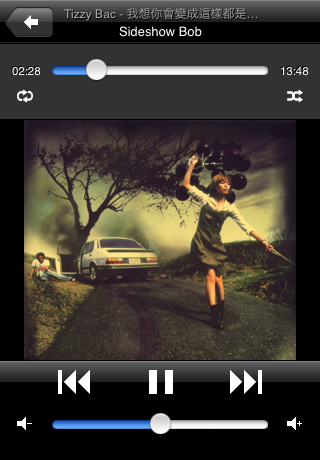 Figure 12: DS audio iPhone app
You can check out the the DS audio app by downloading it and entering www.synologyamerica.com:15000 and you should be connected. The DS photo app can't be demo'd, however, since it requires read/write access that has been disabled on the demo server.
Updated 10/7/2009: Synology said you might need to log into the demo machine. Use admin for username and password if you get a login challenge.
Among the long list of new features, the following caught my eye:
Media Server improvements
The media server is now DLNA certified and should work better with your PS3, Xbox 360 or other media player that requires a UPnP AV / DLNA server. The iTunes server now also supports MOV, MP4 and M4V video formats and MP3 and M4A metadata indexing.
Server Protection
Two features have been added to help protect Synology NASes from network exploits when they're directly exposed to the Internet or large corporate LANs.
The Firewall feature (Figure 13) lets you control access to up to 100 services running on the NAS. You can use a pick list of pre-defined services, or specify your own. Rules can be drag-and-dropped to change priority order and each service rule can be set to allow or deny. So by using allow rules, you could tighten down access pretty well.
Figure 13: Firewall rule setting
Auto-Block (Figure 14) provides protection against doorknob-rattlers by automatically blocking access from IPs that have too many failed login attempts via SSH, Telnet, rsync, FTP, iPhone, File Station, and management UI.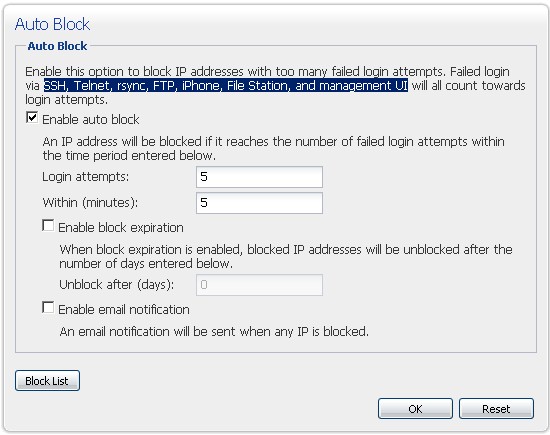 Figure 14: Autoblock
Performance
The 209s were tested with our standard test process. I used the latest DSM 2.2-0942 firmware in both products, which had two Samsung HD753LJ SpinPoint F1 750 GB drives installed by Synology. Tests were run with 1000 Mbps and 1000 Mbps with 4k jumbo LAN connections in RAID 0 and 1 modes. Both machines took around two hours to create and sync a RAID 1 array of two 750 GB drives.
Backup
I first checked backup performance to an Iomega UltraMax Pro Desktop Hard Drive configured in RAID 0 attached via both USB 2.0 and eSATA. The test copies a 4.35 GB ripped DVD test folder that I use in the NAS Chart Vista SP1 file copy tests from the NAS to the attached drive.
The results summarized in Table 1 show that the 209+II didn't always beat the 209 in backup speed when the test drive was attached via USB. But the 209+II did pretty well using an eSATA connection to an EXT3 formatted drive (the DS209 and 209+II's native format).
Product
Synology DS209
Backup Throughput (MBytes/s)
Synology DS209+II
Backup Throughput (MBytes/s)
USB – FAT32
19.2
16.9
USB – EXT3
23.6
17.6
USB – NTFS
8.6
16.7
eSATA – FAT32
N/A
39.9
eSATA – EXT3
N/A
59.5
eSATA – NTFS
N/A
17.9
Table 1: Attached backup throughput test summary
Note that I was able to test backup to the drive formatted in NTFS, since this feature was added in DSM 2.2. And the throughput is pretty good, too, compared to the usual 5 MB/s or so I get with either USB or eSATA.
I also tested NAS-to-NAS backup to the QNAP TS-239 Pro RAID 0 target that I have started to use as a standard rsync backup target. Both products turned in speeds comparable to what I've measured on much more powerful NASes and better than I got between the DS409 and 409+. Use the new backup benchmark NAS Charts to run other comparisons.
Product
Synology DS209
Backup Throughput to QNAP TS-239 Pro target
(MBytes/s)
Synology DS209+II
Backup Throughput to QNAP TS-239 Pro target
(MBytes/s)
NAS-NAS
22.32
32.58
Table 2: NAS-to-NAS backup throughput test summary
iSCSI
DSM 2.2 finally adds iSCSI target support to Synology NASes for up to 10 targets. Setup is simple and similar to what I've found on other NASes. Figure 15 shows the iSCSI Target summary page, listing all available targets.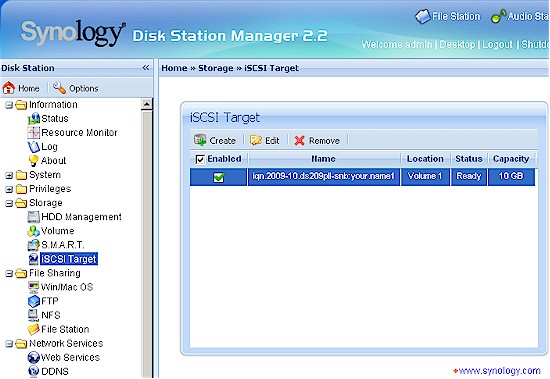 Figure 15: iSCSI Target List
Clicking the Create icon brings up Figure 16, where you create a target. I generally don't mess around with target names. But the default name provides a hint of how you can change the name and not break the target by appending your.name1 to the end of the name. I allocated 10 GB of space from the RAID 0 volume I had created and left everything else alone. You can, however, enable and configure CHAP authentication if you want to secure the target.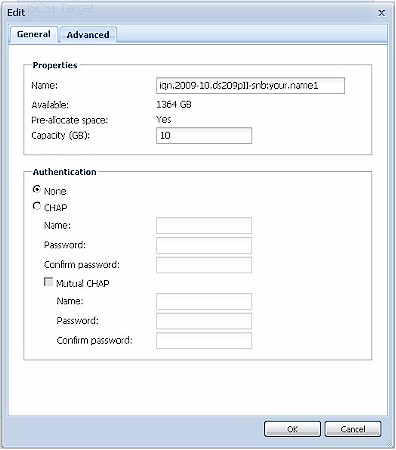 Figure 16: iSCSI Target General settings
Figure 17 shows the Advanced settings tab provides more settings, which are explained clearly in the online help.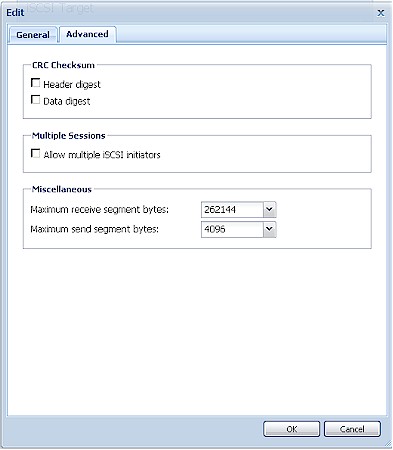 Figure 17: iSCSI Target Advanced settings
Note that the feature allows Synology NASes to be used simultaneously as iSCSI targets and regular CIFS/SMB, NFS and AFP networked shares. Once you create the target, you'll need to connect to it and format it using tools provided by your client's OS.
I ran my Vista SP1 filecopy test on the 10 GB iSCSI target configured above and measured 48.3 MB/s write speed for the 209+II and 37.0 MB/s for the 209. Figure 18 compares the 209s with other dual-drive NASes that I've tested.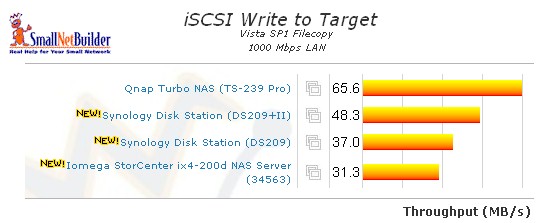 Figure 18: iSCSI write comparison
Reads came in at 59.0 MB/s for the 209+II and 44.4 MB/s for the 209. Figure 19 compares with other two-drive NASes.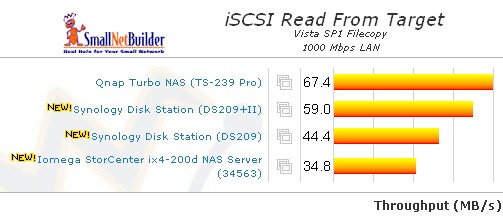 Figure 19: iSCSI read comparison
Performance – Write / Read
Figure 20 presents a summary of the benchmark tests run for the DS209+II and Figure 21 shows the DS209. Write cache boost is very pronounced for both products up to 256 MB file size and then drops to more realistic speeds, ending up around 50 MB/s at the largest file sizes measured for both RAID 0 and 1 volumes. Read speeds cruise along in the 60 MB/s range across file sizes from 32 MB to 4 GB, again, for both RAID 0 and 1.
Figure 20: Performance benchmark summary – DS209+II
RAID 1 write performance with a 1000 Mbps LAN connection averaged over the 32 MB to 4 GB file sizes and with cached results above 125 MB/s removed from the average measured 64.1 MB/s for the 209+II and 59.2 MB/s for the 209. Read averages were 62.5 MB/s for the 209+II and 63.6 MB/s for the 209.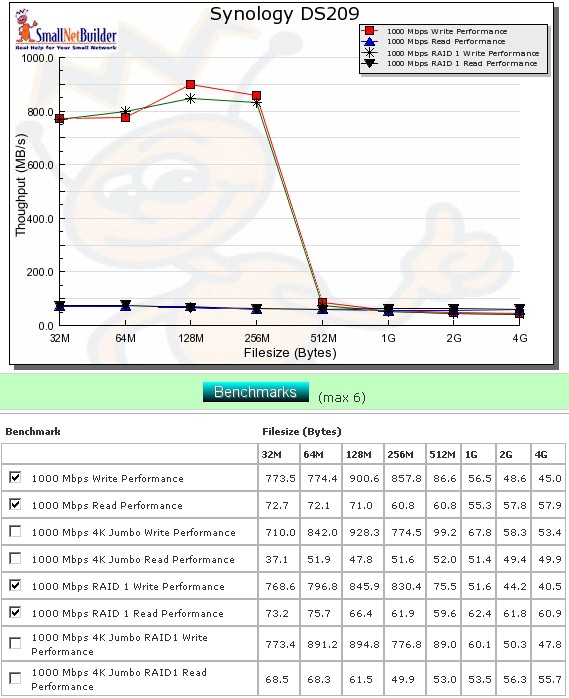 Figure 21: Performance benchmark summary – DS209
So, at least for the iozone-based tests, the two products seem about equal in performance.
Performance – Competitive
For the competitive comparison, I included the 209 and 209+II along with three other dual-drive NASes currently ranking at the top of the NAS Charts: Buffalo TeraStation Duo, QNAP TS-239 Pro and QNAP TS-219P. I also included the previous-generation DS209+, which also still ranks high among dual-drive NASes.
Unfortunately, the 209 and 209+II's unusually high cached performance at lower file sizes compresses the plot scale. So you'll need to look at the table below the plots to really see what's going on.
As expected, the 209+ turns in the slowest RAID 0 write peformance in Figure 22 and also doesn't display the write cache boost shown in the 209 and 209+II. For 1 GB and higher file sizes, the TS-239 Pro and DS209+II are just about equal in the low-to-mid 50 MB/s range, with the DS209 close behind.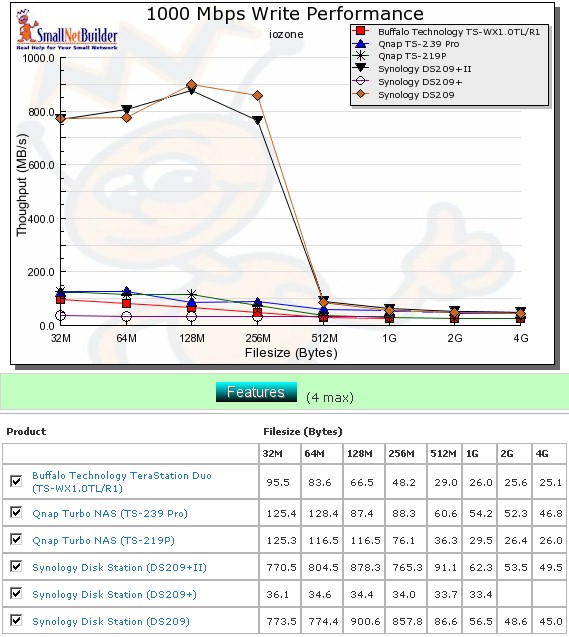 Figure 22: Competitive RAID 1 write comparison – 1000 Mbps LAN
Figure 23, showing a comparison of RAID 0 read speed, is easier to read and shows three performance clusters at the larger file sizes. The top group includes the QNAP TS-239 Pro, DS209 and DS209+II in the high 50 MB/s range, followed by the Buffalo Terastation Duo and QNAP TS-219P in the mid-40 MB/s range, then the DS209+ in the mid 30 MB/s range.
Figure 23: Competitive RAID 1 read comparison – 1000 Mbps LAN
Performance – File Copy
The Vista SP1 1000 Mbps RAID 1 file copy write results in Figure 24 show relative rankings similar to those of the iozone-based results, but with a clearer difference among products. For RAID 1 write, the QNAP TS-239 Pro easily outdistances both 209s, coming in at 56.2 MB/s vs. 41.9 and 35.9 for the 209+II and 209 respectively.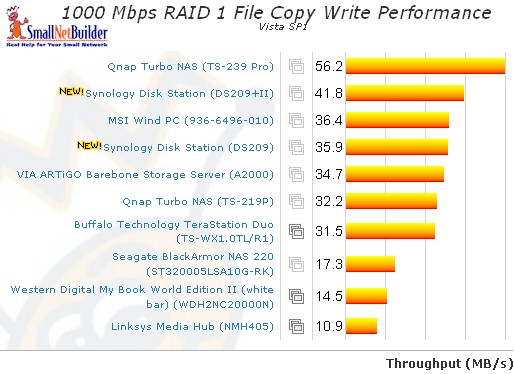 Figure 24: RAID 1 Vista SP1 File Copy Write
Figure 25 shows the 1000 Mbps RAID 1 File Copy read ranking, which are surprising. The TS-239 Pro stays in the 50 MB/s range, but both 209s jump up to the low 70 MB/s! I wouldn't attach too much significance to the fact that the 209 came in higher than the 209+II.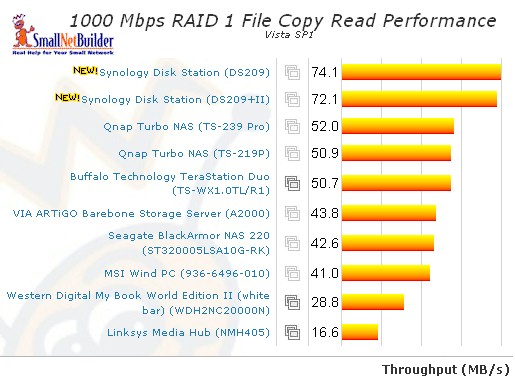 Figure 25: RAID 5 Vista SP1 File Copy Read
Use the NAS Charts to further explore performance.
Closing Thoughts
Synology's latest OS enhancements continue to make its NASes among the most sought-after by discriminating NAS buyers. The addition of iSCSI target support finally removes a competitive disadvantage for business buyers. And the iPhone / iTouch remote photo and music access is sure to please owners of those popular toys, uh, tools.
The bottom line is that there is suprisingly little performance difference between the DS209+II and confusingly-named DS209. And since the 209 is about $150 cheaper than the 209+II and around $50 less expensive than the previous-generation 209+, it's clearly the smartest buy. The only thing you'll be giving up is the eSATA port. But slower backups may be a small price to pay for big cost savings.
Updated 10/7/2009
Synology had this comment about the performance of the DS209 and 209+II:
The biggest difference is that the DS209+II is made for multi-user environments. The greater pricing for the DS209+II is for the ability for many users to not affect bandwidth. For example, in our testing, 22 clients can be reading/writing consistently to the DS209+II at 2 MB/sec while the DS209 falls to.8 MB/sec when 22 clients perform the same actions.