At a glance
Product
Thecus SOHO / Home NAS Server (N2560) [Website]
Summary
Intel Berryville Atom dual-drive RAID 1 NAS focused on home users running new Thecus OS.
Pros
• SPDIF and HDMI outputs
• USB 3.0 port
Cons
• Lower performance than other dual-core Atom NASes
• Does not support all add-in modules
• Can't open multiple windows in OS
Typical Price: $0 Buy From Amazon
Introduction
Updated 8/27/2013: Thecus comments and corrections
Thecus recently added two more Intel Berryville-based (actually Evansport platform, which is based on the Berryville SoC) NASes to its NAS line. Aimed at the home multimedia user, the two-bay N2560 and four-bay N4560 are basically upgraded versions of the N2520 and N4520 models announced back in March. The main difference is a faster Intel CE5335 Atom processor (1.6 GHz vs. 1.2 GHz) and double the RAM (2 GB) on the two-bay N2560.
Both configurations are BYOD. The two-bay N2560 is set to list at $339, while the four-bay N4560's MSRP will be $519. Both products aren't going to start shipping in the U.S. until October, so we're a bit ahead of the game for a change with this review.
The Thecus N2560 front and rear panel callout diagram below shows a good number of lights and interesting connections. On the rear we have two USB 2.0 ports, a Gigabit ethernet port, HDMI to use the Thecus as an HTPC, and a SPDIF digital audio out jack. There is no eSATA port.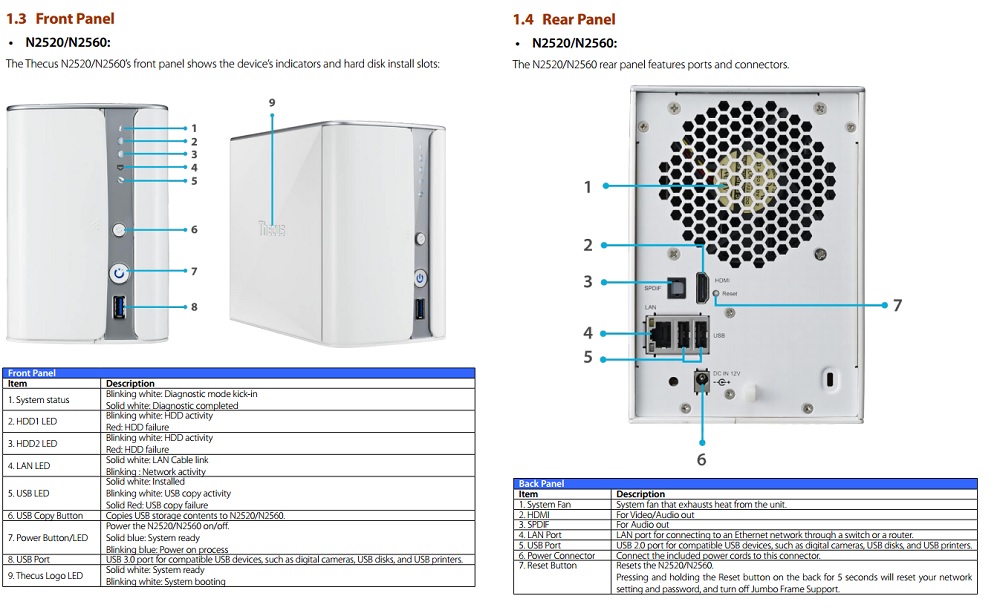 Thecus N2560 callouts
The front of the N2560 has a USB 3.0 port and a myriad of LED lights for different functions and alerts. For those of us who like blinking lights because it helps us feel like we know what's going on inside the NAS, the Thecus will be a dream come true. There is status for both drives, status for LAN and status for Power, Diagnostics and USB. Thecus has even lit up its logo on the side of the NAS as an additional boot-time status LED.
Inside
There isn't much to the main board in the Thecus N2560. In the image below, you can see the heatsink covering the processor and the RAM soldered to the board.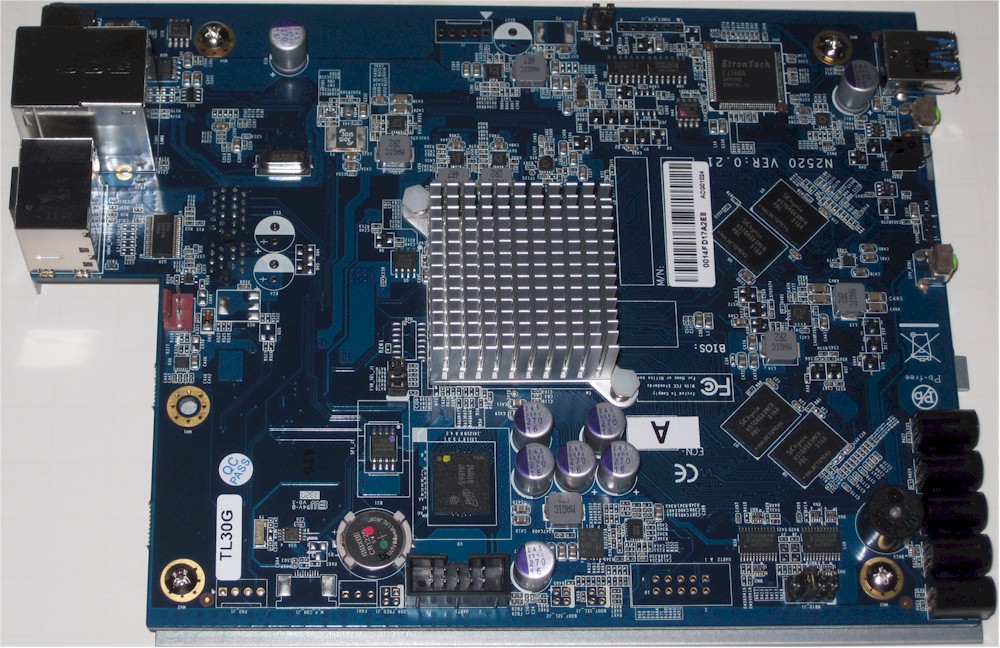 Thecus N2560 board with heatsink
In this picture you can see the heatsink removed from the Atom processor. Note that it does not have a companion device, which helps to hold down manufacturing cost.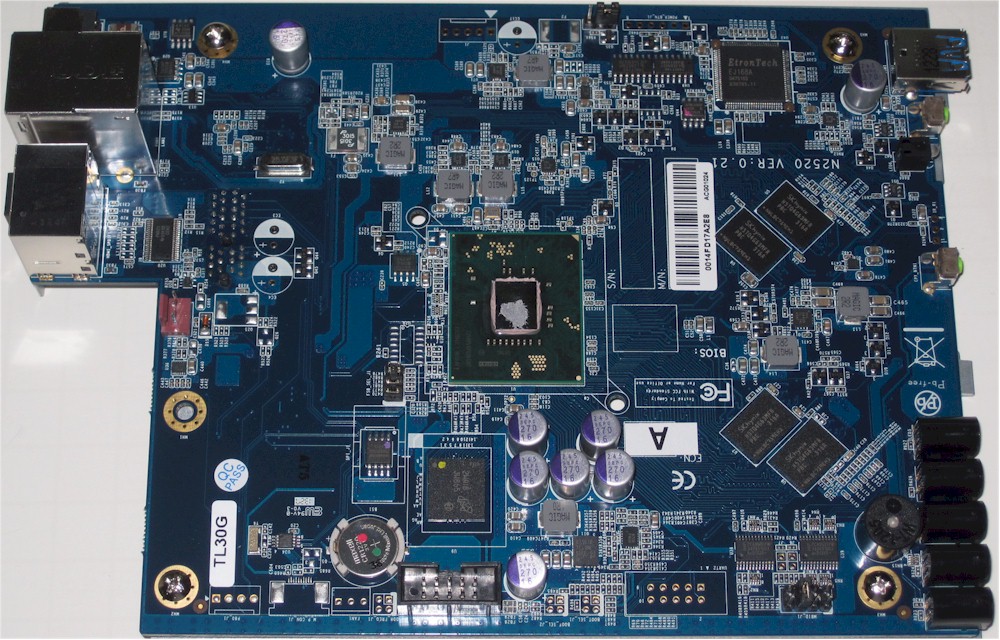 Thecus N2560 board with heatsink removed
The key components for the Thecus N2560 are summarized in the table below along with Buffalo's TS5200, which is based on a dual-core Atom D2550.
Thecus N2560
Buffalo TS5200
CPU
Intel CE5335 dual-core @ 1.6 GHz
Intel Atom D2550 dual-core @ 1.86 GHz
RAM
2 GB DDR3
2 GB DDR3
Flash
4 MB Winbond W25Q32BV
2 GB Micron JW865 e-MMC NAND flash
None
Ethernet
Realtek RTL8211E
Intel WG82574L (x2)
USB 3.0
Etron Tech EJ168A USB 3.0 Host controller
NEC D720201 (guess)
SATA
None
In Intel companion device
Microcontroller
None
NEC D78F0513A
I/O
None
ITE IT8721F
Table 1: Key component summary and comparison
We used two WD Red 3 TB (WD30EFRX) drives generously provided by WD for testing. Power consumption measured 20 W with the two drives spun up. Drive spin-down was set for 30 minutes, but it never kicked in, even when we pulled the Ethernet connection. So we could not measure "power save" consumption. Noise of the NAS is classified as low, with just a low "woosh" coming from the fan.
Features
The Thecus N2560 is the first Thecus NAS we've had a chance to review with the new ThecusOS 6. It's not a huge makeover from Thecus' previous OS, but Craig Ellison will be doing a full feature review of it in the coming weeks. If you simply can't wait for Craig's review, Thecus provides an OS6 Live Demo that you can navigate around in and take a closer look.
Below you can see a screen capture of the Desktop. Thecus OS 6 tries to emulate the "desktop" look that Synology, NETGEAR and QNAP have adopted in their OSes. But its more closely resembles Buffalo's weaker attempt at a revamped OS with the ability to open only one window at a time.
Updated 8/27/2013
Thecus told us that the "icon based" GUI design is not an attempt to move to a multi-window "desktop" design. They said user feedback guided them to "create a simpler UI for novice users".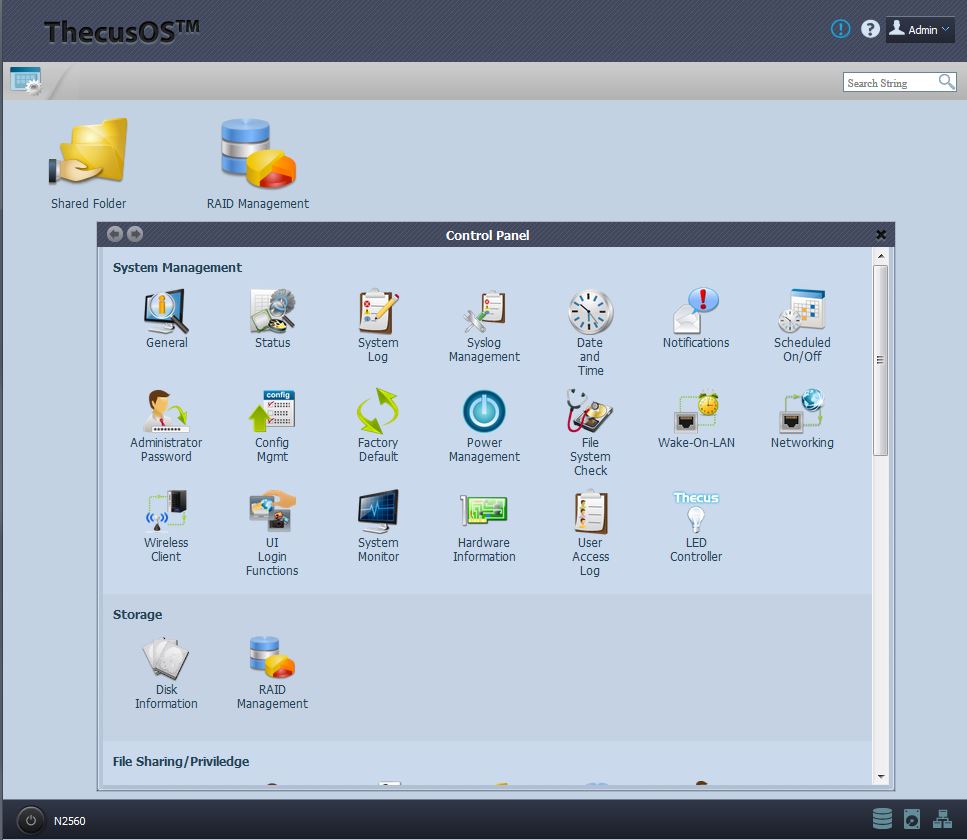 Thecus N2560 ThecusOS6 Desktop
The other key point to note is that OS 6 doesn't (yet?) support all of the apps supported on OS 5 based NASes. For example, using Thecus' new App Center, the OS 5 32 bit based N2200EVO supports 60 apps, while the OS 6 32 bit based N2520, N2560, N4520 and N4560 support only the 20 apps shown below. Also note that the 2520 and 2560 don't support iSCSI, but the 4520 and 4560 do.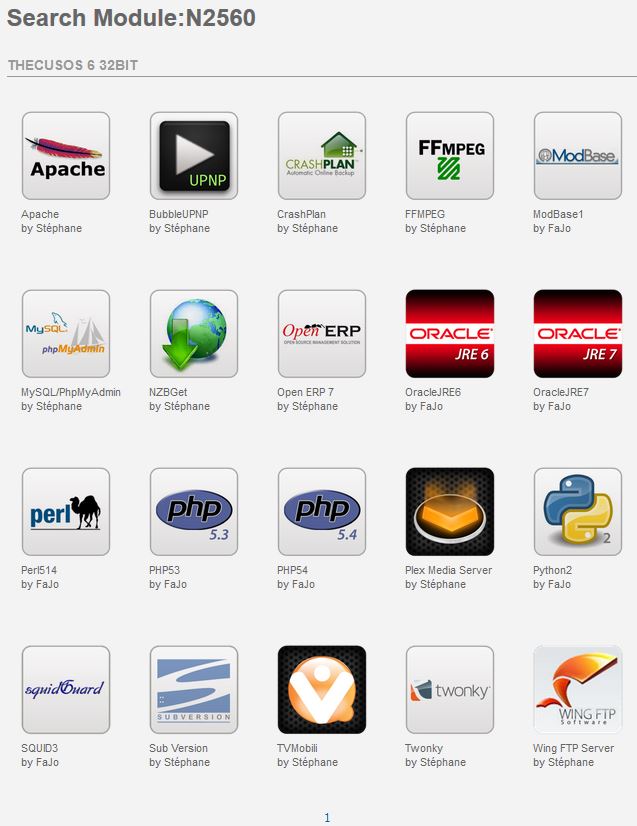 Thecus N2560 supported apps
Performance
The Thecus N2560 was tested with OS6.build_195 firmware. We used our standard NAS test process with RAID 0 and 1 volumes.
Windows File Copy tests show highest read and write throughput across RAID 0 and lower with RAID 1. Highest write throughput measured was 74 MB/s for RAID 0 and highest read was 94 MB/s for RAID 0. RAID 1 was lower with 66 MB/s for write and 51 MB/s for read.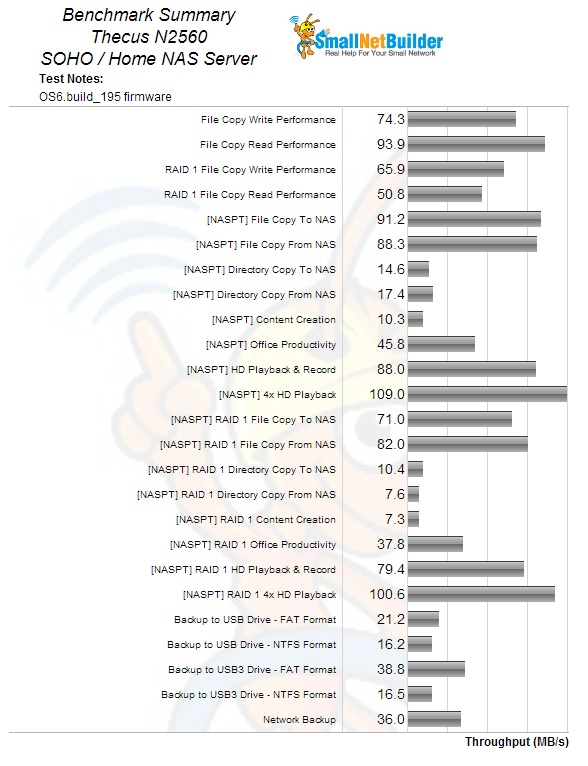 Thecus N2560 benchmark summary
Intel NASPT File Copy results were comparable for both write and read. Highest NASPT write throughput of 91 MB/s was in RAID 0; highest read was 88 MB/s, in RAID 0 as well.
Network performance to an rsync target was 36 MB/s for write. The N2560 does not support iSCSI.
Attached backup tests were run with our standard USB 3.0 drive with best throughput of 39 MB/s obtained using USB 3.0 and a FAT-formatted drive. There is no eSATA port for eSATA backup.
The best way to get a competitive view of the Thecus N2560's performance is with the NAS Ranker. Selecting the Atom-2 (dual-core Atom) class shows the Thecus N2560 at a #16 rank out of 29 products ranked. It's #16 out of 24 places if you look at tied rankings in front of it. Comparing rankings of only dual-bay NASes in this class, the Thecus N2560 is in last place.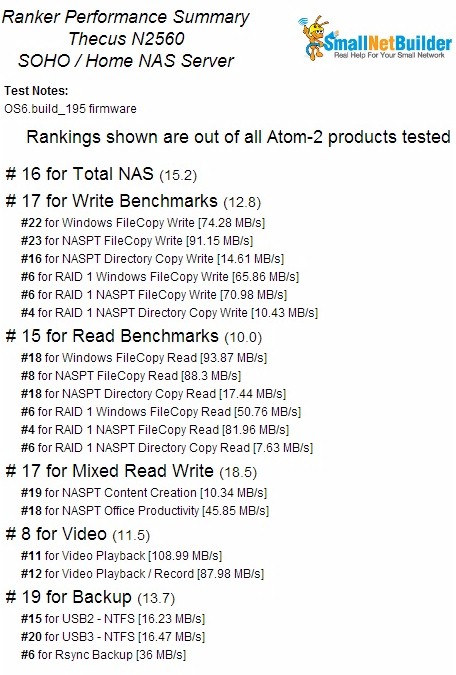 Thecus N2560 NAS Ranker Performance Summary
Given all its low rankings, it is more helpful to concentrate on the N2560's strengths, which include rsync backup and its RAID 1 benchmarks, both read and write and Windows File Copy and NASPT.
Closing Thoughts
Updated 8/27/2013
The single-chip Berryville / Evansport platform is an interesting animal. Although it still bears the Atom moniker, its single-chip architecture and integrated graphics processor make it more like something from Marvell's Armada family than other dual-core Atoms like the D2550 and D2700 that power NASes that tend to top our NAS Charts. But as long as Intel refers to this device as an Atom, so will we and treat it as such.
However, the chart below shows the N2560 can sit well below the performance of two-chip (CPU & Companion / Southbridge) Atom products, while at the same time not distancing itself from other single-chip (SoC) NASes. In other words, the CE5335 may bear the Atom name, but it behaves more like SoCs from other makers.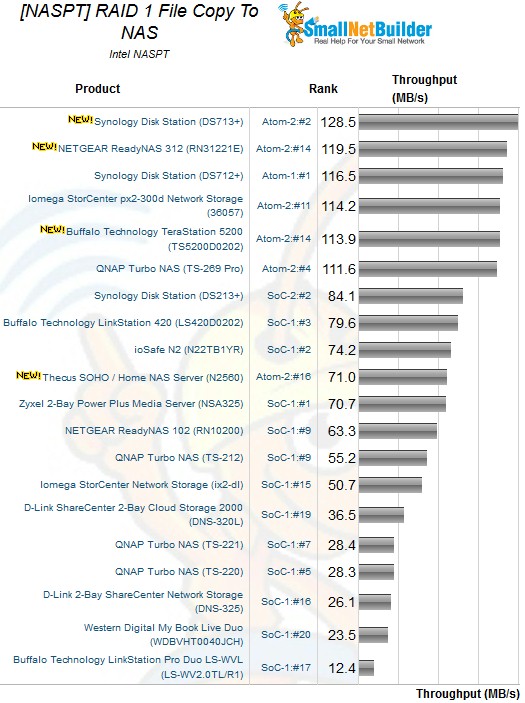 RAID 1 NASPT File copy write
So is the $339 MSRP a good deal or not? On one hand, the OS has some nice features and there are digital audio and video out ports. Those ports open up its potential uses to things like an HTPC or digital music storage/player, which some other NASes, such as the Buffalo TeraStation 5200 and Synology DS713+ do not have the hardware for. I haven't revisited the Thecus-as-HTPC since the review back last November, but back then it was still very much a work in progress.
If you're willing to forego possible use as a media player and looking for performance, the Buffalo TeraStation 5200 sells for only $60 more, with two 1 TB disks. And the Synology DS713+ sells for $100 more, but with much better file copy performance and many more useful apps.
If price is more your focus, the Buffalo LinkStation 420, currently around $230 with two 1 TB drives, performance ranks only slightly behind the N2560 if the Thecus were ranked as a single-core SoC NAS, which it's not. If ranked with the few dual-core SoC NASes we've tested, the N2560 is currently around $30 cheaper than Synology's DS213+, but generally lags behind it in performance, sometimes significantly.
If you're looking for a NAS to double as a work-in-progress media player, the N2560 may fill that void. But if you're looking a RAID 1 NAS with high performance at a decent price, you may be best served looking elsewhere.
Buy SOHO / Home NAS Server from Amazon