At a glance
Product
Thecus NAS Server (N4800) [Website]
Summary
D2700 Atom-based four-drive BYOD NAS with built-in battery backup, USB 3.0 and HDMI ports, supporting multiple volumes and filesystems with many serving options.
Pros
• Multiple volume support
• USB 3.0 ports
• Built-in battery backup
• HDMI port
Cons
• No WebDAV support
• Very basic IPv6 support
Typical Price: $709 Buy From Amazon
Overview
Thecus recently upgraded its "SMB" NAS line with two models based on an Intel D2700 "Cedar View" Atom platform. I'm looking at the four bay N4800, which looks very much like the N4200PRO I reviewed last August.
From the front, the N4800 and N4200PRO look almost identical, were it not for the two blue-coded USB connectors that indicate USB 3.0. Everything else is the same as per Figure 1. The main changes are on the rear panel, where USB 2.0 ports have been reduced from four to two and eSATA ports from two to one. Thecus has used the freed-up space to add VGA and HDMI ports instead.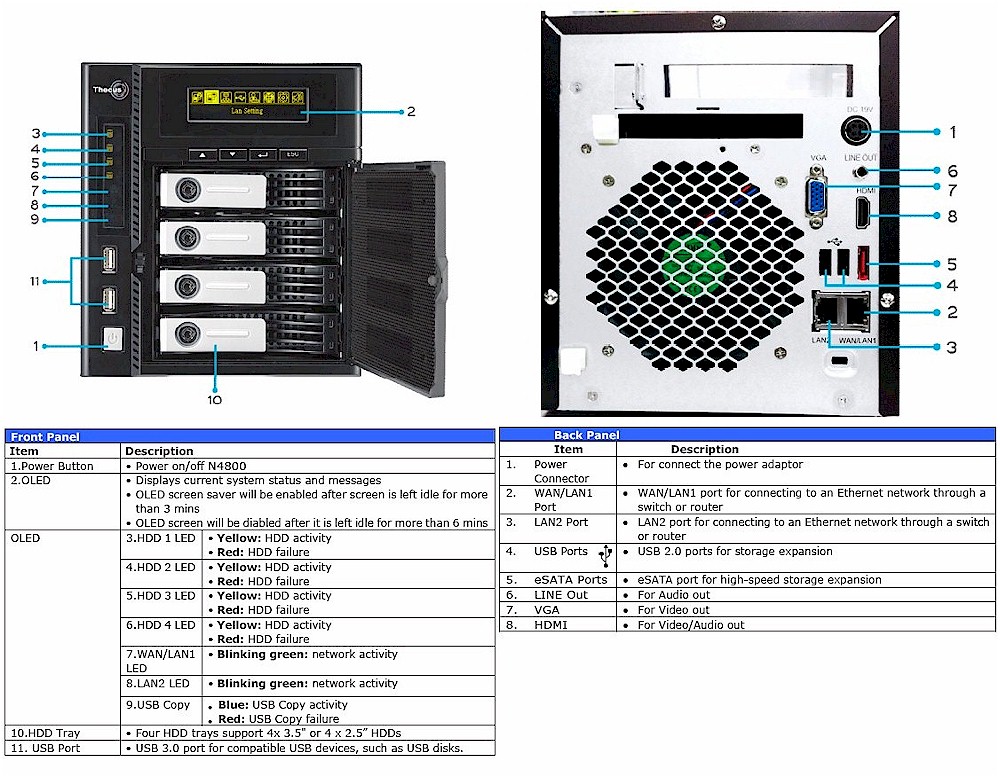 Figure 1: N4800 Front and rear panel callouts
The VGA port is primarily intended for console use, while Thecus has more ambitious plans for the HDMI. They are planning to issue a firmware update "by end of June" that will enable video playback and Internet browsing directly from the NAS. The intent is to have the N4200 and N4800 be able to function as pseudo HTPCs as well as NASes. We'll have to wait until next month to see what features the firmware update actually brings.
Like the N4200 and 4200PRO, the N4800 has a built-in backup battery that Thecus calls a "Mini-UPS", which allows for an automatic orderly shutdown when power fails. This is a unique feature that I would like to see other companies offer. Of course, any NAS should be run with an external UPS, which provides power conditioning in addition to orderly shutdown in the event of power failure.
Thecus supplied the N4800 with four 1 TB Seagate Barracuda 7200.12 (ST31000524AS) drives for testing. They brought total power consumption with all drives spun up to 43 W and 22 W with the drives spun down via the programmable idle drive power save feature.
I rated noise as low. The low hum of the four drives was audible in my quiet home office, but there was little fan noise, even under the load imposed by our benchmark tests.
Inside
Figure 2 shows the inside of the N4800 with just the top cover removed, revealing a few surprises. The empty bracketry is there to hold the included "Mini-UPS" Lithium-ion battery that I didn't bother to install. This feature functions the same as an external UPS, but with a shorter backup period. I tested it via an AC cord pull test back in the N4200 review and found it worked well.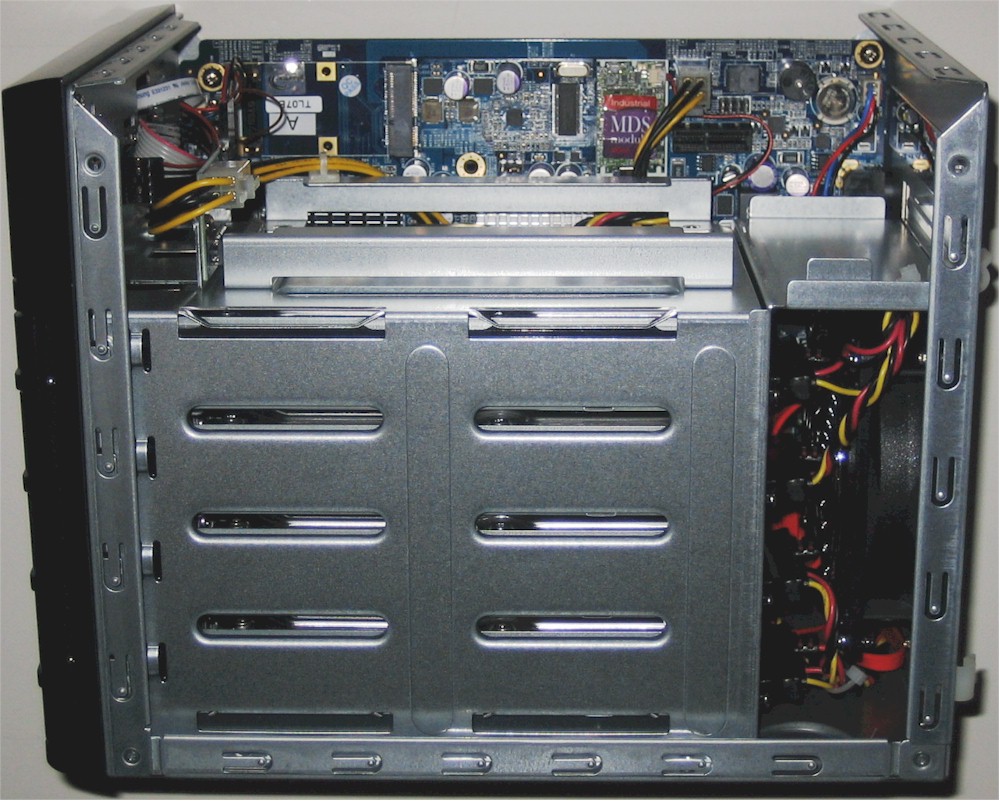 Figure 2: N4800 inside
The tighter, clearer view in Figure 3 shows a mini-PCIe slot on the left that looks like it could hold a wireless LAN card. And to the right under the white power connector is a PCI-e X1 connector, even though the N4800 spec doesn't mention an expansion slot like the N4200 and N4200PRO do.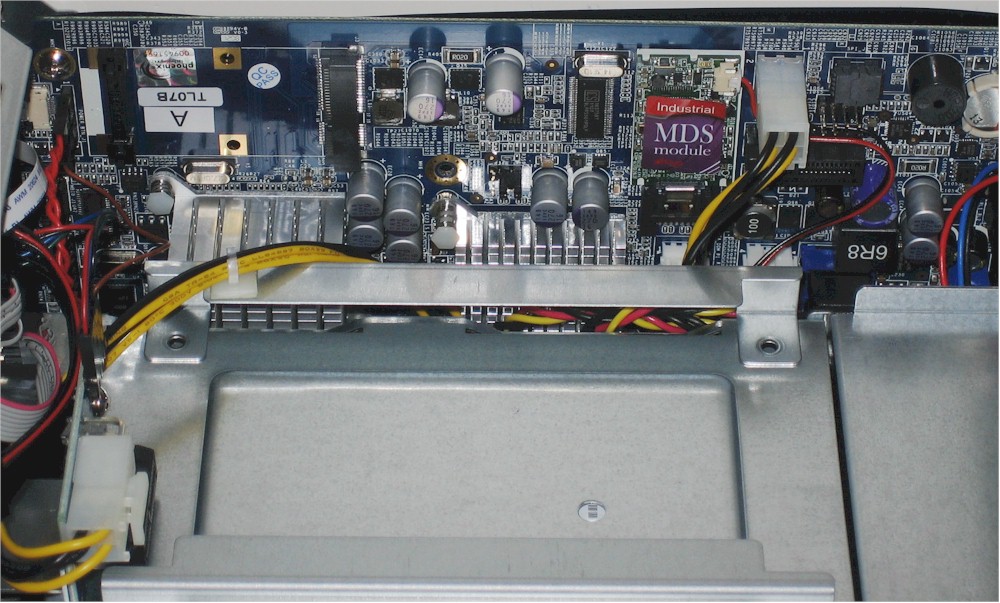 Figure 3: N4800 inside closeup
That part marked "Industrial MDS module" is a 1 GB Disk on Memory (DOM) and there is only one of them. It could be that Thecus has given up on using its "dual DOM" feature to differentiate itself.
The key part summary in Table 1 also includes parts for the N4200PRO for comparison. The Southbridge guess for the N4800 came from looking at the boot message log; I didn't remove the board or heatsinks to confirm.
N4800
N4200PRO
CPU
Intel D2700 Atom
Intel D525 Atom
RAM
2 GB DDR3 SoDIMM
1 GB DDR3 SoDIMM
Flash
1 GB
Dual 128 MB
Ethernet
Intel WG82574L (x2)
Intel WG82574L (x2)
Southbridge
[?] Intel 82801 (ICH10R)
Intel NM10
USB 3.0
NEC D720200
NEC D720200
(on add-in board)
Table 1: Key component summary and comparison
A key difference from the original N4200 is that you can't replace the memory, at least not easily. The SoDIMM is buried down low on the main board and would require removing the board from the case to get at it. Strangely enough, there is a flap cut in the plastic board circuit-side protector to access the RAM. But the SoDIMM is on the opposite side of the board, safely out of upgradable reach. I didn't open up the N4200PRO, so don't know whether you can reach the RAM on it.
Features
Like many other NAS vendors, Thecus implements the same feature set across its NAS lines. Here's an updated summary of the features found in the 2.02.02 firmware. (I used 2.01.05 firmware for the performance review.)
General Features
Hot-swappable JBOD, RAID 0, 1, 5, 6, 10 with hot spare for RAID 1, 5, 6 and 10
Optional AES256 volume encryption
SMB/CIFS, HTTP/HTTPS, NFS v4, AFP file access
Online RAID expansion and RAID level migration
FTP/SFTP with upload / download bandwidth control
HTTP / HTTPs admin access
Bonjour / UPNP support
Joins NT Domain / Active Directories for account information
Dual Gigabit Ethernet ports supporting Load balance, Failover, 802.3ad, Balance-XOR, Balance-TLB, Balance-ALB modes
IPv6 support (very basic)
iSCSI target and initiator support
iSCSI Thin Provisioning, MPIO, MCS, Clustering and Persistent Group Reservation supported
ISO mounts
User quotas
Email alerts
Logging
USB print serving
Scheduled power down/up
Programmable idle disk spindown
Apache webserver (via installable module)
Backup
Scheduled Backup to USB and eSATA drives (via installable module)
Schedulable To/from rsync backup with optional encryption and compression
Apple Time Machine support
Client Backup: Acronis True Image (Windows); Thecus Backup Utility (Windows/Mac OS X)
ACL backup/restore
Schedulable DOM backup
Media
BitTorrent / HTTP / FTP download service w/ scheduling
iTunes server
UPnP AV / DLNA media server (via installable module – Twonkykmedia)
Picazza photo album (via installable module)
Video surveillance support (via installable module)
Mobile
Remote monitoring and admin app (Thecus Dashboard – iOS and Android)
File and media access app (ThecusShare – iOS and Android)
Thecus has steadily improved its feature set and is very competitive to QNAP and Synology at this point. In some cases, Thecus is a bit better, with its support for iSCSI initiator, for example. On the other hand, with all the other file access methods supported, the lack of WebDAV support shows that work still needs to be done.
I have traditionally complained about Thecus' admin GUI. But it has improved to the point where the differences are more approach and polish vs. function. So unless they backslide (or the competition gets a lot better) I think I'll stop picking on Thecus for its GUI.
Thecus has continued to add more downloadable modules to enhance NAS features. The list of 19 shown in Figure 4 now includes modules for:
Linking to Dropbox storage
Backup to ElephantDrive
Record, playback and monitoring of IP cameras
I'd like to see a Squeezecenter module to support Logitech's Squeezebox players added at some point to eliminate QNAP and Synology's advantage there.
Figure 4: Installable module list
The last module listed adds McAfee VirusScan to your Thecus NAS. With it, you can designate up to 10 scan tasks, each of which has the controls shown in Figure 5. Note that you only have on-demand (Now), Daily and Weekly scan options; there is no scan on file add/change option.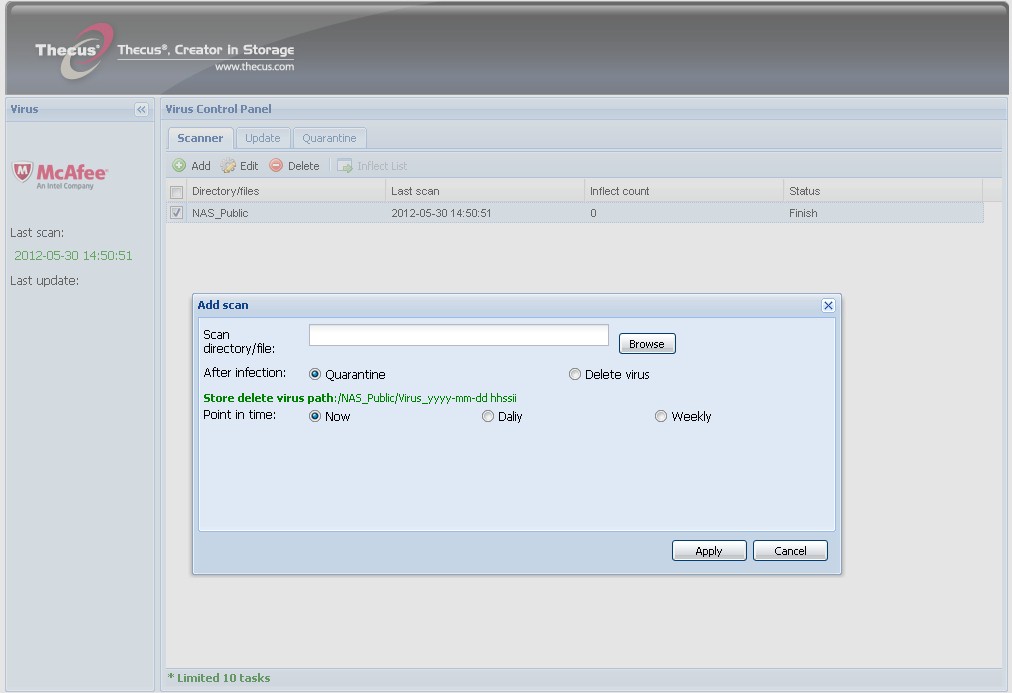 Figure 5: McAfee Virus scan module
You can grab virus signature updates manually or schedule them to be auto-updated daily or weekly. A quick scan of a 1.9 MB 138 file folder took only three seconds, according to the N4800's log. Note that you must be running firmware 2.02.02 or higher to load the VirusScan module.
For more feature details, you can use the online emulator and check out the gallery below.
The Home page provides links to commonly used settings.
The Status page could easily include the Manufacturer, Product Number, Firmware version and Up Time information on the General page.
Schedule power up and down here.
Network settings include Jumbo frame support in 1000 Byte increments to 9000. The Link Type setting is enabled for failover and link aggregation when both ports are active. Version 2.02.02 firmware adds the very basic IPv6 support you see here.
Controls for HTTP and HTTPs support
You get both iSCSI initiator (NAS Stacking) and target services. Here is where you set up targets.
You need to enable the AFP protocol to get Apple Time Machine backup. Note the other network services listed in the left-side panel.
Backup to and from standard rsync targets is supported with encryption and compression options.
Performance
The N4800 was tested with 2.01.05 firmware using our NAS test process. Actually, it was tested twice. After I finished the intial run and posted the results in the NAS Charts, Thecus contacted me to request a retest. It seems that my review sample was an early production unit and had an old BIOS (CDV_T22 X64, to be exact).
Since the new BIOS (CDV_T24 X64), which Thecus said is on all regular production N4800's, was supposed to have much-improved performance, I agreed, updated the BIOS using instructions from Thecus, retested and updated the NAS Charts data, which is found below.
Again, Thecus assured me that all customer units have the proper BIOS. But if you want to check, you just need to
Start with the N4800 powered off
Plug a display and USB keyboard into the N4800 back panel
Power up the N4800
When you see the boot screen, press F2 to enter the BIOS.
Navigate to MAIN->SYSTEM INFORMATION->BIOS VERISON
Verify that the BIOS version is CDV_T24 X64
If your BIOS version reads CDV_T24 X64, just contact Thecus support and they will take it from there to make it right.
The Benchmark summary (Figure 6) shows pretty consistent Windows File Copy performance for RAID 0, 5 and 10 modes. RAID 0 write shows the highest results at 106 MB/s, with 96 and 100 MB/s for RAID 5 and 10, respectively. File Copy read is more consistent at 97, 95 and 94 MB/s for RAID 0, 5 and 10, respectively.
NASPT File copy results are higher than their Windows File Copy counterparts for write (125, 117, 116 MB/s) , but lower for read (84, 87, 89 MB/s) for RAID 0, 5 and 10.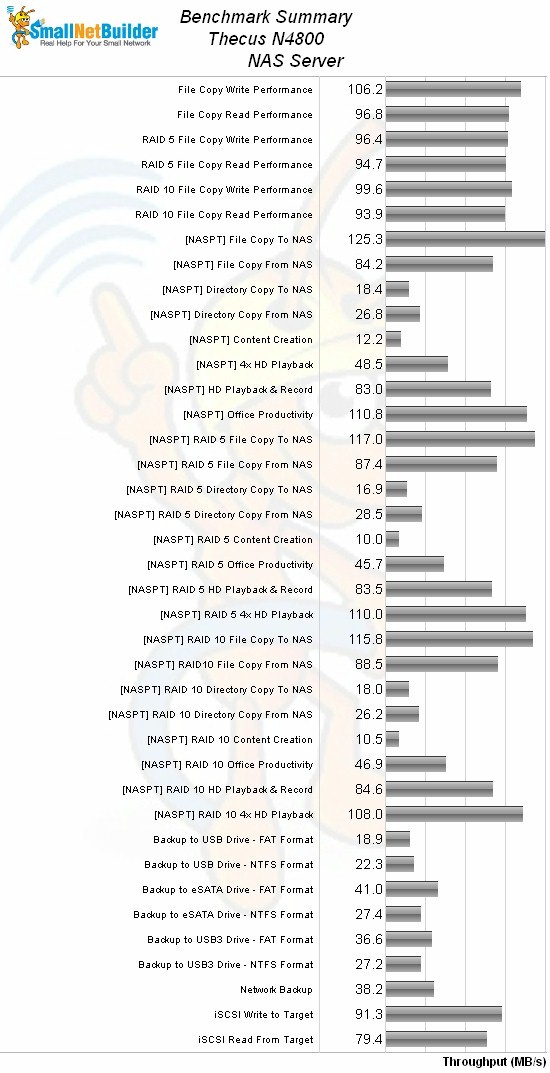 Figure 6: N4800 NAS Benchmark summary
iSCSI target write performance to target created on a RAID 5 volume came in at 91 MB/s, with read lower at a still-respectable 79 MB/s.
I downloaded and installed Thecus' USB / eSATA Schedule Backup module to run backup tests with our standard Iomega UltraMax Pro Desktop Hard Drive for USB 2.0 and eSATA connections. Unlike my previous experience with the N4200, I had no problem connecting a WD MyBook 3.0 to run USB 3.0 backup tests.
Since Thecus doesn't provide a way to format external drives, I was able to test only FAT and NTFS backup formats. Best backup throughput of 41 MB/s was obtained with FAT format and eSATA connection. Fastest USB 3.0 backup was only 37 MB/s to the FAT-formatted WD drive.
Rsync backup to the NAS Testbed running DeltaCopy acting as an rsync target came in at 38 MB/s.
For a competitive look, I ran RAID 5 File Copy charts filtered for four-drive NASes. The write comparison in Figure 7 shows the N4800 only a bit better than the D525 Atom-based Thecus N4200PRO. The other similarly performing NASes (QNAP TS-459 Pro+, Synology DS411+) are also use the dual-core D525 Atom.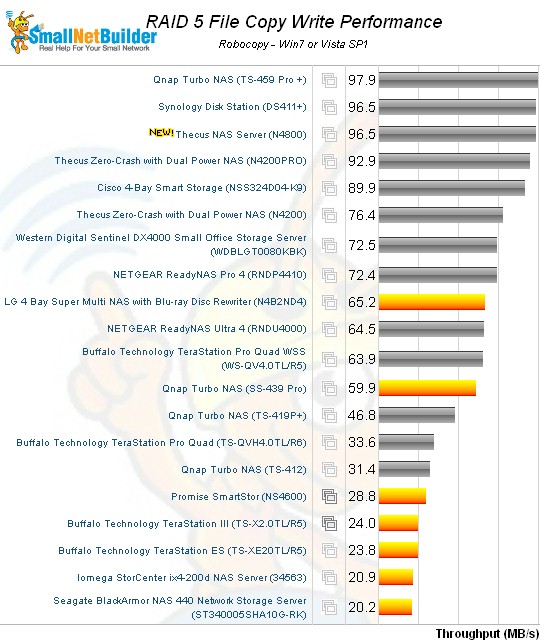 Figure 7: RAID 5 Filecopy – write – four bay NASes only
There is a bit more spread for RAID 5 File Copy Read, but again, the N4800 is right in the thick of other dual-core Atom NASes.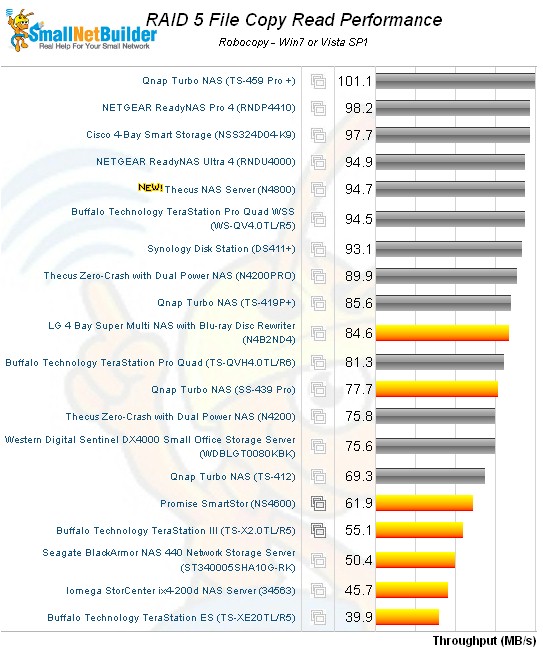 Figure 8: RAID 5 Filecopy – read – four bay NASes only
Use the NAS Charts to further explore performance.
Closing Thoughts
At least from this first look at an Intel D2700 based NAS, there doesn't seem to be a significant performance difference from older D525-based competitors, including Thecus' own N4200PRO. If you can do without the N4800's USB 3.0 and HDMI ports, the N4200PRO will save you at least $100. Either way, you'll be getting a NAS that's among the top-performing four-bay NASes that you can buy today.
Buy NAS Server from Amazon