At a glance
Product
Thecus NAS Server (N7510) [Website]
Summary
D2700 Atom-based seven-drive high-performance BYOD NAS with USB 3.0, HDMI & audio I/O ports.
Pros
• Multiple volume support
• Two USB 3.0 ports
• HDMI & VGA ports
• Audio I/O ports
Cons
• No optional 10 GbE
• Very basic IPv6 support
• Both USB 3.0 on front panel
Typical Price: $0 Buy From Amazon
Introduction
Thecus has been spiffing up its SMB NAS family with processor upgrades and media playback features like HDMI and analog audio I/Os. A few months back, we looked at the five-bay N5550, which brought a Intel D2550 Atom CPU to Thecus' five-bay SMB offerings to spiff up performance a bit.
Today, we're looking at an opposite approach with the N7510. This time, Thecus' aim is to provide a more affordable option for fans of its seven-bay NASes. The N7510 is essentially an N7700PRO, but with a 2.13 GHz dual-core Intel D2700 Atom instead of a Core 2 Duo.
The N7510 stands taller than most other desktop NASes that come across the SNB test bench. But Thecus' seven-bay chassis hasn't changed since we first saw it in the N7700. The front door still has is secured with a push-push latch and no lock. And each of the drives sits in a lockable tray that has light pipes to carry power and activity / error lights forward from the drive backplane. Because the drives are behind the door, you still don't get a clear view of these lights when the door is closed.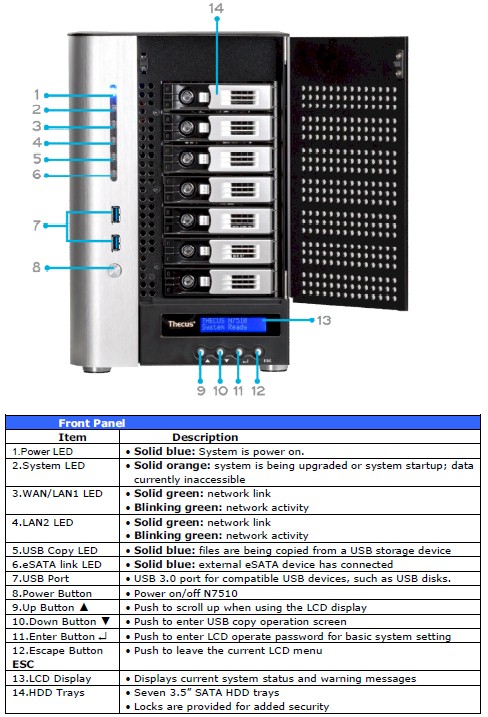 N7510 Front panel callouts
The front panel callout diagram above hasn't really changed since the N7700 either, except that the two front panel USB ports are now 3.0 instead of 2.0. I wish one of the ports were on the rear, to make cabling cleaner to a backup drive that might be connected for awhile.
The rear panel features have changed a bit, with the addition of HDMI, analog audio mic, speaker and line in ports. There are also now four USB 2.0 ports vs. the two on the original 7700. (The N7700PRO also has four ports.)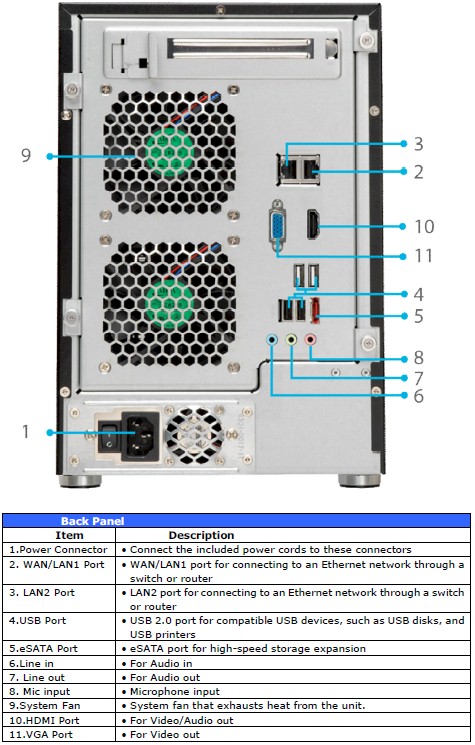 N7510 Rear panel callouts
Inside
Thecus has thoughtfully designed the N7510 for easy servicing. The back panel containing the two fans comes off by removing four thumbscrews and unplugging the two fan cables. You can then slide out the main board and drive backplane in one piece (photo below) after unplugging all the drives and removing two more thumbscrews.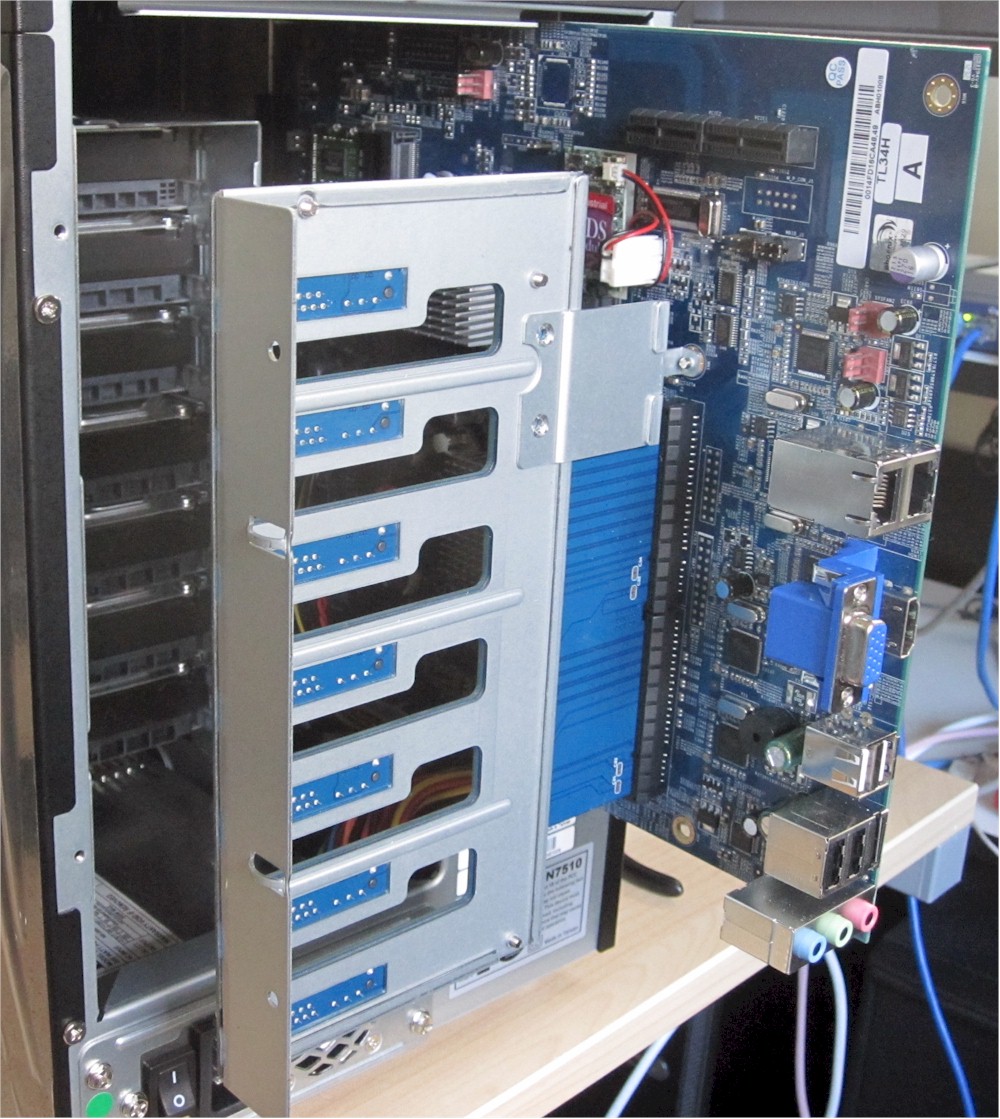 Thecus N7510 board with drive backplane
The drive backplane plugs into a mainboard connector and is secured by one screw to an attached bracket. The power supply is internal, but easily removed via four rear-panel screws. To swap it out, however, you'd have to free the main board and drive backplane to slide it out to access the power connector on the main board.
On the photo below of the N7510's main board, we can see a 2 GB DDR3 SoDIMM, as well as the heatsinks that cover the 2.13 GHz Intel Atom D2700 processor and companion device. It's a bit fuzzy, but you can see that the SoDIMM socket is two-level and there is an empty slot above the factory-installed RAM. If the N7510 is like the N5550, you should be able to expand memory to a total of 4 GB.
The part marked "Industrial MDS module" is a 1 GB flash Disk on Memory (DOM). Just to the right of the DOM is what looks like two PCI-e X1 connectors stacked end-to-end. I may be showing my ignorance here, but I don't understand this arrangement. I suppose it doesn't matter anyway, since Thecus doesn't say that the 7510 supports an optional 10 GbE adapter like the N7700PRO and newer TopTower series do. The connectors may not be live anyway, since it looks like the traces from them go to the empty device pad footprint you can see in the photo top center.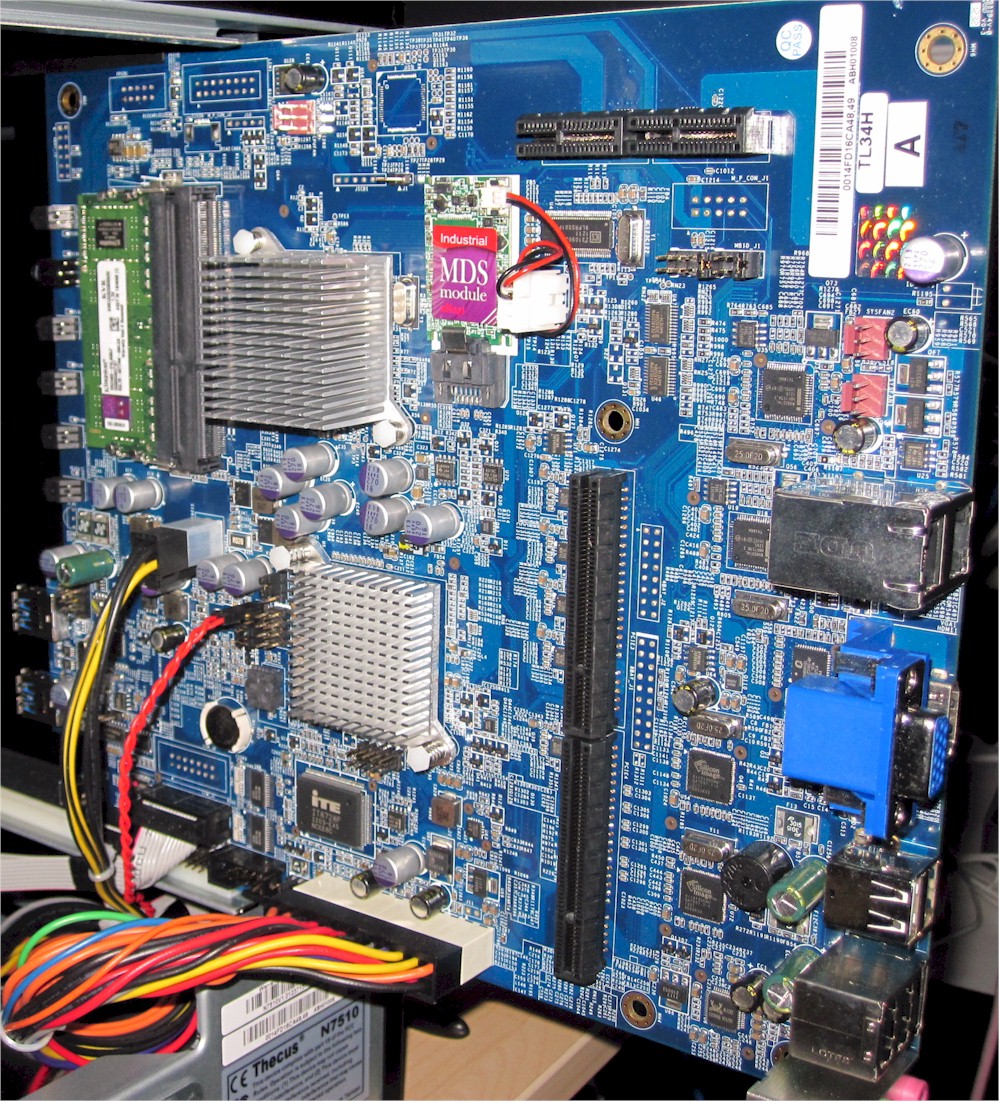 Thecus N7510 board without drive backplane
Table 1 summarizes the N7510's key components and includes comparison information for the N6850 and N5550. Aside from the CPU, the designs are very similar with dual Intel WG82574L Ethernet controllers, Silicon Image SiI3132 for SATA and NEC D720200AF for the USB 3.0 port(s).
Component
N7510
N6850
N5550
CPU
Intel Atom D2700 @ 2.13 GHz
Intel Pentium G620 @ 2.6 GHz
Intel Atom D2550 @ 1.86 GHz
RAM
2 GB DDR3 DIMM (expandable to 4 GB)
2 GB DDR3 DIMM (expandable to 16 GB total w/ 4 GB DIMMs)
2 GB DDR3 DIMM (expandable to 4 GB)
Flash
1 GB DOM
1 GB DOM
1 GB DOM
Ethernet
Intel WG82574L (x2)
Intel WG82574L (x2)
Intel WG82574L (x2)
Companion
Intel NM10 [guess]
Intel NM10 [guess]
Intel NM10 [guess]
USB 3.0
NEC D720200AF
NEC D720200AF1 (x2)
NEC D720200AF
Audio
Realtek ALC262 2+2 HD Audio Codec
Realtek ALC262 [guess]
Realtek ALC262
SATA
Silicon Image SiI3132 SATALink PCI Express to 2-Port Serial ATA II Host Controller (x2)
Silicon Image SiI3132 (x2)
Silicon Image SiI3132
I/O
ITE8728F Super I/O
– Winbond W33795G hardware monitor
– Fintek F71889 Super Hardware monitor & I/O
ITE8728F Super I/O
Video
Chrontel CH7318 HDMI level shifter
Pericom PI3VDP411LSZBE Digital Video Level shifter
Chrontel CH7318 HDMI level shifter
Table 1: Key component summary and comparison
I still don't know the companion device and Thecus hasn't volunteered the information. However, since the Atom D2000/N2000 datasheet shows an Intel NM10 Express Chipset in the block diagram, I'm sticking with that.
Thecus included seven Seagate Barracuda 7200.12 1 TB (ST31000524AS) drives, but I unplugged three to test with our standard four drives. Power consumption measured 56 W with the four drives spun up and 32 W with them down via the programmable idle drive power save feature. Fan and drive noise could be classified as medium-low, since a low whirr could be heard in a quiet home office.
Features
The N7510 was upgraded to 2.03.08.cdv firmware before testing. Since Thecus standardizes its feature set across its products we won't be covering the features here. But a quick look at the N4800 review will provide a good overview. Additionally you could give the online demo a try to really get a feel for the user interface.
For quick reference, here is a summary of the main Thecus OS features:
General Features
Network file sharing via SMB/CIFS, NFS, AFP
Hot-swappable JBOD, RAID 0, 1, 5, 6, 10 with hot spare for RAID 1, 5, 6 and 10
Optional AES256 volume encryption
SMB/CIFS, HTTP/HTTPS, NFS v4, AFP file access
Online RAID expansion and RAID level migration
FTP/SFTP with upload / download bandwidth control
HTTP / HTTPs admin access
Bonjour / UPNP support
Joins NT Domain / Active Directories for account information
Dual Gigabit Ethernet ports supporting Load balance, Failover, 802.3ad, Balance-XOR, Balance-TLB, Balance-ALB modes
IPv6 support (very basic)
iSCSI target and initiator support
iSCSI Thin Provisioning, MPIO, MCS, Clustering and Persistent Group Reservation supported
ISO mounts
User quotas
Email alerts
Logging
USB print serving
Scheduled power down/up
Programmable idle disk spindown
Apache webserver (via installable module)
Backup
Scheduled Backup to USB and eSATA drives
Schedulable To/from rsync backup with optional encryption and compression
Apple Time Machine support
Client Backup: Acronis True Image (Windows); Thecus Backup Utility (Windows/Mac OS X)
ACL backup/restore
Schedulable DOM backup
Media
BitTorrent / HTTP / FTP download service w/ scheduling
iTunes server
UPnP AV / DLNA media server (via installable module – Twonkykmedia)
Picazza photo album (via installable module)
Video surveillance support (via installable module)
Mobile
Remote monitoring and admin app (Thecus Dashboard – iOS and Android)
File and media access app (ThecusShare – iOS and Android)
Features – more
I found a few changes in features, which I'll describe briefly. Data Guard was added in November, announced primarily as a remote backup solution. But it also handles backup to and from attached USB/eSATA drives and also internal folder-to-folder backup.
Despite the addition of Data Guard, attached backup throughput is still not one of Thecus' stronger features. I used it to perform my attached backup tests and wasn't impressed. I was only able to create one backup profile and could not rerun it. Throughput, as you'll see later, wasn't that impressive, either.
Data Burn was announced in May and is what you would expect from the name, i.e. support for saving data to CD, DVD, and Blu-ray discs. Thecus doesn't provide a list of supported drives. But the Samsung SE-S084 USB drive I attached was recognized.
I checked the supported module list using the Auto Module Installation admin menu and came up with modules shown below. Comparing against the most recent previous version of the list shown in the N6850 review, I found the HiSSH module removed, but still available from the N7150's module download page. You don't really need the module, however, since an SSH enable has been added to the Network Service menu. The SSH menu also lets you set the port number and enable support for SFTP, which clients like WinSCP support.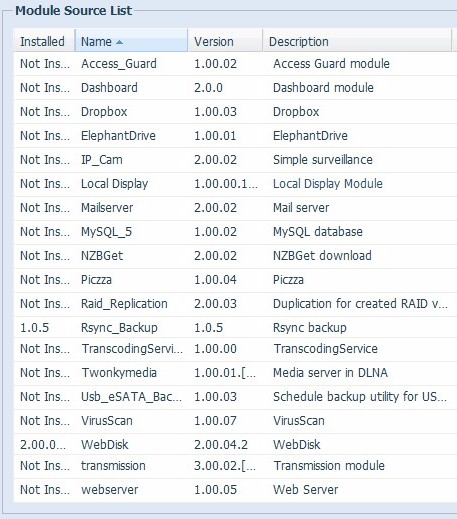 Thecus N7510 module list
New modules were Local Display (reviewed) and a Transcoding Service module. The latter supports Thecus' T-OnTheGo feature that allows file up/download and multimedia playback for iOS devices. I did not try this out. Note that you have to go to the download page to get and install the T-OnTheGo module that must be installed with the Transcoding service. Note also that Thecus does not specify the file formats that the transcoder supports.
The gallery below has screenshots of many of the features referenced above.
Data Guard can handle remote backup via rsync, local backup and Amazon S3 cloud backup
You can do full, folder and iSCSI folder backups
You can encrypt, but not compress backups
Connection information for S3 backup
Options for local backup. Not shown are iSCSI backup and import
Note you can backup folder to folder. The folders can be on multiple volumes for some measure of safety
This feature supports burning files to CD, DVD and Blu-ray drives. There is no list of supported drives, however
Some screenshots of the iPhone app.
Performance
I tested the N7510 with 2.03.08.cdv firmware, using our NAS test process with RAID 0, 5 and 10 volumes. As is our standard practice, four drives were configured in each volume type.
Windows File Copy tests show read throughput running 10 – 15 MB/s lower than write for all tested RAID modes. Highest write throughput measured was 107 MB/s for RAID 0 and highest read was 90 MB/s also in RAID 0.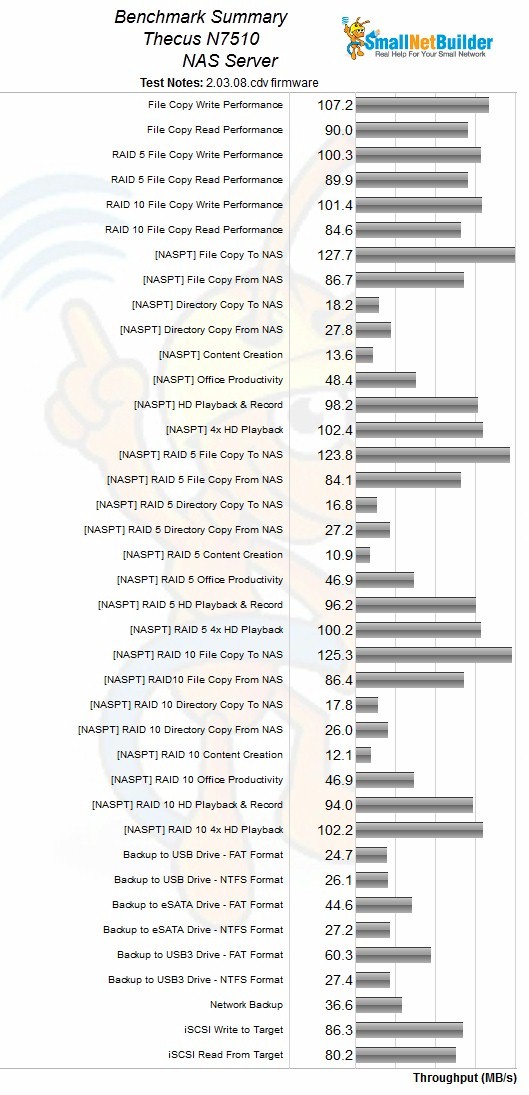 Thecus N7510 benchmark summary
As we have seen in other recent reviews, Intel NASPT File Copy results run about 20 MB/s higher for write and roughly the same for read. Highest write throughput of 128 MB/s was again in RAID 0; highest read was 86 MB/s in RAID 10. Keep in mind the maximum theoretical throughput with a Gigabit Ethernet connection is 126 MB/s. So results higher than that have some write cache effect baked in.
iSCSI performance of 86 MB/s for write rank the N7510 about mid-chart and 80 MB/s for read move it up into the top third of all NASes tested.
Attached backup tests were run with our standard Startech USB 3.0 eSATA to SATA Hard Drive Docking Station (SATDOCKU3SEF) containing a WD Velociraptor WD3000HLFS 300 GB drive. Best backup throughput of 60 MB/s was obtained using USB 3.0 and a FAT-formatted drive.
Network backup to a DeltaCopy target on our NAS Testbed system measured around 37 MB/s. For comparison, best network backup measured to date has been 44 MB/s with a NETGEAR ReadyNAS Pro 2.
Performance – Comparative
To put the 7510's performance in perspective, I created a set of custom performance charts using the NAS Finder to compare a group of D2700 Atom-based products with the N7510, i.e. Synology's DS1512+ and DS412+, QNAP's TS-569 Pro and Thecus' own N4800. I widened the group beyond seven-bay NASes, because only Thecus makes those.
The performance spread is relatively small among the group, with the widest range found in the Windows File copy benchmark. For both this and its NASPT equivalent, the N7510 landed at the bottom of the heap. This doesn't indicate a bad performer; just the weakest in a group of high performance NASes. Unless you were doing an awful lot of large file reads and paying close attention, I doubt you would be able to tell the difference in performance among this group.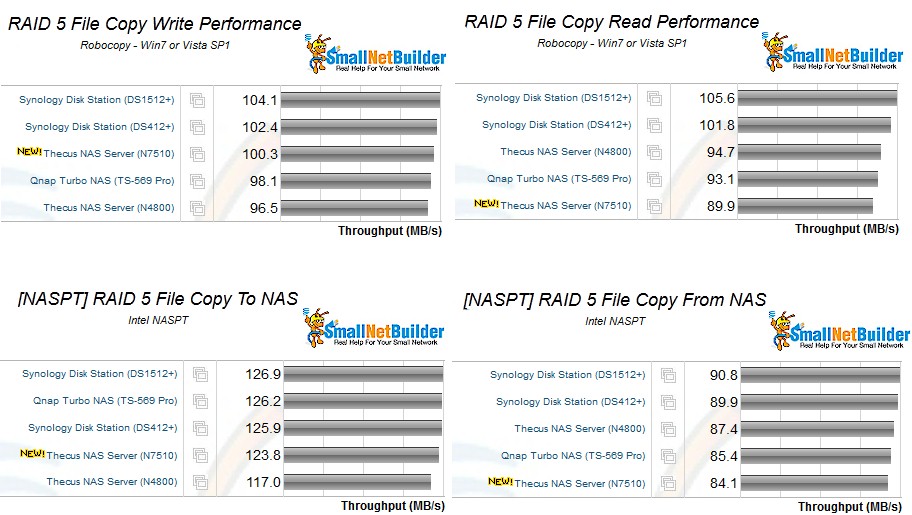 RAID 5 file copy performance comparison
Performance – Encryption
As I have been doing recently, I checked the performance hit for encryption. Thecus doesn't support folder-level encryption and doesn't allow you to encrypt an already-created volume. So I had to kill my RAID 5 volume and re-create it. Fortunately, Thecus' Quick RAID option took less than five minutes to create an AES-256 encrypted volume with four 1 TB drives.
I was surprised by the pop-up that said that the encrypted volume could not be created without inserting a USB flash drive. But when I restarted the system the next day, I saw the benefit with a log message that told me that the encrypted volume had automatically been remounted. This method would allow an administrator to control access to an encrypted volume simply by inserting and removing the flash drive vs. having to log in and check a box.
The results are summarized in Table 2 below and show the serious toll that encryption takes on performance.
| | Normal | Encrypt | % Diff |
| --- | --- | --- | --- |
| FileCopyToNAS | 123.75 | 22.36 | -82% |
| FileCopyFromNAS | 84.09 | 29.02 | -65% |
| DirectoryCopyToNAS | 16.81 | 16.01 | -5% |
| DirectoryCopyFromNAS | 27.16 | 17.01 | -37% |
| ContentCreation | 10.87 | 3.53 | -68% |
| OfficeProductivity | 46.88 | 38.89 | -17% |
| HDVideo_1Play_1Record | 96.23 | 31.72 | -67% |
| HDVideo_4Play | 100.21 | 23.82 | -76% |
| | | | |
| Win File Copy Write | 100.28 | 15.68 | -84% |
| Win File Copy Read | 89.88 | 30.72 | -66% |
Table 2: Encrypted folder performance comparison
Use the NAS Charts to further explore and compare the N7510's performance
Closing Thoughts
Thecus is marketing the N7510 as "The World's 1st High-Value 7-bay NAS". Although its performance is pretty good, I don't see the "high" value. According to Pricegrabber, the 7510's pricing currently ranges from $722 to $903. The next step up in 7 bay NASes is the Intel Core 2 Duo powered N7700PRO that sells for between $789 and $1042.
Since the 7700PRO was tested with my previous process, I don't have any data to directly compare. But unless Thecus has really screwed up, it should perform better or equal to the 7510, comes with twice as much RAM and supports an optional 10 GbE adapter. I'd say either one is a pretty good value in a seven-bay NAS.
Buy NAS Server from Amazon