At a glance
Product
NETGEAR ReadyNAS 516 (RN51661E) [Website]
Summary
Six bay Intel Core i3-3220 NAS with revamped OS based on BTRFS with built-in antivirus
Pros
• Built-in antivirus
• Unlimited volume snapshots
• Expandable
• Cloud based replication, access, drop folder
Cons
• Some features not carried into new OS or require Genie Marketplace signup
• No 10 GbE option
Typical Price: $0 Buy From Amazon
Introduction
Updated 9/9/13: Disk tray.
We're wrapping up our coverage of NETGEAR's new ReadyNASes with its top-of-line ReadyNAS 516. (If you're interested in the 516's less-expensive siblings, check the RN104 and RN300 series reviews.)
You can think of the RN516 as a more powerful (and expensive) version of the Intel Atom powered RN316. The spec comparison chart below shows the key differences betwen the two are more memory (4 GB ECC vs. 2 GB) and a more powerful CPU (Intel i3-3220 vs. D2700 Atom). The RN516 is the only new ReadyNAS that is i3 based; there are no two or four-bay versions available.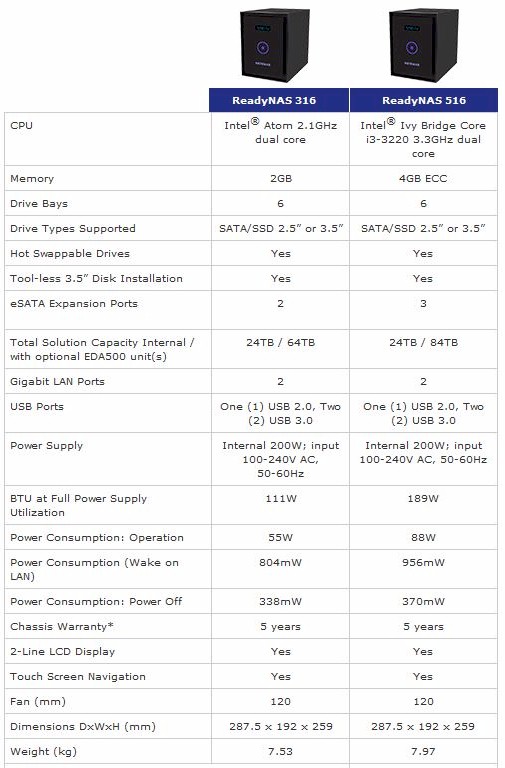 ReadyNAS 316 & 516 spec comparison
The RN516's front panel has the same display and touchpad on its swing-away cover and power switch behind it as the 316. The lone USB 2.0 port is tucked under the bottom edge of said cover so can be reached without swinging it open. You can't lock the front cover shut and the drive trays have just a little slider to "lock" them into place.
Speaking of the drive trays, they are not the tool-less trays found in the RN100 and RN300 models. I guess if you can't use a screwdriver to secure your drives to their trays, you shouldn't be spending over $1000 on a NAS anyway.
Updated 9/9/13
NETGEAR told me that the RN516 does have the tool-less trays found in the RN100's and RN300's, and, upon recheck, they sure enough do. My confusion stemmed from NETGEAR's belt-and-suspenders approach of screwing the drives into the trays anyway on diskful models.
The 516's rear panel is a tad different, sporting and additional eSATA port and what appears to be an expansion card slot blocked by a blank removable panel. Otherwise the port complement of one USB 2.0, two USB 3.0 and dual Gigabit Ethernet ports is the same.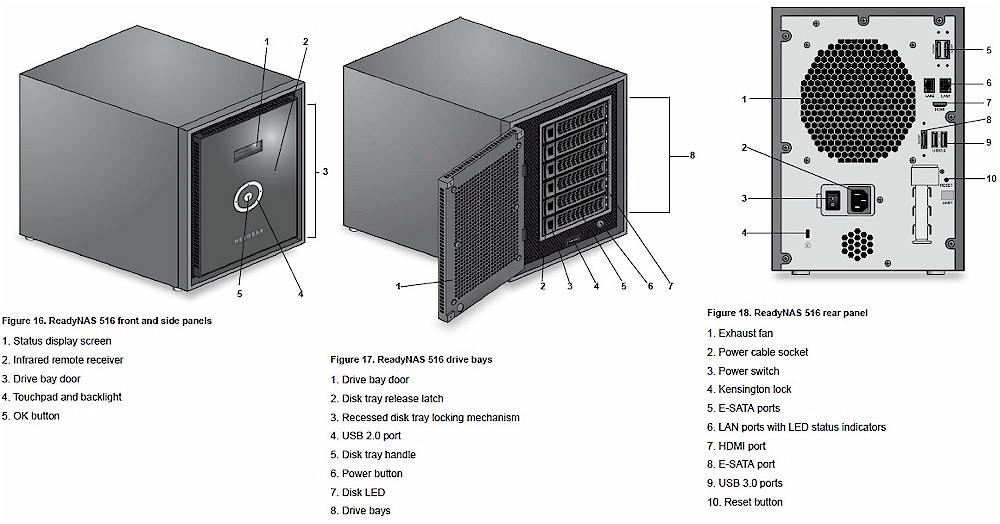 NETGEAR RN516 Front and rear panel callouts
Inside
The RN516 is designed for easy serviceability. But even to replace the single 120mm case fan, you first need to remove its matte black metal cover. The shot below shows the rear panel removed after unplugging the fan and AC power cables.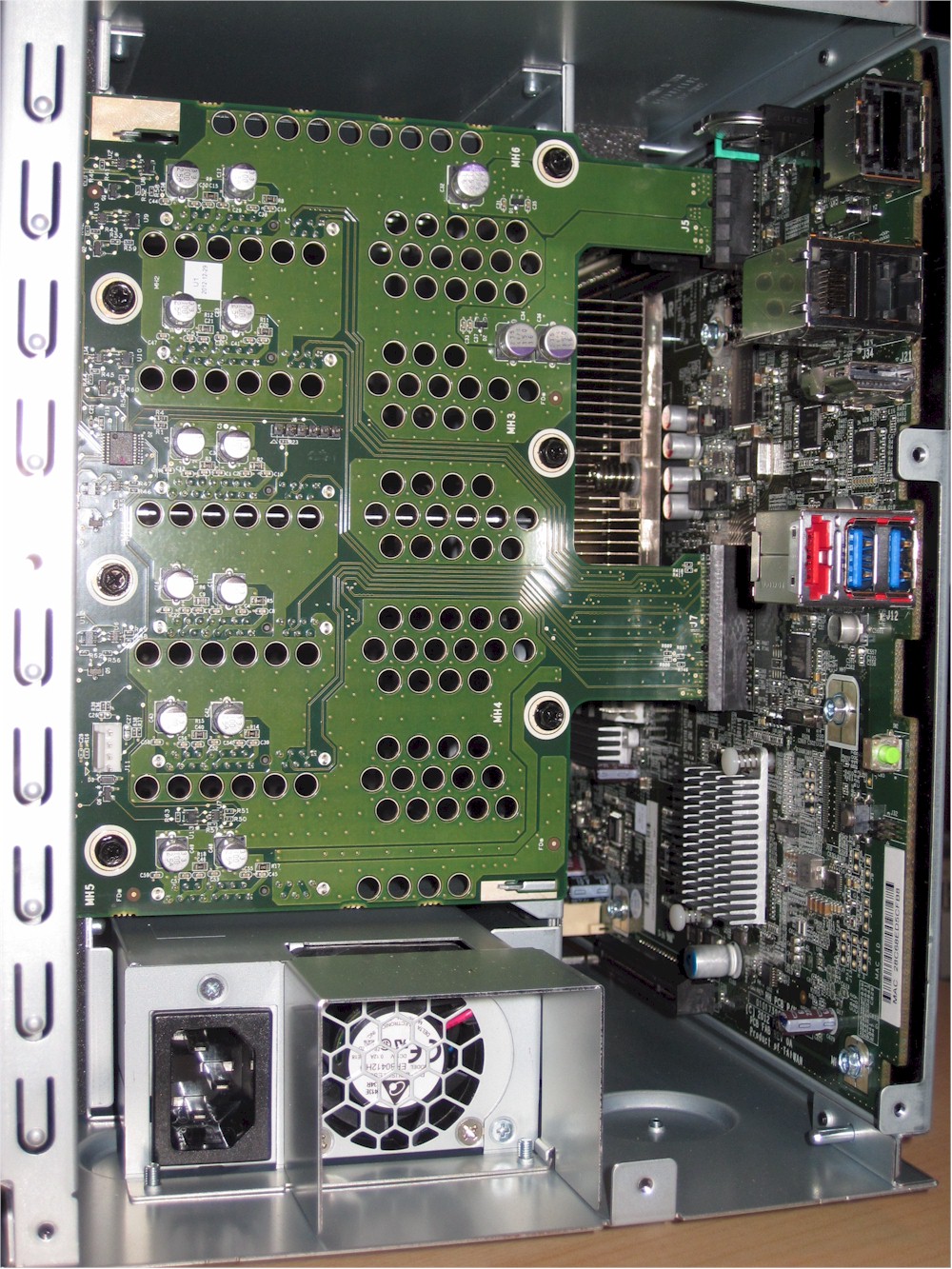 NETGEAR ReadyNAS RN516 inside rear view
Removing four more screws lets you swing down the metal plate holding the main board, which is attached by four cables in addition to the two edge connectors that bring SATA lines to the six bay drive backplane.
The i3 lies under the big ol' heatsink and its companion device under the smaller heatsink to its left. I didn't go exploring under the smaller narrow heatsink right above the i3. I suspect it cools power circuitry, judging from the components near it.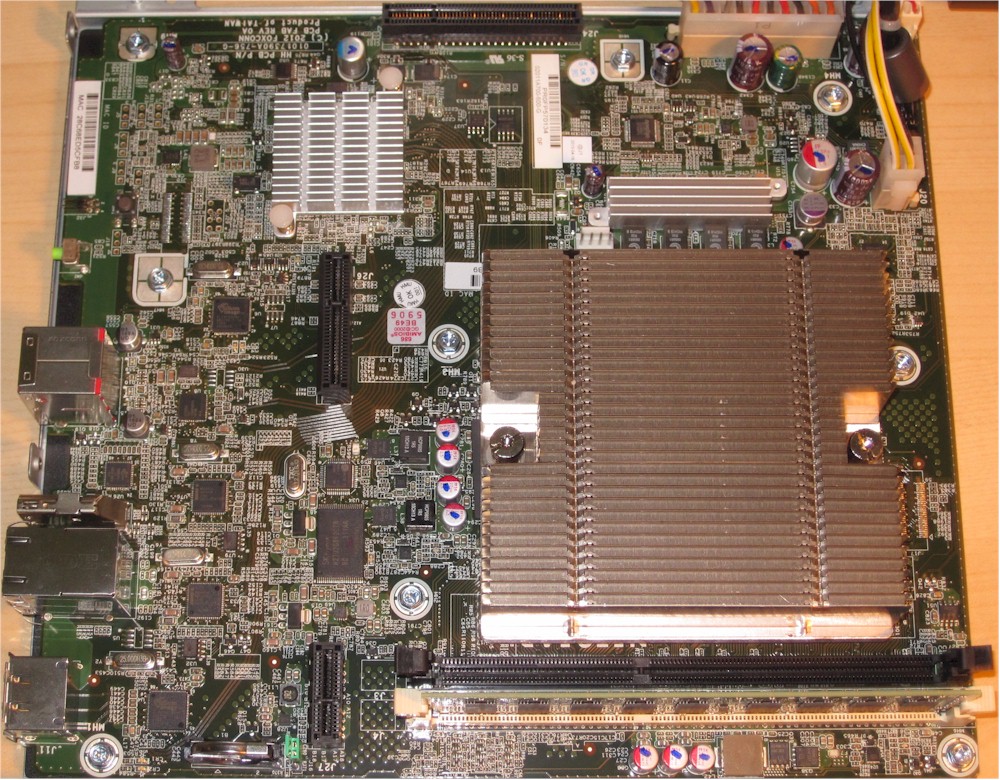 NETGEAR ReadyNAS RN516 board
That black connector at the top of the photo appears to be a PCIe x4 slot. But if it is intended to house optional 10 GbE or additional Gigabit Ethernet ports at some point, a right-angle adapter will be needed to properly line the board and slot up. Right now, neither is listed as an available option. NETGEAR also doesn't say whether memory can be expanded by using that empty DIMM slot.
The key components are summarized in Table 1 with the RN316's for comparison.
| Component | RN516 | RN316 |
| --- | --- | --- |
| CPU | Intel 3.3GHz Core i3-3220 | Intel D2700 Atom @ 2.13 GHz |
| RAM | 4 GB ECC DIMM | 2 GB DDR3 |
| Flash | 128 MB + 128 KB | 4 MB |
| Ethernet | Intel WG82574L (x2) | Intel WG82574L (x2) |
| SATA | Silicon Image Sil3132 2 port 3.0 Gb/s SATA host controller (x2) | N/A |
| USB 3.0 | NEC D720202 USB 3.0 controller | NEC D720202 |
| HDMI | Parade PS8171 HDMI/DVI Level Shifter | Parade PS8171 |
Table 1: Key component summary and comparison
NETGEAR supplied an RN51661E diskful model for review with six "enterprise grade" Toshiba MK1002TSKB 1 TB drives. Power consumption measured 53 W with the six drives spun up. I couldn't measure power consumption with the drives spun down because idle drive spindown still isn't supported yet.
Fan and drive noise were classified as medium since the NAS was clearly audible in my quiet home office. I noticed that fan speed occasionally increased under load during testing. Fans also come on with a roar during initial boot.
Features
See the RN104 review and Craig's in-depth look at OS6. The feature set is the same across all ReadyNASes that support OS6.
Performance
Firmware at test time was OS 6.1.1. I ran our standard NAS test process on RAID 0, 5 and 10 four-drive volumes. The Benchmark Summary below shows pretty consistent 100 MB/s-ish Windows File Copy write and read performance for RAID 0, 5 and 10 modes.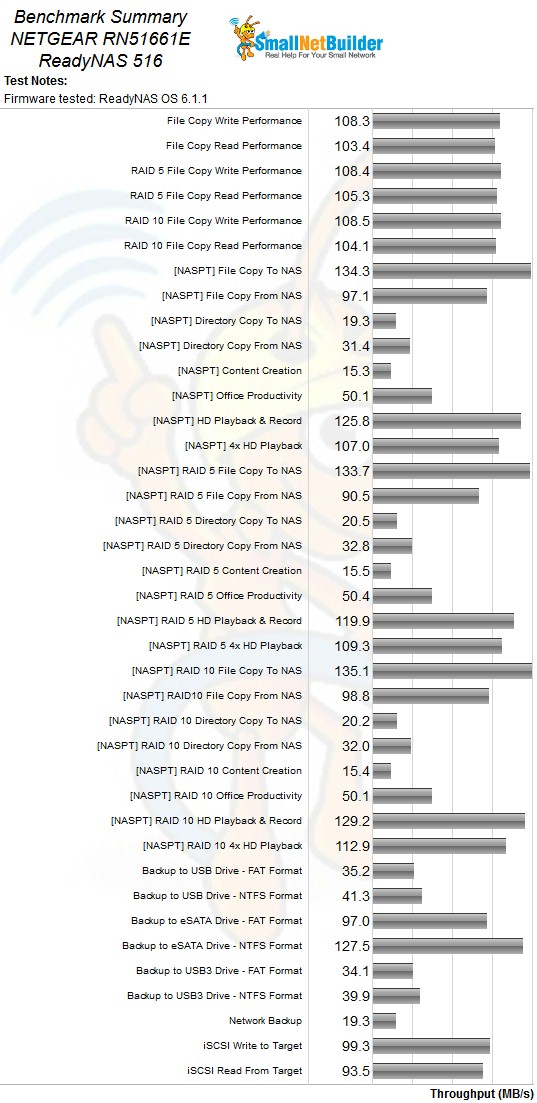 NETGEAR RN516 Benchmark Summary
NASPT File copy writes pretty much bump up against the limits of the single Gigabit Ethernet connection in our testbed, with all showing some write caching in their > 125 MB/s results. NASPT File copy reads run about 35 MB/s lower than writes for all three volume types tested.
iSCSI target write and read performance to target created on a RAID 5 volume ranks right up with other NASes with general purpose dual-core processors with 99 MB/s write and 94 MB/s read.
Your best option for attached backup looks like eSATA with an NTFS formatted drive, which completed the test with a chart-topping 128 MB/s rate.
Performance – Ranking
The RN516 is classed as uP-2 in the NAS Ranker (dual-core general-purpose CPU) and it's easy to find since it occupies the #1 spot.
With such a high ranking, it's tough to pick out the 516's weaknesses. Lowest ranking (#5) is for the NASPT Video Playback tests and RAID 5 File Copy reads for both Windows and NASPT benchmarks rank at #4. But these are mere quibbles. Looking at the results as a whole, the RN516 is a top performer that manages to hold its own even against some quad-core competitors like Thecus' N10850 Top Tower.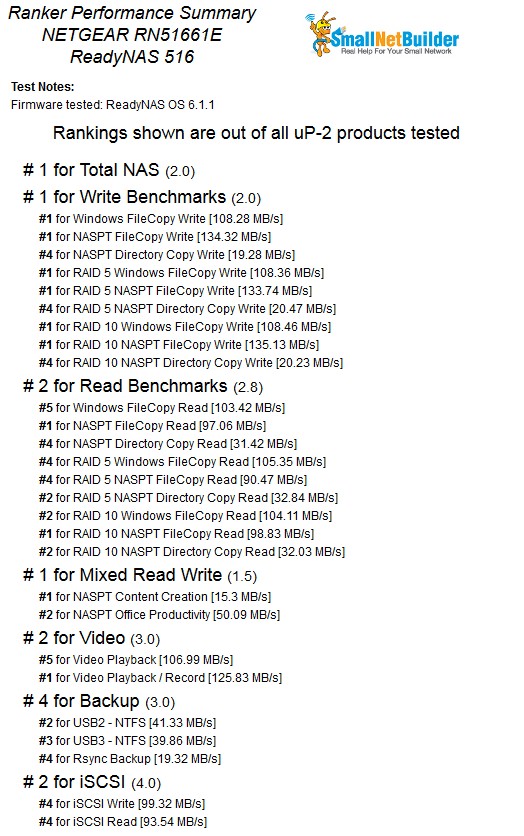 NAS Ranker Performance summary NETGEAR RN516
Closing Thoughts
NETGEAR has produced a top-performing NAS with its ReadyNAS 516, but with one key weakness. Its performance cries out for a 10 GbE option, which it currently doesn't have and which NETGEAR has given no sign of having anytime soon. If you need 10 GbE, your alternative is one of Thecus' Top Towers, which come in six, eight and ten bay flavors. If you'd rather go with aggregated Gigabit ports, the Synology DS1513+ and DS1813+ have four of them, which beat the 516's two.
If expandability is your concern, NETGEAR has you covered with its EDA500 five-bay expansion chassis, of which the 516 can handle three, one more than the aforementioned Synologies. You'll get no price advantage for NETGEAR's expansion box, though. At a bit under $500 if you shop carefully, NETGEAR is going for parity pricing with Synology's DX513 five-bay expander.
Buy ReadyNAS 516 from Amazon