Introduction
Updated 4/2/2012: Added WD 2go review link
At a glance
Product
Western Digital My Book Live Duo (WDBVHT0040JCH) [Website]
Summary
Dual drive My Book NAS based on 800 MHz Applied Micro APM82181 w/ much improved remote access.
Pros
• Freshened interface
• Easy peasy remote access
• Apple Time Machine backup
• NAS snapshot backups
Cons
• All-or-nothing for NAS backup
• Confusing RAID 1 fail recovery indicators
Typical Price: $388 Buy From Amazon
I have to thank a reader for suggesting I review WD's dual-bay version of its top-selling (at least according to Amazon and Pricegrabber rankings) consumer NAS. I missed the announcement in January amid the flurry of other CES news. But a request to WD's crack PR team brought one to the SNB lab, stat!
The Duo looks like a double-wide version of its single-drive sibling that I reviewed back in fall 2010, coming clothed in the same subdued matte charcoal grey plastic shell. Like its thinner cousin, the Duo's front panel carries only a lone, tiny light that changes colors and blinks depending on what it is trying to tell you (Figure 1).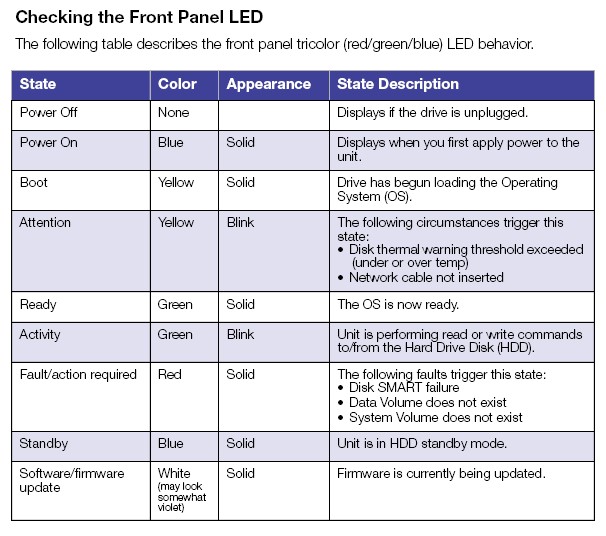 Figure 1: WD My Book Live Duo LED codes
Figure 2 shows the rear of the Live Duo, which differs from the Live single in having a USB 2.0 port. You can attach USB drives here for sharing or backup, but no printers are allowed.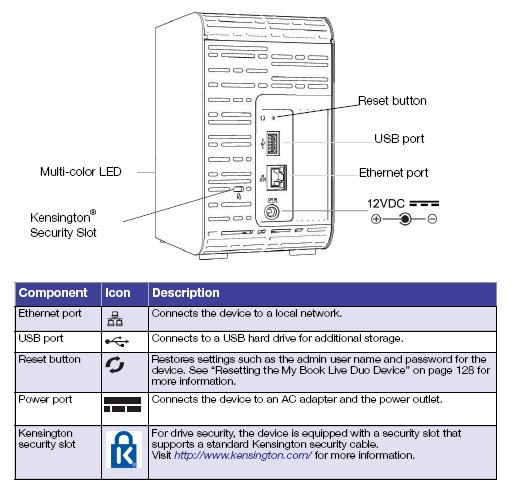 Figure 2: WD My Book Live Duo rear panel
Inside
I was able to slip off the Duo's plastic covers and get to its inner metal card cage where the processor board sits in the space between the two drives. The cage's fiendishly clever design (at least to me) resisted my attempts to get it apart, so I was only able to get the angled shot of the board shown in Figure 3.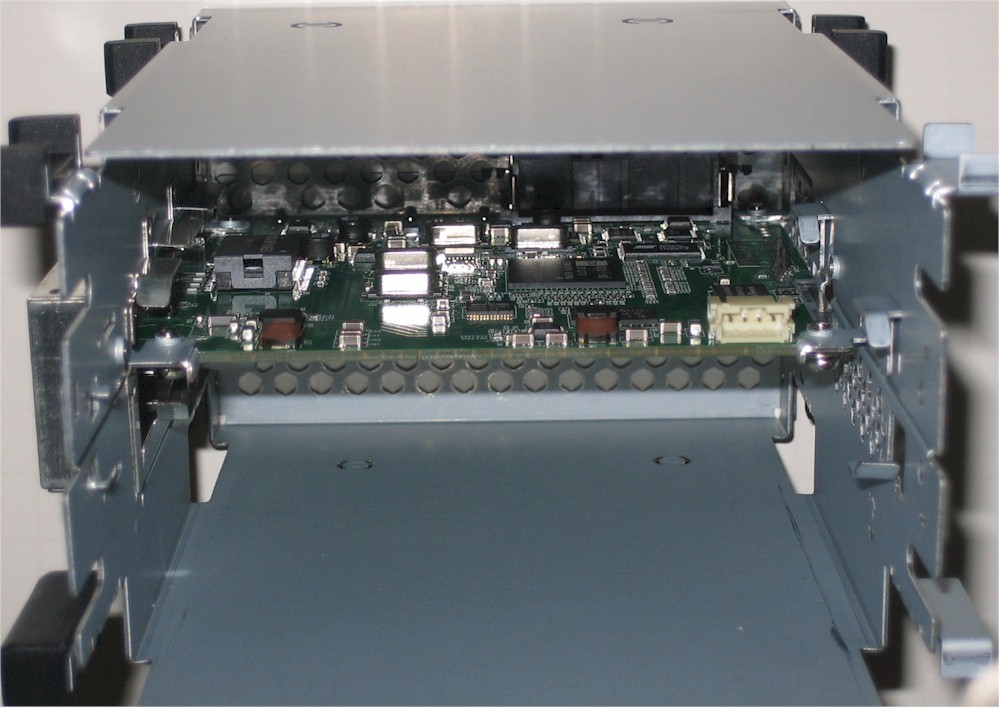 Figure 3: WD My Book Live inside
Fortunately, the Support > System Report feature generates and saves a full set of logs right to your desktop. So I was able to comb through the Linux dmesg log to figure out the key components. It turns out that the design is essentially the same as the Live, even though the board is different.
The only difference I can discern is that WD says that the Live Duo uses an 800 MHz processor vs. the 1 GHz Applied Micro APM82181 I found on the Live. RAM complement is the same at 256 MB and so is flash at 512 KB. A single Broadcom BCM54610 provides the Gigabit Ethernet LAN port, which doesn't support jumbo frames.
WD has switched from the Caviar Green drive in the Live to two WD AV-GP (WD20EURS) 2 TB drives in the 4 TB WDBACG0020HCH model sent for review. The Duo draws only 14 W when active and 5 W when drive spindown occurs after the Energy Save mode kicks in, which is programmable from 10 to 60 minutes in 10 minute increments. There is no fan, so the Duo runs very quietly.
Features
The My Book Live's original feature set was trimmed down a bit to better suit its target consumer buyer. You won't find printer sharing, Windows Domain / AD support, USB drive copy or jumbo frame controls. You do get the following, however:
SMB/CIFS network filesystems
AFP ( for Apple Time Machine)
NFS (only to default Public mount)
FTP server
Snapshot ("safepoint") backup
SmartWare for Windows bundled client backup application, unlimited licenses
User level permissions (no groups, no quotas)
HTTP web administration (no HTTPS)
iTunes and UPnP AV / DLNA server
Email alerts (w/ built-in SMTP service for no-hassle setup)
Remote access to shares via WD2go cloud service
WD Photos iOS photo viewer app (requires WD 2go service)
The Duo has the same AJAX-based sliding panel interface seen last year in the single-drive Live (Figure 4). But there are a few changes for the Duo.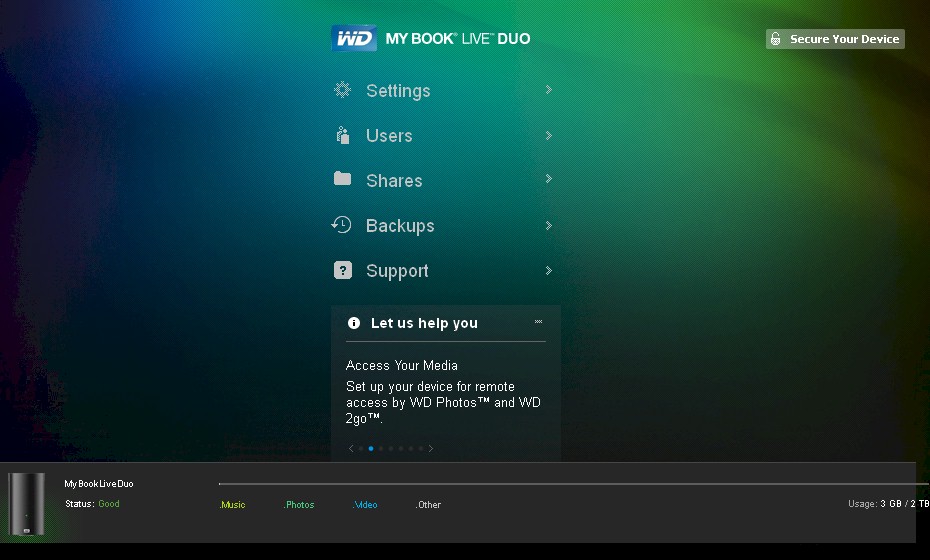 Figure 4: WD My Book Live Duo admin home page
First up is that PacketVideo's TwonkyMedia server has been replaced by a DLNA Media Server (Figure 5). I can't tell from the process list what exactly has taken TwonkyMedia's place. Perhaps someone with better skills can take a look and let me know. The iTunes server is still there, with the only controls being an Enable and Rescan button.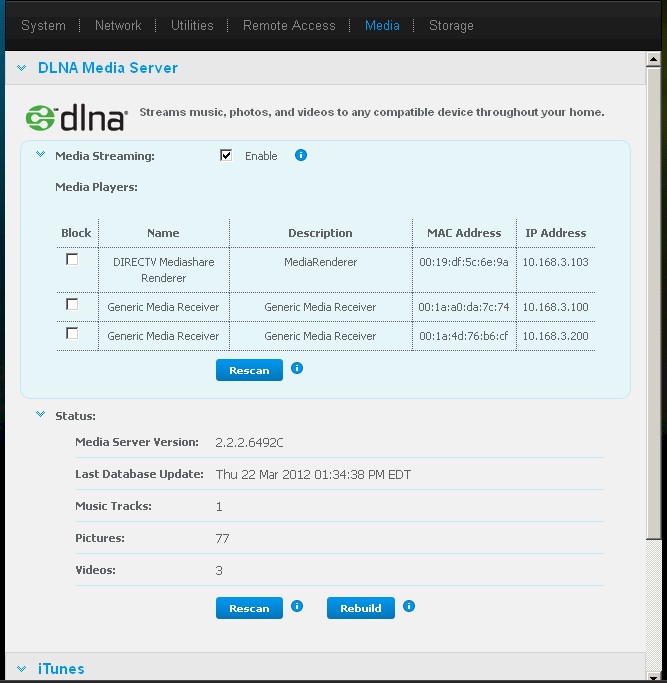 Figure 5: New media server
Of course, with two drives comes a new Storage menu (Figure 6). I plugged in a WD My Book 3.0 to the USB 2.0 port to see what would be displayed.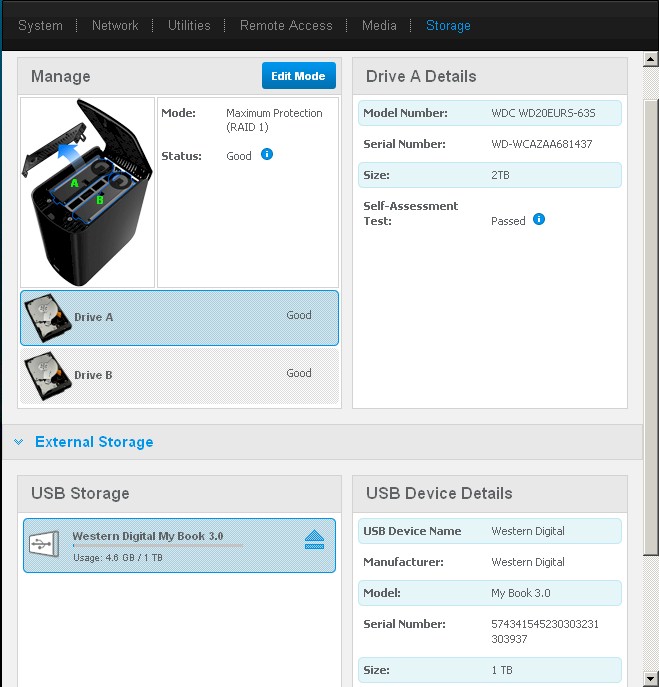 Figure 6: Storage menu
WD has finally replaced its clunky pay-for-most-features MioNet remote access feature with a new WD2go cloud service. I cover that separately in this SmallCloudBuilder review. If you're in a hurry, I'll just say that WD2go is a huge improvement over MioNet!
The other big addition for the Duo is its new "safepoint" backup feature. Safepoints are whole-drive snapshot backups that can be taken on-demand or scheduled. Once taken, safepoints can then be incrementally updated manually or automatically daily, weekly or monthly. Figure 7 shows that safepoint targets can be any network share. You can also store safepoints on an attached USB drive.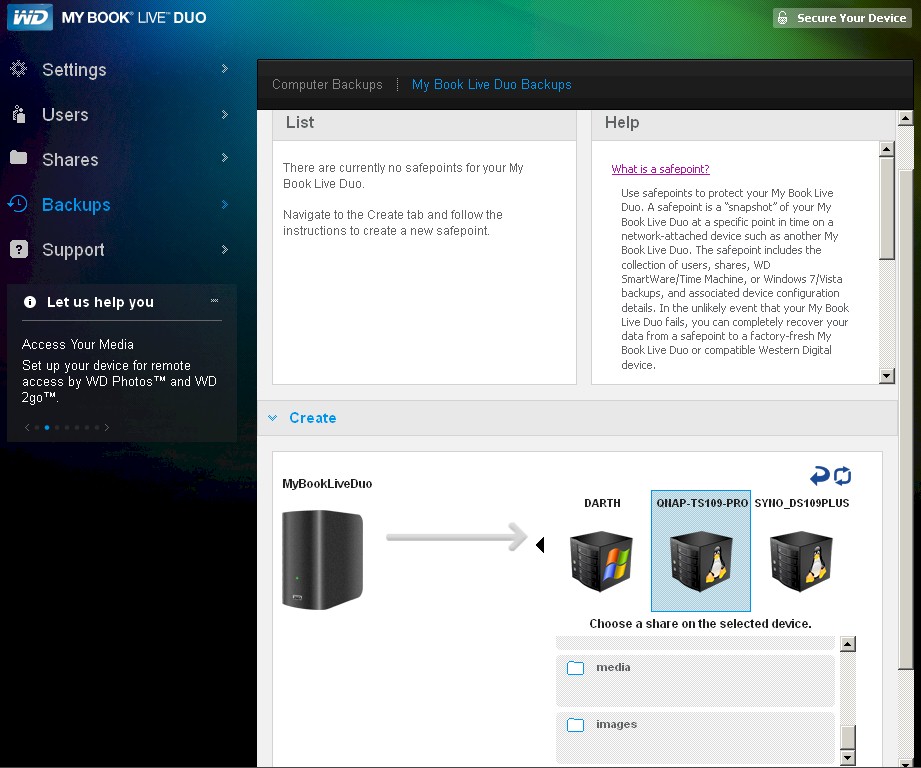 Figure 7: Duo Safepoint Backup
I uploaded a few hundred MB of data to the Duo's Public folder, then ran a safepoint backup to a share on my QNAP NAS. After the backup completed in a minute or so, I browsed to the safepoint folder (Figure 8) and was pleased to see that files were stored in their original format.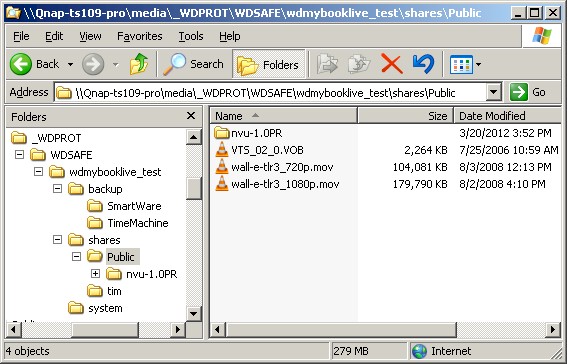 Figure 8: Safepiont backukp files
I've put more screenshots of the Live Duo's interface in the gallery, so feel free to browse through.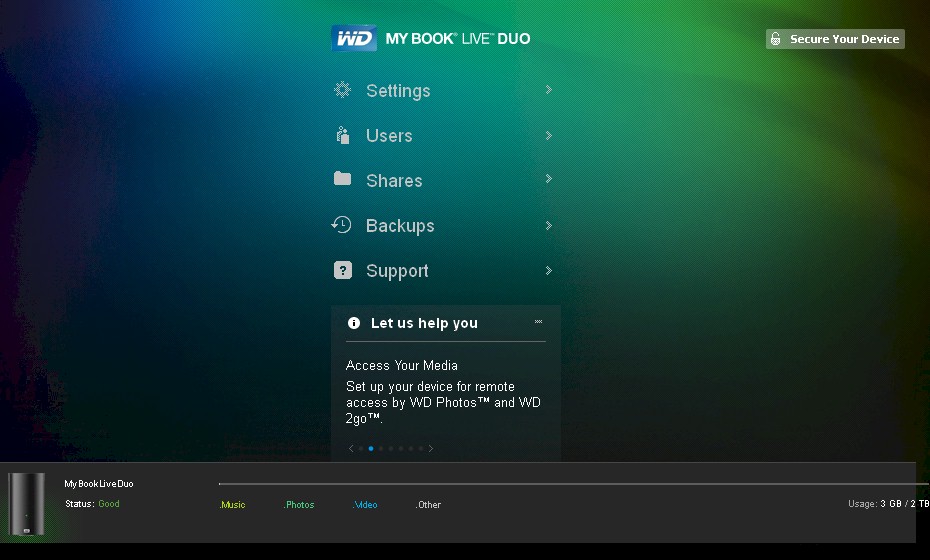 Web admin landing page
System level options
More system level options. Email alert setup was very easy and messages were delivered reliably.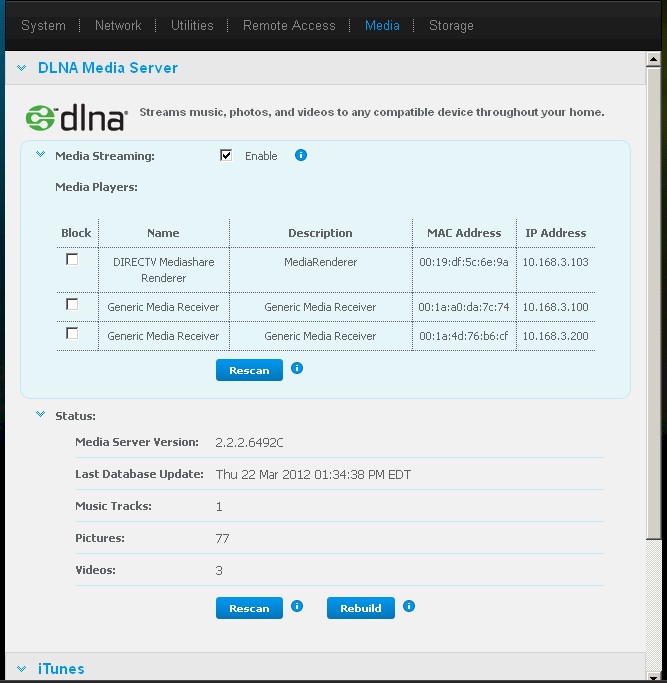 Controls for the DLNA and iTunes servers
Remote access via WD2go is easy to configure.
You can also configure browser access to your files
Users can be assigned to shares when created. But quotas and group assignment is not available
Share creation includes user access, but not group assignments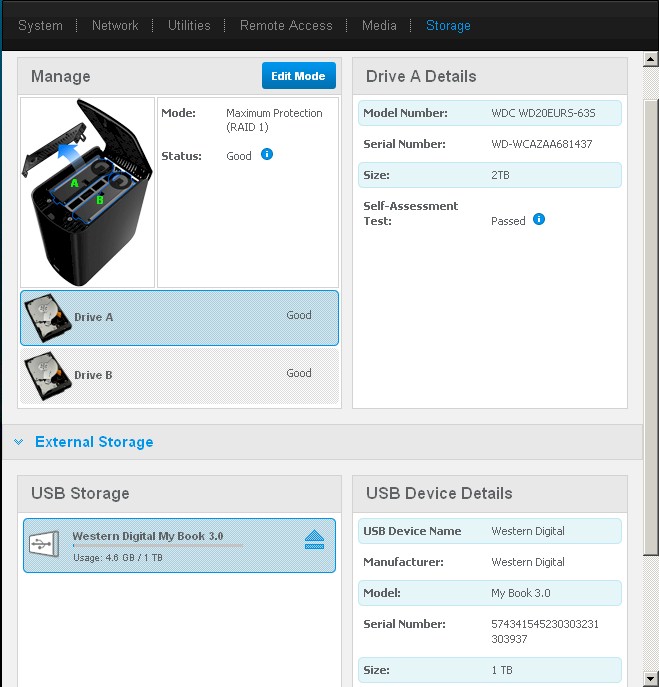 Storage menu shows internal and USB drive status
Drive configuration options are Span and RAID 1. You lose all data when changing modes. You can't configure each drive as a separate volume.
Some info on NFS mounting. Public shares only can be accessed.
Performance
The Live Duo was tested with 02.30.19-277 firmware using our standard NAS test process. Tests were run in both Span and RAID 1 modes and are included in the benchmark summary for the Live Duo shown in Figure 9.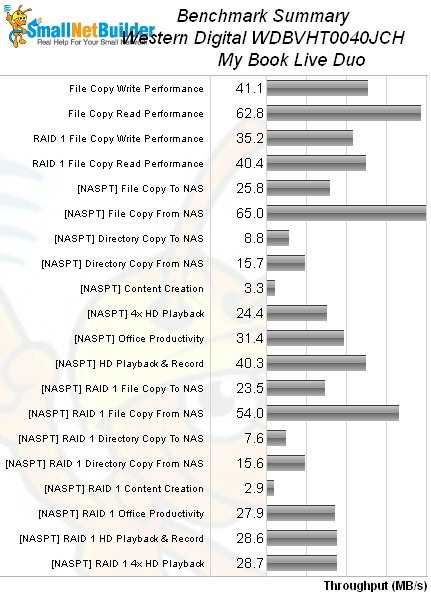 Figure 9: My Book Live Duo Benchmark summary
Windows File Copy writes measured 41 MB/s for span mode and a slightly-lower 35 MB/s for RAID 1. The same pattern was followed in the read results, yielding 63 MB/s for span and 40 MB/s for RAID 1.
Intel NASPT File Copy write was significantly lower for both span and RAID 1, coming in at 26 MB/s and 24 MB/s respectively. Read results were a bit mixed—65 MB/s for span (about the same as Windows File copy) and 54 MB/s for RAID1 (about 10 MB/s higher).
To see how the Live Duo fares against other dual-drive NASes, check the RAID 1 Write (Figure 10) and Read (Figure 11) File copy charts. The only other Applied Micro-powered NAS is the single-drive Live, which isn't shown. But the Live Duo's RAID 1 write performance compares most closely to Buffalo's LinkStation Pro Duo LS-WVL, which is powered by a 1.6 GHz Marvell 88F6282 Kirkwood SoC.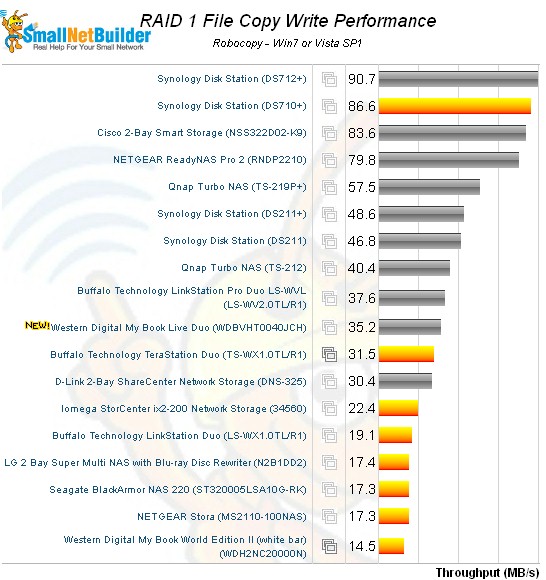 Figure 8: My Book Live Duo File Copy performance comparison – R1 write
For RAID 1 read, Marvell Kirkwood series processors again power the closest comparables, LG's N2B1DD2 and Iomega's ix2-200.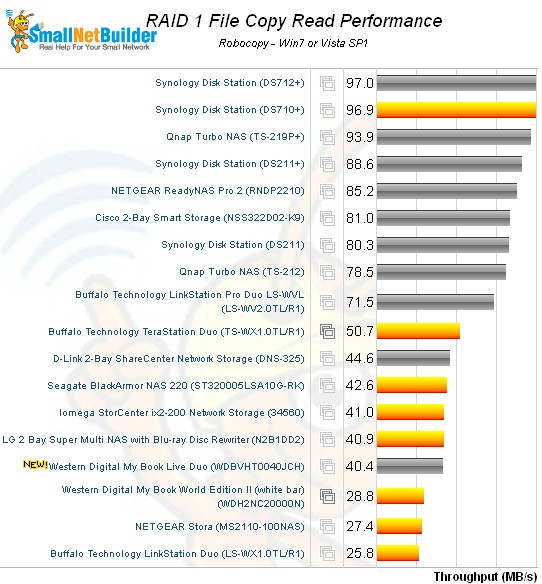 Figure 9: My Book Live Duo File Copy performance comparison – R1 read
If you're interested in how single drive Live compares to the Duo, file copy writes (span mode for the Duo) are close at 43 and 41 MB/s and further apart at 78 and 63 MB/s for the Live and Live Duo, respectively.
Use the NAS Charts to further explore performance.
Drive Pull Test
As is our practice with new NASes, I performed a drive pull test on the Live Duo in RAID 1 configuration. Note that the default Span mode offers no data protection; if a drive fails you lose the volume.
I started a large folder file copy, let it run for awhile, then pulled the A drive. The file copy paused almost immediately for about 40 seconds then resumed. The first fail indicator was the tiny front panel light blinking yellow. Upon logging into the admin interface, the indications in Figure 10 appeared.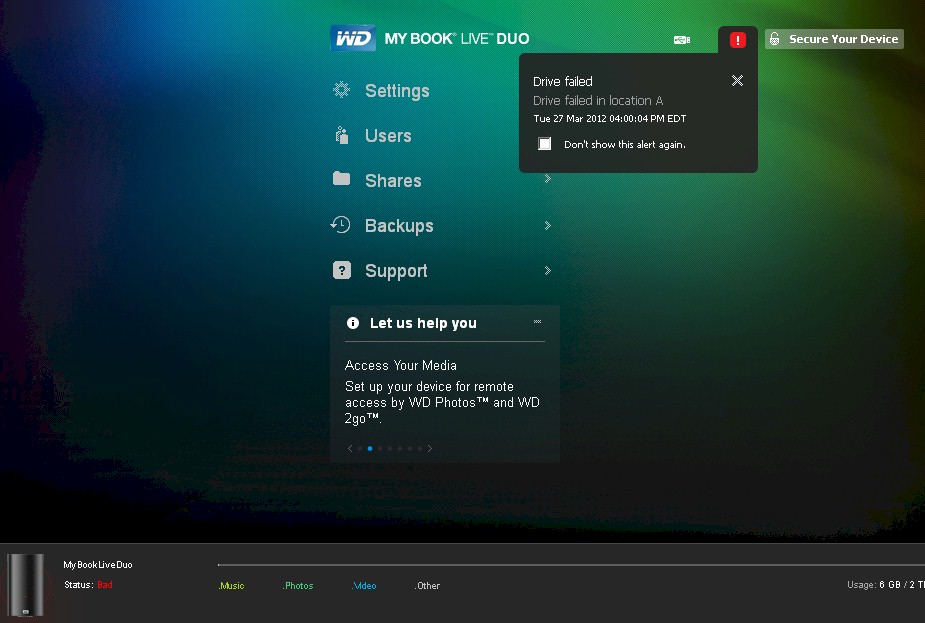 Figure 10: Login drive fail indicators
Browsing to the storage page revealed additional failure indications shown in Figure 11. And finally, an alert email arrived a few minutes after the drive was pulled.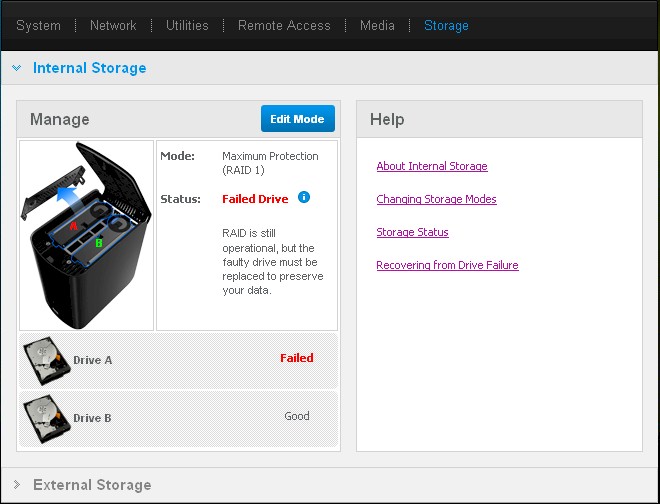 Figure 11: Internal Storage page drive fail indicators
For recovery, as per instructions in the user manual, I first powered down the NAS, reinserted the drive, then powered back up. When I logged in after boot was complete, I found my data intact. But there was confusing information presented in the user interface. The little icon in the lower left of the admin screen had a green halo, but showed Status:Bad. Navigating to the Internal Storage page shown in Figure 10 still showed Drive A as failed and there was no alert / event shown at the top of the page.
But after a few minutes of revisiting the drive storage and home pages, I returned to the Internal Storage page and found Status had changed to Good. But the front panel light was still blinking yellow. A reboot eventually caused the little icon to change to Status:Good. But despite a complete shutdown, including a power cable pull, I was not able to get the front panel light to stop blinking. I also never received any indication via email alert that recovery had finished or even started.
So the good news is that it looks like automatic recovery ran ok. But given the confusing indicators, the average consumer will be in for a scary ride when a drive goes bad. Looks like WD has some work to do here.
Closing Thoughts
If you like the features and price of the single-drive My Book Live, you'll like the Duo even more. In addition to a second drive that brings either more capacity in span mode or a bit more piece of mind with RAID 1 mirroring (which is no substitute for backup), you get whole-NAS backups to either an attached USB drive or any networked share. And the much-improved WD2go cloud-based remote access [reviewed here] is a nice plus, which is also available on the original Live via firmware update.
As usual, WD is aggressive on price, beating the comparable 4 TB Buffalo LinkStation Pro Duo by about $60. So in all, the WD My Book Live Duo is sure to provide attractively-priced, midrange performance networked storage with easy-to-use remote access for many value-focused buyers.
Buy My Book Live Duo from Amazon