At a glance
Product
Western Digital My Cloud EX4 (WDBWWD0080KBK) [Website]
Summary
Four-drive home NAS with personal cloud, media serving & business features
Pros
• USB 3.0
• Easy remote access without port forwarding
• 10 licenses for Smartware Pro backup software
• Apple Time Machine backup
Cons
• Under-powered for business use
• Can't schedule attached backups
• No logging
Typical Price: $0 Buy From Amazon
Introduction
Updated 12/10/13: Various corrections from WD
I'll confess up front that I'm a fan of WD's efforts to make NAS remote access easy enough that anyone can set it up. I use the precursor to WD's single-drive My Cloud—the My Book Live—as part of my personal storage system. If you read the review, keep in mind that the feature set with current firmware is more like the single-drive My Cloud than what's described in the review.
WD apparently is a fan of its own work too; enough to expand the My Cloud line to include the four-bay My Cloud EX4 that is the focus of this review.
The EX4 follows the design path taken by many other NAS makers by including features intended to make it attractive to both consumer and business buyers. But, as you'll see later, it's really too underpowered to make it suitable for only the most basic small-business use.
The callout diagram below shows the EX4's key physical features. These include dual USB 3.0, Gigabit Ethernet and DC power input ports.
You get only one DC supply in the box, but you can buy a second one if you want redundancy. (For the DIYers out there, the supply is an Asian Power Devices DA-90C19 laptop power supply with 19V, 4.7A D.C. out and 100 – 240VAC input.)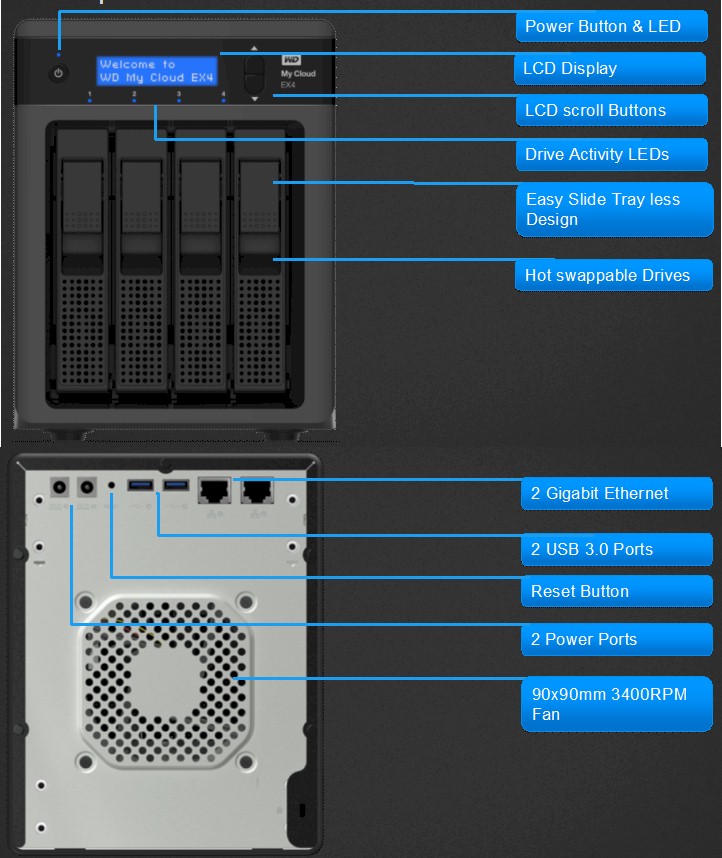 WD My Cloud EX4 feature callouts
It's nice that the EX4 has an LCD status screen, but it doesn't have a buzzer to sound audible alerts. The four drive bays accept raw 3.5" SATA drives from this fairly small compatibility list. The drives don't need trays; they're guided and held in place by a simple, but effective tool-and-tray-less design.
WD provided the WDBWWD0080KBK 8 TB model for review. But the EX4 is also available in 12 TB, 16 TB and diskless configurations.
Inside
The EX4 is designed around a Marvell 88F6282A1 Kirkwood SoC clocked at 2.0 GHz. There is also 512 MB of DDR3 RAM and 256 MB of Samsung flash. The extra SATA ports not provided by the Kirkwood SoC come from a Marvell 88SX7042 PCI-e 4-port SATA-II controller.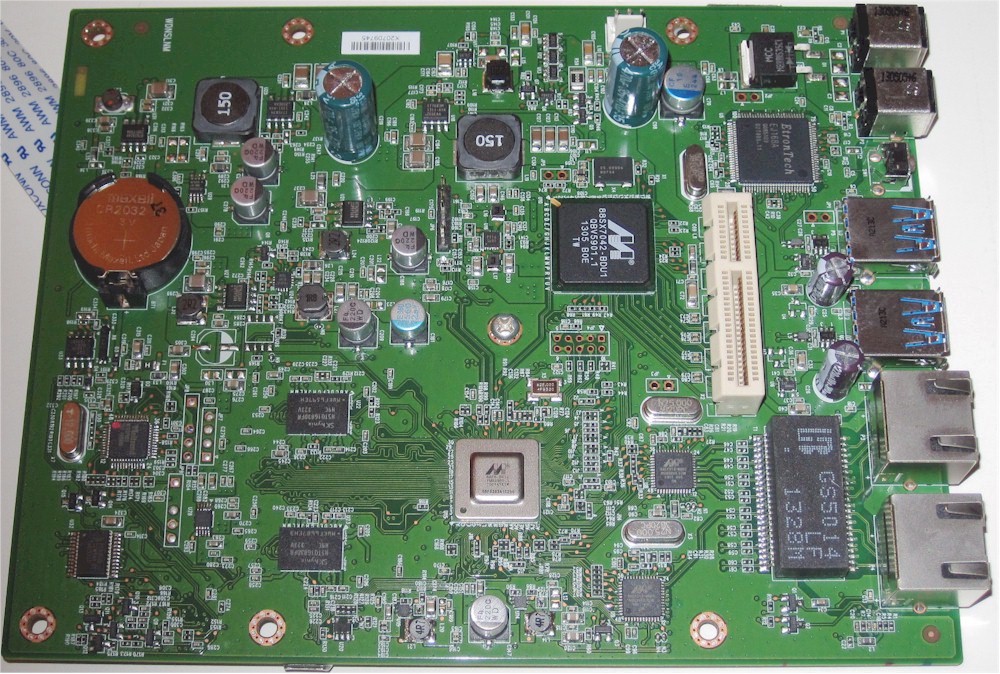 WD My Cloud EX4 board
Note that two of the four Hynix H5TQ1G83DFR RAM and the Samsung K9F2G08U0C flash devices are on the other side of the board. There is also no beeper / buzzer for audible warnings. The Kirkwood SoC has no heatsink or other thermal relief on it. All this and a few other components are summarized in the table below alongside the summary for the single-bay My Cloud.
| | My Cloud EX4 | My Cloud |
| --- | --- | --- |
| CPU | Marvell Kirkwood 88F6282A1 @ 2.0 GHz (single-core) | Mindspeed Comcerto 2000 (M86261G-12) dual-core ARM @ 650 MHz |
| RAM | 512 MB DDR3 | 256 MB DDR3 |
| Flash | 256 MB | 512 MB |
| Ethernet | Marvell 88E1518-NNB2 (x2) | Broadcom BCM54612E |
| SATA | Marvell 88SX7042 PCI-e 4-port SATA-II controller | In Comcerto SoC |
| USB 3.0 | Etron Tech EJ168A | In Comcerto SoC |
Table 2: Key component summary and comparison
The 8 TB model we were provided for review had four WD Red 2 TB (WD20EFRX) drives loaded. The system drew 24 W with all drives spun up and 14 W when the non-programmable idle drive timeout kicked in. System noise was judged to be Medium Low with mostly drive noise audible in our quiet home office.
Features
Updated 12/10/13
The EX4 supports most all the features of the single-bay My Cloud, which Craig covered pretty well in his review. So I'm just providing our customary feature bullet-lists below.
Features common to My Cloud / My Cloud EX4:
SMB/CIFS network filesystems
AFP ( for Apple Time Machine)
NFS (only to default Public mount)
FTP server
Apple Time Machine target
UPnP Certified AV/DLNA 1.5 Media Server (Twonky 7)
iTunes Server
SmartWare for Windows bundled client backup application, unlimited licenses (local network). 3 licenses for SmartWare Pro also included
User level permissions (no groups, no quotas)
HTTP web administration (no HTTPS)
Email alerts (w/ built-in SMTP service for no-hassle setup)
Remote access to shares via WDMycloud service
My Cloud Mobile App for iOS, Android and Windows Phone
EX4 additional features:
Single drive, Span, JBOD, RAID 0, 1, 5, 10 volumes.
RAID auto-rebuild enable/disable
RAID level expansion: JBOD to RAID 1 & 5; RAID 1 to 5
Multiple volume support.
Volume level encryption
User groups and storage quotas
WebDav support
FTP server with max user, bandwidth, SSL/TLS and IP blocking
DFS support
Active Directory support
ISO mounts
Dual Ethernet LAN ports with jumbo frame, IPv6, link aggregation and failover
USB and Network UPS support
Real-time resource monitoring (CPU, Memory, Network, Processes)
Disk and system diagnostics
Email and SMS notifications (built-in SNMP service)
Backup to/from USB drive
Network backup (only to other My Clouds)
Internal drive-to-drive backup
Cloud backup to Amazon S3 and ElephantDrive
iSCSI targets
iSCSI initiator
HTTP, FTP, BitTorrent downloaders
Web File viewer (Web browser) with upload / download
Add-in Apps (aMule, IceCast, Joomla, phpBB, phpMyAdmin, SqueezeCenter, WordPress, Git, NZBGet, Transmission
NFS, SMB2, LLTD, SNMP, SSH protocols
Dynamic DNS (DynDNS.org, no-ip.DDNS, tzo.com)
Not supported:
Whole-volume "snapshot" backups (supported on My Cloud)
RAID expansion and level migration
RAID auto-rebuild enable/disable
Print server
The admin GUI adopts the same new style as the single-drive My Cloud, but with a few tweaks. Resource Monitor and App count replace the Shares and Content Scan widgets on the uni-drive My Cloud.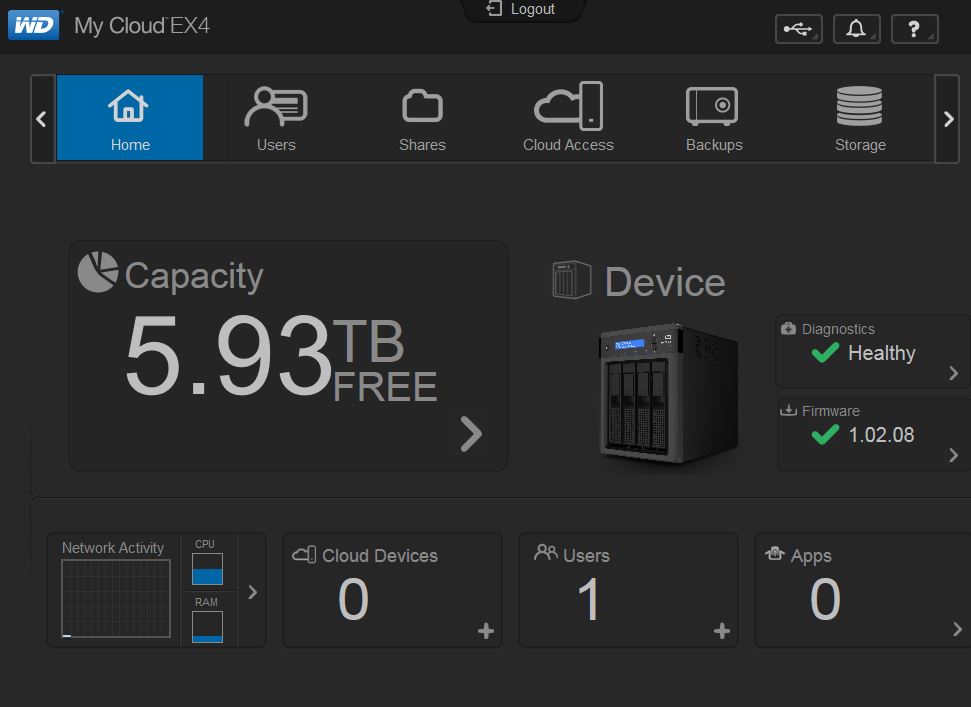 My Cloud EX4 home page
As the feature list shows, there are a lot of additional functions built into the EX4, including iSCSI target and initiatior. So it's possible to build yourself a little SAN using multiple EX4s.
There is no simple / auto RAID mode like NETGEAR, Synology and other competitors have. But you do have a few RAID level migration options and WD says they plan to add RAID expansion in a future firmware release as well as logging support.
Backup features have been significantly expanded over the single-drive My Cloud's whole-volume "Snapshot" feature, with options for backup to/from USB, over the network to only other My Clouds, internally and cloud. The USB and network backups can't be scheduled, but the internal backups can. For cloud backup, both Amazon S3 and ElephantDrive are supported.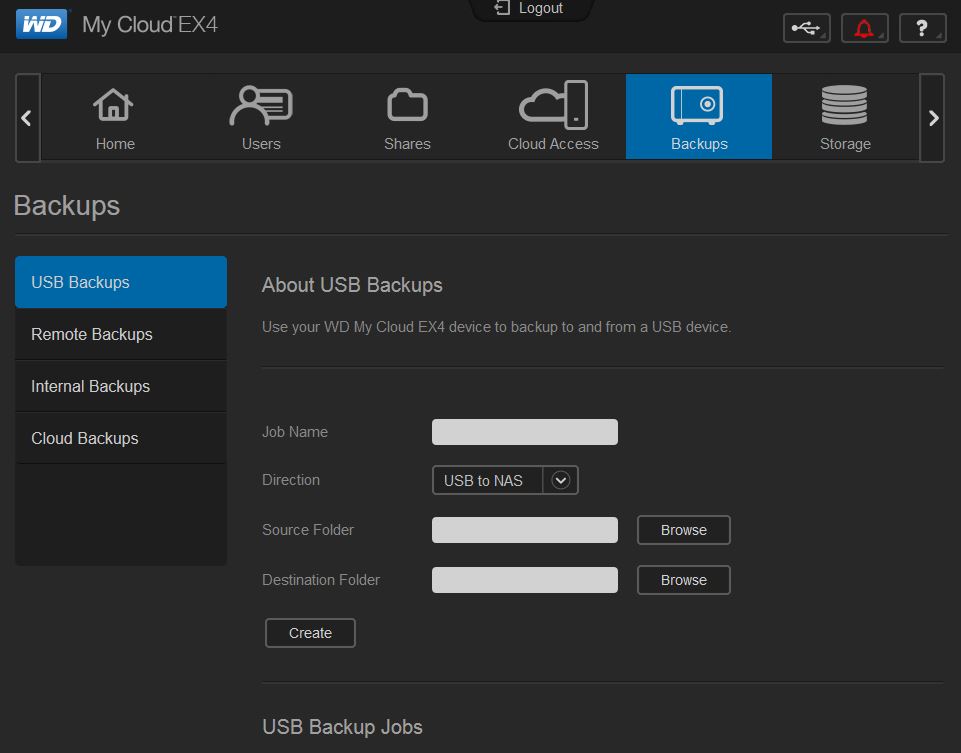 My Cloud EX4 home page
If you're handy with creating rsync.conf files via SSH, you can also run network backups to standard rsync targets. For client backup, WD throws in 10 licenses of its Smartware Pro Windows client. For MacOS, you're expected to use the EX4's Time Machine support.
The gallery below has screenshots and commentary for some of the added features.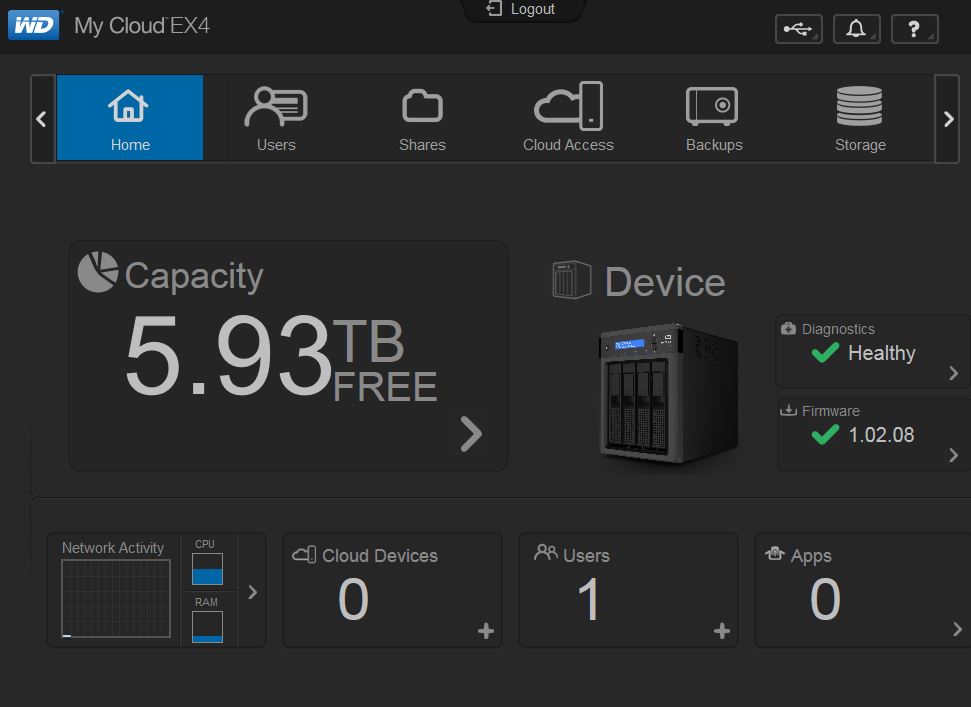 The home screen provides a nice overview of key status. Each widget is clickable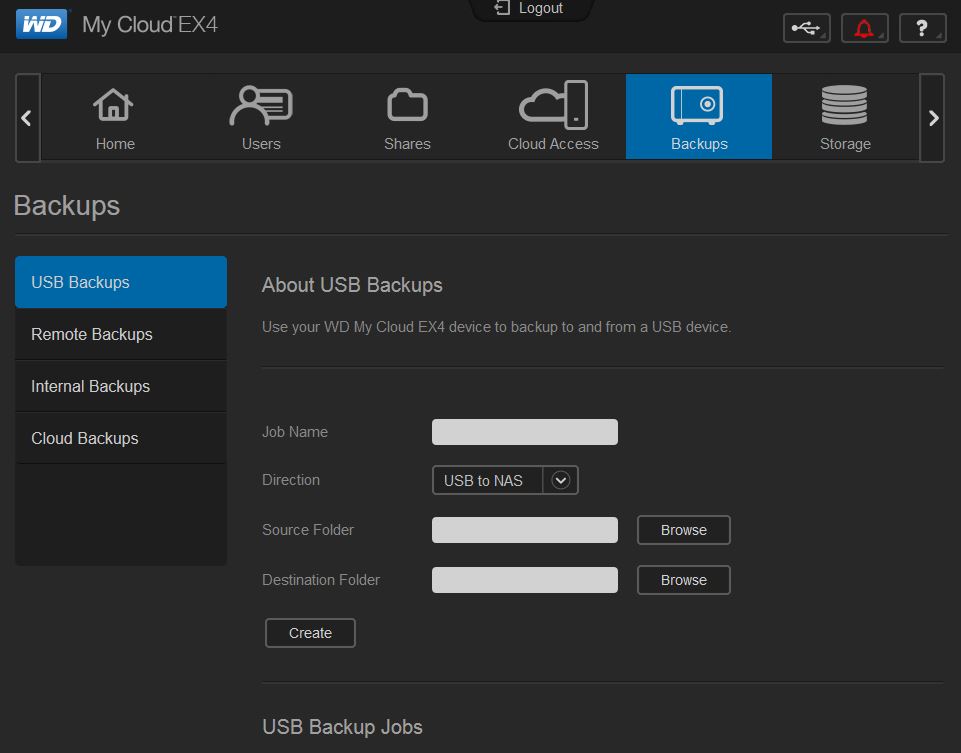 USB Backups can done at the folder level and in either direction. But they can't be scheduled.
Remote backups require another My Cloud as target. If you are handy with SSH and creating rsync.conf files, you can also use standard rsync targets.
Backups can also be made folder to folder. These can be scheduled.
Cloud backup to Amazon S3 and ElephantDrive each have their own setup wizard.
You can set up multiple iSCSI targets. CHAP security is optional.You can also use the Volume Virtualization feature (iSCSI initiator) to mount iSCSI targets to expand storage.
Built-in apps include HTTP (shown), FTP and P2P downloaders. All are schedulable.
In addition to accessing files remotely via iOS and Android apps, browser access is also supported. Copy, move, create, delete, upload and download functions are supported.
Add-in apps can be chosen from a pick list. Developers can contact WD for access to the app API.
The EX4 has more features hidden in the Settings General menu. Here are a few.
The dual LAN ports make the Network settings more complicated. IPv6 and multiple aggregation modes and failover are supported.
Even more network settings. Wheee!
You can get notified via email (SMTP is handled by a built-in service) and SMS. Unfortunately, there is no logging.
ISO mounts are handy for sharing CD-ROM images.
Drive Pull
Since this is our first time with the EX4, I decided to perform a drive pull test. With the system operating normally and with email alerts set up, I popped Drive 4 out. The front panel display immediately showed System Busy Please Wait and the power light started flashing. About one minute later, the display changed to Volume 1 degraded and I received an email telling me the same thing.
I then re-inserted the drive, waited a bit, but saw nothing happen. So I logged into the EX4 and found a trouble indication on the Home page. I then navigated to the Storage > RAID page and found Auto-rebuild is not enabled by default, so I manually started a rebuild. The initial RAID 5 build completed in around 10 minutes, but the rebuild showed an estimated 630 mins rebuild time. The intial build must skip bad block checking / mapping, while the rebuild does not. Through all of this I had normal access to the degraded RAID 5 volume.
Performance
This review was delayed a few weeks while WD and I tried to figure out why running the NASPT Directory Copy Read test quickly gobbled up all of the RAM in my testbed machine.
The short story is that WD finally traced the problem to oplocks being enabled by default on all volumes. Oplocks can help improve performance, but they also can cause problems in real-world use if used inappropriately. WD hadn't run into a problem with other reviewers, but thought it would be best to give users the option of controlling oplocks directly in a future firmware update.
WD also gave me a workaround so that I could complete testing, which I'll pass along to you. You just need to enable SSH access, log in and edit the /etc/samba/smb.conf file, changing Oplock=yes to Oplock=no for the desired share(s). Note that the change does not survive a NAS reboot or shutdown.
The EX4 was tested with 1.02.08 firmware using our standard NAS test process and with oplocks disabled on the test volume. Results are shown below in the Benchmark Summary below.
RAID 5 File Copy write works the Marvell processor the hardest, dropping throughput to around 34 MB/s. The same test using NASPT fares better, with throughput back up around 54 MB/s. RAID 5 read for the Windows and NASPT file copy methods produced the inverse result, with NASPT read around 47 MB/s and Windows up at 68 MB/s.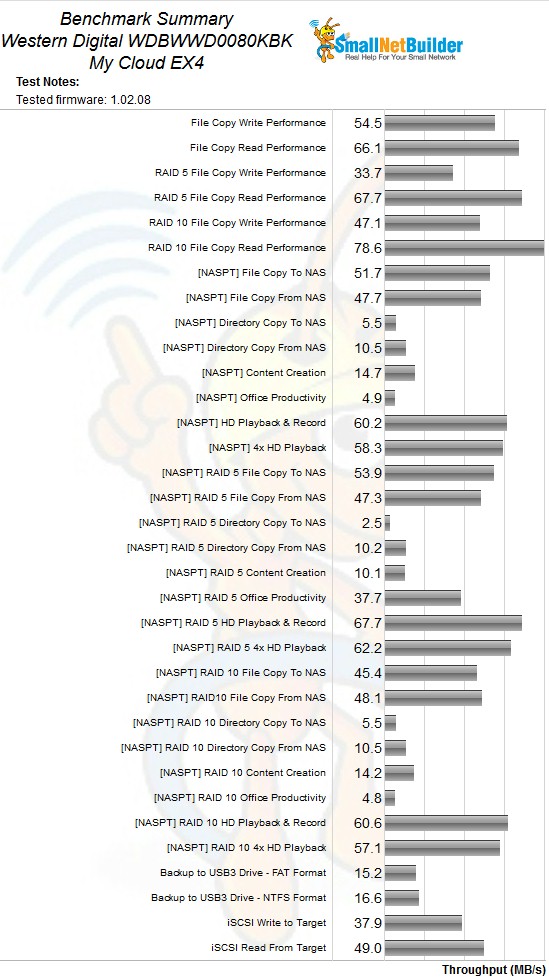 WD My Cloud EX4 Benchmark Summary
Performance – more
The EX4 has only USB 3.0 ports to attach external drives and doesn't have a built-in formatter. So I could only run backup tests with our standard drive formatted in FAT32 and NTFS. The format didn't matter much, because both tests produced a paltry 15 – 16 MB/s. Compare this to the 34 MB/s FAT32 backup throughput produced by the QNAP TS-420, which uses a slightly slower version (1.6 GHz) of the same Marvell SoC!
WD said that network backup to a standard rsync target can be configured by logging in via SSH and setting up an appropriate rsync.conf file. But since network backup only to other My Clouds is supported via the admin GUI, I didn't run the test.
iSCSI performance compared more favorably to similarly-powered products with 38 MB/s write and 49 MB/s read.
If you're getting the feeling that the EX4's performance is a bit low for a RAID 5 NAS, you're right. I set the NAS Chart filters to show only four-drive and SoC-1 class products and grabbed the RAID 5 File Copy charts below.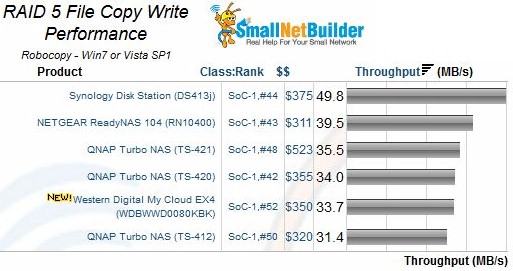 WD My Cloud EX4 File Copy Read Performance
In both cases, the EX4 sits at the bottom of the group.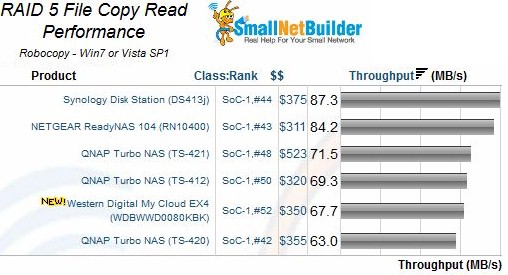 WD My Cloud EX4 File Copy Read Performance
Closing Thoughts
The NAS Ranker slots the My Cloud EX4 in the #52 slot out of 69 products tested. If you narrow the field to only four-bay products, it comes in last out of 19. Adding a filter to show only SoC-1 class (single-core application specific processors) products didn't help improve the EX4's ranking. It still came in dead last.
The Ranker Performance Summary shows that most of the lower scores are in the JBOD file and directory reads and writes. Using RAID 10 seems to goose performance a bit, but at the sacrifice of storage capacity, unfortunately.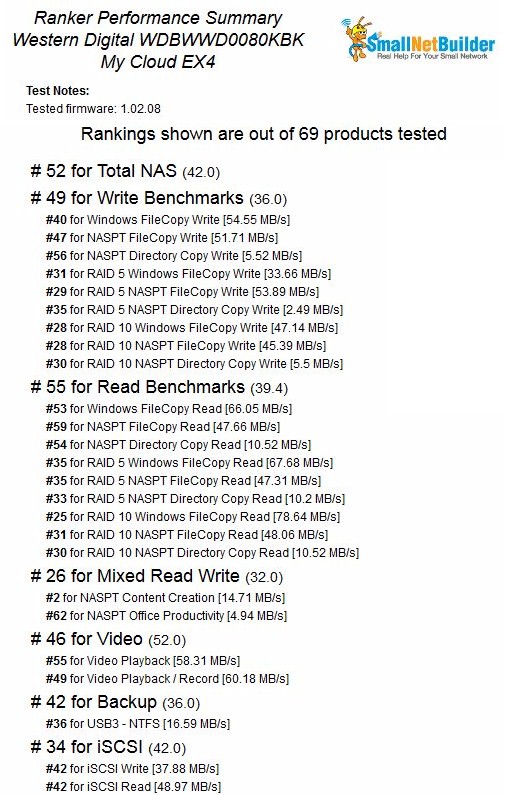 WD My Cloud EX4 NAS Ranker Performance Summary
With all the features crammed into this product, it is disappointing to see such relatively low performance. Even more disappointing is that it's not the least expensive in its class, at least in the diskless version. At $350, it's slightly more expensive than a QNAP-TS412 and a NETGEAR RN104, both of which are also diskless and have snappier performance.
Buying your drives from WD isn't much of a deal either. Amazon lists 2 TB WD REDs at around $95 each and their best price on an 8 TB EX4 is $732.
Given the EX4's expanded feature set, it looks like WD is making a play to make it easier for SOHO and small-biz users to be able to access their data safely stored on their own NAS from anywhere there's an internet connection. I think they have pretty much everyone else beat on that feature. Now they just need to get performance up to where it's more competitive, while maintaining competitive pricing and Seagate and LenovoEMC better watch out.
Buy My Cloud EX4 from Amazon