At a glance
Product
Thecus TopTower (N6850) [Website]
Summary
Pentium G620 six-drive BYOD NAS with USB 3.0, HDMI and optional 10 GbE ports, supporting multiple volumes and filesystems with many serving options.
Pros
• 300+ MB/s w/ 10 GbE
• USB 3.0 ports
• Optional 10 GbE
• HDMI port
Cons
• Touch panel a bit flaky
Typical Price: $0 Buy From Amazon
Overview
Updated 7/27/2012 – Corrected 10 GbE test info
Thecus recently introduced its "TopTower" line of business-class NASes.
All three are based on Intel CPUs, the N6850 using a dual-core 2.6 GHz Pentium G630 with 2 GB of RAM, the N8850 a 3.3 GHz Core i3 2120 with 4 GB of RAM and the N10850 running a quad-core 3.1 GHz Xeon E3-1225 with 4 GB of RAM. This review looks at the entry-level N6850 TopTower.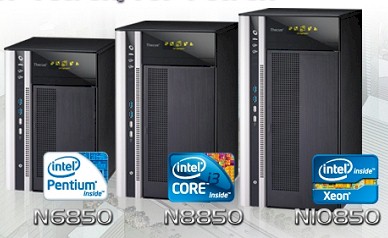 Thecus' TopTower NASes
Thecus has tried to spiff up the TopTowers, replacing the front panel buttons with touch-sensitive glass. The OLED status/info panel is still there and displays the same screens as before.
The column of double dots running down the left-side of the front panel isn't just for decoration. When the system boots, it pulses a bright white, but thankfully extinguishes once the system is up. If there is a failure, the column will pulse once again, this time in red. The light show will continue until either the system recovers the volume or you log into the NAS admin and disable the light.
This would be a much more useful feature if you could clear the light (and silence the buzzer) from the front panel, especially since you also get the red light show when a USB copy fails, something that's easy to do by pressing the wrong sequence of front panel buttons.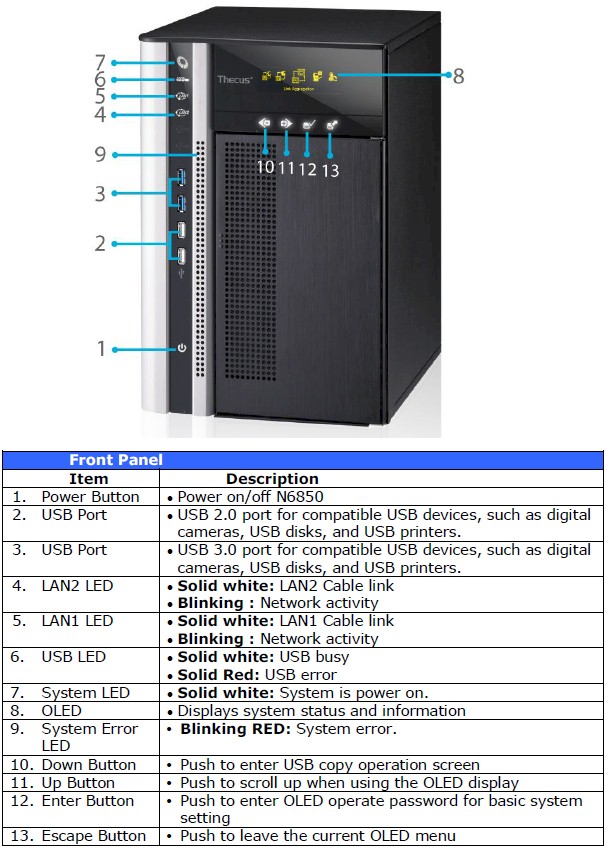 N6850 Front panel callouts
The rear panel view below reveals some interesting features. The two unmarked slots at the top can hold optional PCIe expansion boards, one option being 10 GbE. There are both USB 2.0 and 3.0 ports as well as one eSATA. There are knockouts for two more Gigabit Ethernet ports, but you can't add any more ports there.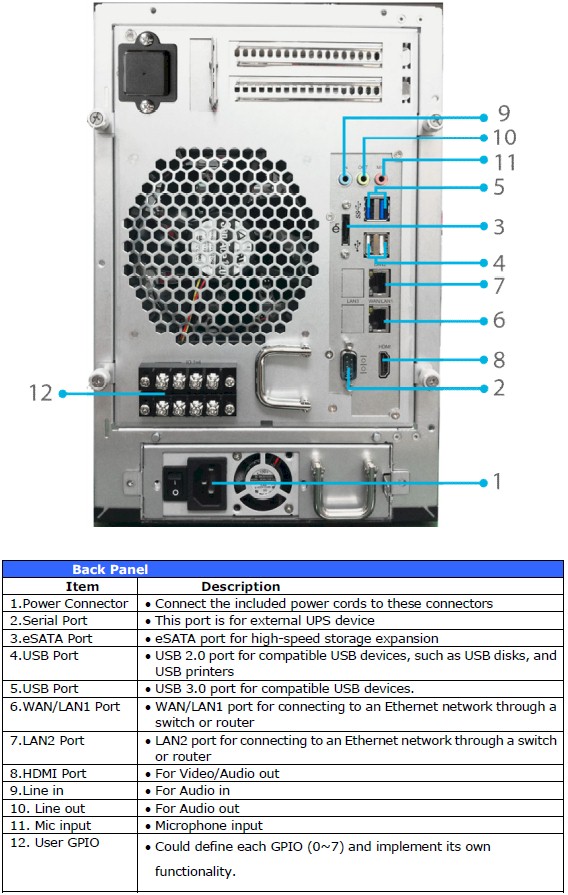 N6850 Rear panel callouts
Note there is no VGA port. Instead, you would use the HDMI port to attach a monitor for console use. Note also the User GPIO terminal blocks in callout 12. All the user manual says about these is "Could define each GPIO (0~7) and implement its own functionality".
Thecus supplied four 1 TB Seagate Barracuda 7200.12 (ST31000524AS) drives for testing. They brought total power consumption with all drives spun up to 79 W. I also tried four of WD's new 3 TB Red drives, which brought power draw down to 73 W. I couldn't seem to get the system to spin the drives down to save power, even though I set spindown time to the 30 minute minumum.
The N6850 is not a quiet system. It's not as loud as some rackmount NASes I've tested. But the constant loud drone from the case, power supply and CPU fans got old really fast. The system definitely deserves its loud sound rating.
Inside
Thecus has designed the N6850 for quick and easy serviceability. The motherboard is mounted on the removable panel shown below that also contains the main case fan. Just loosen four thumbscrews, disconnect two cables and the entire assembly slides completely out of the case. Thecus even includes a foldable handle on this panel and also the power supply assembly.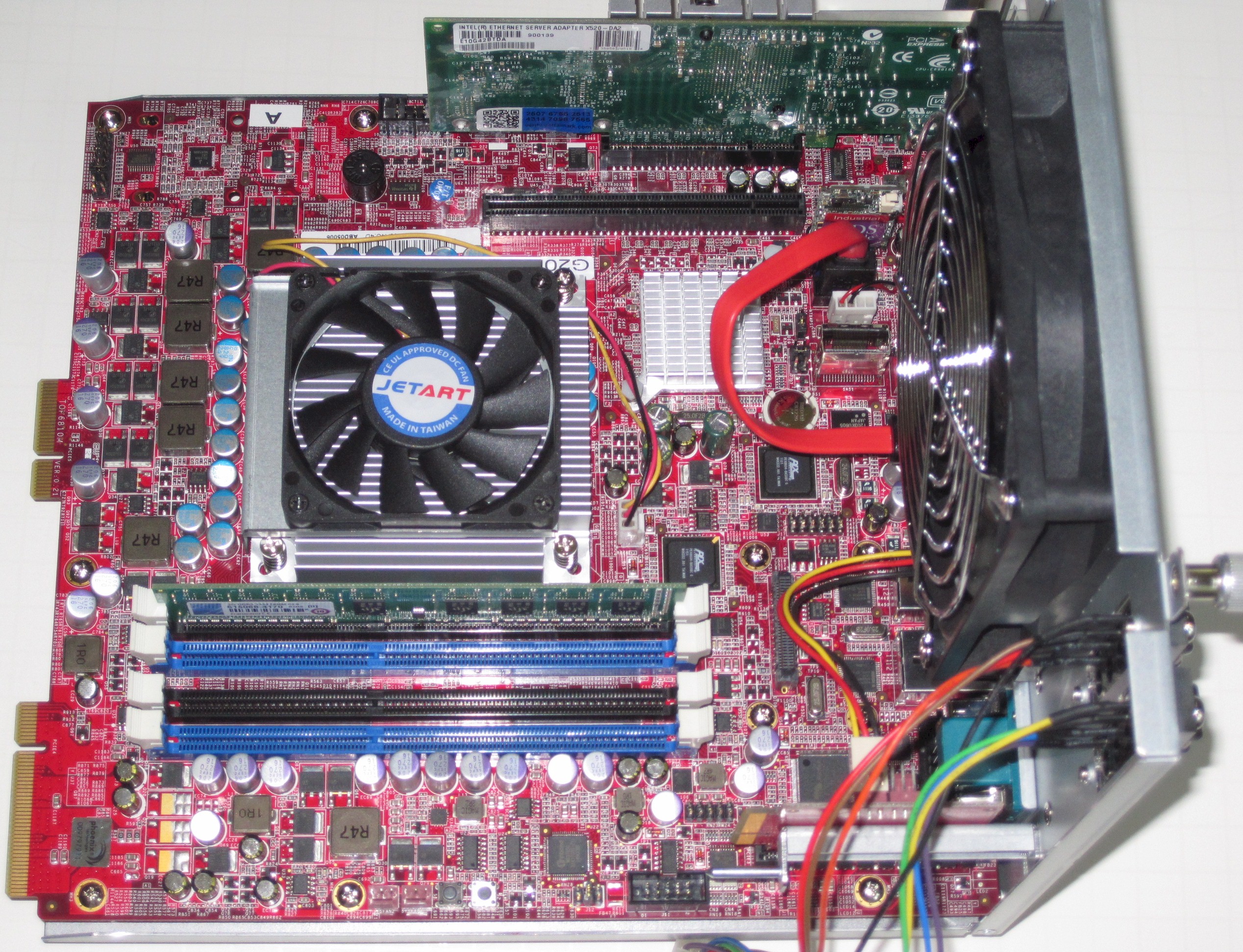 N6850 board assembly
Sorry about the soft focus in the photo above, my camera can't handle the depth of view required to get the whole thing in focus. This key component summary should tell you what you need to know, though.
CPU
Intel Pentium G620 @ 2.6 GHz
RAM
2 GB DDR3 DIMM (expandable to 16 GB total w/ 4 GB DIMMs)
Flash
1 GB DOM
Ethernet
Intel WG82574L (x2)
Southbridge
[?]
USB 3.0
NEC D720200AF1 (x2)
PCIe
PLX Tech PEX 8604 4 Lane, 4 Port PCI Express Gen 2 (x2)
SATA
Silicon Image SiI3132 SATALink PCI Express to 2-Port Serial ATA II Host Controller (x2)
HW Monitors
– Winbond W33795G hardware monitor
– Fintek F71889 Super Hardware monitor & I/O
Video
Pericom PI3VDP411LSZBE Digital Video Level shifter
Table 1: Key component summary and comparison
The board has one PCIe x4 slot and one x8 slot. That's an Intel X520-DA2 10 GbE board in the x4 slot that I used for 10 GbE testing, which is one of the four adapters on Thecus' 10 GbE NIC compatibility list. There are four full-sized DIMM slots, one holding a 2 GB DDR3 1333 DIMM. Thecus says they have tested memory up to 16 GB, which they support, assuming you use memory from the memory compatibility list.
Scrolling through the boot messages revealed only references to Intel Sugar Bay and Sandy Bridge chipsets. So the Southbridge / Companion device to the Pentium G630 CPU could be a Q67, B65 or H61 chipset.
The photo below is the rear view with the motherboard assembly removed. You can see the front panel OLED panel at the top and two upper edge connectors on the right that connect the motherboard lights, touch-switches and USB ports. Camera flash glare obscures the second NEC D720200AF1 at the upper right that drives the two front panel USB 3.0 connectors. The other one is on the main board near the rear panel connectors.
The lower horizontal edge connector brings power from the power supply to the main board via a small board that you can see at the lower right of the board photo above.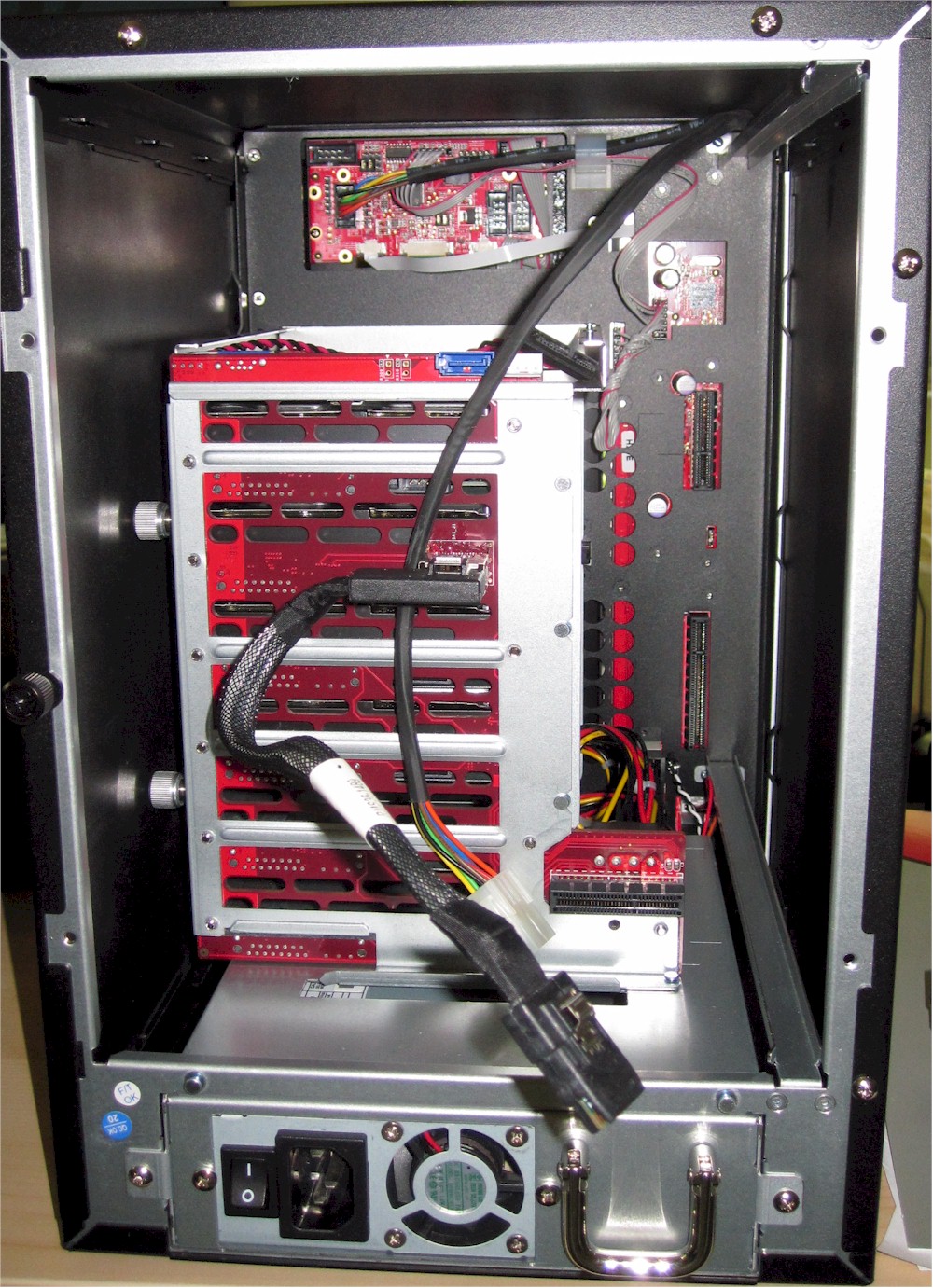 N6850 rear view
The cable terminating in the white 8 pin Molex connector brings signals to the GPIO terminal blocks on the rear panel. The other cable running from the main board to the backplane carries PCIe, not SATA signals. There are two PLX Tech PEX 8604 4 Lane, 4 Port PCI Express Gen 2 devices on the main board. The drive backplane has two Silicon Image SiI3132 SATALink PCI Express to 2-Port Serial ATA II Host Controllers to convert PCIe to SATA for the drives.
There are two other expansion options that are hidden away inside. Removing the right side panel reveals the empty bay on top of the drive bay shown below with a SATA power/data cable. Since there is no front panel access, my guess this may be to hold a possible future 2.5" SSD drive option.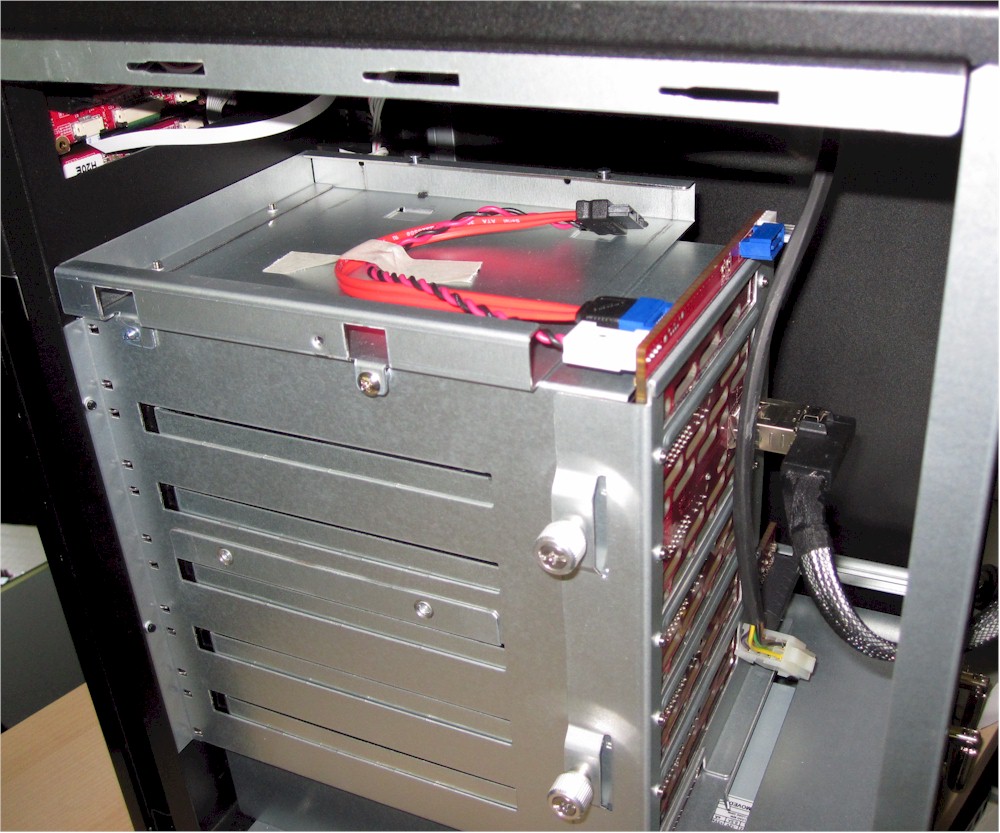 N6850 side view
I didn't snap a photo of the other option–a full-height mini PCIe slot on the back of the main board accessible via a cutout in the mounting plate at the top and near the front panel. My guess for this is a possible future wireless option.
Features
Like many other NAS vendors, Thecus implements the same feature set across its NAS lines. Nothing has really changed since I summarized the current feature set in the recent N4800 review.
Actually, when I checked the list of installable modules posted online vs. the one shown by the built-in Auto Module Installation page (below), I found a new one: the Local Display Module.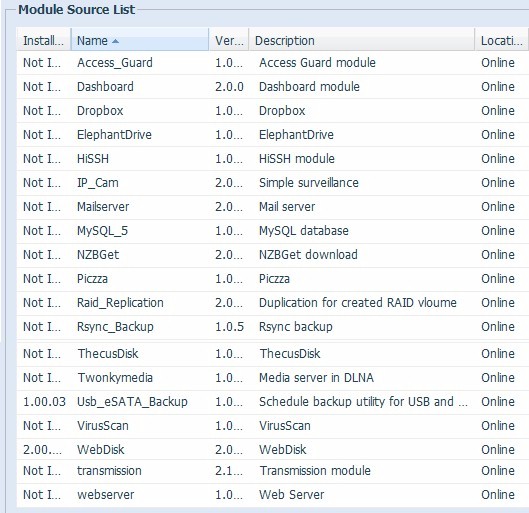 Installable module list
Local Display appears to be a work in progress. There is no documentation yet for the module, but it appears to offer two options. You can launch a built-in copy of FireFox for Linux, or you can launch an x terminal to access the system console.
I was able to browse to the NY Times website and watch some of the videos there (including sound via HDMI) using Firefox and a USB keyboard and mouse I plugged in for navigation. I wasn't, however, able to view any videos stored on my network. I also tried installing the Twonkymedia server, uploading an H.264 encoded movie trailer to its video folder, browsing to it and trying to play it. But the browser didn't know how to deal with it. So it will be awhile before you can use the N6850 (or more likely, the N4800) as a media center.
For more feature details, you can use the online emulator.
Performance
The N6850 was tested with 2.02.04 firmware using our NAS test process.
The Benchmark summary below shows pretty consistent Windows File Copy performance for RAID 0, 5 and 10 modes at 107 MB/s, with 104 and 103 MB/s, respectively. File Copy read is also consistent at 106, 105 and 100 MB/s for RAID 0, 5 and 10, respectively.
NASPT File copy results are higher than their Windows File Copy counterparts for write (126, 126, 129 MB/s) , but lower for read (96, 8987, 97 MB/s) for RAID 0, 5 and 10. Note that the writes are higher than 125 MB/s, which is the limit for a Gigabit Ethernet connection. So, clearly, the N6850 is being held back by its Gigabit Ethernet connection.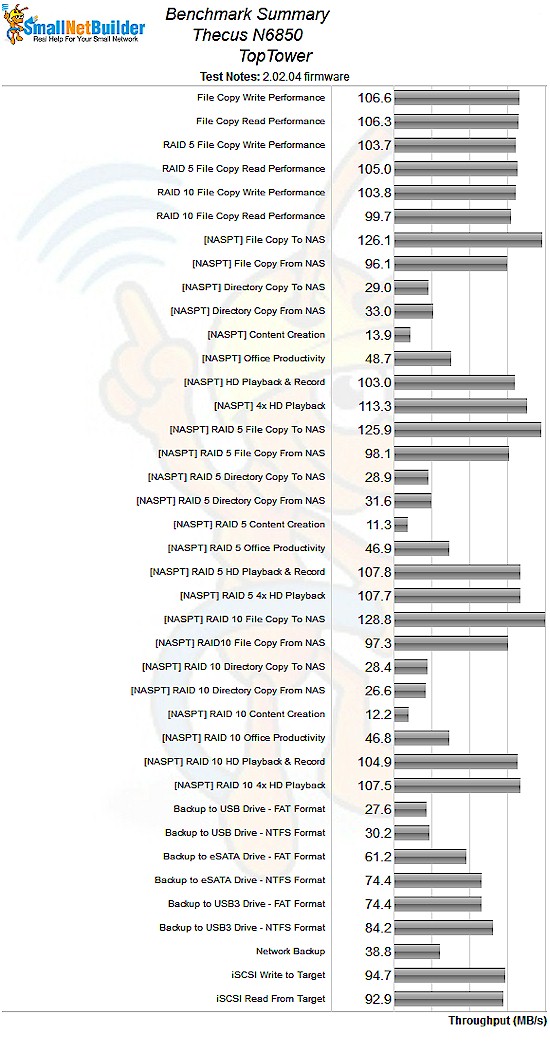 Thecus N6850 NAS Benchmark summary
iSCSI target write performance to target created on a RAID 5 volume came in at 95 MB/s, with read a tad lower at 93 MB/s.
I downloaded and installed Thecus' USB / eSATA Schedule Backup module to run backup tests with our standard Iomega UltraMax Pro Desktop Hard Drive for USB 2.0 and eSATA connections. I also connected a WD MyBook 3.0 to run USB 3.0 backup tests.
Since Thecus doesn't provide a way to format external drives, I was able to test only FAT32 and NTFS backup formats. Best backup throughput of 84 MB/s was obtained with the WD USB 3.0 drive NTFS formatted, while the slowest 28 MB/s speed was to the Iomega drive connected via USB 2.0 with FAT32 format.
Rsync backup to the NAS Testbed running DeltaCopy acting as an rsync target came in at a comparatively poky 39 MB/s. Note that, as is our standard practice, this is without compression or encryption options enabled.
For a competitive look, I decided to use the NASPT RAID 10 File copy benchmark. The chart below shows all products in the NAS chart database, regardless of number of bays. This is a fair comparison because our standard practice is to use only four-drive volumes, even on NASes that have more than four bays.
The only non-Atom Intel-powered NASes in the chart below is the QNAP TS-1079 Pro (i3-2120). The QNAP TS-559 Pro II and Synology DS1512+ achieve their high performance with dual-core D2700 and D525 Atoms instead.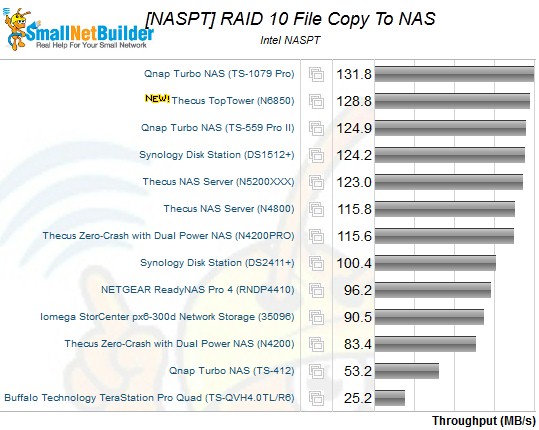 Intel NASPT RAID10 File Copy To NAS
Rankings shift around a bit for NASPT RAID10 read, with the N6850 moving to the top spot.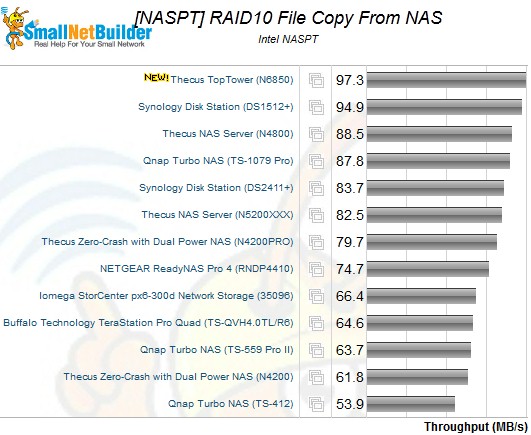 Intel NASPT RAID10 File Copy From NAS
Use the NAS Charts to further explore performance.
10 GbE Test
Updated 7/27/2012
I haven't done much testing using a 10 GbE interface because most NASes haven't been powerful enough to take advantage of it. But it looks like I may need to start testing 10 GbE performance on a more regular basis, or at least with two aggregated Gigabit ports.
Thecus was kind enough to send two Intel X520-DA2 10 GbE boards with the N6850 and a connecting cable so that I could do just that. One board went into the PCIe x8 slot in the NAS, the other into my NAS testbed in the ASUS P7H57D-V EVO motherboard's PCIe 2.0 x 16 5GT/s slot. I downloaded the latest driver (2.9.71.0 Win 7 64 bit), set static IP addresses on the testbed and NAS 10 GbE ports, connected the cable and disconnected the Gigabit Ethernet cable to ensure that the 10 GbE interface was used. I then ran our standard benchmark suite, which runs the Windows file copy and Intel NASPT tests three times. The NAS was configured in RAID 5 for the test.
The results are summarized in the chart below and compared to the same tests run on a QNAP TS-1079 Pro. The QNAP results differ a bit from those published in its review because QNAP recently sent the NAS back in for a 10 GbE retest with an Emulex adapter. Unfortunately, the Emulex adapter sent required Win 7 Pro and the NAS testbed has only Home Premium installed. So I used the Intel X520 to run another test instead, the results of which are shown below.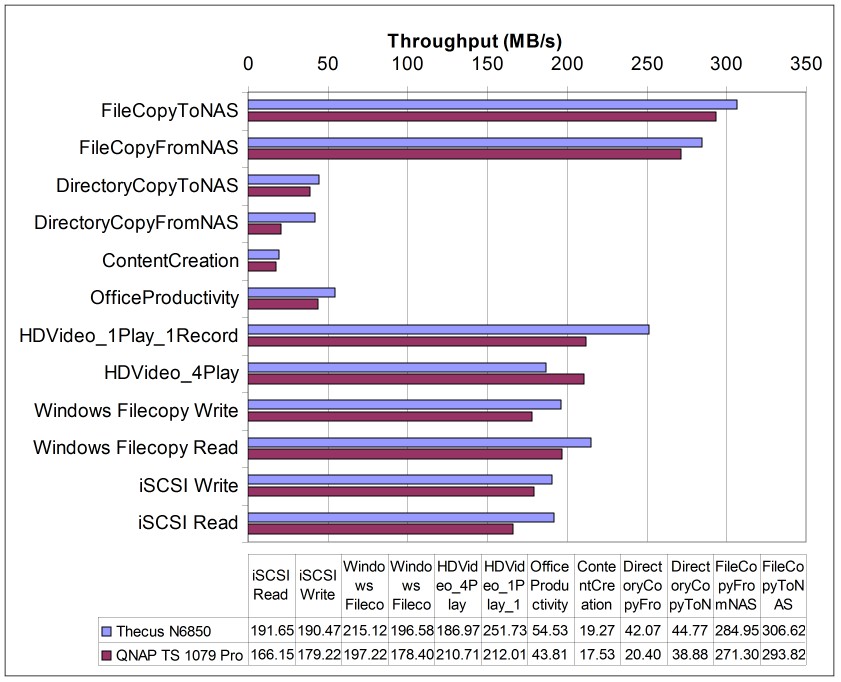 Thecus N6850 vs. QNAP TS-1079 Pro – 10 GbE connection
The results show that the N6850 edges out the QNAP in every test except the simultaneous playback of four HD videos (HDVideo_4Play). I have no idea why this would be, particularly because the single HD video playback test right above it favors the Thecus by a wide margin.
I'm including the Windows filecopy and iSCSI tests, but don't put too much faith in them. These tests all write and read large files from the RAID 0 array on the testbed, which is capable of only 200 MB/s writes and reads. The Intel NASPT tests, on the other hand, run directly from memory, so are not disk I/O bound.
It's also possible that the i3-540 based testbed could also be limiting performance. But at least it is applying the same limit to both products. Looks like it may soon be time to upgrade the NAS testbed again!
Closing Thoughts
The N6850 sticks closely to Thecus' playbook. It's a bit rough around the edges software-wise, but doesn't hold back when it comes to performance. Also standard, and perhaps to make prospective high-performance NAS buyers take a serious look, is the N6850's very aggressive price. While the cheapest you can get a TS-1079 Pro is around $2400, the N6850 will cost you half of that. So with the money you save on the N6850, you can pick up two 10 GbE cards and still come out ahead.
Buy TopTower from Amazon