In the wake of falling consumer demand across the entire connected home market, Nest connected thermostats have been removed from Apple's shelves, just as the Apple HomeKit compatible Ecobee 3 became available in the US. Recode reported that "Apple declined to comment on the decision, beyond noting that it constantly changes its retail merchandise mix."
Argus Insights dug into consumer feedback for the two smart thermostat manufacturers to find that consumers are currently more satisfied with Ecobee thermostats than those made by Nest. (In the plots below, dot size indicates the number of reviews analyzed.)
Consumers are finding more delight with Ecobee thermostats than with Nest
Examining shifts in consumer delight since March of this year, it is clear that Ecobee has been stepping up its game. In March, Nest thermostats had higher delight levels than Ecobee, but as time went on, Nest saw fewer reviews and Ecobee surpassed them in delight.
Thermostats, however, are not Nest's only stake in the connected home market. Nest recently branched out from their focus on smart thermostats to offer a Nest Security Camera, but things are not looking great for Nest in this new space either. Consumers are generally disappointed with the Nest Cam, reporting delight levels far below the market average. It appears that consumers are losing interest in Nest devices as they are finding delight with other companies in the IoT space.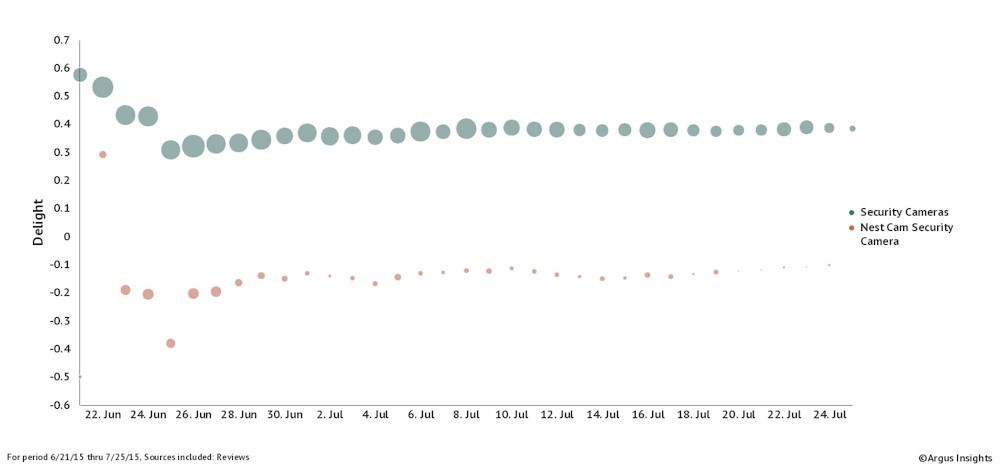 Nest Cam is seeing waning interest and far lower delight scores than the market average
There is no way to know if Apple removed Nest products due to this consumer trend. Apple stripped its shelves of rival wearables before the launch of the Apple Watch, so removing Nest devices may just be a play in anticipation of HomeKit revelations. Nevertheless, Nest appears to be losing its prowess in the smart thermostat space while at the same time, struggling to break into the security camera market.
---
John Feland is founder and CEO of market intelligence company Argus Insights. Argus analyzes online consumer reviews volume and sentiment to measure the degree to which products satisfy market demand.