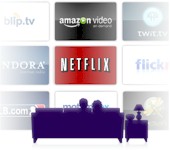 Roku today announced ten new sources of web-based content that will be available shortly to users of its player family.
The Roku Channel Store is a new open platform for content delivery. The first new channels available are Pandora, Facebook Photos, Revision3, Mediafly, TWiT, blip.tv, Flickr, FrameChannel, Motionbox and MobileTribe.
Roku said that "many other" developers are working on additional Channels that will automatically be added to the Store when they are available. Roku also announced a free SDK that is available on request.
All three Roku players (the SD, HD and HD-XR) are compatible with the Channel Store.
The Roku Channel Store will be delivered as an automatic and free upgrade to all existing Roku customers over the course of the next two weeks. New customers will automatically be upgraded when they first install their Roku player.