The player measures approximately 5"W x 5"D x 2"H and has both 10/100 Ethernet and 802.11b/g Wi-Fi (Atheros-based) network connections. It does not contain a hard drive, so does not store content. An infrared remote allows users to browse and select content to play as well as pause, fast-forward and rewind content.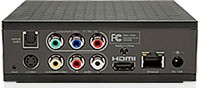 A/V connections include HDMI , component, S and composite video and stereo and optical audio.
Roku recommends a 1.5 Mbps minimum Internet download speed and a 4 Mbps connection for "best quality" picture. The player automatically optimizes for the available network download speed.
The player plays Windows Media formatted files streamed from Netflix servers. Currently available content does not include HD selections although the player is cable of supporting HD content when it is made available.
The player is available immediately direct from Roku for $99.99 and has a 30 day money-back guarantee. An "unlimited" Netflix subscription plan is required, which starts at $8.99 / month.