At a glance
Product
Smart Home Security Device () [Website]
Summary
Cloud-based security camera system with speaker, microphone and air quality/humidity/temp sensors.
Pros
• Geofencing support
• Humidity, temp and air quality sensors
• Easy to use user interface
• Good video quality
Cons
• No adjustability on motion sensitivity or recording before/after event
• Humidity, temp and air quality sensors can't trigger alerts
• Many false motion triggers
• Setup & config changes require an audio cable
• No integration to other smart home devices
Typical Price: $60 Buy From Amazon
Introduction
Given the number of cloud-based IP cameras, there must be a reasonable market for them. However, as I look at products like NETGEAR's Arlo [reviewed], Nest Cam and others, I tend to wonder if people know what they are missing.
Cloud-based solutions seem great for checking on the cat in the middle of the day. But they all seem to be lacking key security camera features like adjustable motion detection sensitivity and zone control and pre-trigger event capture. I feel all these are key, and all seem to be missing from the many cloud-based cams.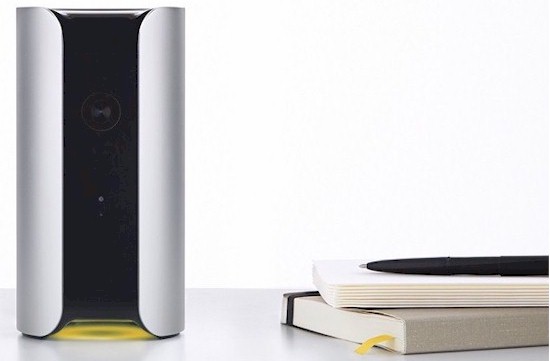 That said, today we're going to be looking at Canary. It's a home monitoring system that was initiallty crowd-funded on Indiegogo. It should be noted that Canary raised $1,961,663 on a $100,000 goal! It's a little different than other security cameras with geofencing support, air quality/temp/humidity sensors and the ability to learn from its motion-detection mistakes. Sounds pretty cool, so let's take a look.
Inside
We were low on Canary's reviewer list, so I purchased mine at BestBuy. I'll be returning it and didn't want to take it apart, so relied on web searches and the FCC ID pictures to get a look inside. Information on the web was scarce and the FCC pictures weren't too revealing. The photo below shows the top side of the Canary board, but you can't make out much about the components used.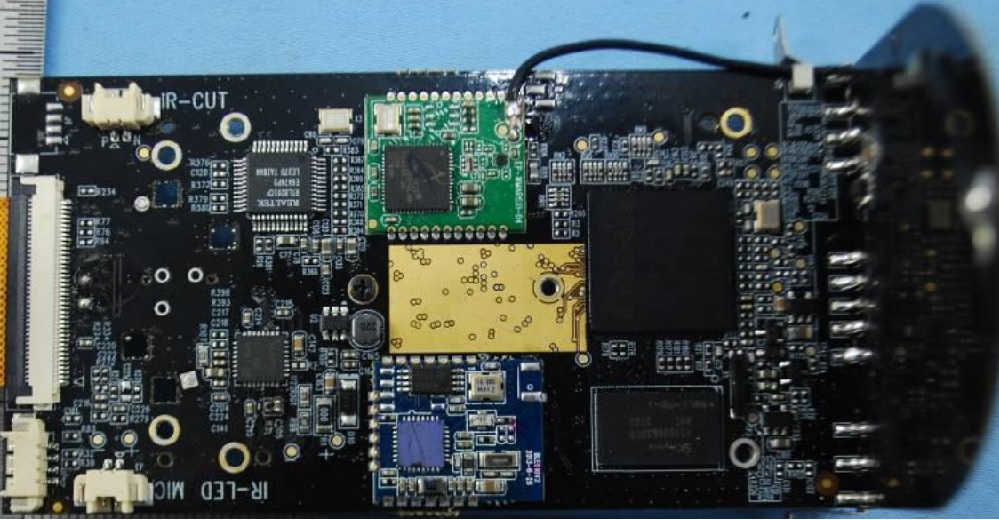 Canary board
Canary's specs the camera at 1080p HD, although videos from the camera downloaded at 1280×720 resolution. The camera connects by either 2.4 GHz N150 class Wi-Fi or 10/100 Mbps Ethernet.
Inside the box, you get a microUSB cable, wall-wart USB charger, the Canary and a setup audio cable (more on this shortly). Included on the camera is a speaker (for sounding a loud siren), microphone and air quality/temp/humidity sensors. The sensors are an interesting inclusion and one would think integration with Nest or ecobee as a remote sensor is an obvious next step. I honestly wouldn't count on integration with Nest anytime soon however, since they have Dropcam (now Nest Cam).
I collected all the information I could gather about Canary specs into Table 1 below.
| | |
| --- | --- |
| Resolution | 1920×1080 (videos downloaded at 1280×720) |
| Megapixel | ? |
| Lens | ? |
| Compression | ? |
| Horizontal field of view | 147° |
| Vertical field of view | ? |
| Audio | Yes |
| Night vision? | Yes |
| Number of IR LEDs | 12 |
| Record to SD card | No |
| Record to network share | No |
| Record to cloud | Yes |
| Wireless | Yes, 2.4 GHz N150 class |
| Ethernet | Yes 10/100 Mbps |
| POE | No |
| Pan/tilt/zoom | No |
| Can integrate w/ other systems | No |
Table 1: Canary key specs
Setup
Setting up the Canary system was relatively easy. Like other smart home products, Canary uses Android and iOS apps only. I chose to set up via my Samsung S4, which entailed first getting the Canary app from the Google Play Store. The app started by setting up a Canary account, then asked for my specific location. This is needed for Canary's geofencing feature.
Geofencing works by disarming Canary when you are at the specified "home" location. Canary still records events when disarmed, it just doesn't notify you. I found that geofencing worked only intermittently. I opened a ticket with support and got a prompt response, but we never came to a solution. The other mode is Privacy mode where Canary doesn't record at all. Privacy mode doesn't activate automatically, only manually.
Once your location is set, the Canary app asks if you want to connect by Wi-Fi or Ethernet. I chose to go with Wi-Fi and here's where it gets weird. Once you set the configuration, you are prompted to plug a yellow audio setup cable into the headphone jack of your phone and into Canary. Canary says this is to "securely communicate with your Android (or iOS) device to authenticate your Canary with our servers".
But other smart home devices manage to get set up securely via more common methods (sending a text, entering a code on the device). So this seems an unnecessary complication that's compounded by needing the cable for any subsequent changes to the Wi-Fi network, even if Canary is already connected. So, don't lose that cable! The image below shows the audio activation step.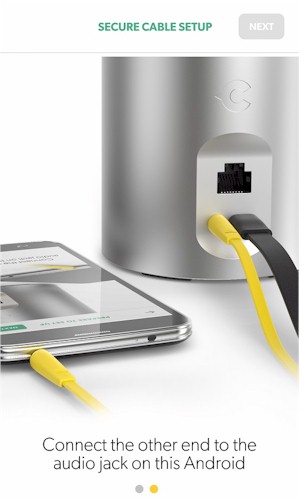 Canary audio setup screen
Once set up, live and recorded video, as well as home air quality and temperature, can be accessed via the Canary apps. On the cloud side, all communication happens over an HTTPS connection and video and audio are AES-256 encrypted. (Read the Security FAQ for the full poop.) At the moment, you are not able to access Canary via web browser, but the company said they're workin' on it.
Features
Canary's cloud-based recording presently has 4 different plans: Basic; Never Miss A Moment; Advanced Security; and Deluxe. The Basic (free) plan includes 12 hours of recordings and 5 saved clips. The next level includes 7 days of recording and 50 saved clips for $9.99/month.
The Advanced Security plan holds 30 days of recordings and 100 saved clips for $19.99/month. The Deluxe plan includes 90 days of recordings and 250 saved clips for $39.99/month. All plans are good for up to four devices in a single location. The graphic of the different plans is shown below.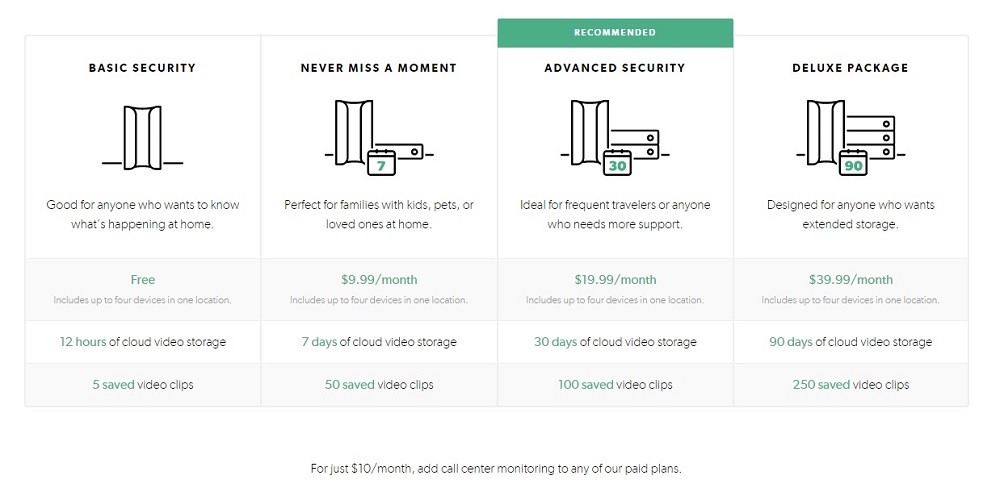 Canary pricing plans
Canary primarily uses event/motion detection to trigger video capture. You can't adjust detection sensitivity and you can't block out image areas that you don't want to trigger recording. Over time, Canary is supposed to be able to figure out what is and isn't a false alarm. But I didn't see any obvious signs of learning in the week or so I spent with the product.
As an example, the image below shows where I had the Canary set up at home. Notice my dog in the bottom left corner; every time my dog moved his head I got a notification. It would have been really nice to adjust the sensitivity of motion detection, or even not include that area, as you can do with many IP cameras.
The other problem with Canary's motion detection is the same thing I pointed out with NETGEAR's Arlo. You can't see anything that happens before the trigger event. Canary also doesn't let you set the length of video clip.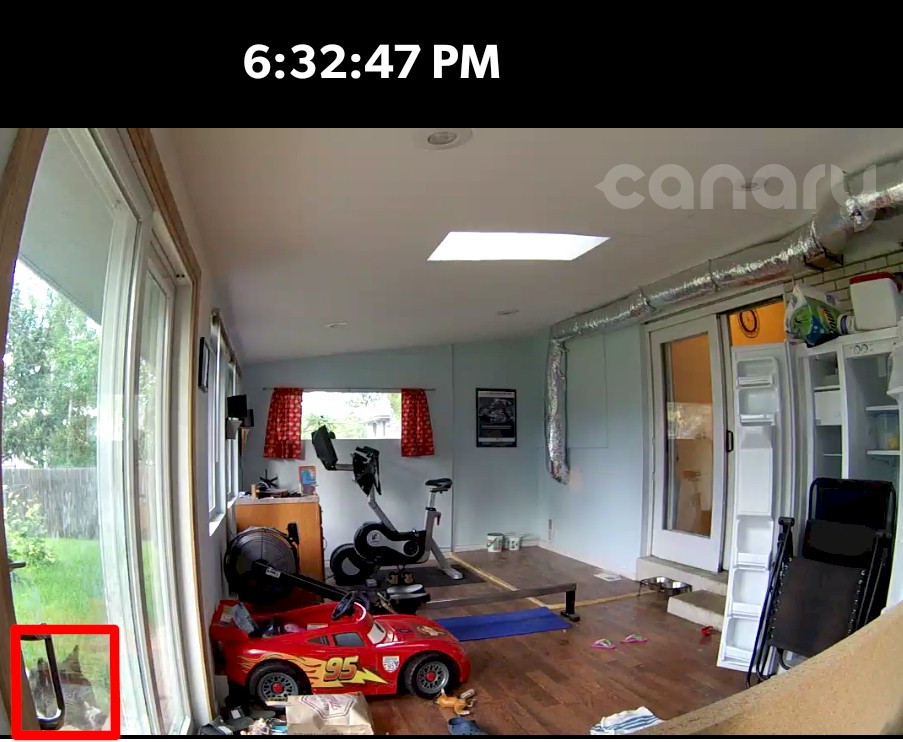 An example of the Canary motion detection
The problems (except for length of captured clip) are due to the nature of this type of IP camera. Since the camera is sleeping, it can't do any image processing, which is required to set motion detection zones. And since the camera doesn't record until it is awakened, there is no buffer to pull pre-trigger video from. Until someone integrates a time machine into these beasties, these are limitations that can't be fixed. All Arlo, Canary et. al. can do is make the wake-up-and-record time as short as possible.
To give it credit, Canary's motion detection is rather sensitive and recording started very quickly. But you could still miss crucial footage if the camera thought motion was complete, but there was still something going on.
The timeline view in Canary is very simple and streamlined, with snapshots of recording video and information about when someone arrived home or left. From each recording video you can sound the very loud siren, make emergency calls to police, fire or ambulance, watch Live Video or just tell Canary everything is fine and hope Canary uses the information to start phasing out false alarms.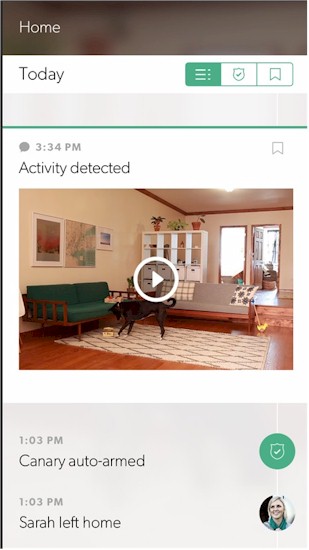 Canary timeline
HomeHealth graphs show time graphs of temperature, humidity and "air quality" of your home. A Canary moderator's coment response on this page says Canary monitors "iso-butane, carbon monoxide, hydrogen, ethanol, cigarette smoke and cooking odors". But Canary doesn't break out graphs of each of these. The Canary rep also said: "Canary is not a dedicated carbon monoxide detector because it gives a holistic view of air quality in your home, and won't alert you if carbon monoxide levels rise too high, for example."
So while it's potentially a cool feature, HomeHealth doesn't do anything useful for now. Canary also has no announced plans or timetable for features that use the sensors. The image below shows the HomeHealth graph.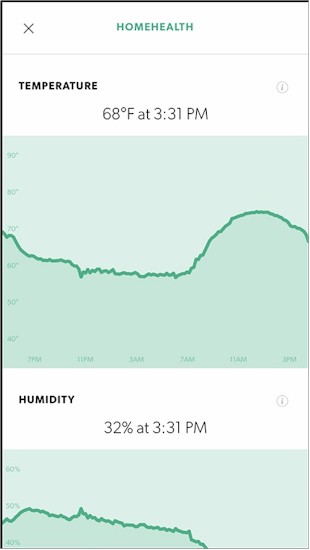 Canary HomeHealth
Video and Image Quality
Let's look at some videos. Canary was very sensitive to motion most times. But I had a heck of a time getting Canary to pick up my motion when I wanted it to. So for the videos below, I actually turned manual recording on. The first video is NETGEAR's Arlo, which I reviewed a few weeks ago.
NETGEAR Arlo Motion Indoor Daylight
The second is Canary.
Canary Motion Indoor Daylight
One particular thing to take note of here is really just how wide Canary field of view is (147°). You really see quite a lot of real estate wherever you have Canary pointed.
I wanted to see how much uplink bandwidth Canary took, so I turned on Watch Live with Canary and checked. The upload bandwidth varied, but I saw around 1.5 Mbps max. That's about double what I saw with NETGEAR's Arlo. Arlo is a 720p camera, and Canary is a 1080p camera, so the extra bandwidth does make sense. But 1.5 Mbps could be a signifcant burden on or even exceed your total uplink bandwidth, depending on your internet connection. As with Arlo and Dropcam, there are no controls to limit bandwidth use.
For night vision, I took one static image with the Canary camera, with me standing 25 feet away. You are able to see me, but that's about it. No making out the face in that picture. That said, the picture is inline with what I see from about every camera I've looked at.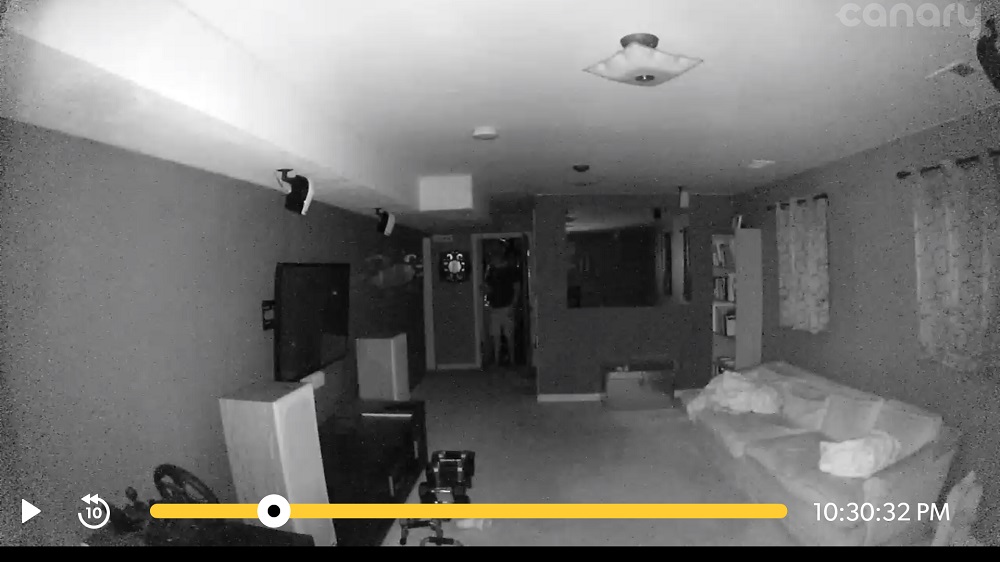 Canary Night Vision with me at 25 feet
I've included the Arlo 25 foot picture for comparison.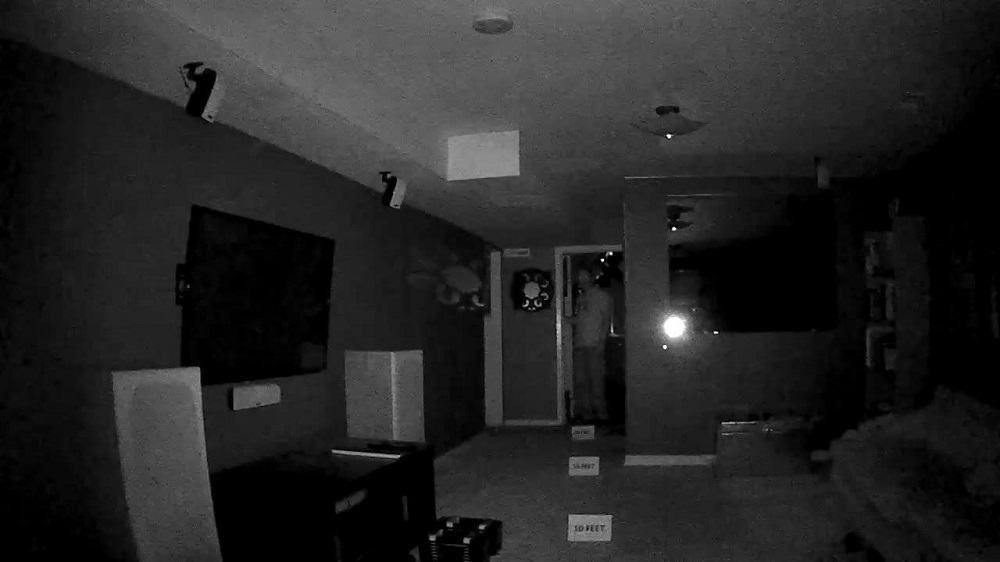 Arlo Night Vision with me at 25 feet
You can see the Canary lens has a definite "fish eye" effect to it, just like Arlo. Because of its very wide field of view, I look farther away in the Canary image even though the cameras are in the same location. Overall, Canary's night vision looks pretty good. It really lights up the room and items closer than 25 feet would be more visible than with Arlo. Let's see how it looks with motion in the video below.
Canary Motion Indoor Night
Indoor night vision with Canary looks pretty good. Compare that to Arlo, which I reviewed a few weeks back.
Arlo (Netgear) Motion Indoor Night
You can see the night vision with motion is also fairly good with both cameras. The scene is lit up well and motion is not blurred on either one.
I did not take any videos outdoors with the Canary. While it would have been interesting to see how it did, Canary is not meant to be an outdoor camera.
Closing Thoughts
Canary is an interesting product, still in its early days, with many features on the "to-do" list. Given its crowd-funded startup status, my spider-sense starts tingling when I hear "coming in a future release", because we've all been down that road before.
That said, when I first started looking at Canary, support told me downloading videos would be coming in a future feature. So I was pleased when the option became available before I completed this review. So Canary is working on additional features. I also hope the activation cable goes away. Sure, use it for initial setup, but get rid of it if the Canary is already connected.
On a positive note, the user interface is one of the simplest ones I've seen and works well. But it suffers from the lack of motion detection features you see in most non cloud-based IP cameras. This isn't a UI problem, but a limitation of Canary's record-only-on-motion approach.
In the end, Canary falls far short of its promise of being a "complete home security system packed into a single device". The only feature providing security right now is the camera, whose motion detection is so inconsistent I had to resort to manually starting recording for my test clips. And the inability to tweak the trigger zone coupled with Canary's extra-wide field of view makes frequent false triggers unlikely to go away. With no ability to interact with any other smart home devices, Canary can't even do something as simple as turn on a light when it is triggered.
Bottom line: expensive cloud-based IP camera, yes. Something you should depend on to protect your home, no.
Buy Smart Home Security Device from Amazon