Introduction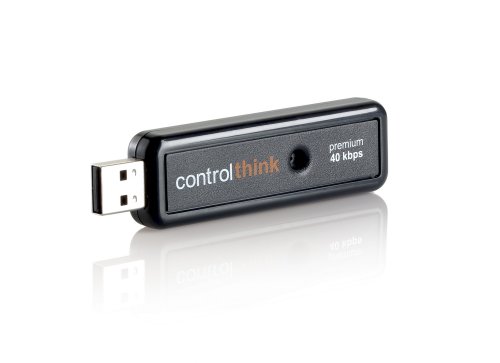 At a Glance
Product
ControlThink ThinkStick (ZWUSB100)
Summary
Firmware Upgradeable USB Z-Wave Controller
Pros
• Upgradeable
• Inexpensive ($39.95)
• 40Kbps (4x Z-Wave) Backwards compatible with 1x (9.6kbps) devices
• Small Size
• No Drivers Required
Cons
• Limited Software Support
• Currently No Serial Emulation Drivers
• Laptop or UMPC is needed for easy installation as a primary controller.
The first Z-Wave devices to show up on the market were lighting devices. These included both switches and plug-in wall modules. All of the devices supported ON and OFF commands and those that were capable of dimming, supported the DIM command that allows you to adjust the level of the lights from 0 to 99 (0% to 100%).
Early Z-Wave adopters were pretty upset when Z-Wave thermostats came to market and their $60 handheld remotes were not able to control them. Manufacturers' answer to the problem was to suggest that customers purchase a new $60 handheld controller,—just like the one they already owned—that had the latest firmware for thermostat support.
The new ControlThink ThinkStick USB Controller solves this problem by providing users with the ability to update their ControlThink "ThinkStick" firmware as soon as new versions of the firmware are made available by ZenSys.
Product Features
All Z-Wave networks include one or more controllers. The "Primary" controller is used to "include" all other Z-Wave devices into the network. During the installation process, the Primary controller assigns a common Home ID that is shared between all the devices in the network and unique Node IDs which identify each device in the network. The primary controller also has the ability to configure additional device features, such as the ramp rate, which is the rate at which a light will turn on.
A "Secondary" controller is a controller that gets its information from a primary controller. So after you include all your devices into your primary controller, you can copy the information from the primary controller into a secondary controller. This gives you two controllers that are capable of controlling all of your devices.
The ThinkStick supports both primary and secondary controller modes. When used as a primary, and paired with ControlThink's ThinkEssentials software, the ThinkStick enables some powerful features. One powerful feature is Network Optimization, which is run after all of your devices have been included and your ThinkStick is installed in its final location.
When including Z-Wave devices into your primary controller you must be within 3 feet of the device you are including. This is done for security reasons. So for permanently-installed Z-Wave devices such as wall switches and outlets, you'll need to use a Laptop or UMPC (Ultra Mobile PC) for programming. Since the ThinkStick is easily portable between computers, you'll then be able to move the ThinkStick from your portable computer and install it in a stationary computer such as a desktop.
Running the Network Optimization tool rebuilds the Z-Wave routing tables in order to optimize performance. ThinkEssentials' performance optimizer works by checking the signal strength of each device's neighbors and keeping a matrix of the best path for routing to other devices.
Figure 1: Detecting Network Strength
Another powerful ThinkEssentials feature is the Disaster Recovery tool. Imagine you have an elaborate Z-Wave network and then your 2-year-old decides to use your primary controller as a toy and destroys it. The Disaster Recovery tool allows you to enter your old Home ID and then automatically attempts to locate any devices within range that contain that Home ID and include them into another ThinkStick.
I have used this feature several times myself and it works great. There are, however, some minor quirks. For instance, the Disaster Recovery tool is limited to the information it can retrieve from your lighting devices. Therefore, this tool is really only an aid in reprogramming a complex Z-Wave network and not a complete solution.
Hardware Specs
The ThinkStick's small size [3.5" x 0.9375" x 0.4375"] allows it to be plugged into those tight locations such as the one on my laptop shown below. (Figure 2) Also notice the blue LED that flashes during data transmission.
Figure 2: Small Size Allows for Tight Locations
One of the first things I like to do when I get new devices is to take them apart and try to find out as much information as I can about the device. Looking inside the ThinkStick we can see that it was originally manufactured for Wayne-Dalton. (Figure 3)
Figure 3: Manufactured for Wayne-Dalton
The spiral circuitry at the back of the board is actually a planar antenna that has been optimized for distance and performance. It's obvious that size is an issue when developing antennas for these types of devices. An antenna tuned for Z-Wave's US frequency (908.42Mhz) should be at least 1/4 wavelength (3.091") and optimally, 1/2 wavelength (6.1821") long.
By using the old handy-dandy string method, I measured the ThinkStick's antenna to be slightly longer than 6", putting it just over a half wavelength. Antenna theory is actually much more complex than its length so don't let these number fool you. There are probably much more effecient antenna designs, but this one is a good start. I'm almost tempted to hack one of these sticks to include an SMA connector for easily adding and removing an external antenna. (Figure 4)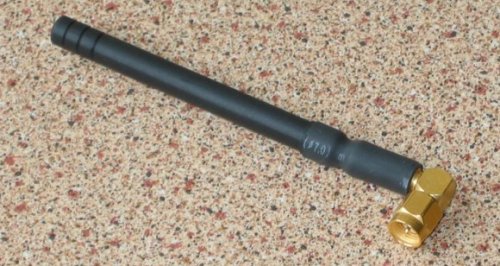 Figure 4: SMA Connector on Antenna
The main controller is a Silabs C8051F326 (Figure 5), which is a system-on-a-chip microcontroller that includes a UART (Universal Asynchronous Receiver-Transmitter), timers, and ports. The microprocessor has 16KB of ISP (In System Programming) Flash that holds the firmware.
Figure 5: SILABS C8051F326
In Use
Other Z-Wave USB controllers require installation of serial port emulation drivers, which show up in the Windows Device Manager under COM ports. In constrast, the ThinkStick shows up as a HID (Human Interface Devices) device, just like a mouse or keyboard. This allows multiple ThinkSticks to be used in the same computer.
Although not requiring serial port emulation drivers is a nice feature, it's also a limitation because most software vendors do not support HID. However, rumor has it that ControlThink is currently working on developing drivers for the ThinkStick for those who might need them.
For now, any software vendors who incorporate the ControlThink PC SDK or directly support the Wayne-Dalton controller should be capable of using the ThinkStick. This list includes ThinkEssentials, HomeSeer, HomeZix, and mControl.
The ThinkStick's firmware can be updated either manually using the standalone ThinkStick Updater application (Figure 6) or automatically using the ThinkEssentials v2.1+ automation software.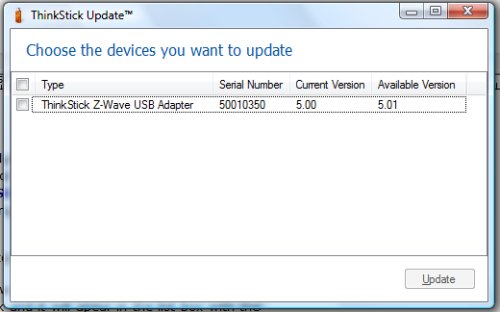 Figure 6: ThinkStick Updater Tool
The latest ThinkStick Updater can be downloaded from ControlThink's website. At the time of this writing, the current firmware version available from ControlThink is v4.25. From Figure 6, however, you will notice that v5.00 and v5.01 exist. But they are not production ready and are not recommended.
ControlThink's CEO Chris Walker said the new v4.25 firmware includes a new "Silent Acknowledgement" feature that "improves relay speed by almost 2X (when routing through devices with this feature)". So what devices are those? The new Leviton Vizia RF devices are rumored to include this feature, which makes sense since Leviton is the company behind ControlThink and ThinkEssentials. But there is no official word from any manufacturers. Customer Feedback on ControlThink's forum confirms the speed increase.
According to Chris, other features of the v4.25 firmware include improved reverse-routing reliability when responding to incoming requests, network rediscovery tweaks (for optimize and repair network feature), and miscellaneous Z-Wave bug fixes.
Using the ThinkStick Updater is simple. Just download and install the ThinkStick Updater software and run it from your Windows Start menu. The software will automatically detect your ThinkStick and it will appear in the list box with the Stick's serial number, current firmware version and the available firmware version. Checking the box to the left indicates that you want to update the firmware for that ThinkStick. Simply click the update button and let the software do its magic. You'll receive a confirmation that the update is complete.
Conclusion
For $40, the ThinkStick can provide an inexpensive way to get your Z-Wave based network up to date with the latest feature support. The only downside is that if you are currently using a handheld Z-Wave controller, the ThinkStick will bring a computer into the equation.