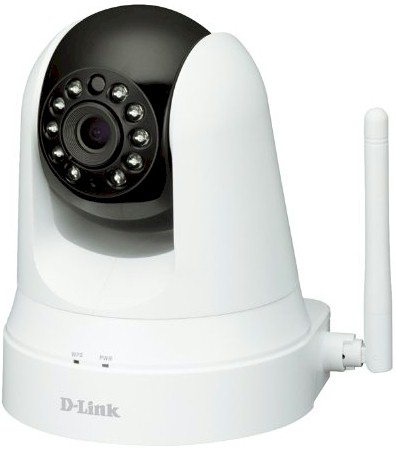 At a Glance
Product
D-Link DCS-5020L [Website]
Summary
mydlink-enabled pan and tilt Day/Night Network Camera
Pros
• Best night vision we've tested to date
• Great wireless range
• Hosted portal for remote viewing
• Great value for the price
Cons
• No recording to SD card, but you are notified at network loss
• No recording to share
• Not HD
Overview
We're starting to put together quite a little database of day and night images from different network surveillance cameras we've reviewed. Some rather impressive, some not so much. What has really surprised me with each review is that the camera's price does not necessarily indicate its quality.
The subject of today's review, D-Link's DCS-5020L, is relatively inexpensive. But it really surprised me with how good certain aspects of it are. Especially considering the other D-Link cameras we've looked at have been just "ok".
Opening the package finds the DCS-5020L, a long wall wart power adapter with lengthy cable, flat CAT5 cable, quick install quide, mounting templates, mounting hardware and mounting bracket.
The DCS-5020L supports both 10/100 Ethernet and 802.11 b/g/n wireless network connections. For sake of disclosure, all of the tests run on this camera were using wireless. I ran initial setup using D-Link's Setup Wizard. Once through with the wizard, I simply pushed the WPS button on the DCS-5020L and on my router and disconnected Ethernet once the WPS light quit flashing. It was that easy.
I've included some of the DCS-5020L's key features below.
Hardware
Chipset – Ralink RT3352F – MAC, 2.4Ghz radio, ethernet and CPU
SDRAM – 64 MB
Flash – 8 MB
Microphone – Yes
Speaker – No
Wireless – 802.11 b/g/n w/ WEP/WPA/WPA2 and WPS
Ethernet – 10/100
PoE – No
Video and Lens
Lens – Focal length: 2.2 mm, F2.0
Horizontal viewing angle – 66 degrees
Pan/Tilt – Yes, motorized
Zoom – Digital, up to 4x
Video codecs – H.264, MJPEG, JPEG for still images
Max resolution – 640 x 480 up to 30 fps
IR LEDs – 10 LEDs, 8 meter claimed distance
Features
Remote viewing – Yes, hosted portal
Motion Detection – Yes
Sound Detection – Yes
Email notifications – Yes, still images and clips
Text notification – No
Record to share – No
Record to FTP – Yes
Record to SD – No
App support – Android and iOS
Inside
I was wary of taking the DCS-5020L apart just for the fact of the pan and tilt. So I decided to look at the FCC site to see if there was clear documentation of the chipset. In fact there was, in the image below we can clearly see the Ralink RT3352F router-on-a-chip, so named because it involves everything needed to run on one single chip, including the MAC, 2.4 GHz radio, Ethernet and CPU.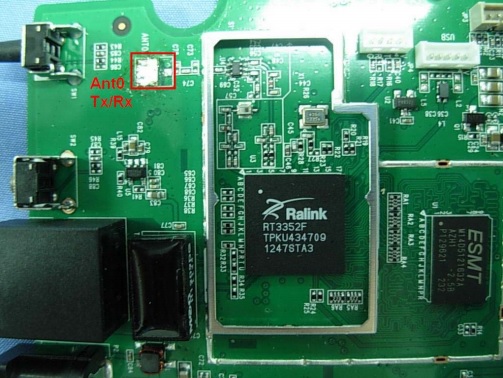 Ralink RT3352F router-on-a-chip chipset
This could be a blessing or a curse, depending on how well everything worked, and I intended to find out. One feature I was eager to test given the router-on-a-chip configuration was the "Wireless Extender" that D-Link has added to this camera in order to extend wireless range for more IP cameras. The Wireless Extender allows you to connect up to five wireless devices, either keeping the original SSID or creating a new one. The configuration options you'll find for the Wireless Extender are shown in the image below.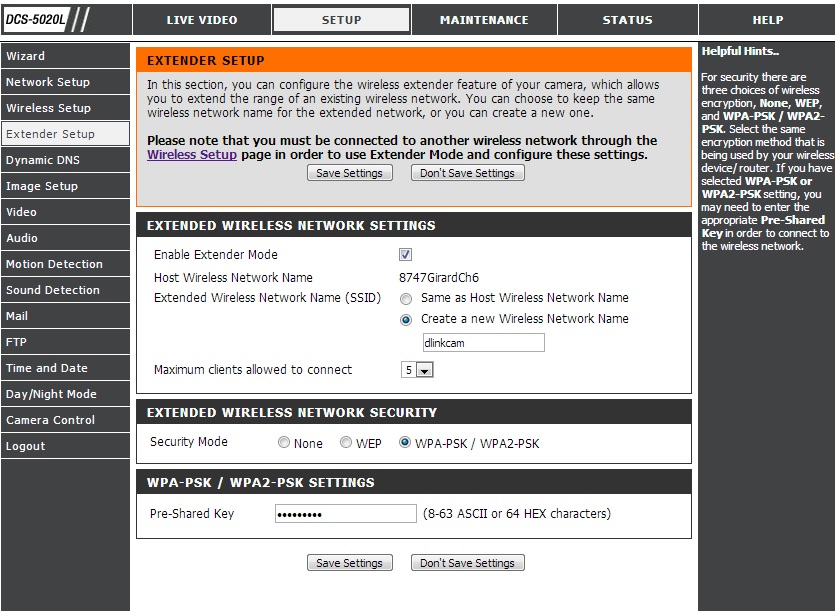 Wireless Extender functionality
Given that one chipset handled everything, I was eager to see what happened to framerate on the camera's image once clients started connecting. To test, I installed the mydlink Lite app onto my Android phone. D-Link provides the Lite app for free, which lets you view one camera at a time. But the company charges you $0.99 for the mydlink+ app which lets you view four mydlink cameras at once. I still don't understand vendors charging something as paultry as $0.99 for an app that should be included with your purchase, but I'm getting off-topic.
Once I had mydlink Lite installed, I checked the framerate and found 30fps at 640 x 480, perfect. I then connected my Android phone to the DCS-5020L's extender. I also connected my laptop to the camera's extender and VPN'ed into work, all while watching the framerate and picture. Framerate stayed responsive and high. The pan and tilt features were never particularly snappy through the mydlink hosted portal, but they were using IPCam Viewer locally.
The Wireless Extender functionality worked well and impressed me. I'm not sure I would use it, I couldn't test reliability over the long-term with the setup. It does halve your bandwidth as one radio is used for sending and receiving, but it's there. When I checked Amazon reviews for the camera, many of the negative reviews were regarding the wireless functionality. My testing did not reveal problems and actually revealed very good wireless range. I moved the camera outside, to a place where my phone and laptop can't connect to my wireless anymore and connection was still sound on the camera. The Wireless Extender even worked well out there.
Features
The DCS-5020L uses the same admin interface as the previously reviewed DCS-942L and DCS-2310L, with a few differences. It also connects to D-Link's mydlink hosted portal, which Tim reviewed last year. Rather than reinvent the wheel, I'll refer you to those reviews for a broader look at the features and cover what is different in this review.
The Wireless Extender mentioned above is one thing that's different from the other two D-Link cameras we reviewed. Another difference is that the DCS-5020L has sound detection. This means it can record to an FTP site or send still images and video clips to an email address based on sound levels being met.
Unlike D-Link's motion detection where you are taking a guess at sensitivity, the sound detection screen actually shows current sound levels on a bar graph and lets you adjust sensitivity, as seen in the image below.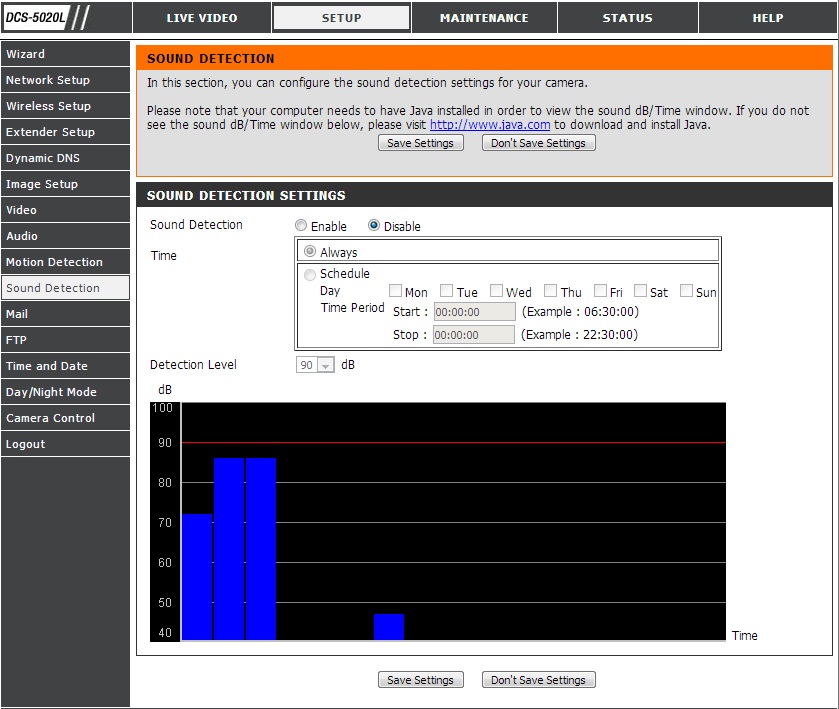 Sound Detection configuration screen
The DCS-5020L doesn't have an SD card slot to record to when network connectivity is lost. But the camera (mydlink portal) will send you an email that connectivity has been lost.
Also curiously missing is recording to a network share. I mention that as curious because the DCS-2310L has nearly the same admin interface and can record to a share. So it's bizarre that was left out for the DCS-5020L. Instead, the DCS-5020L can record still images and video clips to an FTP site, as well as send them to an email address. If you use the admin interface to set this up, you provide you own email server (SSL accepted). If you set up within the mydlink portal, they'll use their email server.
The last big difference in the admin interface is the Camera Controls function. This is because the DCS-5020L is a motorized pan and tilt camera, whereas the other D- Link cameras we've reviewed have not been. Inline with other PTZ cameras, configuration includes setting presets, which allow for quick movement of the camera without having to use the arrow wheel. It also lets the operator set step speeds for the pan and tilt, so it moves slower or faster and covers more or less ground when the arrows are pressed. A Home location is also set for where the camera should return to on reboots and power outages.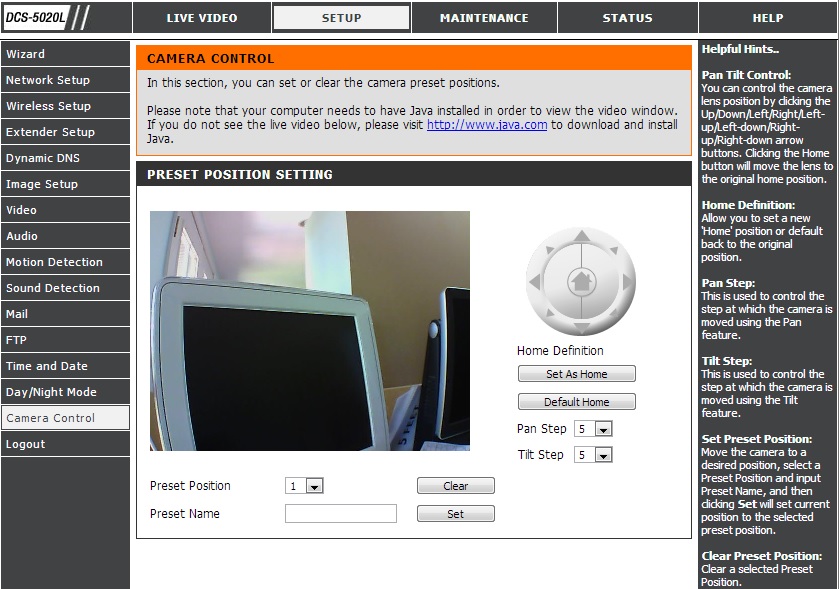 Camera Controls configuration screen
I noticed one thing on this camera that I don't remember for the others. When viewing the camera's image, whether it be in the mydlink portal, using IPCam Viewer or whatever, the PWR light flashes on the front face of the camera. A nice reminder that you are being watched.
Image Quality
At a resolution of 640 x 480, the DCS-5020L is not HD and that may be an automatic eliminator for some. As you'll see on some of the following photos, it would make something like a license plate at 10 feet hard to read. This isn't an outdoor camera, but it's a relevant example. However, the DCS-5020L has far and away the best night vision of all of the cameras we've looked at to date.
Image Quality – Indoor Day
The DCS-5020L is a 640×480 HD camera with a 66° horizontal field of view capable of 30fps, which I verified in Blue Iris.
For image comparisons I did my standard indoor day and night tests and also my outdoor daylight and night images.
The junk room control was done with an image from our Nikon D5000 DSLR. I didn't take a new picture for this, but instead linked it from a past review.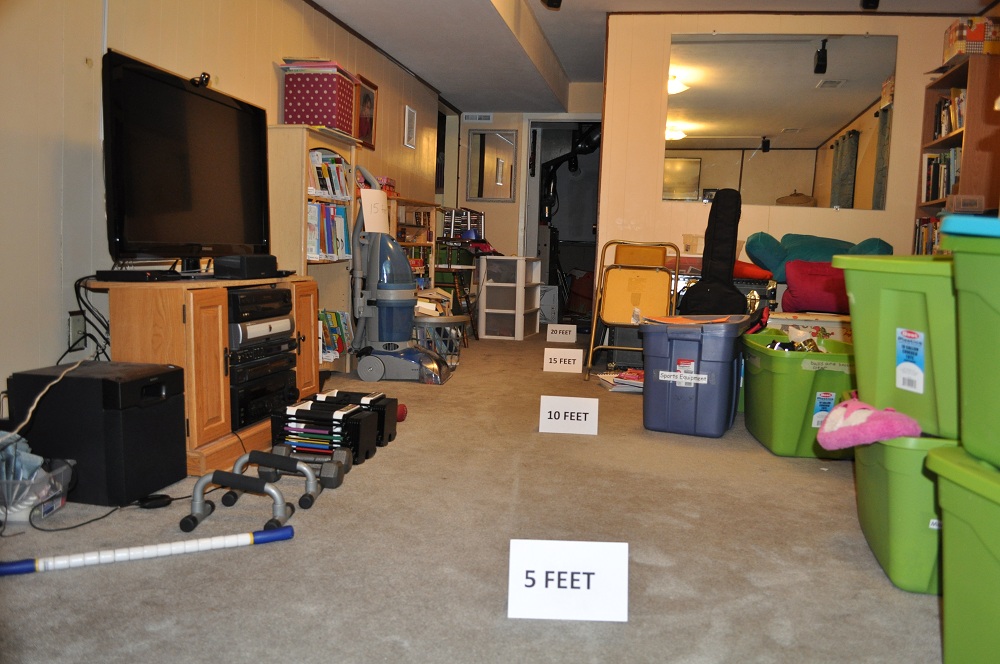 Control image from the Nikon D5000 DSLR
Next we've got the day image from the DCS-5020L.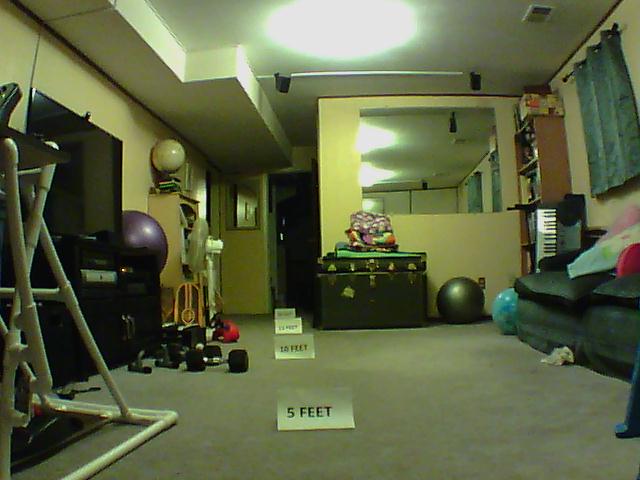 D-Link DCS-5020L day indoor image
For comparison's sake I wanted to show several comparable HD cameras we've reviewed. Here is D-Link's own DCS-2310L.
D-Link DCS-2310L day indoor image
And the AXIS M1054.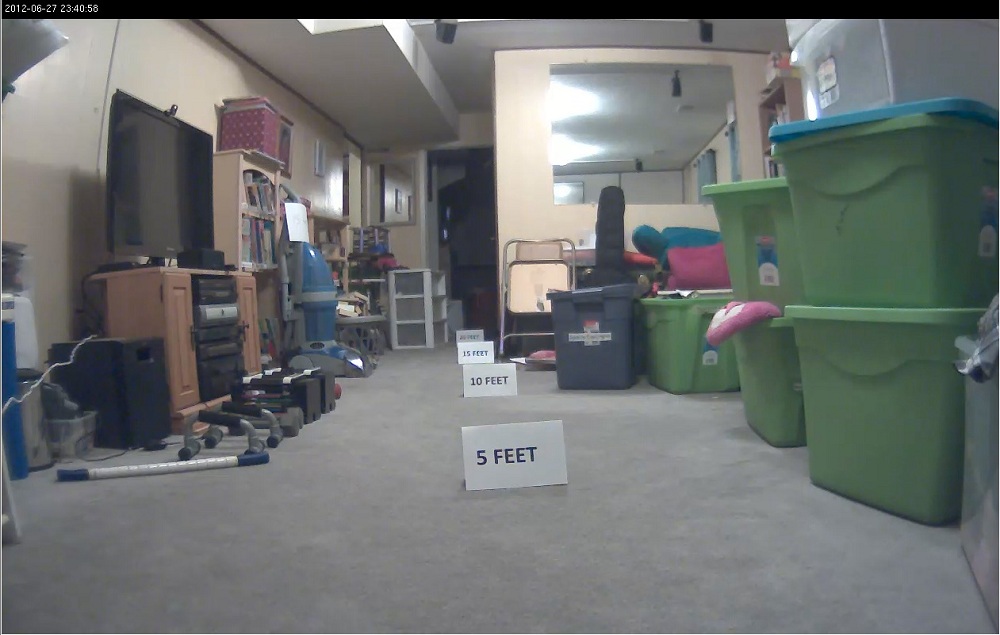 Comparison Day image from the Axis M1054
Now, the ZyXEL IPC-4605N for daylight comparison.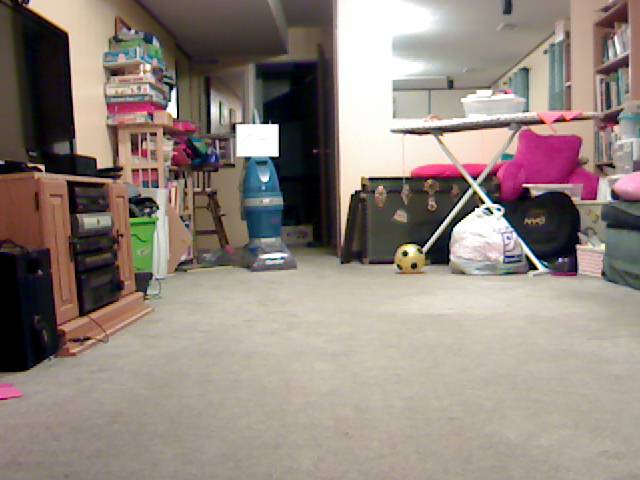 Comparison day image from the ZyXEL IPC-4605N
You can definitely see some color differences and a little more graininess on the DCS-5020L image. But all in all, it really is not that different from the HD cameras.
Image Quality – Indoor Night
Next, let's look at the night indoor picture.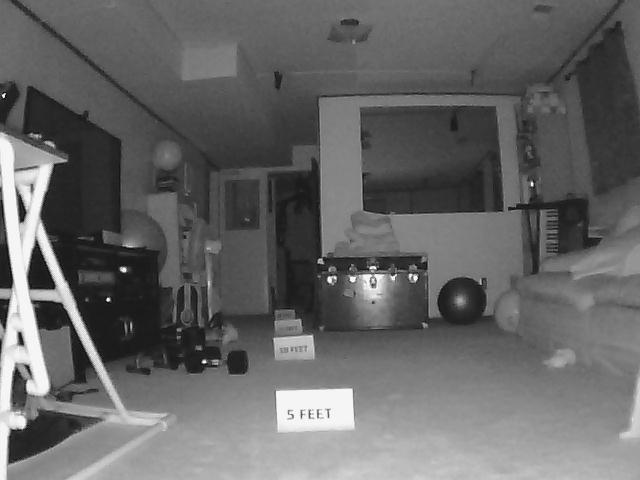 D-Link DCS-5020L night indoor image
Now the DCS-2310L. Bear in mind that the DCS-2310L is an outdoor camera. As such, the IR LED dispersion becomes more rapid outdoors. It would be an easy conclusion to draw that the interior night picture of the DCS-2310L should be very good. But the DCS-2310L image was very disappointing to me.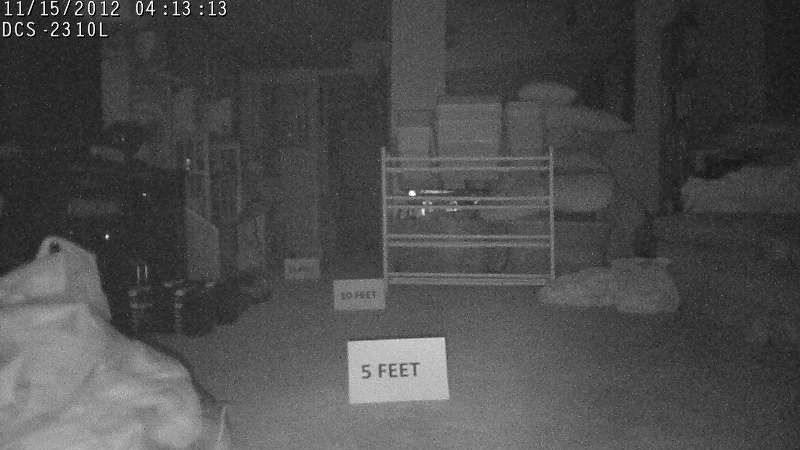 D-Link DCS-2310L night indoor image
The night image from the ZyXEL.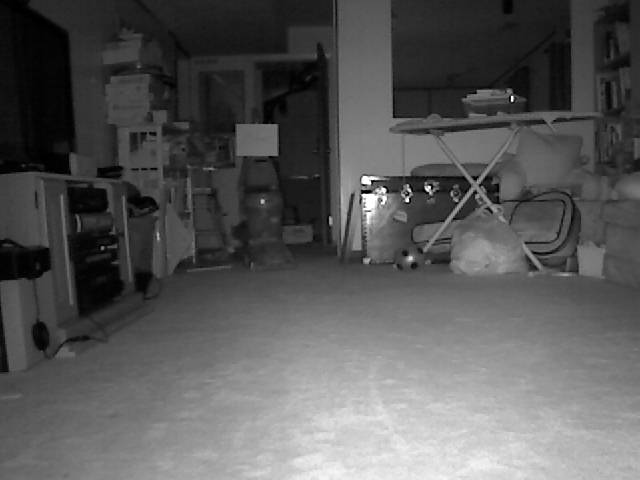 Comparison night image from the ZyXEL IPC-4605N
And one from the TRENDnet TV- IP572PI this time. Keep it in mind that these cameras are not all necessarily close to each other in price.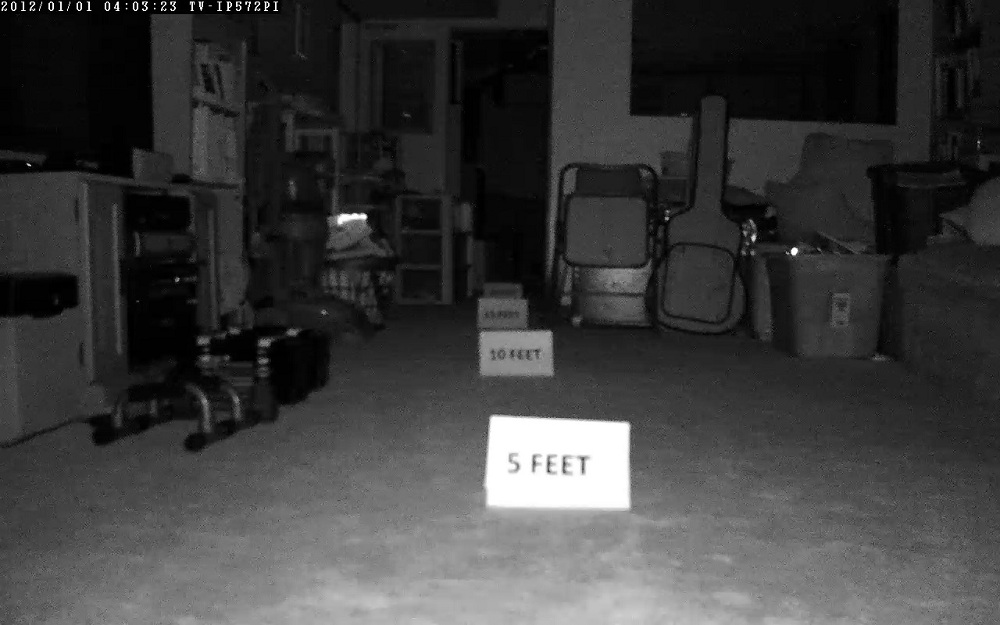 Comparison night image from the TRENDnet TV-IP572PI
It's hard to pick a winner between the ZyXEL and the DCS-5020L. The Zyxel has 12 IR LEDs vs. the DCS-5020L's 10. Both easily see well past 25 feet back into the furnace room. The 10 FEET marker is still very legible in the DCS-5020L image.
Image Quality – Outdoor Day
Moving on to outdoor day images. We'll compare the DCS-5020L…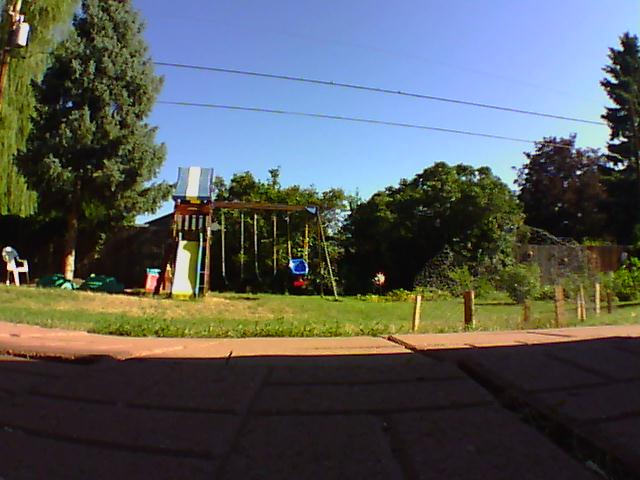 66° Field of View from the D-Link DCS-5020L
to the DCS-2310L…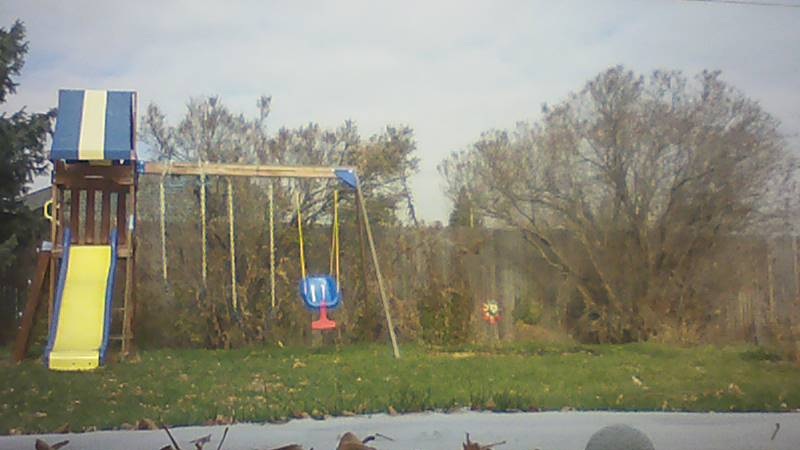 57.8° Field of View from the D-Link DCS-2310L
to the TRENDnet TV-IP572PI…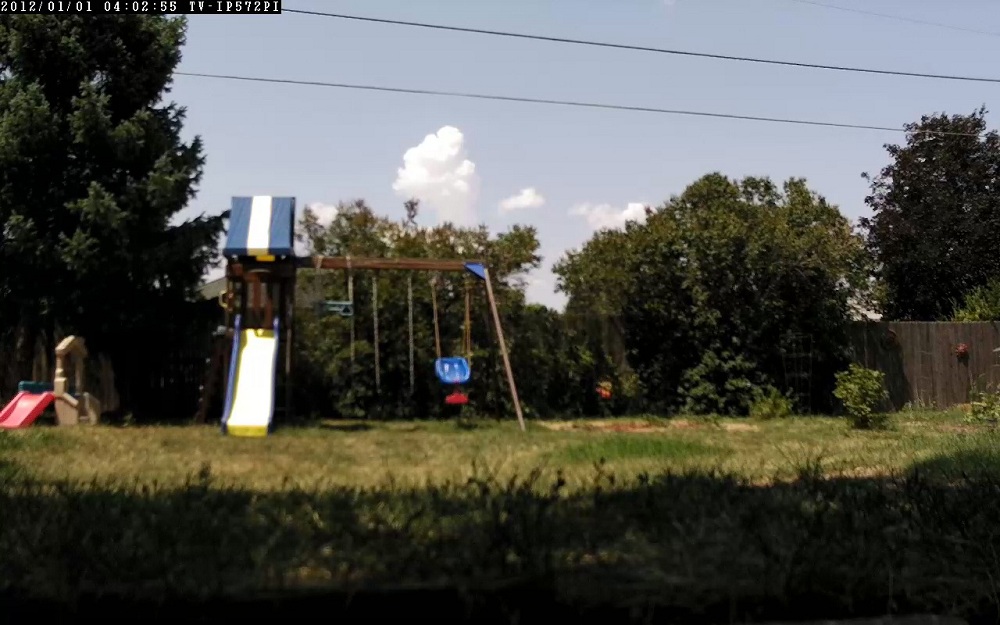 51.8° Field of View from the TRENDnet TV-IP572PI
and AXIS M1054 again.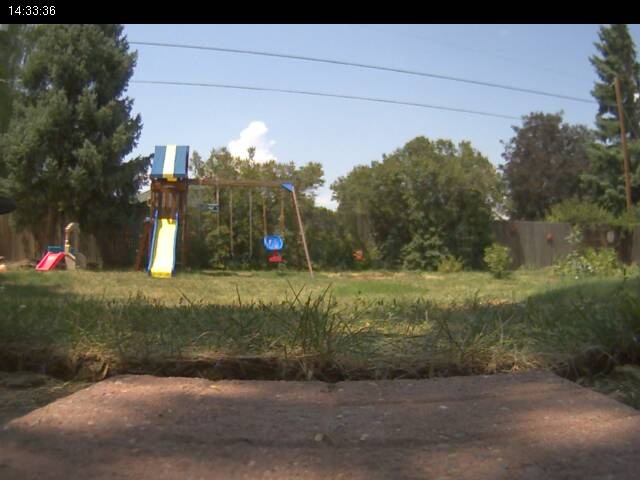 84° Field of View from the Axis M1054
The seasons have changed a bit in our comparison pictures, so it's hard to draw a good comparison here. Some things to note are the vivid colors of the DCS-5020L and the fact it seems to be compensating for the bright light rather well. Also interesting to note is the horizontal field of view. Despite being 66° for the DCS-5020L, it looks rather wide.
Image Quality – Outdoor Night
Lastly, the night outdoor images. The outdoor night image is a relatively new benchmark I've been doing, so I only have two comparisons, the DCS-2310L and the Belkin Netcam HD.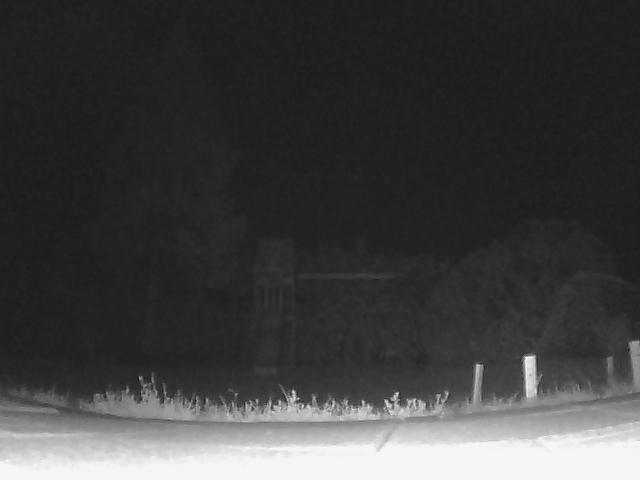 DCS-5020L night outdoor image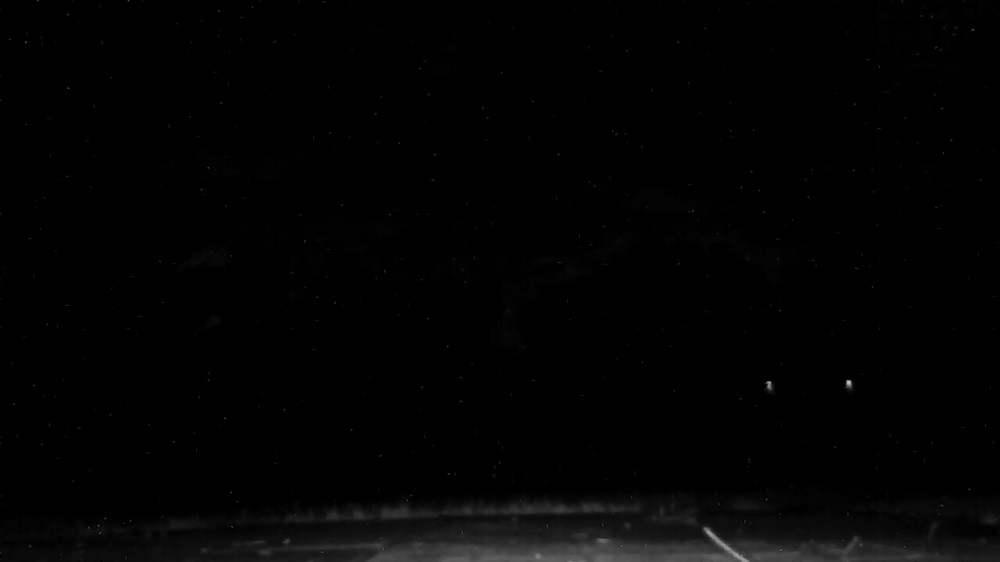 Belkin NetCam HD Outdoor Night Image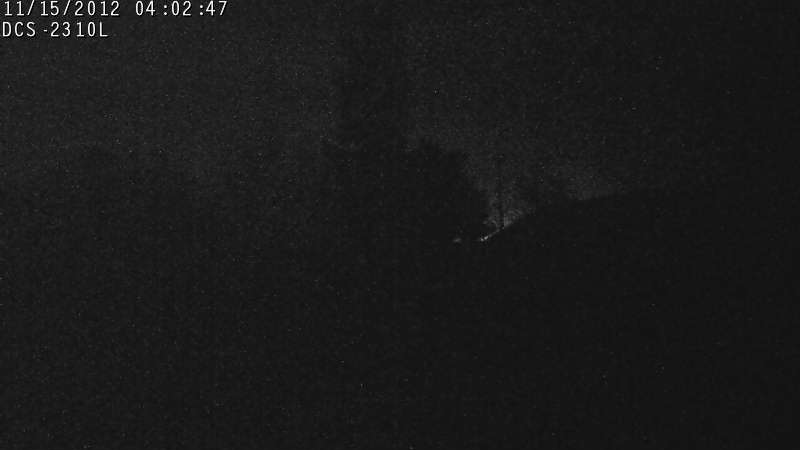 D-Link DCS-2310L night outdoor image
It's clear to see the winner here. The DCS-5020L actually sees the playset and bushes, while the others hardly show faint outlines of trees.
Closing Thoughts
The D-Link DCS-5020L is a good little camera, especially for the $120 it is currently going for on Amazon. At that price, you get great night vision and the ability to pan and tilt for more viewing area. You don't get recording to an SD card or network share though, the latter being a strange omission since it's available in other D-Link cameras.
You also don't get HD, although the picture was good in the conditions I tested. Wireless works very well, and you have the option to use the camera as a wireless extender if you're so inclined.
All things considered, the shortcomings of this camera are easily made up for in price. I think it's worth taking a look at if you're looking for an inexpensive PTZ camera where night vision is a priority.