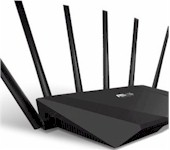 Update 2 – The first AC3200 routers are coming sooner than we thought. But don't get too excited.
Seems like it was only yesterday (actually January) that ASUS was pre-empting the competition by announcing its RT-AC87U AC2300 class router at CES. Well, apparently, they have decided to jump onto Broadcom's XStream platform and ramp the ol' number on the box all the way up to AC3200.
The RT-AC3200 was among the products by ASUS Chairman Jonney Shih at the company's Computex 2014 press event today. The router uses Broadcom's XStream chipset and sports six external antennas as shown in the product photo below. Port complement is the same as AC1900 routers with one WAN, four switched LAN (all 10/100/1000 Mbps) and one each USB 2.0 and USB 3.0.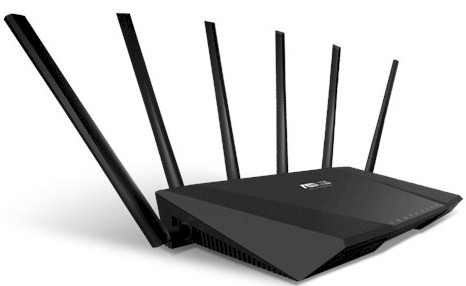 ASUS RT-AC3200
As noted in AC3200 Routers Coming This Fall?, Broadcom's XStream platform announcement contained nice quotes from ASUS, Belkin and NETGEAR execs. So it's no surprise that NETGEAR has an AC3200 router coming too, at least according to Chinese website ExPreview.com. ]
This May 23 post contains multiple photos of a product identified as the R8000 and even includes a 360 degree view animation.
NETGEAR R8000
ExPreview's post is short on details and even mistakenly says the router is an 802.11ac "Wave 2" product. But Broadcom's XStream chipset is not "Wave 2" at all. In fact, Broadcom's own marketing message positions XStream as having an "up to 50 percent speed advantage over Multi-User, Multiple-Input, Multiple-Output (MU-MIMO) routers".
Update 6/3/14: FCC filing posted 06/02/2014 for the "Netgear Nighthawk X6 AC3200 Smart WiFi Router" model: R8000. FCCID: PY314200264. Internal images, and the user manual are under a 180 day confidentiality treatment
If you're expecting AC3200 routers to include MU-MIMO, 10GbE and provide 2.6 Gbps maximum link rates in 5 GHz, you'll be disappointed. Think of them more like what they actually are, two 5 GHz and one 2.4 GHz radio stuffed in a box with a dual-core CPU. SemiAccurate's Charlie Demerjian wrote a fairly critical analysis of XStream back in April that's worth a read.
Given that the number of AC client devices is still relatively small and that most clients have 2×2 radios at best, what benefit could an AC3200 router with Gigabit Ethernet ports possibly provide? The primary benefit in AC1900 routers came from Broadcom's more powerful second generation BCM4708 dual-core CPU. Processing 802.11ac packets is very compute intensive and we saw higher 5 GHz throughput from Broadcom AC1900 products tested with the same AC1750 class 3×3 client.
So given Broadcom's claim of a five-core CPU with 2.96 GHz of processing power means we should expect even better performance, right? Unfortunately, that may be unlikely if Demerjian's analysis is correct. He wrote:
"Since the 470x line has dual core ARM A9s on a 40MHz process and typically run at about 1GHz, that would be 2GHz of processing power right there. The last GHz being spread across the three radios would put them right about where similar devices sit for clocks too. So Broadcom is taking five different CPUs across four chips, adding up the clocks of all the cores, and claiming it as a single clock speed?"
So if AC3200 doesn't provide any real benefit, why the rush to it? Most likely it's due to problems being encountered by designers trying to wrestle 4×4 "Wave 2" chipsets into products. Multi-User MIMO (MIMO) is the big draw in Wave 2, but implementation is likely proving more difficult than expected.
MU-MIMO depends on an even more complex form of beamforming that is even more compute intensive and hellaciously difficult than 802.11ac's standard beamforming. MU-MIMO is more time-dependent than single-user MIMO and problems like inter-user interference caused by clients too close together are just part of the problems to be solved.
If past consumer behavior is any indicator, however, it's likely that AC3200 routers will fly off the shelves, just as AC1900 routers have. Or maybe the consumer Wi-Fi industry has finally jumped the shark and the router geeks that slavishly grab at every shiny new router won't bite this time. At any rate, we'll find out soon when products hit the shelves in early summer.
Updated 6/2/14 5:40PM EDT – This ASUS blog post says ASUS is "targeting a Q3 to Q4 (2014) release" and says "MSRP pricing will be release closer to product availability". [Thanks to RMerlin for the tip.]