Updated – Google has officially announced its second OnHub router.
The ASUS SRT-AC1900 OnHub Wireless Router follows on the heels of the initial offering from TP-LINK back in August. The new OnHub also has a cylindrical format, but looks like a vertically-mirrored copy of the TP-LINK. It's available only in "slate gray".
Google says the ASUS OnHub has a feature called Wave Control, which lets you boost the Wi-Fi speed for a particular device by simply waving a hand over the top of the router.
The OnHub FAQ says the other difference between the two OnHubs is the ASUS version doesn't have the "front-facing antenna reflector that acts like a satellite dish". No word on whether the ASUS OnHub is also based on Qualcomm Atheros chipsets.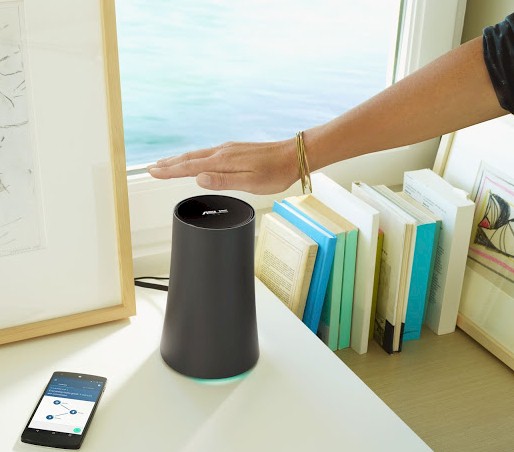 ASUS OnHub
Not out yet, but sometime in the "coming weeks" will be the first OnHub software update with "several performance improvements, including a new smart antenna algorithm". Existing OnHubs will update automatically when the release is ready and your network is not busy.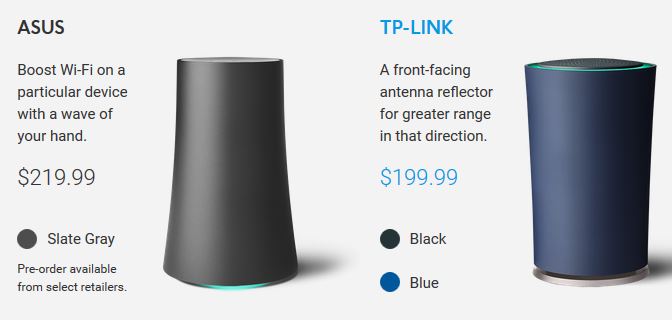 Google OnHubs
If you want one, you'll have to pony up $20 more than the TP-LINK ($219.99 vs. $199.99) when you pre-order as soon as Google makes the link live.

NewEgg has a pre-order page up, showing a November 3 release date.