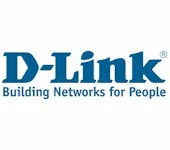 Updated – D-Link says its new crop of draft 802.11ac routers are ready to ship.
The company announced its new line of draft 802.11ac routers is "now shipping". The line includes two models announced at January's CES—the DIR-868L and DIR-860L—and two previously unannounced models.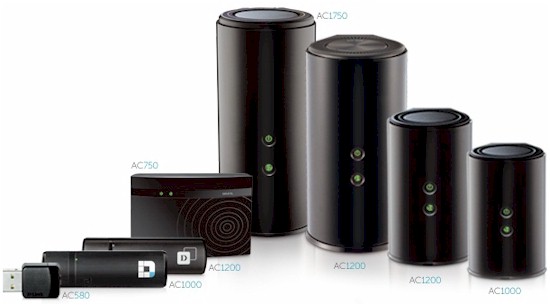 D-Link 802.11ac products (updated 5/22/13 to correct mislabeled products)
The products D-Link says are now shipping are the DIR-868L Wireless AC1750 Dual Band Gigabit Cloud Router, DIR-860L Wireless AC1200 Dual Band Gigabit Cloud Router, DIR-820L Wireless AC1000 Dual Band Cloud Router and DIR-810L Wireless AC750 Dual Band Cloud Router.
The line has a mix of maximum link rates and designations that are summarized in the table below. The most interesting offering of the group is the DIR-820L, which D-Link has dubbed as an "AC1000" router. The appears to be a product with 2×2 radios in both bands, but with the 5 GHz radio top link rate limited to 650 Mbps vs. the usual 867 Mbps.
Model #
Designation
2.4 GHz N Radio
Maximum Link Rate (Mbps)
5 GHz AC Radio
Maximum Link Rate (Mbps)
Ports
MSRP
DIR-868L
AC1750
450
1300
Gigabit
$169.99
DIR-860L
AC1200
300
867
Gigabit
$149.99
DIR-820L
AC1000
300
650
10/100
$119.00
DIR-810L
AC750
300
433
10/100
$79.99
New D-Link draft 802.11ac router summary
D-Link has also put 10/100 Mbps instead of Gigabit Ethernet ports on this model to justify its $120 MSRP vis-a-vis its next-step-up sibling, the DIR-860L at $150.
The key features of the line are shown in the chart below. All except the entry-level DIR-810L have single USB ports for drive and printer sharing. None, however, have USB 3.0 ports, which are appearing on other "new crop" routers like Linksys' EA6300 that have started shipping this spring.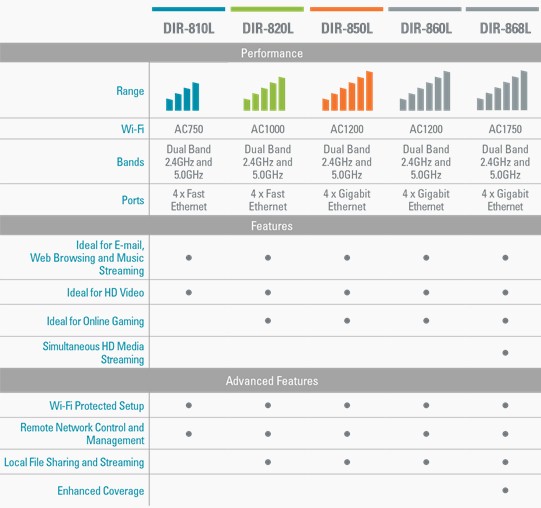 D-Link 802.11ac product feature summary
The "AC1200" DIR-850L shown in the chart above is not yet shipping and was not included in today's announcement. Given its similarity to the DIR-860L, it's possible that it could be killed before it ships.
D-Link started shipping its first draft 802.11ac router, the DIR-865L, last July. It currently sells for around $160 street. It too, is very similar to another model—the DIR-868L—so it soon could be retired.
Updated 5/22/13
Although D-Link's announcement headline says "now shipping", the announcement itself says only "will be available" with no timeframe given. Checks on Amazon showed the DIR-820L "temporarily out of stock" and the DIR-860L and DIR-868L "available in 1 to 2 months". Only the entry-level DIR-810L was showing as in stock. Amazon is now showing all products except the DIR-820L as in stock.