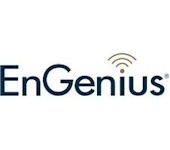 EnGenius has announced an 802.11ac outdoor access point and N300 Media bridge.
The ENH1750EXT High-Powered, Long-Range, Ruggedized 3×3 Dual-Band Wireless AC1750 Outdoor Access Point (whew!) supports access point, Mesh (on 2.4 GHz) and WDS repeater/bridge modes, delivering maximum link rates of up to 1300 Mbps on the 5 GHz band and up to 450 Mbps on the 2.4 GHz band, with up to 29 dBm transmit power on both bands.
The outdoor AP is housed in an IP68-rated waterproof housing and comes with three detachable (N type connector) 5 dBi 2.4 GHz omni-directional antennas and three detachable 7 dBi 5 GHz omni-directional antennas. Network connection is via dual Gigabit Ethernet ports supporting 802.3at PoE input on one and 802.3af output on the other.
EnGenius ENH1750EXT
Features include 16 SSIDs per radio, 802.1q SSID-to-VLAN tagging and pass through, 802.1d Spanning Tree Protocol and fast roaming, guest network and RADIUS accounting support. Management is via browser, SNMP or SSH command line.
The ENH1750EXT is covered by a one-year limited warranty and is available now for $999 MSRP.
Also announced was the ETA1305 Wireless N300 Media Bridge/Access Point with built-in 5-Port Gigabit Switch. Pretty much as its name describes, the 2.4 GHz-only ETA1305 supports a maximum 300 Mbps link rate and has a built-in Gigabit switch. It also can be set to operate as an access point.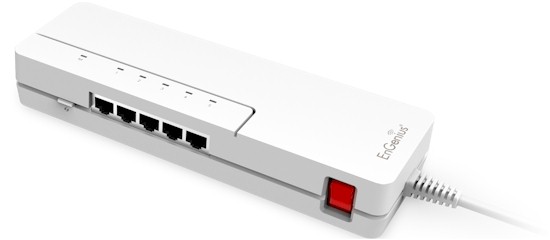 EnGenius ETA1305
The ETA1305's physical format suggests a power-strip with its integrated power supply. It is covered by a one-year limited warranty and is available now for $99 MSRP.