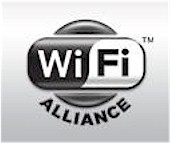 A few Wi-Fi factoids caught my eye from recent press releases.
Atheros announced the other day that it had recently shipped its 500 millionth Wi-Fi chipset. They didn't break out the percentages for 802.11g and 802.11n, but I'd bet that the bigger slice of the pie is 802.11g.
Some of those Atheros devices have made their way into NETGEAR's popular simultaneous dual-band 802.11n WNDR3700 router [reviewed].
In-Stat says that NETGEAR is the "leader in total "n" devices shipped, shipping in 1Q2010 over 2 million "n" devices which include SOHO routers, residential gateways, network adapters and access points. Coincidence? Maybe not.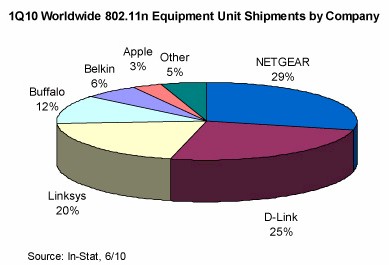 Although NETGEAR leads in N, In-Stat says that D-Link is the leader in total WLAN devices shipped (including 802.11a / b / g / n flavors), shipping over 3.9 million WLAN devices in 1Q2010. D-Link also saw the strongest share gain since last year.
It's no surprise that SOHO routers have fueled Wi-Fi market growth with a 92% gain in shipments from 1Q09 to 1Q10. But 11g router sales are have fallen back almost 20%.
Other fun facts from the In-Stat report:
Shipments of 802.11n devices grew 85% in Q1 2010 compared to Q1 2009
802.11n products represented almost 40% of the total wireless LAN market in 1Q10
If you want more info, just break into your piggy bank and withdraw $3,995 for the full report.