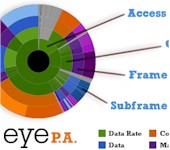 MetaGeek's wireless visual packet analysis product has exited beta.
Eye P.A. crunches.pcap packet capture files of 802.11 wireless traffic generated by WireShark or other packet capture programs to present data in multi-layer pie charts.
Eye P.A. transforms raw packet capture streams into a "visual network conversation", highlighting Bytes, Packets, and Time. Captured data is visually aggregated into multi-colored charts that can be clicked into to drill down further into data.
Eye P.A. also includes export to Wireshark.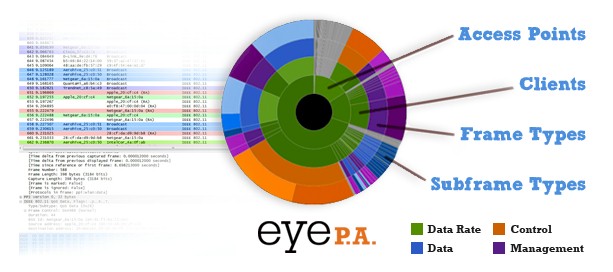 One of the uses for the tool would be to show how legacy data rates are affecting available bandwidth in your network. The short video below has more info.

More videos are available in MetaGeek's blog.
Eye P.A. is $499 per single-user license and requires a Windows XP or later system with Microsoft.NET Framework 4 and WinPcap installed.