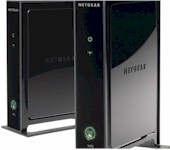 NETGEAR has announced start of shipments for its 5 GHz 4X4 MIMO wireless media networking kit.
The company says its WNHDB3004 3DHD Wireless Home Theater Networking Kit is the" first solution capable of reliably delivering jitter-free 1080p high-definition video streams".
Introduced this past January at CES, the kit uses wireless technology from Quantenna Communications that uses a combination of 4X4 MIMO, Maximal Ratio Combining, Space Time Block Coding and dynamic digital beamforming to increase signal gain and therefore performance. (See our preview for more information and a first look at performance.)
The WNHDB3004 kit includes a pair of adapters, which operate in the 5 GHz band only, and will be shipping by the end of this month. MSRP is $259 for the kit, with individual WNHD3004 adapters also available for $129.