NETGEAR filed suit in the US District Court of Northern California on Monday against ASUS. The suit claims that at least two of its routers, the RT-N65U and RT-AC66U are not FCC compliant.
The suit asserts that ASUS' testing service for these routers, QuieTek, "intentionally falsified the testing results [for these routers] in order to falsely obtain FCC certifications of compliance and enable the domestic sale" of the products and that ASUS knew neither the RT-N65U nor RT-AC66U are FCC compliant.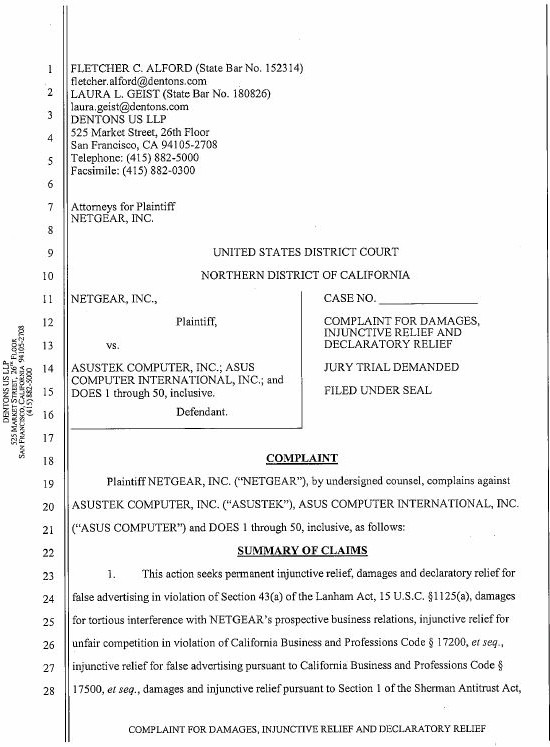 NETGEAR claims that the two ASUS routers otherwise would not comply with FCC limits for Operational Mode/Description and Peak Power Output. They further claim that [all] ASUS wireless routers don't meet FCC test limits for Radiated Emission band Edge Test, Power Density, Radiated Emission, RF Antenna Conducted Test and Occupied Bandwidth.
Basically, NETGEAR is alleging that ASUS tested one version of the product to submit for FCC approval that had lower power levels and then shipped another with higher transmit power.
The suit is seeking injuntive relief, declaratory relief and damages for false advertising, unfair competition and interference with NETGEAR's business. NETGEAR claims that because ASUS' routers are believed to be more powerful and provide better range, it has "lost a large portion of its expected sales and lost much of its existing market share for premium Wireless Routers". (The filing states domestic market share of "approximately 40%" for home wireless routers in 2012.)
The suit specificially asks that ASUS:
Be stopped from selling any routers that are not FCC compliant
Be stopped from making false advertising claims
Recall all its non-complaint wireless routers
Pay restitution and damages equal to all "gains, profits and advantages derived from their unlawful and unfair activity"
Pay triple damages for violation of the Lanham Act (false advertising)
Pay triple damages for violation of the Clayton Act (anti-trust)
Pay prejudgement interest
Pay NETGEAR's cost of suit and attorney fees
NETGEAR is also seeking a judicial declaration that all ASUS wireless routers are not FCC compliant and are unlawful to be sold and used in the U.S.
NETGEAR notified ASUS of its intention to sue in early July. Since then, ASUS has posted multiple new versions of firmware for the products named in the suit that NETGEAR says lower transmit power. NETGEAR has also filed a complaint with the FCC.
No hearing date has been set.
ASUS representitives could not be reached for comment.